To get you started, here's a video overview of what a CV should include to start it off:
Knowing how to start a CV is the key to landing the job you want. You need to convince the recruiter immediately that you're a top candidate for the job.
So start your CV with a 3–5 sentence or bullet point introduction called a personal statement (also known as a CV summary, personal profile, or about me) that gets employers' attention with your most job-relevant professional and/or educational achievements.
Here's how to start a CV the right way:
Read the job advert and research the company to determine its needs you can meet.
List your skills and achievements from your professional or educational experience, and pick the most job-relevant ones to emphasise on your CV.
Write your CV's work experience, education, skills, and other sections first to ensure you've remembered the best information for your introduction.
Summarise the highlights of your CV in your personal statement, and put it under your name and contact details, using hard numbers (if possible) to make your achievements stand out.
Here's an example of how to start a CV if you don't have work experience yet:
CV opening without work experience (text template)
Purposeful recent graduate with a Bachelor's in International Business. Conducted market research and developed theoretical business plans for class projects, one of which won second prize in a national business student competition. Eager to use theoretical knowledge to grow revenue as a Business Planning Associate at AudioBud International.
And this is an example of how to open a CV if you have work experience:
CV opening with work experience (text template)
Accomplished outreach specialist with 8+ years of eperience building relationships with industry partners from the ground up
Initiated collaborations that have resulted in £5+ million in profit to date
Confident I can exponentially increase the backlink profile of NewsFirst as your next Outreach Manager
Still having trouble figuring out what to write? Use a CV builder that composes a CV opening based on your experience. Or keep scrolling to read our tips for starting off your CV or look at role-specific CV introduction examples.
5 tips for starting off your CV
Struggling to think of what to write about in your CV? Don't worry — we've all been there. Here are some ideas to get you started:
1. Start with your CV header
The section an employer might glance at before they read your CV introduction is your header with your name and contact information. Making a well-designed header is important because it helps the employer remember your name and where to find your contact information.
To make a CV header that differentiates you from other applicants:
write your name in extra-large text (up to 30 points)
clearly list your contact details (email, phone number, address, and relevant online profiles)
This is an example of a great CV header:
2. Read the job advert again
If you're having writer's block, take another look at the job advert. You're looking for any part of the job description that you can connect your experience to.
For example, if the employer emphasises that they're seeking a team player who knows how to take the lead when necessary, you know that you'll need to write about your most successful group project or the time you stepped up and led an initiative at work.
Writing about such experiences will trigger your memory of other great examples to highlight on your CV.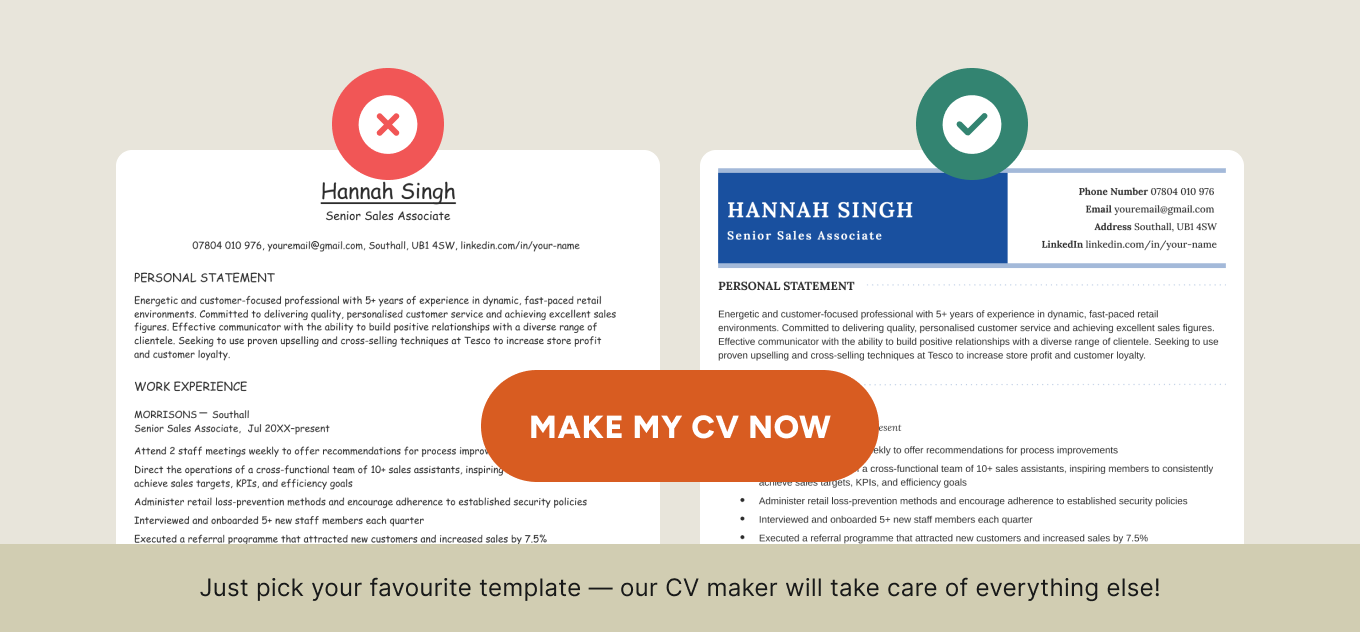 3. Research the company
Another good way to get ideas for starting a CV is by researching the company. Here's how:
read through the company's website
look at its social media profiles (including its employees' LinkedIn profiles)
check for news stories (Google the company name and click 'News' under the search bar — or in the 'All filters' menu if it's not there)
find its latest annual report online
When you get a clearer picture of what the company's goals and challenges are, you'll know better how to frame yourself as the solution in your CV.
4. Make an outline and brainstorm
Staring at a blank page can be daunting, so start by writing an outline of the sections in your CV. Your outline should include your:
Leave lots of blank space between each item in your CV layout, and jot down anything relevant that comes to mind. Brainstorming like this will give you plenty of details to organise into a job-winning CV.
Always start your CV outline with your personal statement, but rearrange the following sections to ensure your most job-specific information is at the top of your CV. For example, if you don't have much work experience, move your skills and education above your work experience to make a skills-based CV.
5. Use a CV template
An easy way to start off your CV is to use a CV template that guides you through what to write in each section. Here's a template you can copy and paste into Microsoft Word, Google Docs, or whatever writing software you use:
YOUR NAME
Job Title
Phone: xxxxx xxx xxx   Email: your.name@email.com   Address: Your Town   LinkedIn: www.linkedin.com/in/your-name
PERSONAL STATEMENT
[Adjective that describes your top job-specific quality, e.g., Driven] [job title] with [#] years of experience in [your expertise]. Skilled at [your most relevant achievements and skills]. Eager to [benefit you'll provide the company] as a [target job title] at [company name].
WORK EXPERIENCE
Most Recent Job Title
Company Name, Location, Start Date – End Date (or Present)
[Present tense action verb, e.g., 'Deliver'][example of most job-relevant achievement or skill using data]
[Present tense verb][example of your next most-relevant experience]
Next Most Recent Job Title
Company Name, Location, Start Date – End Date
[Past tense action verb][example of most job-relevant achievement or skill using data]
[Past tense verb][example of your next most-relevant experience]
EDUCATION
Degree Name (mention your degree classification for an honours degree)
University, Location, Start Date – End Date (or expected date)
Relevant modules: List your job-relevant modules here
Dissertation: If you completed a dissertation, put the title here
Secondary School
Location, Start Date – End Date
A-Levels: Include any A-Levels you achieved while in secondary school or college
GCSEs: List GCSEs you achieved A*–C (or 9–4) in, especially English, Maths, and IT
SKILLS
[Your most relevant skill, using keywords from the job advert]
[Next most relevant skill]
HOBBIES & INTERESTS
[A leisure activity that shows you'd fit in with your coworkers]
[A hobby that shows you're interested in your work]
16 job-specific CV opening examples
Another way to figure out how to start your CV is by looking at how successful applicants from your industry have started theirs. So here are CV opening examples for:
1. Students
Looking for work to support your studies or writing a CV for your first job out of university? Here are two examples of how to start a CV as a student:
Student CV opening with no work experience
Student CV opening with internship experience
Related CV samples: recent graduate, law student, medical student, student nurse, student ambassador
2. IT and engineering
If you're targeting a job in IT or engineering, start your CV with a summary of your technical expertise and achievements, like these applicants do:
CV opening for an IT job
CV opening for a civil engineer
Related CV samples: IT, engineer, cyber security, data analyst, civil engineer, computer science
3. Customer service
These are examples of how to get the attention of employers in the customer service industry with your CV opening:
CV opening for a call centre agent
CV opening for a wait staff role
Related CV samples: waiter/waitress, customer service, delivery driver, shop assistant, hospitality
4. Administration
Here are two examples of CV openings for administrative roles:
CV opening for an administrative assistant
CV opening for a receptionist
Related CV samples: administrative assistant, receptionist, personal assistant, project manager
5. Marketing
If you work in marketing, you know how important it is to get your audience's attention immediately. Below are two CV introductions designed to do just that:
CV opening for a digital marketer
CV opening for a marketing manager
Related CV samples: digital marketer, marketing manager, PR, business analyst
6. Creative roles
Read these CV opening examples to get ideas for how to be creative with your own:
CV opening for a graphic designer
CV opening for a photographer
Related CV samples: graphic designer, photographer, interior designer, fashion, architect
7. Health and social care
Here are examples of well-written CV introductions for physical and mental health-related job applications:
CV opening for a nurse
CV opening for a counsellor
Related CV samples: nurse, counsellor, carer, personal trainer, public health, pharmacy assistant
8. Security and public safety
These CV opening samples will help you learn how to start a CV that secures the public safety job you want:
CV opening for a door supervisor
CV opening for a security officer
Related CV samples: door supervisor, security officer
FAQs about how to start a CV
Still unsure how to start your CV? We've answered the three most common questions about starting a CV below:
1. How do you finish a CV?
You finish a CV with your least important — but still job-relevant — information. Typically, your hobbies and interests section is the final part of your CV.
And remember, when you finish writing your CV, you need to proofread it, ask a friend to take a look, and then edit it at least one more time before sending it to the employer.
2. How do I start an email when sending a CV?
These are some good examples of how to start an email when sending a CV:
My name is [Your Name], and I've attached my CV and cover letter for [Company Name]'s open [Position Title].
Don't forget to write a polite salutation before your email's opening line, following this format:
Dear [Contact Person's Title and Surname],
For example:
Dear Mr Fantinelli,
3. How do I start a CV letter?
Start a CV letter (more commonly referred to as a cover letter) with a statement designed to get the employer interested in hiring you. For instance, you can start your CV letter with:
a job-related achievement (including hard numbers if possible to really make your accomplishment stand out)
a statement about how you'll help the company solve a specific problem or reach a certain goal
information that shows your company research
appropriate humour (not too corny, or you'll get an eye roll rather than a job interview request from the employer)