How long should a CV be? Will one page be too short? What about two or three pages — too long?
Not knowing the answer can kill your confidence in your job hunt before you've even started figuring out how to write a good CV. You don't want to undersell yourself with a CV that's too short, nor do you want to scare off the employer with a CV that's too long.
To make a positive impact with your CV, your CV should have an appropriate number of pages.
Most CV definitions say that the document can be up to two pages long, but the best page count for your CV will depend on your professional background, skill set, and the kind of job you're applying for.
We identify the best lengths for different kinds of CV formats and discuss how to shorten a CV that looks a little too long. Additionally, we'll explain how to tell when it's best to make your CV longer.
How long should a CV be?
Careers authorities like National Careers and Oxford University agree that two pages (two A4 sides) is the longest a CV should be in the UK.
A two-page CV is long enough to cover necessary information about your professional background, education, and skills. Furthermore, two pages is short enough that a busy employer can scan your CV quickly for relevant information.
Most UK employers expect two pages, but there are circumstances where one page, three pages, or four pages are needed to fit the information you should put on your CV.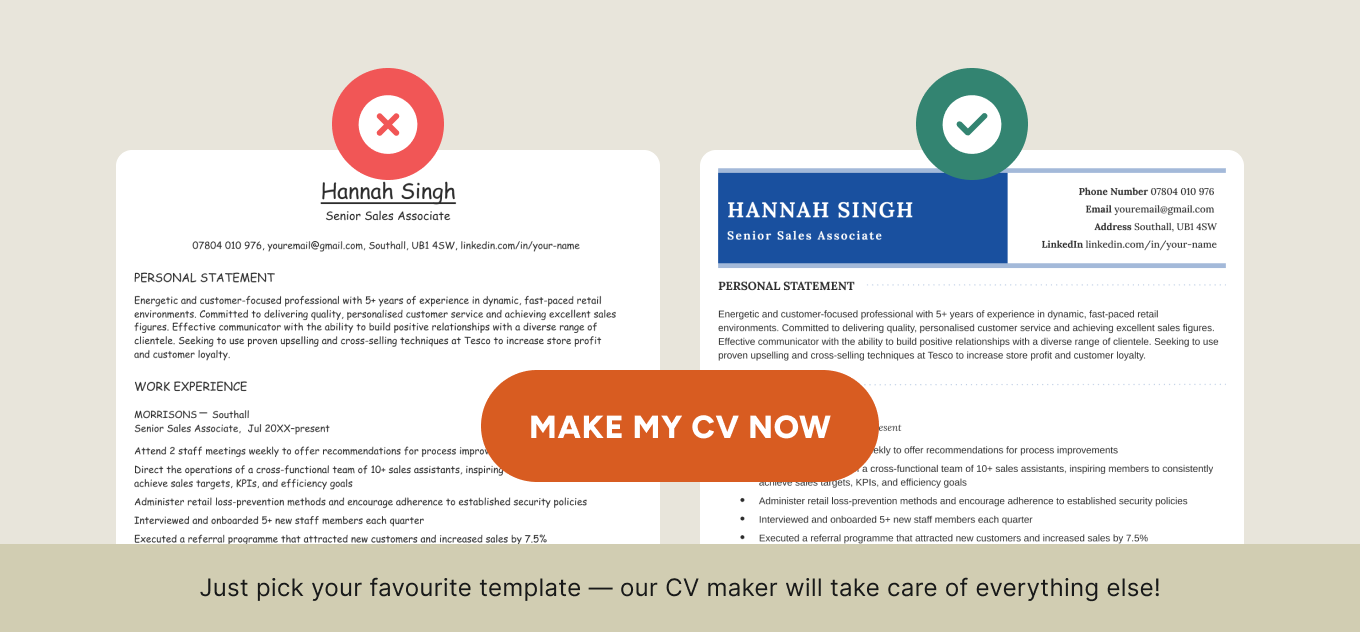 How many pages should my CV be?
Here's a detailed look at different CV page lengths and when to use them:
One-page CV (for inexperienced candidates)
A one-page CV is acceptable if you're a job hunter with minimal work experience or looking for entry-level work.
Employers don't expect recent graduates to have lengthy CVs, so write a one-page graduate CV if you only have enough work history to fill a page.
If you're writing a CV with no work experience and are struggling to write a one-page CV, there are a couple of things you can do to fill out one A4 side in a meaningful way:
These additional skills sections can help you come across as a knowledgeable and well-rounded candidate:
Certifications and awards
Volunteer placements
Two-page CV (entry- to mid-level applicants)
Two pages are the ideal CV length for most entry- to mid-level job applicants with some previous work experience.
To write a two-page CV, include the following sections:
Work experience
Education
A professional and well-rounded CV that conveys your skills and value to the employer increases your chances of getting an interview.
Three-page CV (senior professionals)
Three-page CVs are appropriate if you're applying for high-level jobs that require specialised experience or knowledge.
For example, if you're writing a medical CV, you'll likely need to include additional industry sections, such as awards, conferences, and publications. Because you'll need to demonstrate numerous qualifications, your experience won't fit easily on an ordinary two-page CV.
This said, having a long work history doesn't necessarily mean your CV should be three pages long.
Remember, you normally only need to mention work experience that you gained in the last 15 years — and if you've had several previous jobs, you should only provide detailed bullet points for the more recent positions you held.

Four-page CVs and longer (academics)
CVs for academic positions tend to be four pages or longer because they use a different format to standard CVs.
In addition to your personal statement, work history, and education, you'll need to include the following sections on an academic CV:
Publications
Research
Awards and funding
Teaching experience
Conferences and presentations
Professional memberships
Research and technical skills
References
Appendices
You may also need an extensive CV if you're applying for certain highly specialised senior roles. For example, NHS Consultant CVs are often 10–15 pages long.
In most cases, however, employers will take a lengthy CV as a sign that you don't know how to prioritise information or communicate efficiently. Ask yourself if it's really necessary when adding any additional information to your CV.
International CVs and Resumes
If you're applying for a job outside of the UK, you may need to adjust your CV length.
Standard CVs in most European and Asian countries are 1–2 pages long and follow similar formats to UK CVs.
Some countries (such as Japan) have unique CV formats, so you may have to create a new CV for local employers. If you're applying to jobs in European countries, you may want to create a CV using the Europass CV editor, which allows you to translate your CV into 30 different languages.
If you're job hunting in the US or Canada, a one-page resume is normally appropriate.
How do I shorten my CV?
Keeping your CV page count low is challenging, but remember that clarity and high-quality content are important because employers go through hundreds of CVs to hire for one role. Sending a long, waffly CV can quickly discredit you.
Writing more than two pages for a CV often leads to:
Here are nine ways to lay out your CV clearly and effectively:
1. Fix your margins
Margins help make a CV look professional and easy to read. If you're struggling to write more for your CV or looking to add white space, try adjusting your margins.
2.5 cm margins are the default on Microsoft Word, but you can resize your margins between a range of 1.25 cm to 2.5 cm.
If you have less work experience, you can use 2.5 cm margins. Or, you might try narrower page margins (no smaller than 1.25 cm) if you want to add more details to your CV.
2. Resize your font
Selecting a suitable font size will shorten or lengthen your CV and make a positive difference to your CV's appearance.
The standard font size for CVs is 10.5 to 12 points. Remember to choose an appropriate CV font like Times New Roman, Arial, or Verdana, and use bolding and italics sparingly.
Companies use applicant tracking systems (ATS) to filter applicants, so having the correct CV font ensures the ATS can read your CV.
3. Limit your bullet points
Too many words on your CV bury the valuable information that employers are looking for. To produce a high-quality CV, use 4–6 bullet points for each job position.
Try using more bullet points for your recent experiences, and fewer bullet points for older job positions.
4. Mention your best selling points first
Employers have numerous CVs to sift through, so ensure your application stands out by organising your most relevant achievements and skills on your CV at the top of each section.
For example, if you have four bullet points describing your most recent software developer position, list your most noteworthy point before the others. If they're impressed with your first bullet, they'll continue reading.
5. Change your CV layout
Experiment with a few different CV formats or download different free CV templates to see if you can reduce your CV's page count.
You can also try using a skills-based CV format. A skills-based CV has an expanded skills section and brief work history that only includes essential information for each of your previous jobs, such as your job title, employer, and employment dates.
Using a skills-based CV emphasises what you can do over how many years of work experience you have. So it's an ideal approach for students, school leavers, and entry-level applicants.
6. Remove your references
Take out the references on your CV and add them to a separate document.
Employers will request your references later in the job application process, so while they're necessary to have, they aren't needed on your actual CV.
7. Mention achievements instead of duties
Instead of describing every duty you did in a certain role, try mentioning a significant achievement in that role. Listing your achievements on your CV will show employers you're a strong candidate and make you stand out from the competition.
For instance, instead of listing out your duties as a marketer, you can mention that you increased sales from X amount to Y amount in Z months, like this applicant here:
Increased product sales from £7000 to £10,400 in less than 3 months
8. Write your contact details in a horizontal header
Instead of writing your phone number, email, website and address in separate lines, list them all in one sentence separated by vertical slashes.
Ideally, this sentence should come just after your name in the heading. The two sentences (your name and contact information) should also be centre-aligned.
You can also hyperlink your LinkedIn profile using the anchor text, 'LinkedIn', to save space. Here's an example: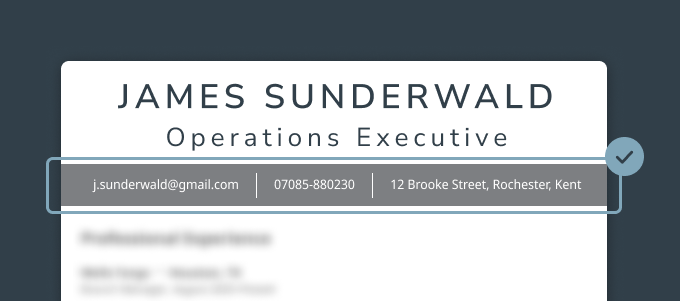 9. Edit and proofread your CV
Read over your CV thoroughly and remove any repetitions, irrelevant information, and grammar and spelling mistakes.
Using an online editor like Grammarly helps you identify mistakes and wordy sentences.
For example, 'in order to' can be replaced with 'to'. By cutting the fluff from your CV, you'll significantly reduce its length.
Frequently asked questions about CV length
Still have doubts about your CV's length? Here are three common questions about getting the right length for your CV in the UK:
1. How far back should my CV go?
Generally, your CV should focus on the most recent 10–15 years of your relevant experience, which equates to around 3–5 jobs you've worked in for a year or more.
Remember to tailor your CV to the job description. Some of your past jobs may date back over 15 years, but if they're relevant to the job you're applying to, then you can add them to your CV.
Adding unnecessary information dating beyond 15 years distracts employers from your most up-to-date jobs and skills, and may even promote ageism.
If you want to give employers a glance at your older work history (without writing bullet points), include a section with your previous position titles, employers, and years of employment. Here's an example:
Software Engineer | 1990–2000
Samsung, Seoul
2. How can I make my CV longer?
Your CV should always be concise, but there are ways to make your CV longer if you want to fill out an incomplete page or make your CV easier to read.
1. Add white space
Although you should do this sparingly, adding white space can make individual achievements and experiences stand out to employers.
Use up to 1.5 line spacing and 2.5cm margins to spread out the content of your CV. Formatting your CV in this way will make spread out you experience more, but the page won't look sparse and unprofessional. Also make sure that your CV font is an appropriate size — it shouldn't be bigger than 12 point.
2. Divide your skills section
Separating your skills by category will highlight relevant aspects of your professional profile, while also using more space on your CV. How you should separate your skills depends on the job you're applying for.
For example, if you were applying for a job at a translation agency, you could split your skills section into a key skills section and a languages section. Or, if writing a CV for a cyber security job, you could create an IT skills and transferable skills section:
IT Skills

IDPS (Snort & Suricata) | Firewall software (Cisco ASA, Check Point) | Security Information and Event Management (SIEM) software (Splunk) |
Vulnerability scanning tools (Nessus)

Transferable Skills

Written and verbal communication | Analytical skills | Problem-solving Skills | Attention to detail
3. Should a CV be one page?
In the UK, your CV should only be one page if you have very little experience or are applying for your first job.
Employers won't expect more than one page for entry-level positions. They'll be more interested in whether you have the right character and core skills for the job.
Unnecessarily wordy CVs won't be impressive. In fact, employers may see lengthy CVs as a sign of poor communication or organisational skills. Make sure you write in plain English and only include relevant information.
More FAQs about writing your job application
Here are the answers to even more questions you might have about your job application: