One of the most important things you need to learn when you write a CV is how to set out your CV structure properly.
How you structure your CV is one of the most critical formatting considerations you have to make when applying for a job. Employers want to be able to scan your CV for your relevant experience, so it's important to use a clear, logical order that highlights your most marketable qualities.
To ensure you have all the elements you need in the right place, here's how to structure your CV in seven steps: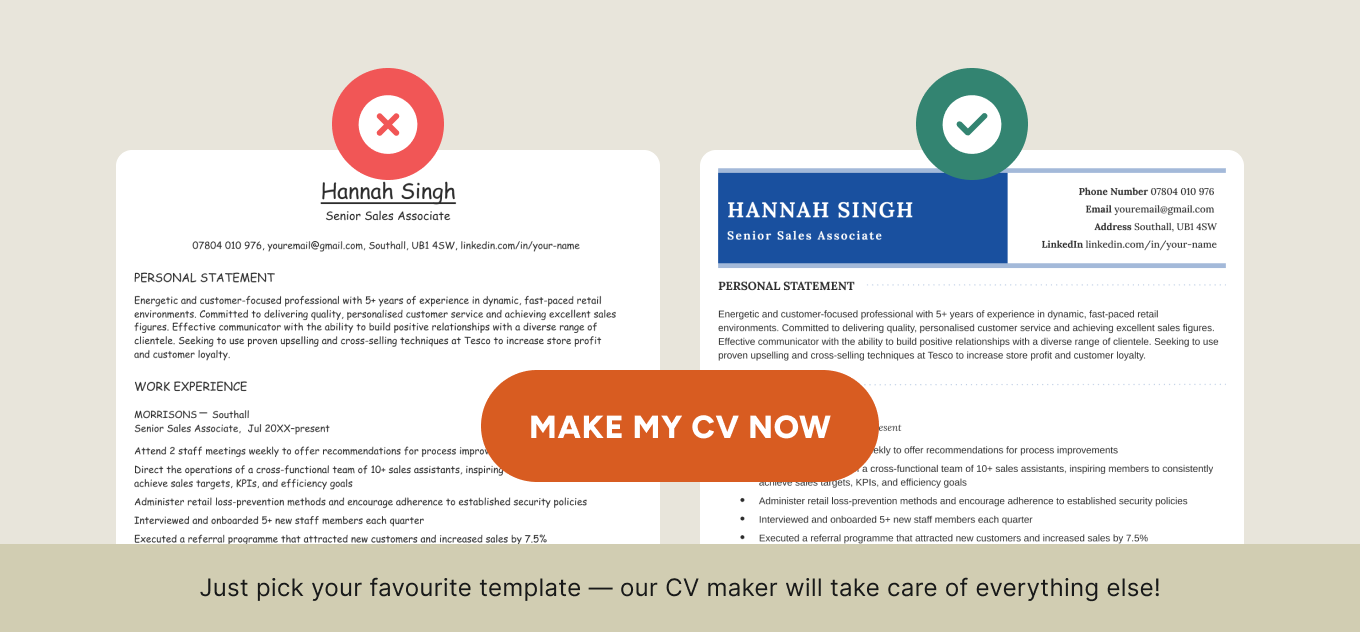 Step 1: Make a bold CV header with your contact information
At the top of your CV, start with a header that includes your name and contact information, like this:
Your name should be written in a large font size, up to 30 point, to capture employers' attention and make you more memorable. You can also choose to include a job title (like 'Retail Sales Associate').
Be sure that your contact information is clear and up to date, and includes the following:
a telephone number
a professional email address
your address or location
You can also add links to your LinkedIn profile, professional website, or online portfolio so the employer can access additional examples of your work and accomplishments.
And if you're applying for modelling or acting jobs, you should put a photo on your CV, too.
Step 2: Summarise your expertise with a strong personal statement
Your personal statement (sometimes called a CV summary, personal profile, or About Me section) is the first thing hiring managers look at to gauge your suitability, so it needs to hold their attention.
Your goal should be to summarise your most hireable qualities and show employers why you're the ideal candidate for the role.
Make your personal statement 3–5 sentences long and format it as a short paragraph or a bulleted list. Here's an example of a personal statement for a Bank Cashier Supervisor position:
Experienced Bank Cashier with a proven track record of exceeding customer service expectations and maintaining high accuracy in transactions. Implemented a customer service and branch operations streamlining system, resulting in a 15% increase in efficiency. Strong communication skills and ability to lead a team. Seeking challenge of Bank Cashier Supervisor role to continue delivering outstanding service and contributing to banking industry success.
Step 3: Detail your work experience
Use your work experience to highlight your accomplishments, starting with your current or most recent position and working backwards. This is where you share the details of your professional experience and demonstrate your skills in action.
Here's how to structure each entry of your work experience section:
Job Title
Company, Location
Start date – End date/Present
Use present tense for current roles and past tense for previous roles
Include 3–5 bullet points that describe what you did in each role
Begin each bullet point with an action verb
Quantify your achievements with hard numbers where possible
Provide examples of your relevant skills in action
Step 4: Showcase your academic achievements
Writing a strong education section for your CV will show employers that you have the right training for their vacancy. This section is particularly important if you're writing a school-leaver CV or lack formal work experience.
Your education section can include your:
university degree(s)
apprenticeships
secondary school or sixth form college qualifications like A Levels, T Levels, and GCSEs
If you don't have other relevant experience to put on your CV, it can also help to list any relevant courses you took or coursework you completed.
Here's an example of how to structure your education section:
Step 5: Emphasise key abilities in your skills section
To show employers you have the right skills, list relevant abilities and knowledge areas in your CV's skills section. It's best to include a combination of key hard and soft skills for the job so employers know you have the technical abilities to perform your duties and personal qualities to fit in with the company culture.
Here's an example of a strong skills section for a sales associate:
KEY SKILLS

Communication
Client relationship building
Sales closing
Market knowledge
Customer service
Time management
Teamwork
CRM software
Multitasking
Negotiation
Step 6: Conclude by sharing your hobbies and interests
The hobbies and interests section on your CV gives you an opportunity to show employers a bit about your personality and life outside of work.
While these pursuits won't be the main thing employers consider when reviewing your application, a tailored hobbies and interests section can give you a slight edge over the competition by showing you'd be a good culture fit for the company culture.
Here's an example of a hobbies and interests section for a freelance travel writer:
HOBBIES & INTERESTS

Language Learning: Mandarin HSK 3, French C1, Italian B1
Adventure Sports: Kayaking, scuba diving, river rafting
Foodie: Trying new local cuisines around the world
Step 7: Consider additional sections
If you have other relevant professional achievements to share with employers, the following sections can make great additions to your CV:
Qualifications
Licences
Publications
Projects
Awards
Professional associations
Additional training and coursework
Conferences
Frequently asked questions about CV structure
Here are the answers to three common questions about structuring a CV in the UK:
1. What's the best length for a CV?
The best length for a CV in the UK depends on your career and experience level.
The standard length for a CV in the UK is two pages. This length should be enough space for you to outline your work experience, education, skills, and any other key information you want to include in your CV.
If you recently finished school, university, or have very little work experience, a one-page CV is perfectly acceptable. On the other hand, if you have decades of experience, are applying for an upper-management role, or writing an academic CV, your CV may be three pages or longer.
2. Is it necessary to include references on my CV?
Unless stated otherwise in the job description, you don't need to add references to your CV.
Use the space you save on your CV to talk about your experience, skills, and qualifications in greater detail. The employer will ask you later in the recruitment process if they need to see your references.
3. What is the best way to handle employment gaps on my CV?
How you should handle employment gaps on your CV is dependent on your situation.
If you have multiple employment gaps, but they were less than a year long, you can hide your employment gaps by only listing the years you were employed in each job:
Store Manager, November 2019 – August 2023
Just4Pets, Gloucester

Cashier, January 2017 – January 2019
MegaMart Superstores, Cheltenham
Alternatively, you can use a different CV format that makes your dates of employment less obvious. For example, skills-based CVs are ideal for drawing attention away from employment gaps because they place emphasis on your key skills rather than your work history.