When it comes to writing an excellent CV, one of the first things you need to know is how to properly organise your CV structure.
Employers want to be able to easily scan your CV to see whether you're qualified for the job, so it's important that your structure is clear, logical, and highlights your most marketable qualities.
To make sure you have all the elements you need in the right place, we'll walk you through how to structure your CV, give you some layout and formatting tips, and provide several examples you can use to make your own professional CV.
How to structure a CV
Your CV should include all of the standard sections and be organised to give it a natural flow. Here are all the sections you should include on your CV, in standard order:
Contact information
Education
Key skills
Hobbies and interests
Here's how that looks on an actual CV:
Now that you know which order the sections should go in, we'll show you how to structure and format each section.
1. Make a CV header with contact information
At the top of your CV you should start with a CV header that includes your name and contact information.
Your name should be written in a large font size, up to 28 points, to capture employers' attention and make you more memorable. You can also choose to include a professional title (like 'Retail Sales Associate').
Be sure that your contact information is clear and up to date, and includes the following:
a telephone number
a professional email address
your address or location
Common (optional) additions include a LinkedIn profile URL and professional website or portfolio. If the job you're applying for is in social media or marketing, including a social media profile that helps show off your skills can help you stand out.
2. Write a strong personal statement
Your personal statement (sometimes called a CV summary or About Me section) is the first thing hiring managers look at to gauge your suitability, so it needs to hold their attention. Your goal should be to summarise your most hireable qualities and show employers why you're the ideal candidate for the role.
Make your personal statement 3-5 sentences long and format it as a short paragraph or a bulleted list. Here's an example of a personal statement for a Bank Cashier Supervisor position:
Experienced Bank Cashier with a proven track record of exceeding customer service expectations and maintaining high accuracy in transactions. Implemented a customer service and branch operations streamlining system, resulting in a 15% increase in efficiency. Strong communication skills and ability to lead a team. Seeking challenge of Bank Cashier Supervisor role to continue delivering outstanding service and contributing to banking industry success.
3. Detail your work experience
Use your work experience to highlight your accomplishments, starting with your current or most recent position and working backwards. This is where you provide employers details about your professional experience and demonstrate your skills in action.
Here's how to structure each entry of your work experience section:
Job Title
Company, Location
Start date – End date/Present

Use present tense for current roles and past tense for previous roles
Include 3-5 bullet points that describe what you did in each role
Begin each bullet point with an action verb
Quantify your achievements with hard numbers where possible
Demonstrate your relevant soft skills in action
4. Showcase your academic achievements
Writing a strong education section for your CV can help show employers that you have the qualifications they're looking for in a candidate. This section is particularly important if you're writing a school leaver CV or lack formal work experience.
Your education section can include your:
university degree(s)
apprenticeships
secondary school or college qualifications like A-Levels, T-Levels, and GCSEs
If you don't have other relevant experience to put on your CV, it can also help to list any relevant courses you took or coursework you completed.
Here's an example of how to structure your education section:
5. Target key skills
To show employers you have the right skill set, use your CV's skills section to target the specific job you want. It's best to include a combination of key hard and soft skills for the job so employers know you have the technical abilities you need to perform your duties as well as the personal qualities that will help you succeed.
Here's an example of a strong skills section for a sales associate:
Skills

Communication
Client relationship building
Sales closing
Market knowledge
Customer service
Time management
Teamwork
CRM software
Multitasking
Negotiation
Deadline-oriented
6. Include some hobbies and interests
The hobbies and interests section on your CV gives you an opportunity to show employers a bit about your personality and life outside of work.
Try to include hobbies and interests that are relevant to the industry you're applying for work in. For example, if you're applying for a job in marketing, including your love of creating designs in Canva could help your candidacy.
While this section doesn't usually impact interview or hiring decisions very much, a well-written and tailored hobbies and interests section can give you a slight edge over the competition because it shows employers that you'd be a good culture fit for their work environment.
Here's an example of a hobbies and interests section for a freelance travel writer:
Hobbies and interests

Language learning: Mandarin HSK 3, French C1, Italian B1
Adventure sports: kayaking, scuba diving, river rafting
Foodie: trying new local cuisines around the world
7. Consider additional sections
If you have other relevant professional achievements to share with employers, the following sections can make great additions to your CV:
Qualifications
Licences
Publications
Projects
Awards
Professional associations
Additional training and coursework
Conferences
Make sure your CV has a proper layout
Aside from structuring your CV well, you also need to make sure it's laid out properly. Doing so will ensure that your CV looks professional and ticks all the right boxes.
Here are some tips to achieve the best CV layout:
Use an easy-to-read font (preferably a serif or sans serif font)
Choose an appropriate font size (10–12 points)
Set your margins between 1.27–2.5 cm
Use 1–1.5 line spacing
Ensure headings stand out
Make your CV a suitable length (the standard is two pages, but an inexperienced candidate may use a condensed one-page CV while a highly experienced candidate may opt for three)
Format your CV as a Word document or a PDF file
Select professional colours for your CV design
CV format options
Your CV structure will ultimately depend on which CV format you choose. While there is a standard structure, you may choose to adjust the order and placement of sections on your CV to highlight your strongest attributes as a candidate – whether that's your unique skill set, your education, or your professional qualifications.
These are the two most common CV formats job hunters use to showcase their professional history:
1. Chronological
The structure we've laid out above follows the chronological CV format, placing the work experience section under the personal statement (with jobs listed from most to least recent), followed by education and skills.
The chronological format keeps the focus on your professional experience and the progress you've made in your career. It's the most common format for job seekers as work experience is typically the primary element employers are looking for on a CV.
2. Skills-based
If you have less professional work experience or are looking to switch careers, a skills-based CV gives you an opportunity to showcase your most hireable qualities. Drawing employers' attention to transferable skills can help convince them to overlook your lack of formal experience.
On a skills-based CV, your skills section is listed under your personal statement and can be structured similarly to your work experience section. Here's an example:
Relevant Skills

Customer Service:

Assisted customers with purchases at university cake sales, consistently receiving positive feedback for my friendly demeanour
Volunteered as a student representative at university events, answering questions and resolving any issues for fellow undergrads
Improved customer satisfaction for a university-run concession stand by 20% through implementing a customer feedback system

Sales and Negotiation:

Negotiated and closed deals with 4 local businesses to secure sponsorships for a university event
Exceeded sales targets at a university cake sale by an average of 15% through effective product knowledge and demonstration
Developed and delivered persuasive sales presentations in a university module on sales and marketing

Time Management and Organization:

Managed and prioritised daily tasks effectively while balancing multiple responsibilities as a student athlete and volunteer
Organised and coordinated events for up to 100 attendees, including venue selection and vendor management, for a university club
Maintained accurate and detailed records of sales and customer interactions for a student-run business using various software tools
3 best CV structure examples
Here are three of our favourite CV structures. We've made them downloadable templates so you can use them to easily structure your own CV.
Student CV
Download This Student CV Template
This student CV provides plenty of space to detail your academic achievements and show employers how accomplished you are, with or without professional experience.
Professional CV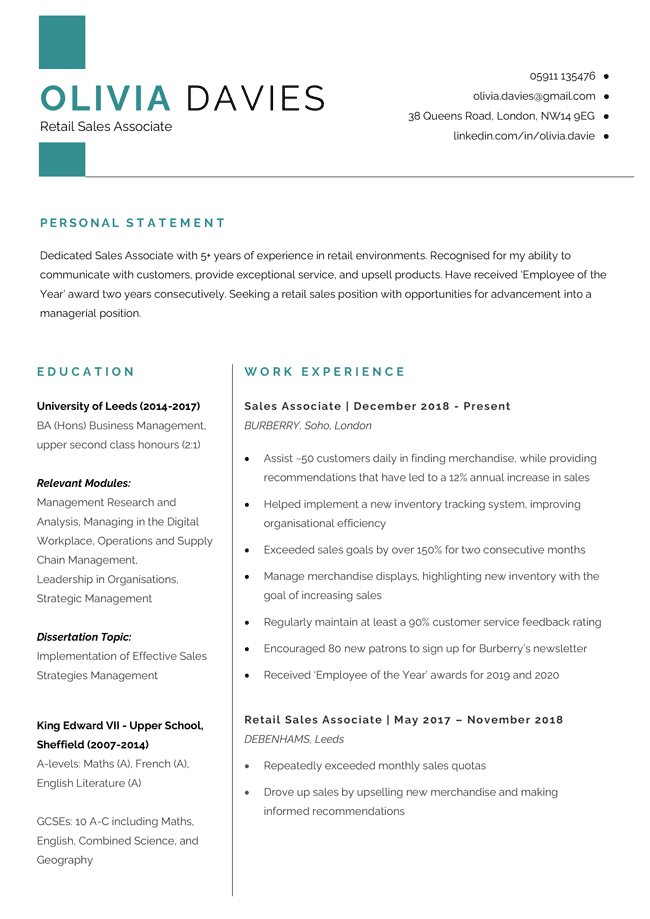 Download This Professional CV Template
The Metropolitan CV template features a large header that makes your name and contact information stand out, and uses a two-column structure below to organise the sections, drawing the eye to the candidate's professional accomplishments.
Skills-based CV
Download This Skills-based CV Template
Using a key skills-based CV allows you to put all of your most relevant transferable skills front and centre for employers to see. Back up each skill with some experience, and include numbers where possible to quantify and demonstrate your abilities.