If you're a visual learner, we've distilled our advice into this quick video:
The best pieces of written content start with a simple outline — and writing a CV is no different. So below is a list of the sections you'll need in your CV outline to help you get started.
This list is arranged as a standard CV outline, but you should rearrange sections 3–7 to ensure the information most likely to get you hired shows up first (making it easier for the employer to see):
Standard CV outline in the UK
CV header: Your name and contact details
Personal statement: 3–5 sentences or bullets summarising your CV's selling points
Work experience: Bulleted lists of your accomplishments in work, internship, or volunteer roles
Education: Your university degree (if applicable), secondary school, A-levels, GCSEs, T-Levels, and any other relevant qualifications
Skills: A bulleted list of your role-relevant abilities
Hobbies & interests: A bulleted list of interests that show you're a well-rounded person
Extra sections: Lists of job-specific information you want to highlight (e.g., certifications or language skills)
If you want to save time, here's a basic CV outline you can copy and paste into your word processor:
YOUR NAME
Job Title
Phone: xxxxx xxx xxx   Email: your.name@email.com   Address: Your Town   LinkedIn: www.linkedin.com/in/your-name
PERSONAL STATEMENT
[Adjective that describes your job-specific quality, e.g., 'Committed'] [job title] with [number] years of experience [type of work you do]. Known for [your most relevant achievements and skills]. Excited to [benefit you'll bring the company] as a [target job title] at [company name].
WORK EXPERIENCE
Most Recent Job Title
Company Name, Location, Start Date – End Date (or Present)
[Present tense action verb, e.g., 'Deliver'][example of most job-relevant achievement or skill using hard numbers when possible]
[Present tense verb][example of your next most-relevant experience]
Etc.
Next Most Recent Job Title
Company Name, Location, Start Date – End Date
[Past tense action verb][example of most job-relevant achievement or skill using hard numbers when possible]
[Past tense verb][example of your next most-relevant experience]
Etc.
EDUCATION
Degree Name (mention your degree classification for an honours degree)
University, Location, Start Date – End Date (or expected date)
Relevant modules: List your job-relevant modules here
Dissertation: If you completed a dissertation, put the title here
Secondary School
Location, Start Date – End Date
A-Levels: List any A-Levels you achieved while in secondary school or college
GCSEs: Include all GCSEs you achieved A*–C (or 9–4) in, particularly English, Maths, and IT
SKILLS
[Your most relevant skill, using keywords from the job advert]
[Next most relevant skill]
Etc.
HOBBIES & INTERESTS
[A leisure activity that shows you'd be a good cultural fit]
[A hobby that shows you're interested in your work outside of the office]
Etc.
Depending on your experience level or years in your current industry, a different outline might be more appropriate for your application. Here, we explore a few alternative CV formats and what situations they're most suitable for:
4 Situation-specific CV outline templates
Your CV outline should change based on your situation. So here are CV templates for:
1. CV outline for applicants with no experience
The best type of outline to use if you have little or no professional experience is a skills based CV. This type of CV outline moves your skills section under your personal statement so employers can see that despite your lack of experience, you have the abilities needed to succeed.
Here's a skills based CV outline template for applicants who need to overcome a lack of work history:
Download CV Outline Template (Word)
Copy and Paste CV Outline Template
YOUR NAME
Job Title
Phone: xxxxx xxx xxx   Email: your.name@email.com   Address: Your Town   LinkedIn: www.linkedin.com/in/your-name
PERSONAL STATEMENT
Hardworking coffee enthusiast with proven experience preparing coffee and espresso-based drinks. Organised Upper Sixth student adept at juggling academic responsibilities with part-time work. Adaptable (having volunteered in several distinct roles), I'm seeking to bring my customer service and sales skills to Homey's Roastery as your next outstanding barista.
KEY SKILLS
Customer Service
Provided excellent customer service as a babysitter for multiple families, maintaining a 100% satisfaction rate and numerous repeat bookings
Volunteered at a Christmas dinner drive for a local food bank, assisting with food selection and carrying heavy items to and from vehicles
Gathered feedback for school newspaper, resulting in a 50% increase in readership
Coffee Making
Knowledge of coffee flavours, experimented with different coffee beans, and able to distinguish different roasts
Adept at using a coffee grinder to grind fresh beans for brewing
Highly developed knowledge of how to make espresso-based drinks, including cappuccinos, lattes, and mochas, using a home espresso machine or a milk frother
Time Management
Successfully balanced babysitting, school coursework experience, and academic responsibilities, maintaining A* to B grades in all classes
Helped organise Christmas charity market in less than 2 weeks, demonstrating ability to prioritise tasks effectively
Prepared content plans for school newspaper and ensured articles were drafted and edited according to schedule
Sales
Able to efficiently operate a cash register, using fast mental arithmetic to calculate correct change for customers
E-commerce experience, having used online marketplaces to sell leftover clothes and textiles from clothing fundraiser, generating 10% extra revenue
EDUCATION
Greater Peterborough UTC
2022–Present, Peterborough
A Levels & predicted grades:
History: A
French: A*
Business Studies: A
Chemistry: B
St John Fisher Catholic High School
2018–2022, Peterborough
10 GCSEs (9–4), including Maths, English Language, Design & Technology, Geography, & Art
RELEVANT EXPERIENCE
PETERBOROUGH FOOD BANK, Peterborough
Volunteer, 2022–Present
Greater Peterborough UTC, Peterborough
Editor (Student Newspaper), 2022–Present
RELATED SKILLS
Customer service skills
Point-of-sale systems
Time management
Planning and organisation
News writing and editing
Conversational German
HOBBIES & INTERESTS
Football, played on school A team for 3 years and named Man of the Match on several occasions
Creative writing, enjoy putting together short stories in my free time
Cooking, enjoy experimenting with recipes from different cultures around the world
2. CV outline for job seekers with work experience
Employers value experience above all else. So if you have relevant work experience, emphasise that in your job application. To help you do so, here's a modern CV outline you can follow:
Download CV Outline Template (Word)
Copy and Paste CV Outline Template
YOUR NAME
Job Title
Phone: xxxxx xxx xxx   Email: your.name@email.com   Address: Your Town   LinkedIn: www.linkedin.com/in/your-name
PERSONAL STATEMENT
Creative Social Media Manager with 6+ years of experience in the non-profit, fitness, and media industries. Possess a BA in Business Management. SEO digital strategist committed to enhancing audience engagement and subscriber growth through major platforms like Facebook, Instagram, LinkedIn, and Twitter. Seeking an opportunity to foster global connections as a Social Media Manager for Kazoo Software.
WORK EXPERIENCE
The Media Nest, London, January 2021–Present
Social Media Manager
Manage 3+ social content production schedules, monitor staff activity, and discuss outcomes, recommendations, and goals with stakeholders
Optimised TikTok campaign performance by creating social media feedback surveys and research on market trends to boost TikTok platform engagement by 57%
Draft marketing campaigns in collaboration with the marketing directors, receiving 96% positive feedback on performance reports
Spins Fitness, London, May 2019–January 2021
Social Media Coordinator
Developed 2 real-time dashboards using Airtable to track engagement and brand mentions during viral Twitter and Facebook campaigns, helping the sales department reach conversions by 68% for gym memberships and drop-in classes
Worked closely with 3 departments (Video, Content, Design) to develop on-brand and engaging social content on our YouTube, Pinterest, Instagram, and Facebook channels
Used Photoshop, Figma, and Illustrator to develop 450+ images and wrote 520+ original captions, resulting in 6,000+ Twitter shares from June to August 2019
Community Crawl Collective, London, April 2016–December 2019
Social Media Marketing Assistant
Analysed 15 KPIs, including engagement, likes, and reach to meet 2018's ROI targets with a 100% success rate
Launched a Pinterest 'Care for the Crew' campaign that landed 270+ new inquiries for the friendship feature of our app, and increased monthly revenue by 130%
Managed customer connections, responding to 100% of inquiries and comments within 16 hours
EDUCATION
Goldsmiths, University of London (2013-2016)
BA (Hons) Business Management, upper second-class honours (2:1)
Relevant Modules: Management Research and Analysis, Managing in the Digital Workplace, Brand Strategy, Marketing Analytics, Implementation of Effective Sales Strategies
Hill House School, London (2006-2013)
A-Levels: Maths (A), Geography (A), English Literature (A)
GCSEs: 10 A-C including Maths, English, and ICT
KEY SKILLS
Social media channels: Facebook, LinkedIn, Instagram, Twitter, YouTube, TikTok, Snapchat, Pinterest
SEO copywriting and editing
Graphic design: Figma, Adobe Suite (Illustrator, InDesign, Photoshop), Canva, Procreate
Market research
Platforms, tools, and analytics: Google Analytics, Hootsuite, BuzzSumo, Live Writing, KISS Metrics, WordPress, Bit.ly
PR tools: Help A Reporter Out (HARO), PRWeb, PitchEngine
SEO copywriting and editing
Paid social media advertising
Microsoft Office (Excel, PowerPoint, Word)
HOBBIES & INTERESTS
Volunteering
Cooking and baking
Photography and video editing
Writing poetry
Travel blogging and vlogging
Learning German
3. CV outline for career changers
If you're switching to a new career path, you'll need to showcase your skills and training near the top of your CV. But also highlight your transferable skills in your work experience section. You can use this career change CV outline as a template when you write your own:
Download CV Outline Template (Word)
Copy and Paste CV Outline Template
YOUR NAME
Job Title
Phone: xxxxx xxx xxx   Email: your.name@email.com   Address: Your Town   LinkedIn: www.linkedin.com/in/your-name
PERSONAL STATEMENT
Professional wordsmith with 5+ years of experience working as a freelancer translator, editor, and proofreader. Recognised for my ability to communicate clearly with audiences of all ages and drive traffic using SEO tactics. Seeking to transition into a content writing position for topics regarding sports, finance, technology, lifestyle, and current events.
KEY SKILLS
Writing
Efficiently wrote 25+ articles for Top Dog agency with a turnaround time of 1 day per assignment
Conducted keyword research using SEMrush, Keyword Surfer, and AnswerThePublic before writing SEO articles
Comfortable using WordPress, Square Space, and Drupal to edit and publish articles while working at Rocket Launch
Translation
Translated 60+ documents from Spanish to English including voice overs, instruction manuals, blog posts, and legal contracts
Experienced with the latest versions of translation software including iTranslate Translator 4, Microsoft Office, memoQ, and Capterra
Used localisation knowledge to translate online lifestyle and culture newsletters from English to French, altering writing style to suit audiences of ages 13–30
Digital Marketing
Worked closely with Demand Generation and Product teams through emails and video call meetings to keep them up-to-date and ensure they're aligned with campaign efforts
Designed marketing tactics and promotional strategies to improve university website and address the needs of English Literature faculty and students
Managed the Pinterest, Instagram, and Twitter for Footlocker, resulting in a 50% increase in clicks and an 85% increase in conversions
EDUCATION
University of Leeds (2015–2018)
BA (Hons) English Literature
Upper second class honours (2:1)
King Edward VII – Upper School, Shefield (2008–2015)
A-levels: Maths (A), French (A), English Literature (A)
GCSEs: 10 A-C including Maths, English, Combined Science, and Geography
WORK EXPERIENCE
Writer
Top Dog, Remote
Digital Marketing Coordinator
Rocket Launch, Remote
Bartender
The Queen's Head, Sheffield, UK
Retail Sales Associate
Footlocker, Sheffield, UK
HOBBIES & INTERESTS
Digital photography
Video creation and editing
Outdoor rock climbing
Learning languages (Spanish, Chinese, French)
4. CV outline for students
Still studying? Here's a CV outline template by a student who emphasises their education section, skills, and volunteer experience:
Download CV Outline Template (Word)
Copy and Paste CV Outline Template
YOUR NAME
Job Title
Phone: xxxxx xxx xxx   Email: your.name@email.com   Address: Your Town   LinkedIn: www.linkedin.com/in/your-name
PERSONAL STATEMENT
Highly motivated BSc Business Management student at the University of Leeds on track for 1st classification. More than a year of previous volunteer marketing experience at a local Leed's family shop conducting business analytics and promoting marketing campaigns to attract new customers. Looking to leverage my excellent academic background and experience to fill the [Job Title] at [Company Name].
KEY SKILLS
Business analytics
Marketing
Drafting and editing copy
Oral and written communication
Interpersonal skills
Conflict resolution
Teamwork
EDUCATION
University of Leeds (expected graduation May 2023)
BSc (Hons) Business Management
Relevant Modules: Introduction to Business Management, Business Ethics, Financial Management, Operations
Leeds Sixth Form College (2018–2020)
A-Levels: Maths (A), Spanish (A), & Economics (A)
Leeds West Academy (2011-2018)
GCSEs: 10 Grades 9–4 including Maths, English, Statistics, & Business
INTERNSHIP EXPERIENCE
Discount Family Shoppe | Leeds, UK
Volunteer, January 2017 – April 2018
Interned at a local family business, conducting marketing research and business analytics
Drafted and published copy for store advertisements placed in the local newspaper
Created 3 separate customer questionnaires aimed at gauging interest in different consumer products
Updated in-store product offerings based on survey results, increasing foot traffic by 30% and revenue by 10% (£20,000 annually)
HOBBIES & INTERESTS
Tech enthusiast: Built 10+ gaming PCs for friends and family, and have experience troubleshooting technical and software problems
Avid gamer: Regularly participate in gaming contests
CV outline tips
When you're targeting a job you want, getting every detail of your CV outline right is a must. So go through these CV outline tips and ensure you build a CV that gets you to the top of employers' candidate lists:
1. Customise your section order based on the job advert
Always rewrite your CV to show how you meet the specific needs your target employer mentioned in their job advert. Doing so immediately separates you from applicants who submit the same generic CV to every job they apply for.
For example, if the job advert says the employer prefers applicants who have certain certifications, you can make a certifications section and put it near the top of your CV.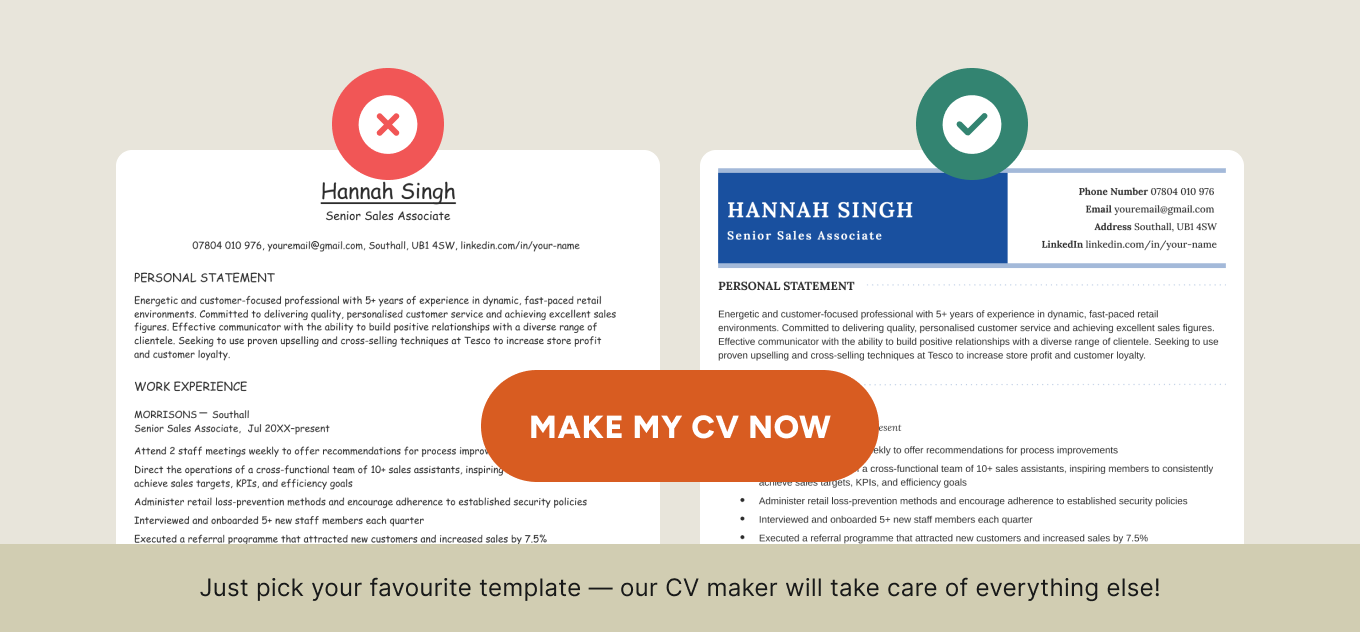 2. Make it easy to skim
A well-written outline is easy to skim, but when you start adding in a bunch of content under each point, it can become text-heavy. Here are some elements you can add to your CV that'll make it easy for employer to scan and quickly find what they're looking for:
Section headers and subheadings
Bold and italic text
Bulleted lists
A recommended CV font set to 10–12 points
But don't overdo it with any of those features. Too much of a good thing will turn your CV into an unreadable mess.
3. Fill two pages
The traditional length of a CV in the UK is two pages. If you're writing your first CV and don't have much experience, though, don't stress. To fill your CV:
create extra sections (e.g., languages you speak, relevant coursework, or conferences attended)
use a 12-point font
set your line spacing to 1.5 (but don't go over that or your CV will appear empty)
widen your margins (just don't expand them beyond 2.5 cm or your information will be squished together in the middle of the page)
try a different CV template
But what if your CV outline pushes onto a third page? If you have that much directly relevant information to include, it's fine to go over three pages. But if you're looking to shrink your CV a bit, you can:
remove any irrelevant information (e.g., you don't need to include a part-time customer service job if you're applying for a computer science role and have several years of full-time experience in IT)
reduce your font size to a minimum of 10 points
use single-spacing between lines of text
set your margins to a minimum of 1.27 cm (anything smaller will spread your information out too much)
find a more efficient CV template
Role-specific CV outline examples
To get your CV outline right, look at good CV examples from your industry. To save you time spent searching the internet, here are examples from various lines of work:
CV outline FAQs
Still not sure how to outline your CV? Here are answers to three of the most common questions asked about CV structuring:
1. What are the 3 formats of a CV?
The 3 formats of a CV are:
chronological: personal statement → work experience in reverse-chronological order → education → skills → additional sections
skills based: personal statement → large skills section with abilities as headers and bullets with examples under each → education → work/volunteer/internship experience → additional sections
combination (or hybrid): personal statement → small skills section with abilities as headers and bullets with examples under each → work experience → education → additional sections
But don't worry too much about what you call your CV format. Just ensure the information most likely to get you the job is at the top of your first page, and you'll have the CV format that works best for your situation.
2. What is the best CV structure?
The best CV structure is one that puts your most impressive information near the top. Employers often scan CVs to decide which candidates to take a longer look at. Putting your most relevant details near the top ensures they don't misevaluate you.
Of course, placing the right information in the right spot won't be as effective if your CV design is unprofessional. So use a CV template to set out a CV that helps employers find your most marketable experience and skills.
3. What are the 5 main parts of a CV?
The 5 main parts of a CV are the:
header with your name and contact details
personal statement that summarises your CV's main points
work experience section that highlights your career achievements
education section with your university and secondary school information
skills section that features keywords from the job description
Including a hobbies and interests section to give employers a more complete picture of you is also common in the UK. But it's considered an additional section that you can remove if you need to save space.