Picking your CV design is one of the most important steps in the CV creation process — after choosing your CV's format. A professional CV design will make your application stand out and effectively highlight your qualifications to recruiters. On the other hand, a bland design without style or colours could make employers confuse your CV with other similarly drab applications they receive.
So here are our 11 best CV designs and templates for 2023 (all free to download), followed by tips for designing your own CV and answers to CV design FAQs.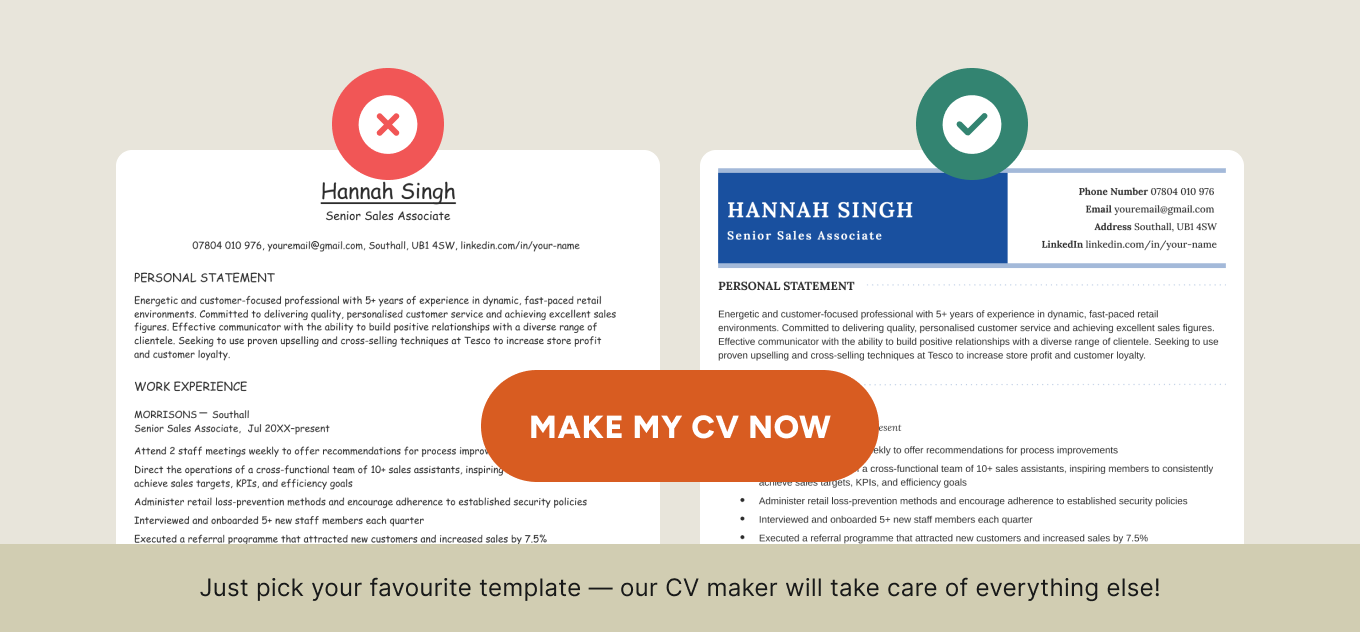 1. The creative CV design
This creatively designed CV incorporates bold colours and geometric design elements to deliver a powerful visual punch.
But the graphic features don't distract from what's really important — your job-relevant skills and experience. The content in this CV's layout is easily skimmable, with clear headers, bolded subheadings, and bulleted lists.
2. The professional CV design
Keeping the education section short and allowing your skills and experience to shine, the 'Penthouse' CV on CV Genius emphasises your professional expertise while looking humble.
The sleek icons used in the CV header communicate information effectively while taking up minimal space. Additionally, the lines around each section break up the often data-focused content. And the skills bars add a playful touch to the key skills of your CV to balance out the text-heavy design.
3. The cool CV design
We think our 'Bloomsbury' CV template above has a cool CV design because it features a header with contrasting colors that's sure to catch the recruiter's eye. But this design features much more than a flashy header, including:
icons that make your contact information appear professional
a two-column design that easily fits your most relevant work experience, education, and skills on a one-page CV (and there's a second page for your hobbies & interests and any other sections you need)
underlined section headers for easy skimming
4. The simple CV design
If you want to let the content of your CV do the talking, our 'Soho' CV template is the one for you.
With the text aligned in the centre, the employer doesn't need to look around the page to find relevant information. This stylistic choice is simple yet powerful because, like reading a menu, the reader naturally wants to carefully go through each choice down the middle to make sure they note every option.
Also, the wide header adds colour and gives your job title and name a strong visual background.
5. The modern CV design
With clean lines and clearly mapped-out sections, our 'Contemporary' CV template strikes a balance between style and minimalism.
This CV idea features a modern font style for your name and a neatly organised section for your contact information. And the capitalised section headers let the recruiter immediately jump to the information they're most interested in reading.
If you're applying to work in a formal industry like business or banking, this well-structured CV is perfect for your application.
6. The skills graphic CV design
Colourful and eye-catching, this 'Social' design from Resume Genius focuses on highlighting your skills on your CV rather than your education and work experience.
This skills-based CV immediately draws attention to your hard and soft skills and allows you to showcase your expertise with brightly coloured graphs and percentage bars. Because they don't focus on your experience and instead highlight your professional talents, skills-based CV designs are also effective if you're:
a recent graduate
lacking relevant job experience
turning a hobby into a career
And remember that if you use a CV design that favours graphics over text, be sure you learn how to write a cover letter that gives context to your skills and experience.
7. The corporate CV design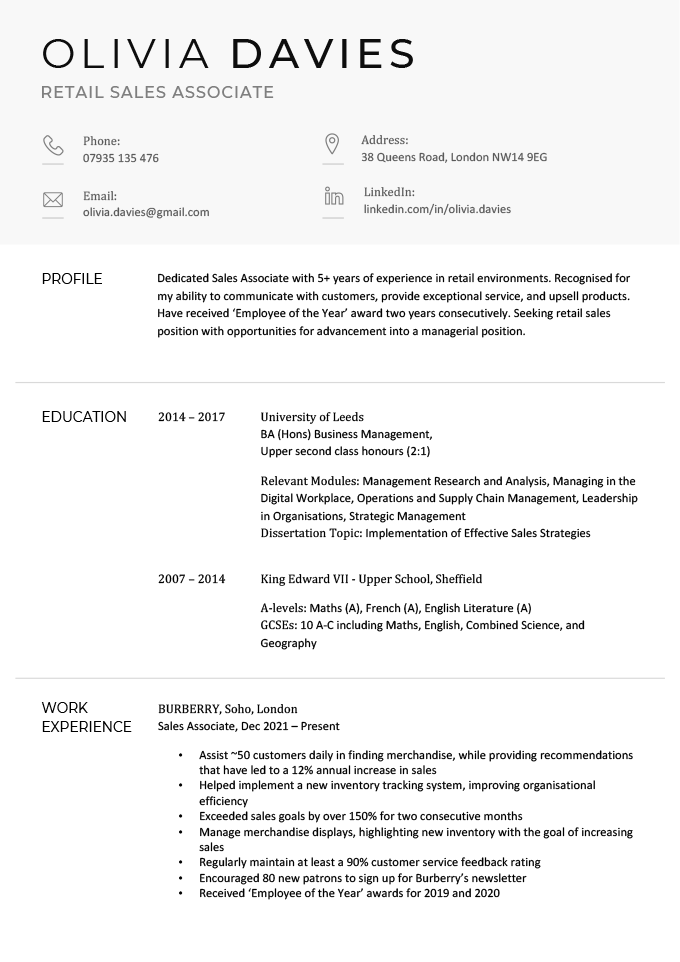 Our 'Corporate' CV template has clean white space paired with a gray header to separate the contact information from the CV's main content, and the crisp design and bold titles are ideal for any industry.
This simple CV template design leaves out unnecessary visual details and lets your skills and experiences take centre stage.
8. The fancy CV design
One of our fanciest CV designs is our 'Stirling CV' template. It uses a full border and drop shadow to make it seem like your skills and accomplishments are jumping off the page at the recruiter.
Similarly, the bolded, two-coloured text makes your name leap off the page and stick in the employer's memory.
9. The clean CV design
Our 'Berkshire' CV layout design keeps your content compact and simple. Instead of cramming your CV with unnecessary information to fill up space, the use of lines masks the white space.
The teal colour helps leave a visual imprint while keeping the CV clean and graphics-free.
10. The photo CV design
Looking for a CV with a picture? Our 'Snowdonia' CV template is a great option.
Most photo CV templates use a profiile picture–style design, with a small square or circle image. We switched things up a bit by making the image large enough to see clearly, and giving it an asymmetrical border to make you stand out to recruiters.
11. The executive CV design
If you're applying for a high-level management position, avoid sending a CV with distracting colours and graphics. Instead, you should use a professional CV design that emphasises your leadership experience and accomplishments.
Our 'Executive' CV template uses a professionally designed header to help your application stand out visually. But below the header this CV design is all business, emphasising your personal statement and work experience section in easy-to-read text.
How to design a CV
If none of the CV designs above is exactly what you're looking for, you can design your own CV.
But personalising your CV design can be difficult if you don't have an artistic background, so here are three tips to guide you through the process:
1. Pick a CV design based on the industry and job advert
To make the best choice about what kind of CV design to use, you need to understand the industry and type of person the company is looking for.
So look through the job description to get a feel of the company's culture. Matching your CV's style to the job advert will convey to employers that you're a good fit for the position.
Here's an example of a job posting with terms that will help you know what type of CV design to choose highlighted in bold text:
We're looking for a fashion editor to supervise the process of creating content for photoshoots, newspapers, and websites. The candidate should be passionate about current fashion trends and social media design.
In the job description above, the main role of the candidate is creating trendy content revolving around fashion for social media platforms. So your CV for this job should feature a trendy colourful design to immediately show off your creativity.
On the other hand, a company focused on data and technology would require a professional and content-focused CV design.
2. Adjust the margins to suit your CV's length
Your CV should be one or two pages — unless you have decades of experience. Narrowing your CV's margins can help you fit all of your relevant information into this space.
Similarly, if your CV lacks relevant information, widening the margins will make your content fill the pages.
Most applicants use the default 2.5 cm margins. However, don't be afraid to adjust the margins based on your CV's length.
3. Choose the correct font
To choose the best font for your CV, match the level of formality expected of a professional in the industry you're applying to. You have two types of fonts to choose from:
Serif fonts (the ones that curl at the ends) are used in print publications like newspapers and books. So these fonts are great for your CV if you're applying for a job at a company with a formal environment, like a 5-star hotel.
Sans-serif fonts (the ones that don't curl at the ends) are favoured in digital publications like magazines. If you're applying for a creative role or to any company that presents itself as laidback, use a sans-serif font.
Popular serif fonts include:
Times New Roman
Georgia
Didot
Some good sans-serif fonts are:
Frequently asked questions about CV designs
Still have questions about your CV's design? Here are answers to three more questions about designing a job-winning CV:
1. What makes a CV attractive?
What makes a CV attractive is content that matches the requirements of a job the reader is trying to fill. Visually attractive design elements like icons, colours, and a balanced mix of white space and text are important as well, but they're secondary to your content.
It's also worth remembering that standards for CV presentation vary from job to job. Checking relevant CV examples is one of the most effective ways of determining what employers will be hoping to see in your industry.
2. Should a CV be A4 or letter size?
Your CV should be A4 size 21 cm × 29.7 cm (8.27  × 11.69 inches), the standard size in the UK and Europe. However, if you're applying for a job in North America, which typically requires a resume versus a CV, use letter size (22 cm × 28 cm (8.5 × 11 inches).
3. Which type of photo is best on a CV?
A profesional headshot (showing your head and shoulders) is the best type of photo to use on your CV. Ensure you're dressed appropriately for your industry and role in your photo.
More CV designing FAQs
Click on the CV design questions below to read concise, expert answers: