Visuals generate emotions and help us remember information, so our eyes can't help but be drawn to more aesthetic CV designs.
Choosing how to design your CV is an important step in the job-hunting process. A professional CV design will make your application stand out while effectively highlighting your qualifications, whereas a bland design without style or colours will make employers lose your application in the pile they have to sort through.
We've compiled the nine best CV design ideas and templates for 2022, and explain how each different CV layout style will help you leave a positive impression on employers.
9 inspiring CV designs
Employers take around six seconds to decide if a CV should be kept or discarded. Therefore, every detail on your CV has to be tailored to suit the job industry and position.

Each CV style below embodies a distinct aesthetic that helps convey traits like creativity, professionalism, and flair — depending on the impression you want to make.
1. A skills-based CV
Colourful and eye-catching, this 'Social' design from Resume Genius focuses on highlighting your skills rather than your education and work experience.
This skills-based CV immediately draws attention to your hard and soft skills and allows you to showcase your expertise with the coloured percentages. The contrasting colours in the bubbles add visual consistency when paired with the icons, and allow the reader to effectively navigate the different sections.
This design is ideal for those working in more creative industries such as fashion.
Skills-based CV designs are also effective if you're a recent graduate, lack relevant job experience, or are turning a hobby into a career because they don't focus on your experience and instead highlight your professional talents.
2. A modern CV
With clean lines and clearly mapped-out sections, this modern design from Etsy strikes a balance between style and minimalism.
Etsy's designed CV features fancy capitalised headers paired with easy-to-read body text.
The combination of vertical and horizontal splits allows for your attention to gradually move towards the work experience section. The lack of colour prevents distractions while also maintaining the classic black-and-white CV aesthetic.
This CV design is ideal for those working in business or technology.
3. A creative CV
This creatively designed CV from Etsy incorporates a variety of styles to deliver a visual punch.
With each section's name highlighted using stark colours and contrasting shapes, the readers' eyes are naturally guided to the important categories: all of them.
The shaded sidebar organises your personal information so the CV layout is easily skimmable and more ATS friendly.
4. A corporate CV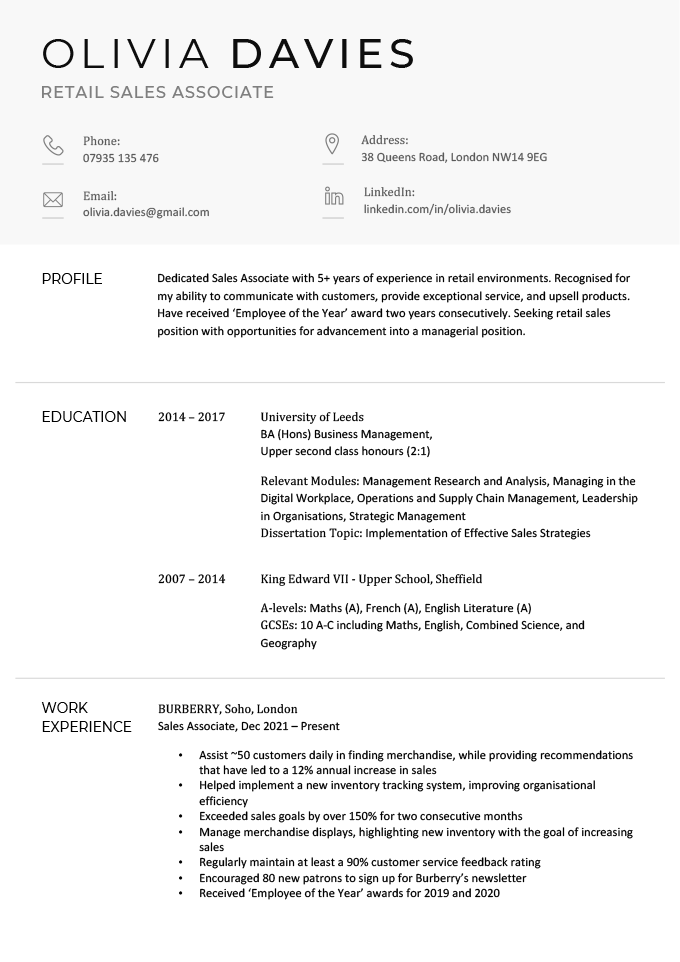 Our 'Corporate' CV template has clean white space paired with a grey header to separate the contact information from the main content of the CV.
The crisp design and bold titles are suited for any industry. This CV template design leaves out unnecessary visual details and allows your skills and experiences to take centre stage.
5. A fancy CV
Utilising a blend of cool and warm tones, fancy speaks for itself. Splitting the sections into boxes makes your CV design look like a dazzling skyscraper — almost as highly valued as the qualifications in each window.
But what we really love about this inspirational CV from Etsy is that it doesn't compromise content space for style.
The solid borders demand attention while purple and yellow are on opposite sides of the colour wheel yet easy on the eyes.
6. A clean CV
Our 'Berkshire' CV layout design keeps your content compact and simple. Instead of cramming your CV with unnecessary information to fill up space, the use of lines masks the white space seamlessly.
The purple helps leave a visual imprint while keeping the CV clean and graphics-free.
Use this visual CV design if you don't know how to format a CV, because you can easily adjust the length of the horizontal lines to create or take away space.
7. A professional CV
Keeping the education section short and allowing your skills and experience to shine, the 'Penthouse' CV on CV Genius emphasises your professional expertise while looking humble.
The sleek icons used in the CV header communicate information effectively while taking up minimal space.
The asymmetrical lines serve to break up the often data-focused content, and the bars add a playful touch to the key skills of your CV to balance out the text-heavy design.
8. A designer CV
Grabbed straight off Vogue's printer, this designer CV from Etsy would never be mistaken for another.
The slick shade of pink communicates flair effortlessly. Instead of the usual CV personal statement, you can choose to include a quote to give employers a sense of your personality.
People love reading magazines because they (usually) contain interesting information — much like your CV. Minimising the text and placing it in small sections similar to a table of contents is a good CV graphic trick to pique interest.
This CV layout is ideal for those working in the field of graphic design or communications because it highlights personalisation and stylistic elements.
9. A simple CV
If you want to let the content of your CV do the talking, our 'Soho' CV template is the one for you.
With the text aligned in the centre, you don't need to consciously look around the page to find relevant information. The wide header adds colour and gives your title and name a strong visual background.
This stylistic choice is simple yet powerful because, like reading a menu, you want to comb thoroughly through each choice down the middle to make sure you note every option.
How to design a CV
After seeing these CV design inspirations, you're almost equipped to begin designing your CV.
It can be hard to personalise your CV design if you don't have an artistic background, so here are three tips to guide you through the process.
1. Choose your CV design based on the job field and description
To make the best choice about which CV design to use, you need to understand the industry and type of person the company is looking for.
Looking through the job description allows you to get a feel of the company's culture and register. Matching the desired traits with the style of your CV design will convey to employers that you're a good fit for the position.
We are looking for a fashion editor to supervise the process of creating content for photoshoots, newspapers, and websites. The candidate should be passionate about current fashion trends and social media design.
In the job description above, the main role of the candidate is creating trendy content revolving around fashion for social media platforms. Your CV should therefore emphasise a trendy colourful design to immediately show off your creativity.
On the other hand, a company focused on data and technology would lean more favourably towards a professional and content-focused CV design.
2. Adjust the margins to suit your CV's length
Your CV should be one or two pages unless you have decades of experience. Narrowing the margins of your CV can help you fit all of your relevant information into this space.
Similarly, if your CV lacks relevant information, widening the margins will make your content look more compact.
Most applicants use the default 2.5 cm margins. However, don't be afraid to adjust the margins based on your content length.
3. Choose the correct font
To choose the best font for your CV, match the level of formality expected of a professional in the industry you're applying to.
Serif fonts are easier to read and often used in print publications like newspapers and books. So if you plan to print your CV at any point, use a serif font.
Sans-serif fonts are used in more creative fields and favoured in digital publications like magazines. If you only plan to email or electronically submit your CV, a sans-serif font is a good choice.
Popular serif fonts include:
Times New Roman
Georgia
Didot
Popular sans-serif fonts include:
Avoid fonts that are difficult to read because they can confuse applicant tracking systems (ATS) and eliminate your CV before it gets to the recruiter.
On to the next step
Now that you've had time to take in all that CV design inspiration, you're ready to design your own CV.
But remember that a great CV design means nothing if it isn't paired with great content and an expertly written cover letter.
Additionally, using an online CV builder can save you a lot of time and help you design a CV that will impress employers in 2022 (and beyond).