Uploading your CV to your LinkedIn profile using the 'Easy Apply' or 'Featured Media' features is a great way to secure more jobs on LinkedIn because it increases your CV's visibility.
Adding your CV as a Featured Media link is helpful if you want to provide more details about your background, skills, and experience so employers can reach out to you about job opportunities.
But if you're worried about your privacy, upload your CV using the Easy Apply option, which means that only companies you apply to can view your CV.
Here are some expert tips on how to add your CV to LinkedIn.
Before uploading your CV on LinkedIn
Knowing why you're adding your CV to LinkedIn and formatting it well strengthens your chances of getting noticed by employers. Consider these factors before uploading your CV:
1. Learn why you should upload your CV to LinkedIn
Uploading your CV to LinkedIn makes you look like a professional candidate. By making your CV accessible, you show employers you're eager to start working and have taken initiative by providing the information they want to see.
Employers find it easier to assess your fit for the job with your LinkedIn profile and CV breakdown all on one page, making them more likely to get in touch with you.
2. Consider why some people wouldn't upload their CVs to LinkedIn
Despite the overwhelming positives of uploading your CV to LinkedIn, there are some consequences to consider, including:
privacy issues. You could be giving anyone who wants to download your CV the power to do so if you add your CV to your LinkedIn as Featured Media.
overshadowing your LinkedIn profile. Perhaps your LinkedIn profile is already well-written and good enough. If you upload a poorly written CV, then you might weaken your LinkedIn profile.
3. Format your CV for LinkedIn
Not sure how to write a CV that's formatted properly for LinkedIn? First, you'll need to make some changes to your CV's format before uploading it to LinkedIn.
First, prepare an organised and well-written CV. You should include:
Next, change your CV to the appropriate format. LinkedIn only accepts PDF, .doc, and .docx files.
Lastly, if you're using the LinkedIn app, update it to the latest version. You may have trouble uploading your CV if you have an older version.
How to add your CV to LinkedIn as 'Featured Media'
You can upload your CV to your LinkedIn profile by linking to it as Featured Media. Featured Media is an effortless way to upload your CV and helps declutter your LinkedIn profile.
To upload your CV as Featured Media, follow these steps using our orange labels to guide you.
Step 1: Click on 'Me' and select 'View Profile' from the drop-down menu.
Step 2: On your profile, click the 'Add Section' button on the left-hand side.
Step 3: From the drop-down menu, select 'Featured' and then 'Media'. You'll see an option to search for your CV in your device's saved files.
Once you've completed these steps, your CV will appear as a link on your profile.
Keep in mind that your CV contains personal information that anyone can easily access if you upload your CV as Featured Media.
So consider removing your personal information (contact details and employer details) from your CV. In any case, the recruiter can contact you directly on LinkedIn.
Instead of removing your contact details completely, another option is to do the following:
substitute your primary email address with a secondary email address
replace specific company names with less specific information
Here's an example of a work experience entry with fewer details:
2017–2021, High Street Pharmacy Chain
If you upload a CV as Featured Media, it should be generic because you're not targeting a specific company. On a Featured Media CV, you can mention all of the skills, achievements, and work experiences related to the kind of role you want to be hired for.
The only way to have a targeted CV on LinkedIn is through the Easy Apply method. When you upload your CV through Easy Apply, you can edit it to suit the job you're applying for.
Unlike Featured Media where anyone can view your CV, Easy Apply is only available on job postings. So with Easy Apply, only the recruiter will see your CV.
How to upload a CV on LinkedIn using 'Easy Apply'
Uploading your CV using Easy Apply ensures your personal information is more secure because Easy Apply makes your CV accessible only to hiring personnel from the companies you're applying to.
Follow these steps to use your CV for Easy Apply job applications.
Step 1: Click on 'Jobs' on the top menu.

Step 2: Search through your job matches until you find a job with an 'Apply Easily' label on it. Click on the 'Apply Easily' button.

Step 3: Fill out the requested requirements above, and use the 'Upload Resume' button to add your CV to LinkedIn.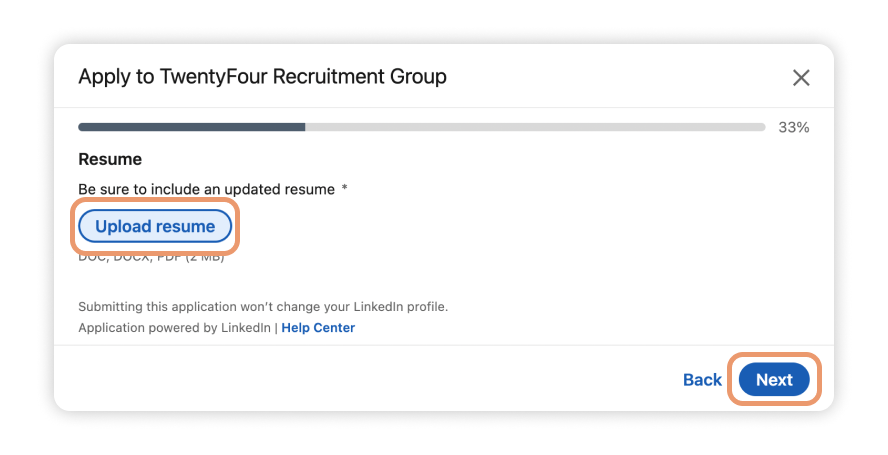 Step 4: Click 'Submit Application'.
The advantage of uploading your CV using the Easy Apply option is that LinkedIn stores the last four CVs you uploaded using this method.
So when you're applying for jobs in the future, you can choose from your four most recently uploaded CVs.
For example, if you've made a teacher CV and a customer service CV, Easy Apply lets you pick one of these CVs to apply with.
View your four Easy Apply CVs at any time by clicking on your LinkedIn job application settings.
Also, keep in mind that when using Easy Apply, you can edit your CV and tailor it to the job description.
For example, you can show why you would make a great waitress. A targeted waitress CV through Easy Apply sells your expertise better than a generic CV uploaded using the Featured Media option.
Start uploading CVs using Easy Apply today to see how simple applying for jobs is on LinkedIn.