The CV skills section appears second to last on most CV layouts. But don't let that position fool you.
A well-written skills section — with the right key skills — can help make your CV stand out to recruiters, boosting your chances of landing an interview.
To help you make the best skills section for your CV, we have: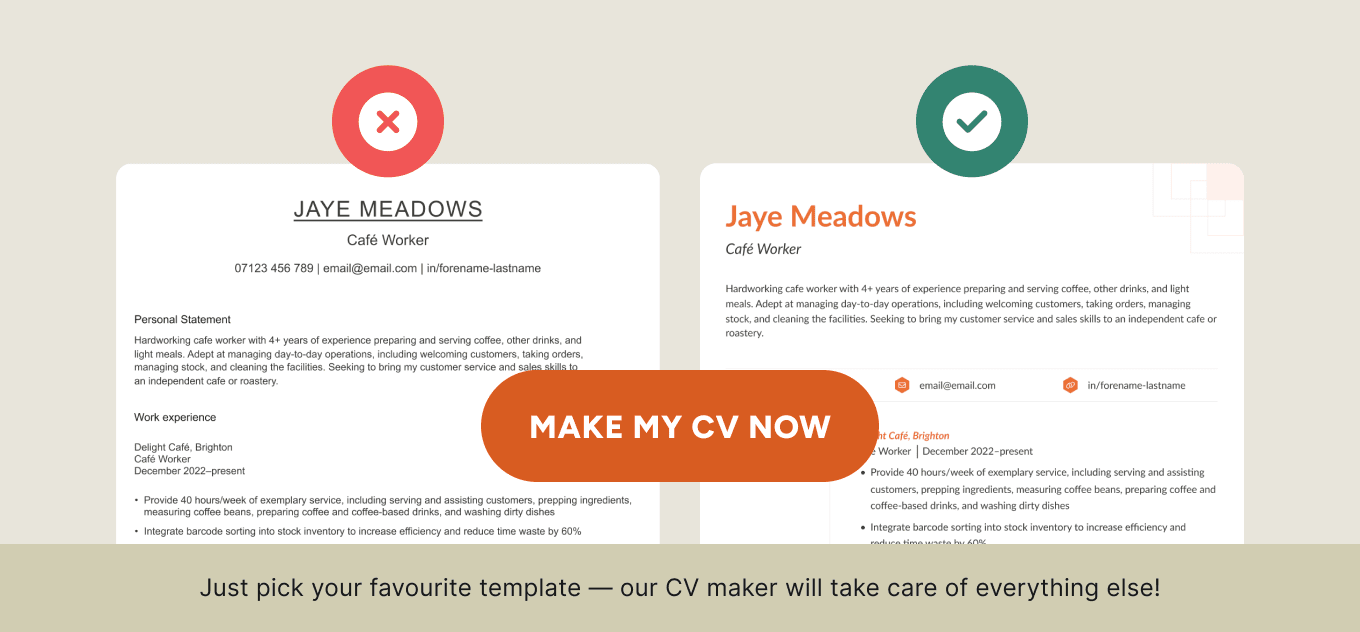 Example CV skills section
Here's how a CV skills section looks on a fully formatted CV. You can download the entire CV outline as a Word document, or copy the text version template below into your writing software: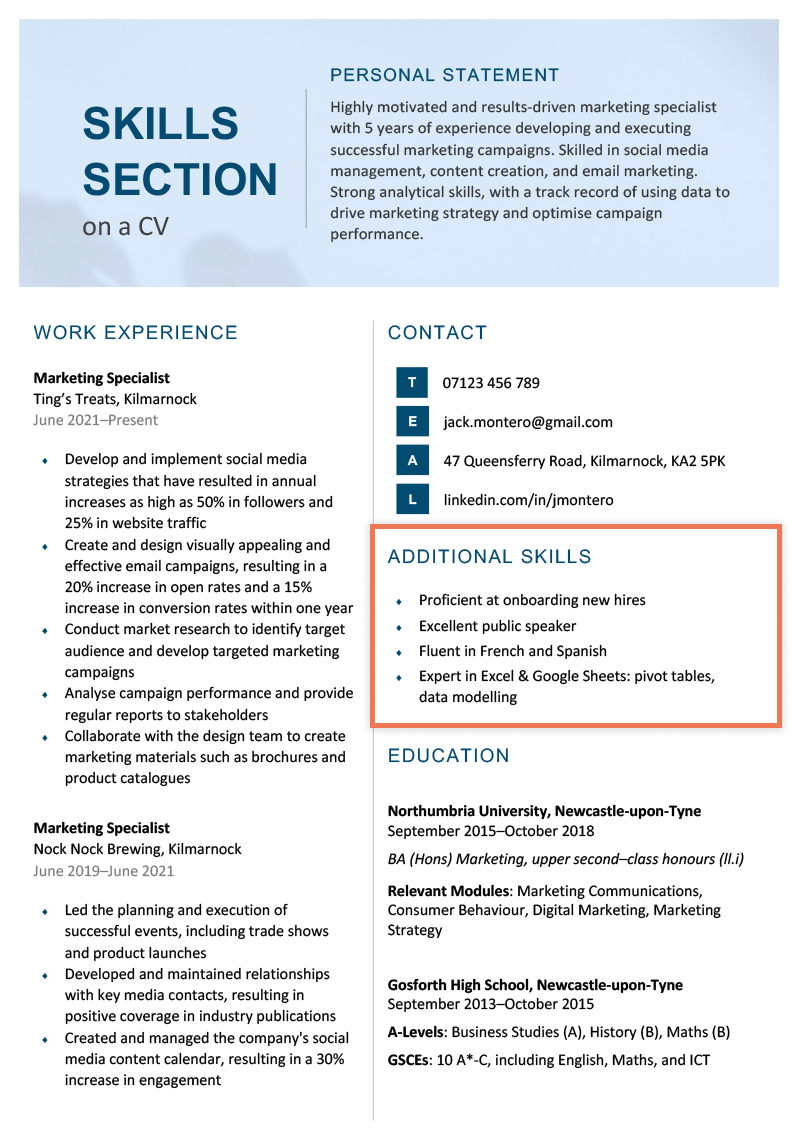 Skills Section on CV Example (Text Template)
PERSONAL STATEMENT
Highly motivated and results-driven marketing specialist with 5 years of experience developing and executing successful marketing campaigns. Skilled in social media management, content creation, and email marketing. Strong analytical skills, with a track record of using data to drive marketing strategy and optimise campaign performance.
WORK EXPERIENCE
Marketing Specialist
Ting's Treats, Kilmarnock
June 2021–Present
Develop and implement social media strategies that have resulted in annual increases as high as 50% in followers and 25% in website traffic
Create and design visually appealing and effective email campaigns, resulting in a 20% increase in open rates and a 15% increase in conversion rates within one year
Conduct market research to identify target audience and develop targeted marketing campaigns
Analyse campaign performance and provide regular reports to stakeholders
Collaborate with the design team to create marketing materials such as brochures and product catalogues
Marketing Specialist
Nock Nock Brewing, Kilmarnock
June 2019–June 2021
Led the planning and execution of successful events, including trade shows and product launches
Developed and maintained relationships with key media contacts, resulting in positive coverage in industry publications
Created and managed the company's social media content calendar, resulting in a 30% increase in engagement
Marketing Intern
House of Fraser, Glasgow
October 2018–June 2019
Assisted in the planning and execution of marketing campaigns, including email, social media, and events
Created and edited marketing materials such as brochures, presentations, and website content
Conducted market research to inform campaign strategy and target audience
Assisted in the development and maintenance of the company's social media presence
Analysed campaign performance and provided regular reports to stakeholders
ADDITIONAL SKILLS
Proficient at onboarding new hires
Excellent public speaker
Fluent in French and Spanish
Expert in Excel & Google Sheets: pivot tables, data modelling
EDUCATION
Northumbria University, Newcastle-upon-Tyne
September 2015–June 2018
BA (Hons) Marketing, upper second–class honours (ll.i)
Relevant Modules: Marketing Communications, Consumer Behaviour, Digital Marketing, Marketing Strategy
Gosforth High School, Newcastle-upon-Tyne
September 2013–October 2015
A-Levels: Business Studies (A), History (B), Maths (B)
GCSEs: 10 A*-C, including English, Maths, and ICT
HOBBIES & INTERESTS
Ukulele playing
Pub quizzes
Attending science-fiction conventions
How to write your CV skills section in 4 steps (with examples)
Format your skills section properly to ensure employers can easily find and read it.
To write the perfect CV skills section for your job application, you need to understand the employer's needs and identify your most marketable traits as a candidate.
Follow these four steps to write a skills section that emphasises your value as a potential hire.
1. Identify your relevant skills
When you're applying for a job you're excited about, it's tempting to list every skill you have in an effort to wow the employer.
Resist that temptation.
The employer only wants to know about technical skills and transferable skills that will help them fill their current talent gap. To make the biggest impact, you should optimise your skills section by only including your most relevant abilities and knowledge areas.
To optimise your CV's skills section, you need to:
study the job advert to determine the skills the employer wants to see on your CV
review your professional and personal background to find skills that match the employer's needs
list your relevant skills in your skills section
2. List an appropriate amount of skills
Your skills section should have at least two skills listed to keep it from looking empty.
There's no specific limit to how many skills you can list, but use your best judgement. For example, writing a page-long skills list is overkill and will make your CV look vague and poorly organised.
If you're writing a skills-based CV, your skills section should be quite long (up to a page usually). It won't look long-winded because skills-based CVs treat your skills section as your main CV section. That being said, you should use the extra space to give examples of your skills, rather than list hundreds of unique skills.
Remember to include both soft and hard skills
Your skills list should include both hard and soft skills to show employers that you're a well-rounded applicant who can handle technical and interpersonal tasks.
Hard skills are abilities you develop through training (like creative writing or Python), whereas soft skills are personality traits that shape your work ethic (e.g., self-motivation).
Here's an example CV skills section that includes both hard and soft skills:
Relevant Skills

•  Expert-level Adobe Photoshop and Premiere user
•  Award-winning oil painter
•  Detail-oriented image editor
•  Fast-learning team player
3. Consider highlighting your skill level
You can help the employer get a sense of your ability in certain skills (e.g., foreign languages) by specifying your skill level:
KEY SKILLS
Advanced education technology skills, hosting monthly software/hardware workshops for other teachers
Conversational Spanish skills, enabling clearer communication with parents
If your CV is already fairly detailed and you want to reduce your word count, you can also use graphics to illustrate your level of proficiency (using a visual CV template can help):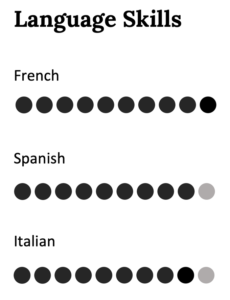 4. Provide specific examples
Providing specific examples of your skills in action gives the recruiter a clear picture of what you can do.
There are a couple of ways you can give this information. The first is to add examples to your skills section, which is particularly useful if you have multiple similar skills that you want to group together:
Clear CV skills section with examples
Carpentry techniques: Veneering, scrolling, moulding, and framing
Power tool expertise: Drills, table saws, routers, and sanders
Unclear CV skills section without examples
Alternatively, you can also give examples of your skills in your work experience section, which is the first place the employer will look for evidence when they see you have a useful skill.
And yes, it's helpful to repeat skills in your skills and work experience sections because your skills section is less wordy, so its contents will stand out more to a quickly skimming reader. Just make sure the repeat mention gives context to your abilities.
Examples of where to put a skills section on your CV
Where the skills section should go on a CV depends on your experience, industry and CV format. Here's a quick cheat sheet to help you determine the best position for your specific situation:
| Position | Best If |
| --- | --- |
| Near the bottom, under your work experience and education | You already have a few years of relevant work experience |
| Above your work experience | You're changing careers or applying for a job that requires a large number of technical skills |
| Near the top, as your CV main section | You're writing a cv for your first job or want to hide numerous extended career gaps |
| In the margins | You've only included a few essential skills and want them to stand out |
Click on the images below to see examples of how these skills look on formatted CVs:
Common questions about how to list skills on a CV
Here are answers to 3 common questions about making a CV skill section:
1. How do I identify my job skills?
To identify your job skills, think about your employment history, education, and any projects or activities you've done that are relevant to the job. Ask yourself these questions:
What tasks were you responsible for?
Which projects did you do effortlessly?
What tasks have you enjoyed?
What technical knowledge did you gain or use?
What kind of worker or teammate were you during those experiences?
Compare the skills you've identified with the list of requirements in the job description.
Ask yourself which experiences have best prepared you for the responsibilities of the job and what knowledge you have that would help the hiring company perform better.
Narrow your list of skills to a shortlist of the most relevant and helpful knowledge you can bring to the employer.
2. Is it OK to not put skills on a CV?
Not putting skills on a CV is a bad idea. Even if you fully described your skills in the rest of your CV sections, you should always include a dedicated section summarising your top strengths.
Doing so ensures the employer notices your best abilities, even if they just skim through your CV for a few seconds.
If you're unsure about putting a skills section on your CV because you don't know what it should include, check industry-specific CV examples for some inspiration and an idea of what the employer will be looking for.
3. What skills shouldn't I list on my CV?
You shouldn't list skills on your CV that are:
totally irrelevant to your target position
controversial, like target shooting and political activity (only list these skills if the job specifically asks for them)
outdated (e.g., joined-up handwriting and VCR repair)