What are teamwork skills?
Teamwork skills enable you to work efficiently in any group setting. They're typically skills that support clear communication, idea exchange, and conflict management.
Teamwork skills can be divided into two groups:
Soft skills: Personality-related traits that help you work well with others, such as empathy and adaptability
Hard skills: Learnt abilities that make you a better team player, such as foreign languages and project management
Applicants who have highly developed teamwork skills are valuable in every industry, and increasingly so as distance work and online work have become more common.
According to a McKinsey report, the need for finely tuned teamwork skills is expected to grow rapidly with social and emotional skills like communication, leadership, and management expected to rise by 24% between 2016 and 2030.
Meanwhile, nearly three-quarters of employers consider teamwork and collaboration 'very important'.
So showing an employer that you're a team player might encourage them to call you in for an interview. Below, we'll give you 10 examples of teamwork skills, suggest some ways of improving your teamwork skills, and explain how to demonstrate teamwork effectively on your CV.
10 examples of good teamwork skills
Teamwork skills include the ability to build positive relationships, influence and compromise and solve problems as a group.
Here are some examples of teamwork skills for a CV that show employers you know how to collaborate effectively.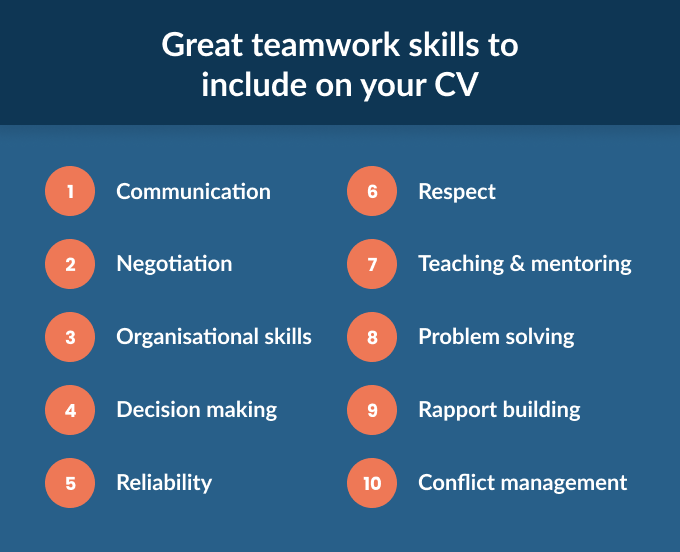 1. Communication
Communication is an essential soft skill in its own right, but it's also crucial for effective teamwork.
When team members can communicate clearly and concisely with one another, they're significantly better at hitting deadlines, solving problems, and understanding each other's situations.
Strong communication is a crucial part of teamwork because it:
builds trust
boosts morale
helps employees stay engaged
increases efficiency
prevents misunderstandings
bolsters creativity through idea sharing
2. Negotiation
Negotiation is when two or more people strategically solve a problem in a way that satisfies everyone.
A team that knows how to think critically will always have differing points of view. To work effectively as a unit, it's important to know how to prioritise team goals, understand where people are coming from, and find compromises when necessary.
Effective negotiation requires emotional intelligence and empathy but also the ability to stand your ground when necessary.
3. Organisational skills
Teamwork is as much about managing your own time and resources as it is about communicating with others.
When hiring for jobs where collaboration is important, employers look for applicants who know how to organise their work to the benefit of the entire team. So convey you're a valuable team member by mentioning your organisational skills.
Some organisational skills that show you're a team player include:
managing time and deadlines
prioritising tasks
tracking milestones
distributing work
strategic planning
coordinating events
4. Decision making
Teamwork is more than just the sum of its parts. Effective team members need to be able to work autonomously and make their own decisions when necessary.
Decision making skills that are essential to teamwork include:
leadership
logical reasoning
creativity
ability to expect and manage disagreement
5. Reliability
No matter the work setting, your team members need to trust you. Good time management skills, communication skills, and consistently good work are all qualities that demonstrate you can be counted on.
Highlight your reliability as a team worker on your CV by:
using keywords like 'support,' 'assist,' and 'maintain'
including relevant employee awards and accolades
giving examples of how you've solved problems for your team/company
6. Respect
Respect is an essential part of teamwork that encourages employee engagement and motivation. It's also a quality that you need to develop over time.
Soft skills like empathy, active listening, and emotional intelligence are essential to respectful teamwork.
Employers will be able to see that respect is one of your teamwork skills if you've:
been part of a multi-functional team
worked with diverse customers or patients
been recognised for your ability to support coworkers and customers
7. Teaching & mentoring
An important part of teamwork is helping new or more junior team members get onboarded and understand the work they're doing.
Teaching and mentoring skills rely on good communication and emotional intelligence, but also the ability to schedule and plan work so that greener employees aren't overwhelmed or discouraged.
Being a good teacher is also a sign that you're good at giving feedback, which is essential to productive teamwork.
If you've trained employees or interns, managed a team, or workshopped a skill with your team members, mention that you did so on your application.
8. Problem solving
Problem solving is an essential skill for individual workers, but the ability to analyse and solve problems as a group forms the basis of effective teamwork.
Team problem solving produces far greater output than when employees use this crucial analytical skill on their own. It equips team members with the tools to overcome hurdles and work more effectively toward team goals.
Here are some problem solving skills that are instrumental to being a great team player:
Adaptability
Brainstorming
Evaluative skills
Influencing skills
Resilience
9. Rapport building
Building respectful working relationships with your team members improves collective job satisfaction. It makes people identify with their team and engage with their work, which also boosts productivity.
Experience in customer-facing roles or caregiving roles is an attribute that'll convince employers of your ability to build and establish relationships effectively.
10. Conflict management
Team members need to be able to overcome conflicts when they do inevitably happen.
Conflict management is the ability to address and resolve conflicts in a mutually satisfactory way. It builds trust between team members and increases productivity, as team members can move past their disagreements and focus on working toward common goals.
Make employers aware of your conflict management abilities by:
giving examples of conflict resolution in your work experience bullet points
including valuable conflict management soft skills like active listening and empathy
using relevant action verbs like 'support,' 'guide,' 'mediate' to highlight your interpersonal skills
Teamwork skills list
Unsure how to write a great CV that features other teamwork skills? Here are some more teamwork skills to include:
Collaboration
Presentation skills
Time management
Motivation
Delegation
Leadership
Human resources software
Task management skills
Task management software
Project management
Conflict mediation
Management skills
How to improve teamwork skills
Here are four tips on how you can develop your teamwork skills so you're a more effective employee.
Communicate effectively: You'll develop your communication skills through continual practice. Make sure to take the time to explain yourself clearly and listen to what others have to say.
Offer ideas and take initiative: Gaining respect from colleagues starts with offering up ideas and taking initiative in teamwork scenarios.
Collaborate: Working together with others is the basis of teamwork! Make sure you collaborate and support each other to achieve a successful outcome.
Be adaptable: Being able to go with the flow is a central part of teamwork. Show your adaptability by being open to changes, new ideas and ways of doing things.
3 ways to show your teamwork strengths on your CV
'Teamwork skills' is a fairly broad term, so just listing it among the strengths on your CV isn't very helpful to employers.
Because of this, you should show employers that you have great teamwork skills, not tell them.
Here are three ways to demonstrate your teamwork skills on your CV:
1. Put them in your personal statement
Highlight teamwork skills in your CV personal statement or CV summary to immediately draw the employer's attention to them.
Your personal statement is one of the first sections an employer will look at. It's also the part of your CV that they're most likely to remember.
Highlight teamwork skills in your personal statement by using relevant keywords or including achievements that demonstrate your abilities as a team player.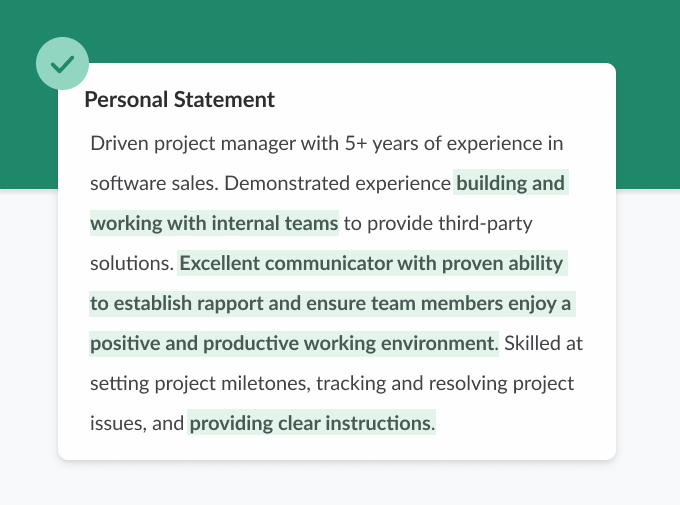 2. Show how you used your teamwork skills in previous jobs
In your work experience section, talk about specific roles you've had in the past where you used teamwork skills.
You could highlight these experiences by using teamwork-related action verbs to signal that you worked with or managed others.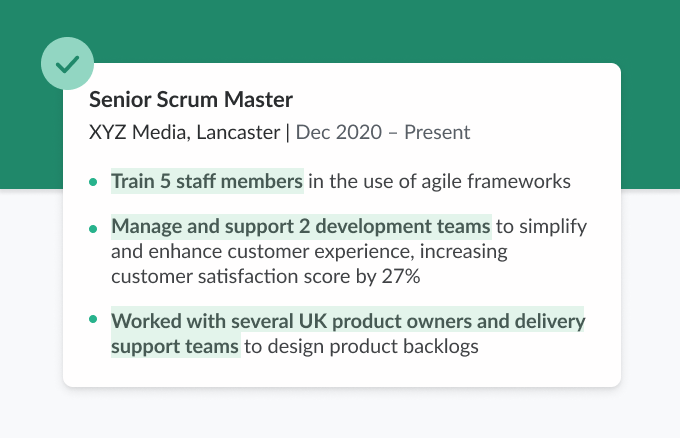 3. Include relevant skills in your skills section
Adding teamwork skills to your skills section doesn't stop at adding 'team player' or 'team leader' to the list.
Remember, you want to show employers that you have teamwork skills. So list various other skills that require you to work well with others.
Here's an example of how you can add different skills in your skills section to show employers that you're a great team player:
Frequently asked questions about CVs
Here are answers to three of the most common questions asked about CV formatting:
1. What should I write on my CV for teamwork?
You should write about relevant achievements and responsibilities in your personal statement and work experience sections. Think about times you had to collaborate with others, mediate disagreements, or solve problems as a group. Use relevant keywords like 'idea exchange,' 'cooperate,' and 'advise,' which suggest a positive attitude toward group work and will stand out to anyone who's looking for a team player.
2. How do I put teamwork as a skill on my CV?
To put teamwork as a skill on your CV, focus on your personal statement or your work experience bullet points. Show how you possess teamwork skills in these sections by giving specific examples of your teamwork skills or mentioning relevant awards and positive feedback. Doing so gives employers a clearer understanding of your teamwork skills than it does to scatter 'teamwork' or 'team player' throughout your CV.
Know which specific examples to give when describing your teamwork skills by closely reading the job description for skills that will be valuable to teamwork in your desired job. Highlighting these skills will show the employer that you understand how to be a successful team player in their specific organization.
3. How do I answer questions about teamwork?
To answer questions about teamwork in a way that impresses the hiring manager, be descriptive. A highly persuasive way of answering teamwork questions is to use an approach like the STAR method (Situation, Task, Action, Result), which describes how you applied your skills to real workplace problems and achieved positive changes.
More CV-related FAQs
Click on the links below to learn more about how to write your CV: