The STAR interview technique gives employers more context about your work history and qualifications while showing them why you're the perfect candidate for the role.
View our in-depth advice and our interview, CV, and cover letter STAR examples to help you understand the STAR method and how to apply it to your job search.
What is the STAR interview technique?
The STAR interview technique (also known as the STAR method) is a structured way of taking your previous experience, skills, and accomplishments and turning them into specific answers that directly target the role you want.
STAR stands for Situation, Task, Action, and Result.
Using the STAR technique to answer interview questions tells employers you've:
prepared thoroughly for your interview by providing detailed and thoughtful responses
reflected upon your previous work duties and how they've positively shaped you
learned how to communicate concisely (which is one of the top soft skills employers look for in their applicants)
gained valuable job insights that you can transfer to a new position
Here's what the STAR framework looks like in action:
An outline of the STAR method
1) Describe a situation or problem you dealt with.
2) Clarify your main task(s) during this situation.
3) Explain the action(s) you took to complete this task.
4) Summarise the positive result(s) of your actions.
Three STAR interview examples
Below are three mock interview questions and their answers using the STAR method.
First, think about how you'd answer each question using examples from your own experience.
Then, click on the questions to find good STAR example answers (using coloured underlines to represent Situation, Task, Action, and Result).
STAR method example questions and answers
1. Tell me about a time you faced a problem at work.
In February 2022, two sushi chefs at work called in sick because of COVID-19. Unfortunately, only one chef worked at Jinro's Restaurant that day. We were getting hundreds of takeaway orders. To avoid overwhelming our chef, I scheduled three extra rest breaks for him. I also asked two of our waitresses to help him with smaller tasks such as cutting vegetables, washing fish, and packaging each dish to improve efficiency. As a result, we didn't miss any orders and maintained our 100% rating on Just Eat. Our team also became a lot more knowledgeable about what goes into creating each dish and have streamlined our delivery processes since.
2. Describe a time when you and a team member collaborated on a project.
When I volunteered as an Education Support Volunteer at Cedar Mount Academy, I co-developed an interactive event with another volunteer named Max. The theme was "Teens Festival." We had never planned an event before, so we were a little nervous at first. So I focused on gathering the decorations, confirming the venue, and finding the music. At the same time, Max took care of the food and promoted the event by designing colourful posters and creating social media posts. Over 150+ camp participants came to our event and it was brilliant! And in a post-survey, 95% of them said it was one of the best school event experiences they ever had.
3. Share a time when you made a mistake. How did you handle it?
Last month, my new supervisor asked me to develop a two-page report based on our market research findings. I wanted to do a good job, so I approached her directly at work without setting up any meetings. And even though she was patient with me, I noticed she seemed rushed and had other meetings to attend to. I then realised I should've organised my questions in a manageable list so she'd have time to read over them and think about her answers before getting back to me. I apologised to her the next day and used her suggestions to finish the report. Luckily, my supervisor said she appreciated the direct communication and told me that I can check her Google Calendar in the future so I'd know her schedule. Now I schedule my meetings with her in advance, and we have productive conversations with timing that works out well for the both of us.
When can I use the STAR technique?
You can use the STAR technique in the following situations:
1. During an interview
The STAR technique is helpful if you're doing a competency based interview (also called a behavioural or structured interview). During competency based interviews, employers:
develop pre-defined criteria and specific skills or behaviours they're looking for (e.g., customer service skills, sales skills, patience)
set up scenarios that relate to their criteria (e.g., 'Tell me about your customer service experience.' and 'Have you worked in telemarketing before?')
ask their candidates to answer questions using concrete examples (e.g., 'Share an example of when you dealt with a difficult customer on the phone.')
follow-up with additional questions (e.g., 'How was your relationship with this customer towards the end of the call?' and 'If you had acted differently on the phone, what would the outcome have been?')
Answering competency based questions using the STAR model is important. Competency based questions require insightful responses that help employers visualise you in a specific setting and evaluate whether you're qualified for their job opening.
Here are five different questions you might see at a competency based interview:
Examples of STAR interview questions
Tell me about a time you disagreed with your manager.
Share an example of when you worked collaboratively with a team.
Discuss a time you failed at work and what you learnt from it.
Explain a situation where you showed initiative and leadership skills.
Describe a time when you set a goal and achieved it.
2. While writing a CV
Using the STAR approach while writing a CV is a great way to make your CV's work bullet points stand out. You can use a single bullet point or multiple bullet points to address your career history, skills, and achievements that you want to highlight on your CV.
Our applicant below used a single STAR bullet point to describe taxi driving skills on their CV (using coloured underlines for your reference):
Complied with COVID-19 protocols from January 2020–March 2021 by politely requesting every passenger to wear their mask before entering the vehicle, resulting in zero infections and complaints
And this makeup artist candidate uses the STAR format to create multiple work bullet points on their CV (while grouping 'Situation' and 'Task' into one point):
Situation and Task
Assigned 10+ new clients and 6 returning clients for London Fashion Week 2022, and was asked to recreate looks using Charlotte Tilbury Beauty's fall and winter collection
Action
Researched each product thoroughly and designed 5 mood boards that directly addressed the brand's 'hydrated', 'healthy', and 'post-gym glow' requirements
Result
Applied curated makeup looks while paying close attention to clients' complexions, skin types, and preferences, leading to positive reviews from each client and their respective designers
3. While writing a cover letter
Applying the STAR framework while writing a cover letter helps you include specific experiences or skills that aren't on your CV. And if you write your STAR responses well, you might even capture an employer's attention and prompt them to schedule an interview with you.
For instance, this recent graduate uses a short paragraph to write a detailed STAR response about their leadership skills: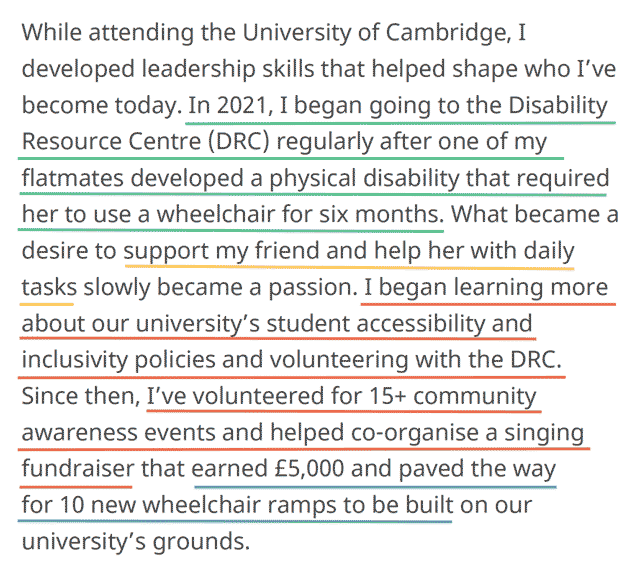 How to prepare for an interview using the STAR technique
You're in the right place if you want to know how to use the STAR technique in an interview setting.
Here's a step-by-step guide on how to successfully use the STAR method during interviews:
1. Make a list of job qualifications your target employer is looking for
First, read each job advert carefully when applying for a role so you learn what your target company is looking for in their employees.
And because employers want to see what separates you from other applicants, don't forget to review each company's website and official social media platforms while working on your application.
Understanding a company's goals, values, and work culture will help you determine which personality traits and qualifications employers may be looking for in their candidates.
2. Think of specific examples that directly relate to your target position
After researching and gaining an idea of the qualifications and personality traits your target employer is looking for, start thinking of relevant examples using the STAR framework.
Try asking yourself these questions and come up with one or two sentences for each answer:
Situation: What situation or problem have I encountered that directly relates to the position I'm applying for?
Task: What was my task in this situation?
Action: What actions did I take to complete my task?
Result: What positive outcomes happened as a result of my actions?
3. Practice saying your STAR statements out loud
Don't forget to practice your STAR interview answers before an interview by rehearsing aloud or asking a family member or friend to give you suggestions.
Avoid repeating yourself by keeping your answers concise and removing unnecessary details.
And finally, remember to use a conversational tone so you sound natural!