An outline of the STAR method
1) Describe a situation or problem you dealt with.
2) Clarify your main task(s) during this situation.
3) Explain the action(s) you took to complete this task.
4) Summarise the positive result(s) of your actions.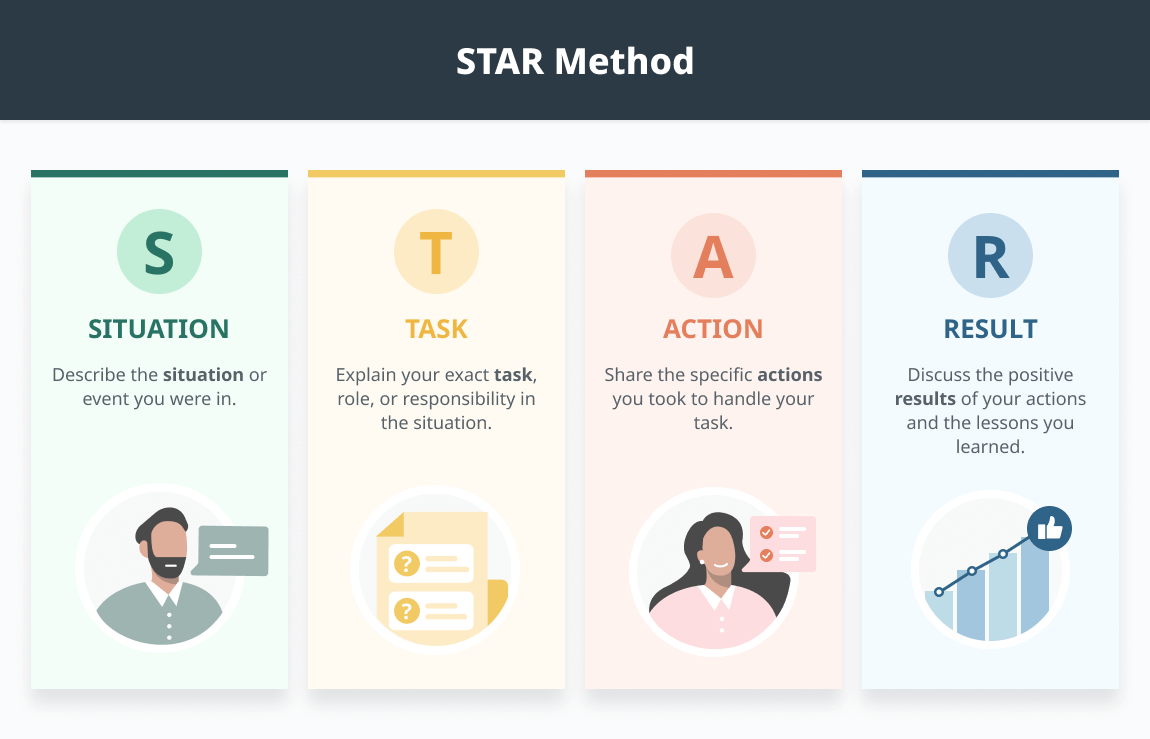 STAR method example questions and answers
1. Tell me about a time you faced a problem at work.
In February 2022, two sushi chefs at work called in sick because of COVID-19. Unfortunately, only one chef worked at Jinro's Restaurant that day. We were getting hundreds of takeaway orders. To avoid overwhelming our chef, I scheduled three extra rest breaks for him. I also asked two of our waitresses to help him with smaller tasks such as cutting vegetables, washing fish, and packaging each dish to improve efficiency. As a result, we didn't miss any orders and maintained our 100% rating on Just Eat. Our team also became a lot more knowledgeable about what goes into creating each dish and have streamlined our delivery processes since.
2. Describe a time when you and a team member collaborated on a project.
When I volunteered as an Education Support Volunteer at Cedar Mount Academy, I co-developed an interactive event with another volunteer named Max. The theme was "Teens Festival." We had never planned an event before, so we were a little nervous at first. So I focused on gathering the decorations, confirming the venue, and finding the music. At the same time, Max took care of the food and promoted the event by designing colourful posters and creating social media posts. Over 150+ camp participants came to our event and it was brilliant! And in a post-survey, 95% of them said it was one of the best school event experiences they ever had.
3. Share a time when you made a mistake. How did you handle it?
Last month, my new supervisor asked me to develop a two-page report based on our market research findings. I wanted to do a good job, so I approached her directly at work without setting up any meetings. And even though she was patient with me, I noticed she seemed rushed and had other meetings to attend to. I then realised I should've organised my questions in a manageable list so she'd have time to read over them and think about her answers before getting back to me. I apologised to her the next day and used her suggestions to finish the report. Luckily, my supervisor said she appreciated the direct communication and told me that I can check her Google Calendar in the future so I'd know her schedule. Now I schedule my meetings with her in advance, and we have productive conversations with timing that works out well for the both of us.
Examples of STAR interview questions
Tell me about a time you disagreed with your manager.
Share an example of when you worked collaboratively with a team.
Discuss a time you failed at work and what you learnt from it.
Explain a situation where you showed initiative and leadership skills.
Describe a time when you set a goal and achieved it.