If you're thinking about skills to put on your CV, you might be wondering whether your ability to drive should be one of them.
In this article, we'll cover when it's a good idea to put your driving licence on your CV and where you should include it if you choose to do so.
Should you put your driving license on your CV?
Though it's not a requirement for all employers, putting your driving licence on your CV is important for certain jobs.
For example, if you're making a CV for a delivery driver job, employers will want to know whether you have the correct licence.
In some cases, having a driving licence won't be essential, but it will give you an advantage over other candidates. If you're applying for a sales role that involves a lot of travel, being able to drive a car will be seen as a useful skill.
Where to add your driving licence
If you want to put your driving licence on your CV, add it to your skills section or your personal statement.
Here's an example carer CV with the applicant's driving licence included in the skills section: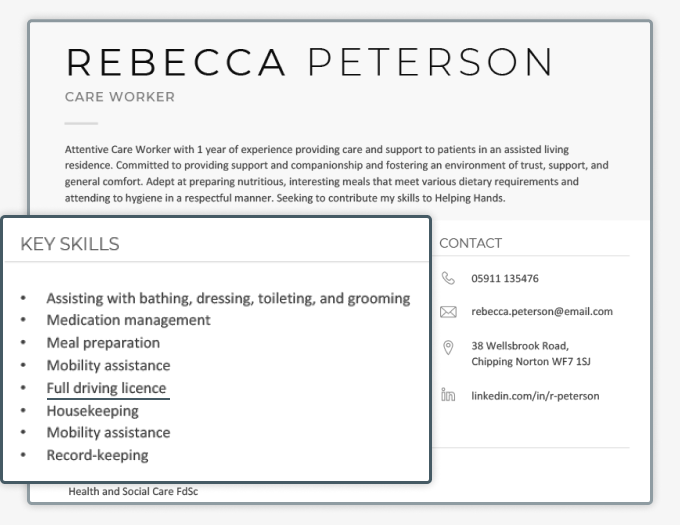 You should mention your driving licence in your personal statement if it is essential to the job (e.g., you're applying for a paramedic role):
Example of putting a driving licence in a personal statement
Delivery driver with large vehicle driving licence (Category C) and 4 years of experience in home and food delivery. Excellent previous record for customer service, with 100% positive feedback across previous positions. Recognised for reliability and ability to uphold company image.
Remember you don't need to put your driving licence number or expiry date on your CV, unless the employer asks for them. Instead, describe your driving ability in simple terms:
Full driving licence
If you have a special driving licence that's required for the job, you should also specify your licence type:
Large vehicle driving licence (Category C)
Frequently asked questions about putting a driving licence on your CV
Still have questions about your driving licence and job application? Here are 3 specific questions to help you display the right information in the correct way:
1. What is a clean driving licence?
A clean driving licence is a driving record that is free of endorsements or penalty points. Having a clean licence tells employers that you're a safe and responsible driver because you haven't been convicted for breaking traffic laws. Gov.uk has a service where you can check your driving licence information.
2. What is a full UK driving licence?
A full driving licence is the driving licence you receive after you pass your driving test.
Full driving licences are issued automatically when you pass your practical driving test and take about three weeks to arrive. You can use your driving test pass certificate in the meantime to prove that you've been issued a full licence.
3. Is having a driving licence a skill?
Having a driving licence is considered a skill in professions that involve deliveries, sales, or frequent travel.
A good way to check whether employers want you to display your driving licence on your CV is to check the job description. Employers who consider having a driving licence an important skill will include it as a requirement.