The purpose of a CV is to highlight your strengths. So don't be shy when you write your CV — bragging a bit is perfectly acceptable.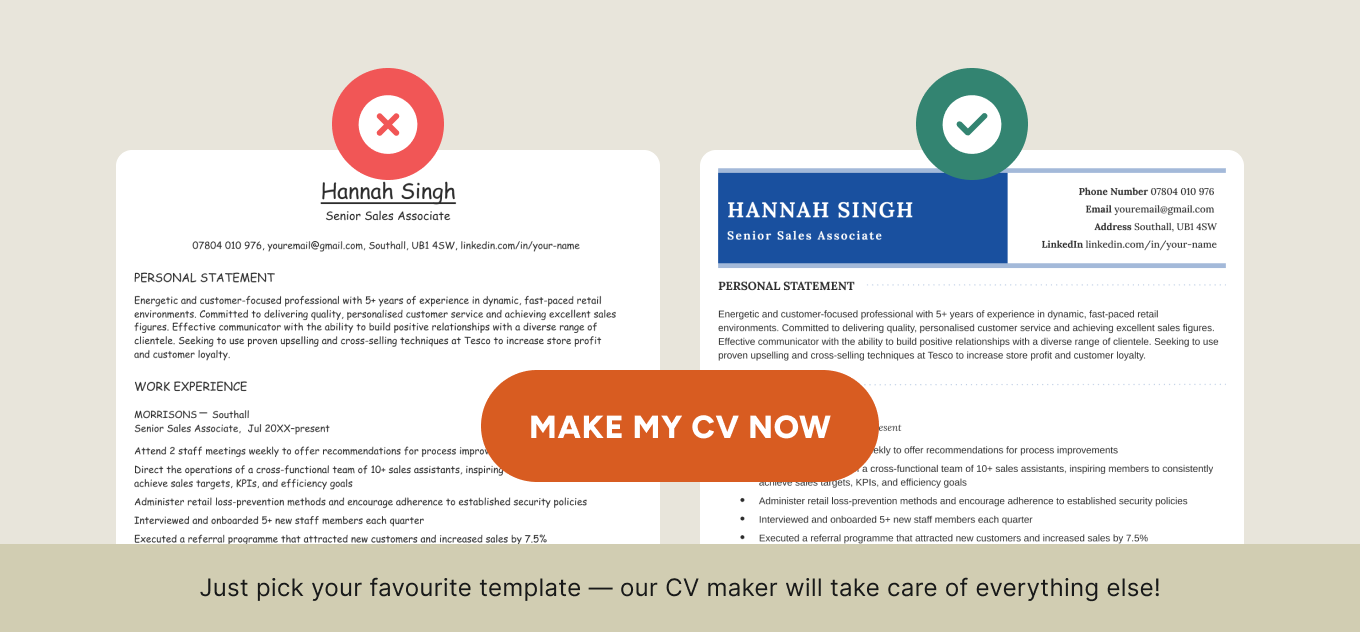 Unsure how to write a great CV that incorporates top CV strengths? Here are the top strengths for CVs in 2023, broken up into personal and professional categories. Click each strength to see definitions and examples, or go directly to our tips on how to put strengths on your CV:
Personal CV Strengths (inherent personality traits known as soft skills)
Professional CV Strengths (abilities you learn in school or on-the-job training called hard skills)
1. Interpersonal skills
Some of the main strengths employers want to see on your CV are interpersonal skills. Every job requires the ability to interact with people — for instance, even a reclusive artist needs to be able to communicate with art dealers. And most jobs involve daily collaboration with managers, peers, and partners, not to mention dealing with customers.
These are examples of interpersonal strengths UK employers value in 2023:
Active listening
Feedback (giving and receiving)
Negotiation
And this is an example of how to describe interpersonal strengths on a CV:
Negotiated new shipping rates with 3 logistics providers, delivering £50,000 in annual savings
2. Work ethic
Your CV should show recruiters that you can be productive if they hire you. Here are examples of strengths to describe on your CV to highlight your work ethic:
Timeliness
Self-starting
Physical strength and endurance
Discipline
Self-studying
Here's how one applicant emphasised a strong work ethic in their CV's work experience section:
Led the team with an average of 22 sales per month by volunteering for extra shifts and offering additional after-sales support
3. Leadership
Is one of your strengths the ability to rally others to achieve a common goal? Showcase that on your CV to give yourself the best chance of getting called in for a job interview. Give examples of the following strengths on your CV to show that you're a capable leader:
Conflict resolution
Decisiveness
Delegation
Ideation
Problem solving
Below is an example of how you might describe your leadership abilities:
Supervised university union AGM petition signature campaigns, teaching new volunteers engagement techniques, mediating disputes with protesters, and exceeding signature quotas on 93% of campaigns
4. Creativity
As AI progressively takes over repetitive tasks, creativity is becoming increasingly valuable. To show recruiters that creativity is one of your selling points, include strengths like these on your CV:
Visual art
Innovation
Open-mindedness
Curiosity
Experimenting
The example work experience bullet point below clearly demonstrates the applicant's creative strengths to employers:
Pitched ideas for YouTube shorts to generate brand awareness, generating 4.7 million views in 6 months and driving a 14% sales increase
5. Technical skills
If you can demonstrate technical skills related to the job you want on your CV, there's a good chance the employer will call you for an interview. Here are some of the top technical strengths recruiters are looking for in 2023:
AI expertise
Coding languages
UI/UX design
Software development
Here's a good example of how to communicate about technical strengths on a CV:
Used Java and Python to develop a productivity app for a school project that's been downloaded 53K+ times to date
6. Analytical abilities
In a data-driven world, analytical skills like the ones listed below are a top priority for recruiters in many industries:
Data science
Google Analytics
Data analysis programming languages (SQL, MATLAB, R)
Research
Financial analysis
This is an example of analytical strengths in a CV bullet point:
Analysed YouTube traffic from the past 10 years, discovering and resolving a lack of proper card and end-title usage, resulting in a monthly increase of 100K+ views of updated videos
7. Management
Managing people and processes requires a specific set of skills. If you're applying for a management position, the recruiter who reads your CV will look for strengths like these:
Project management
Leading meetings
Scheduling
Reporting
Public speaking
Here's an example of public speaking skills from a manager's CV that'll give you an idea of how to present your own management strengths:
Represented corporate interests at international events, speaking in front of 60K+ people on average per year
8. Job-specific knowledge
Employers prefer to hire people who have industry knowledge because they require less training. Here are some examples of job-specific expertise that employers will see as strengths on your CV:
Financial processes
Relevant trends
Historical information
Product expertise
Industry laws and regulations
And this is how to put your strong industry-specific knowledge in your CV's work experience section:
Compile a weekly internal newsletter that aggregates important industry news
How to put strengths on your CV
Follow these 5 simple steps to build a CV that highlights your most relevant strengths:
1. Put your main strengths in a personal statement
Your most job-specific strengths belong in an attention-grabbing CV personal statement (also called an 'About Me' or CV summary). This 3–5 sentence summary goes at the top of your first page and is the first place on your CV the employer looks for relevant strengths.
So see what strengths the job advert mentions, research the company to learn more about how your abilities could be useful, and write your personal statement based on what you find.
This is an example of a personal statement describing strengths that'll make the reader interested in hiring the applicant:
Hyper-focused subeditor with 6+ years' experience proofreading printed and digital news stories. Known for high-speed turnarounds while winning multiple regional news association awards for content quality. Seeking to enhance York Yeller's content as a Lead Proofreader.
2. Quantify your key strengths in a work experience section
Recruiters look for evidence of your strengths in the work experience section of your CV. So prove your strengths by describing them with specific examples and hard numbers (this is called quantifying as much as possible.
Featuring positive results rather than just listing your daily tasks gives employers a clear image of what strengths you'll bring to their business. These two examples illustrate the point:
Clear picture of strength in action 
Manned the till, gaining a reputation for cheerful customer service, earning a 100% customer satisfaction rating and developing relationships with patrons who choose my till even when others had shorter wait times
Weak description of a daily task
3. Showcase your educational strengths
Put your relevant degrees and coursework into a well-formatted CV education section to show employers that learning is one of your top strengths.
Listing your latest university degree, relevant coursework, A-levels, and GCSEs shows employers that you're able to learn new information and skills.
This is an example of a strong CV education section: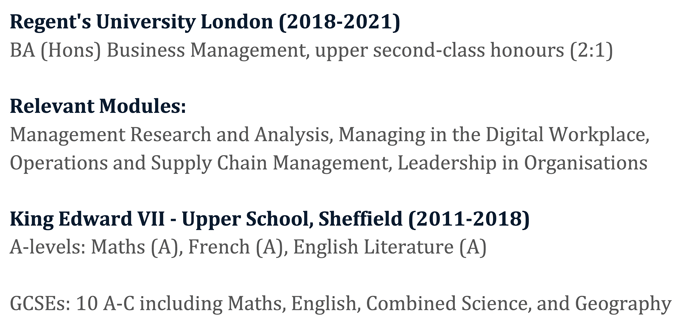 4. List your most relevant strengths in a skills section
Have any strengths listed in the job advert that you didn't fit into the rest of your CV? List them in your CV's skills section. Targeting the strengths the employer specifically mentioned in the job advert customises your CV to the role and company.
Customised CVs stand out (in a good way) to employers because many applicants submit the same CV for every job they apply to.
Here's a good example of how to display job-relevant strengths in a well-written skills section:
Graphic design: Photoshop, Figma, Balsamiq
Video: Adobe Premiere
Audio: Pro Tools, Soundtrap
Work ethic: Disciplined, self-starting, detail-oriented
5. Emphasise your personal strengths in a hobbies & interests list
Typically found at the bottom of your last page, your hobbies and interests section is still an essential part of your CV. You should use this section to highlight strengths from your personal life that translate well to the workplace.
For instance, if you need your CV to show employers that you have good interpersonal skills and are highly creative, this hobbies and interests list would do the trick:
Perform original songs at local pubs 2–3 weekends per month
Enjoy organising events for friends' birthdays and other special occasions
Teach a monthly painting course at a local nursing home
Example CV that emphasises key strengths
Below is an example of strengths on a CV that you can download (for free) and use as a template for your own. The applicant is a recent university graduate who highlights their computer science strengths in robust skills and education sections, and a work experience section describing a relevant internship: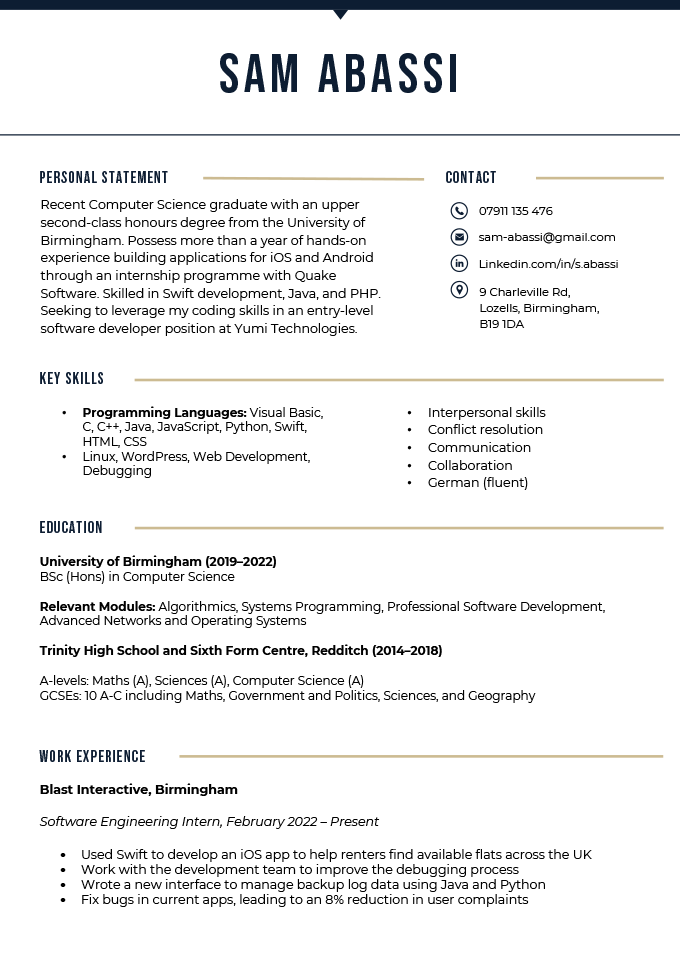 CV strengths FAQs
We don't want to leave you hanging, so here are answers to even more common questions about putting strengths on a CV:
1. What are good strengths for a resume?
A resume is a shorter version of a CV used to apply for jobs in places like the US, Canada, and Australia. So the same strengths that you highlight on your CV are also useful for your resume.
2. What's the difference between strength vs skill in a CV?
Here's the difference between strength vs skill in a CV:
You can have different levels of competence in skills, and the skills you're most confident in are your strengths.
For example, let's say you're an artist. You might have drawing and painting skills on your CV, but if sculpting is your speciality, that particular skill is your strength.
3. What are my strengths as a student?
These are strengths that you can develop as a student (and that can make your CV stand out to employers):
Scheduling
Organisation
Self-management
Multitasking
Public speaking (from giving presentations)
Networking
Academic knowledge and training
Notetaking
Teamwork
Computer skills
Social media proficiency
If you're still not sure what strengths you should emphasise to employers, look at student CV examples to get more ideas.