How to make a CV in English (2 ways)
There are two ways to make a CV (curriculum vitae) in English. You can either:
get professional help by creating a CV using an online CV builder
write an English CV yourself from scratch
The best method for you depends on how much time you have, your confidence in your English ability, and whether you know how to format a CV manually.
Unlike some countries, there's no set 'CV form' in English, so you can (and should) fully customise your CV design, layout, and content to best highlight your qualifications and skills.
1. Use a CV maker
Generally speaking, using an online CV maker is the most convenient option when making a CV. CV makers automatically set up your CV layout based on your chosen CV design and adjust font sizes as necessary. And to fill out your CV, you can simply select pre-written bullet points and skills, ensuring your CV is grammatically correct no matter your level of English.
In total, it should take 7–12 minutes to create a CV using an online CV maker.
2. Write your CV yourself
If your English is fluent and you have some spare time, you can try writing your CV yourself. However, writing a CV from scratch takes longer because you have to set up the layout, write your CV, proofread its content, and lastly get an English-speaking person to check it for errors.
Here are some tips for writing a CV yourself:
Use British English for jobs in the UK (double check your spell checker is set up properly).
Don't add a photo to your CV. In English-speaking countries, photos aren't recommended because employers make hiring decisions based on what you can do, not how you look.
If you don't have a local number, add your country's dialing code to your phone number (e.g., +33 for France) so that recruiting managers can easily get in touch.
A UK CV is a maximum of 2 pages long except if you're a university lecturer or a senior executive.
Don't add your postal address to your CV. A Munich address when you're applying for a job in Manchester could harm your chances if the recruiting manager wants to find someone quickly.
Don't include these details on an English CV: date of birth, nationality, marital status, height, weight, religion, National Insurance Number.
No matter your level of English, you should get a native speaker to proofread your CV because there may be typos or small errors.
Use 2.5 cm margins and a body CV font size between 10.5 and 12.
English CV Example
Here's how your CV for the UK should look when it's finished: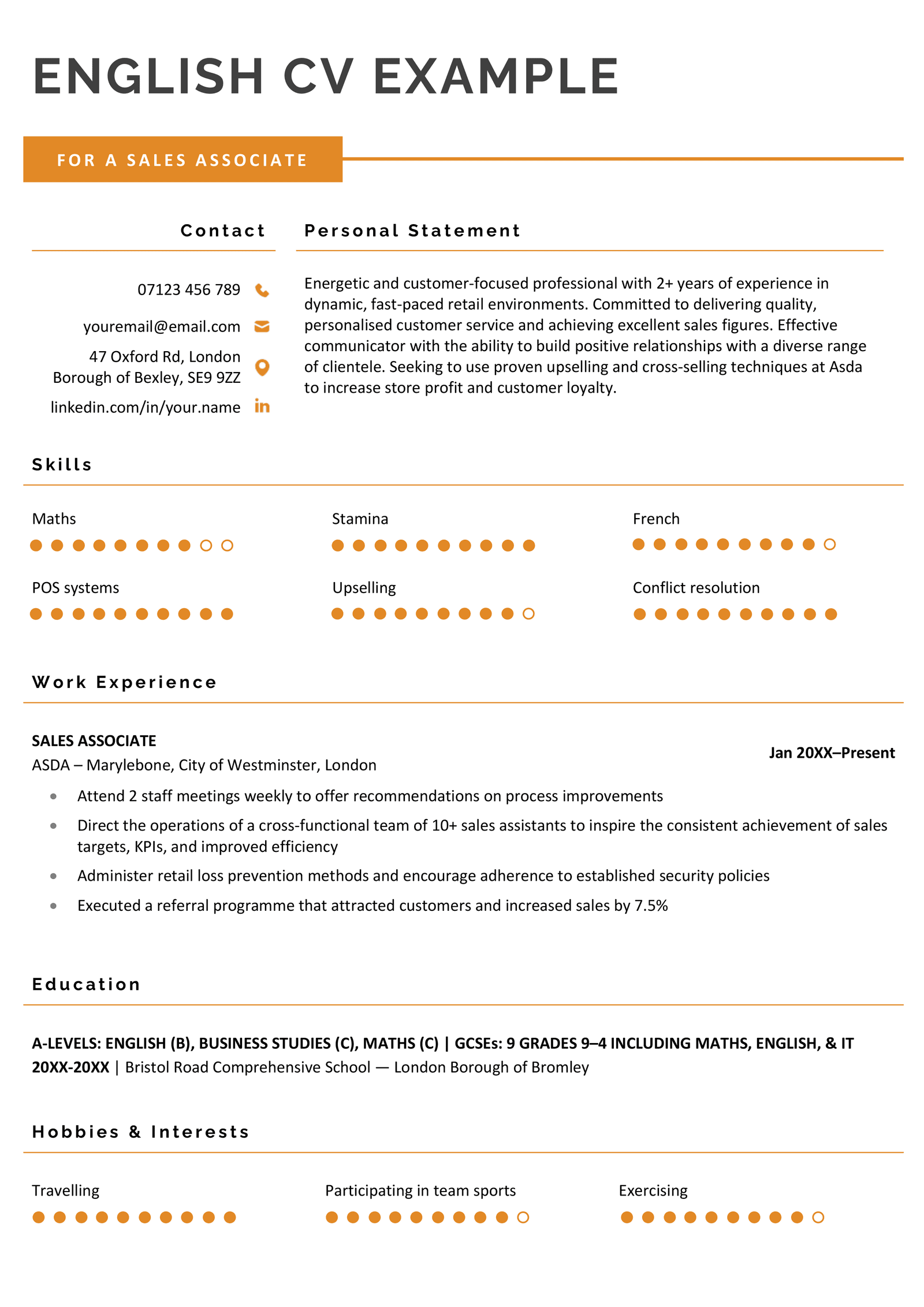 Download This English CV Example
Wondering what a CV should look like in your target field? Look at some high-quality CV examples written for specific jobs to get some ideas.
How to write a CV in English: section by section
Here's a quick guide to writing each section of an English CV.
1. CV header: name and contact details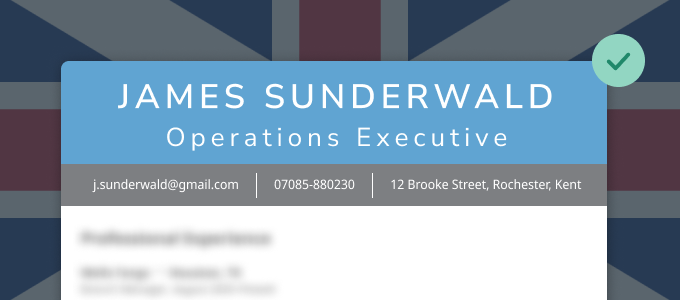 Your CV header helps recruiters to contact you so consider making the font size here slightly larger than in the rest of your CV. Add your name, telephone number (with country code if you're not in the UK), and a professional name (e.g., firstname.lastname@gmail.com).
If you have a LinkedIn or a professional online portfolio, add them here too.
2. CV statement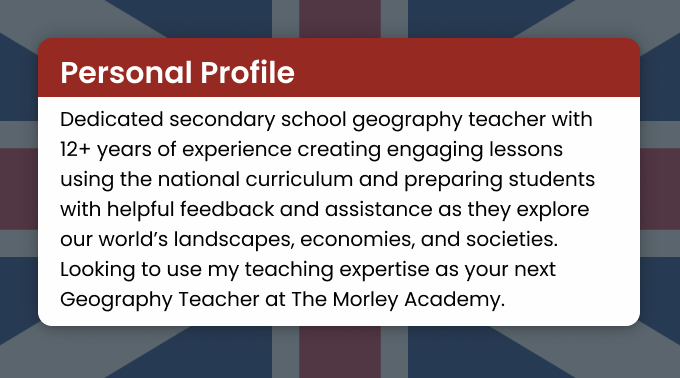 A CV statement (sometimes called a CV about me paragraph) appears at the top of an English CV, and it's used to highlight the top facts about you in the place the recruiting manager reads first.
Add your most relevant skills, qualifications, and achievements here so the hiring manager can see why you're right for the role.
Do this by reading the job advert and thinking about what the employer wants to see in candidates. Then, write your CV statement with that in mind.
Your CV statement doesn't need to be long — 3 to 4 sentences is enough to convey the highlights of your application.
3. Work history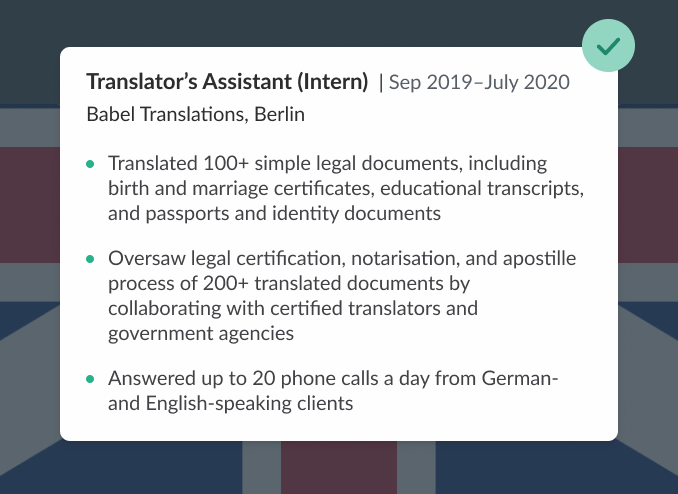 On an English CV, you don't need to add all of your previous jobs. You can leave off any jobs that aren't relevant to the one you're applying for today (for example, a barista job if you're now a graphic designer), especially if you're running out of space.
Each job entry that you add to your English CV should include:
the company's name
the location (town/city) where you worked (with the country name if it's in a city British people won't know)
your job title
the dates you worked there
After that, include 3 or 4 bullet points that cover some of your main achievements or duties during your time working there. Whenever you can, add numbers to directly show what you're capable of. Here's an example:
Answered 47 calls per day, and solved customers' problems with a 95% satisfaction rate.
4. Education

English CVs include a detailed education section that includes tertiary and secondary education qualifications.
Your highest qualification should be at the top of your education section. Depending on your level of education, put any Ph.D. first, followed by Master's, and then Bachelor degrees. Add your grade (with or without British equivalent), and university name and location.
If you don't have a university degree, add your highest secondary school diploma, and specify that it's equivalent to A-Levels in your country.
5. Skills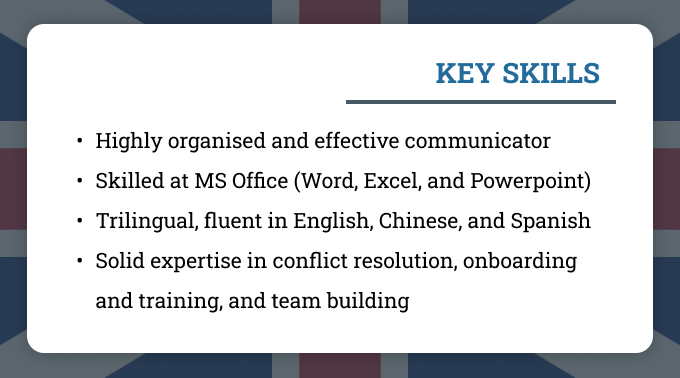 A CV skills section is a list of your top skills, so list any of the skills you see in the job advert if you're capable of them.
Your skills section should be dedicated to your technical skills — skills you learn that are essential to the job. You need to include them here to show employers you're capable of doing the job.
6. Hobbies and Interests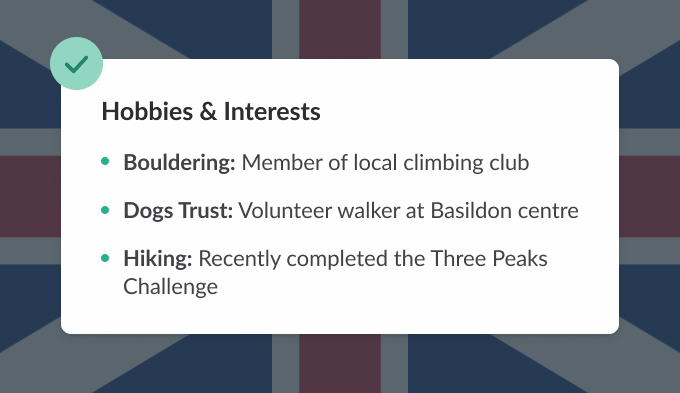 Unlike some other countries, on English CVs it's typical to describe your hobbies and interests outside of work. However, the hobbies and interests you pick should tell the recruiting manager that you have the skills and talents they're looking for.
For example, if you apply for a leisure centre lifeguard role, include hobbies and interests like 'Swimming', 'Keeping fit', and 'Reaction games' to show you focus on honing the skills you need at work in your spare time too.