CV Library is a popular UK job board that connects job hunters with employers across various industries. We'll show you how to use the platform, and provide an objective review of its key features and shortcomings.
From creating an account to searching for jobs and managing applications, we'll cover everything you need to know to make the most of CV Library and land your dream job.
3 ways you can use CV Library
CV Library provides a range of resources if you're looking for a job.
Having so many resources makes the site a bit overwhelming at first glance. We're here to simplify things by guiding you through three tasks you can achieve via CV Library:
To access CV Library's services, we recommend registering an account. Click through these images to see the sign-up process:

1. Look for a job
Looking for a job on CV Library is simple. From the homepage, simply insert a job title, your postcode, and a distance and click "Find Jobs" to get a list of job openings in your area:

This input will take you to a list of available jobs: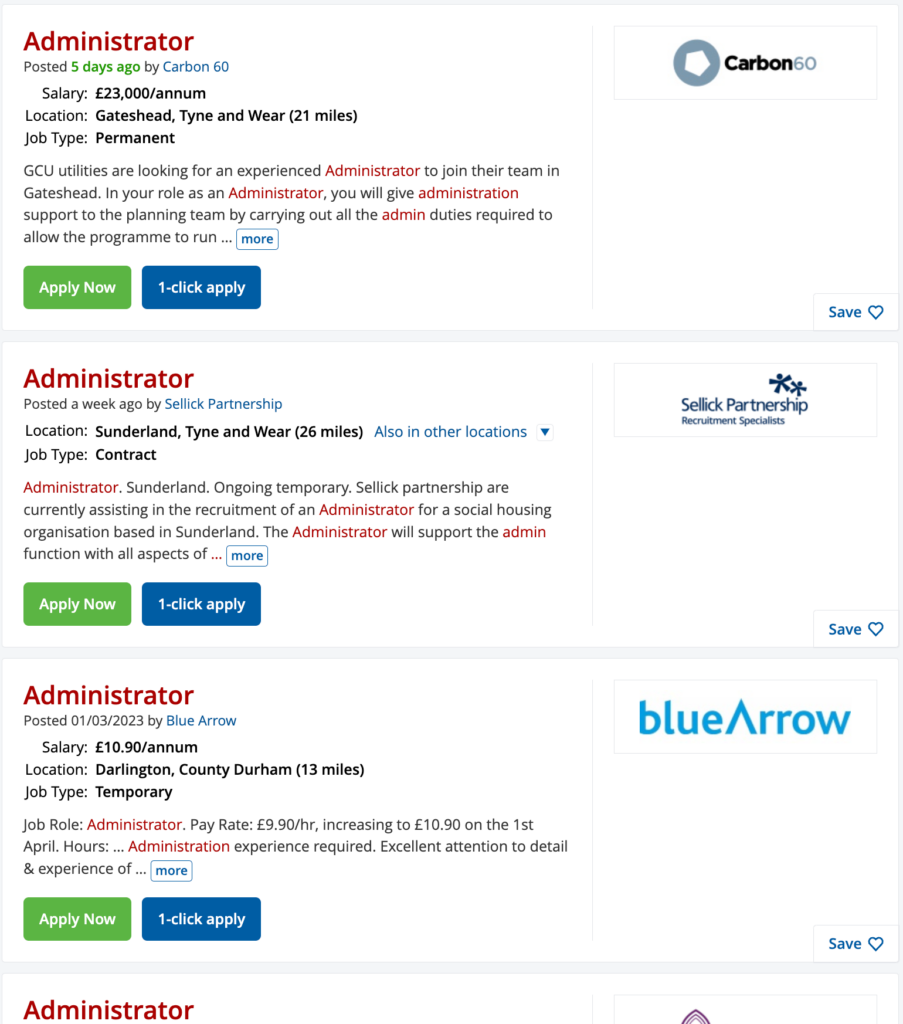 At the top of the page, you have more options for refining your search. For instance, you can search for remote jobs, add a salary range, switch between full- and part-time jobs, and search for newly posted jobs:
These options are handy for customising your job search. In particular, being able to see recently posted jobs can help you:
be the first to apply for a role — a job advert might close if the employer gets enough decent applications, so it's worth trying to be among these applications
quickly see new adverts if you're searching for the same kinds of jobs frequently (for example, if the government makes you complete a daily jobseeker's diary if you're on Jobseeker's Allowance)
When you click on a job, you'll see more details about the role, including its:
wage or salary
hours
description
start date
how many applications have already been received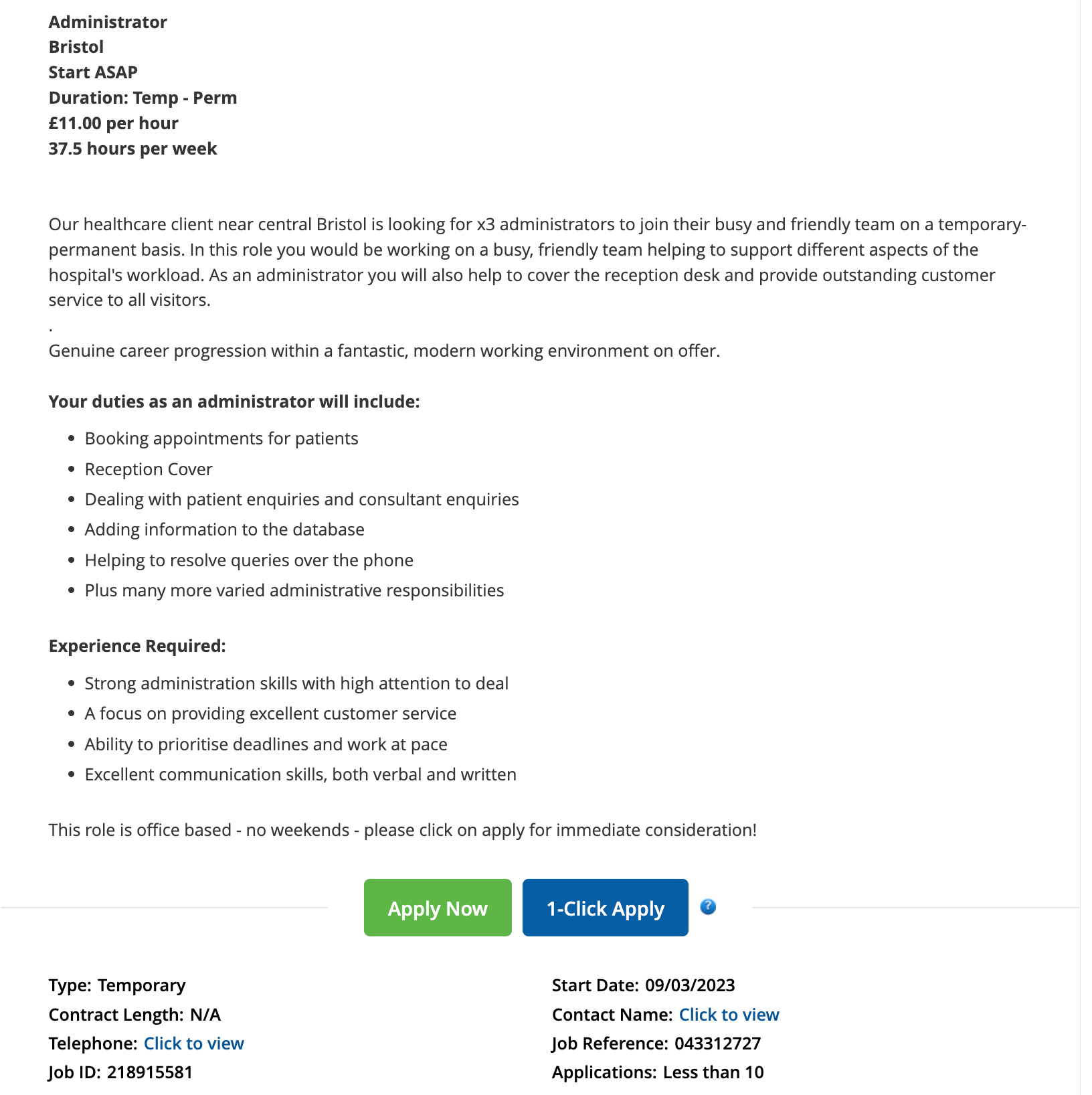 If you decide you like the sound of the job, you can apply for it. But first, you'll need to create a CV to send with your application.
2. Create a basic CV
CV Library offers a free CV builder to make it quicker for you to apply for the jobs you're interested in. It's not the best UK CV builder, but it can help you make a basic CV.
Here's how to create your CV on CV Library:
First, hit 'Build My CV':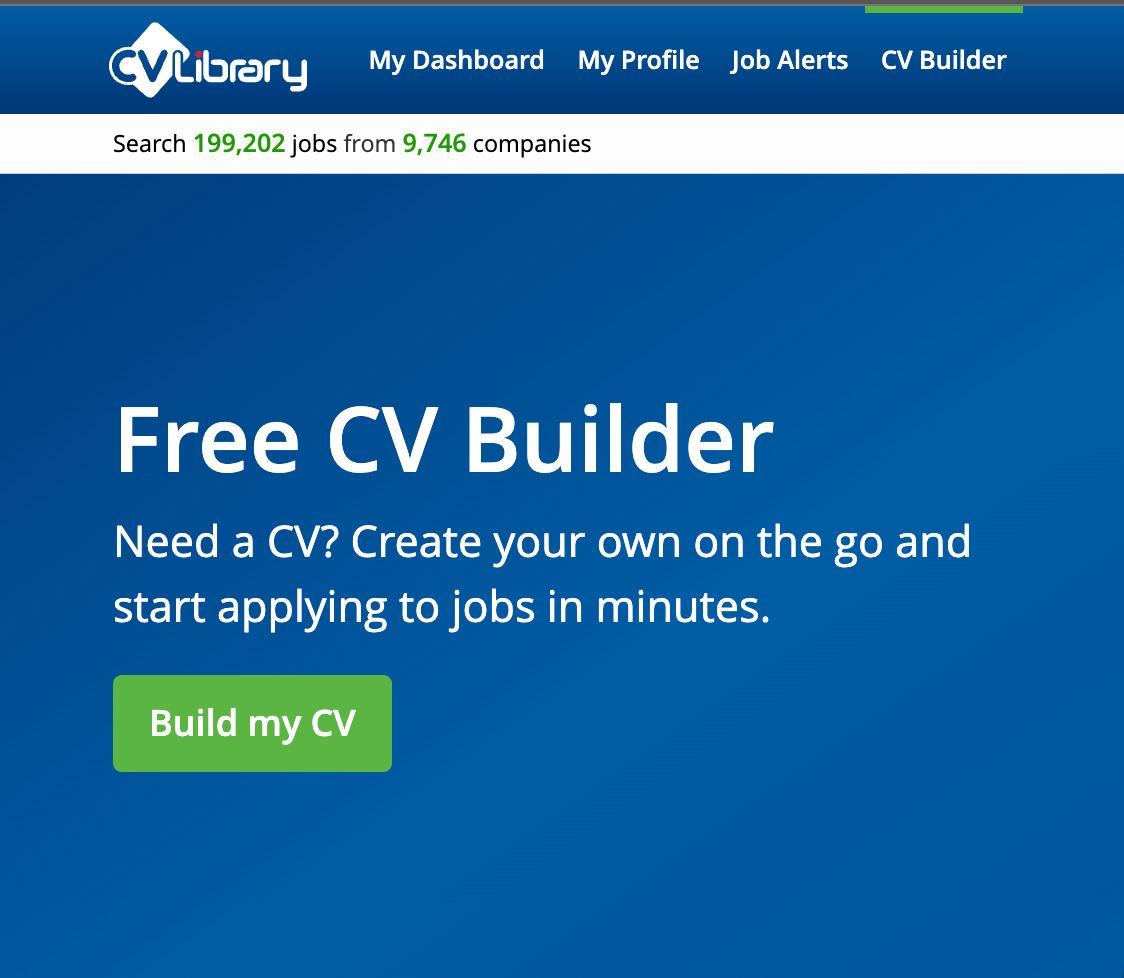 You'll then be in CV Library's builder. The interface will appear on the left, with your new CV on the right-hand side: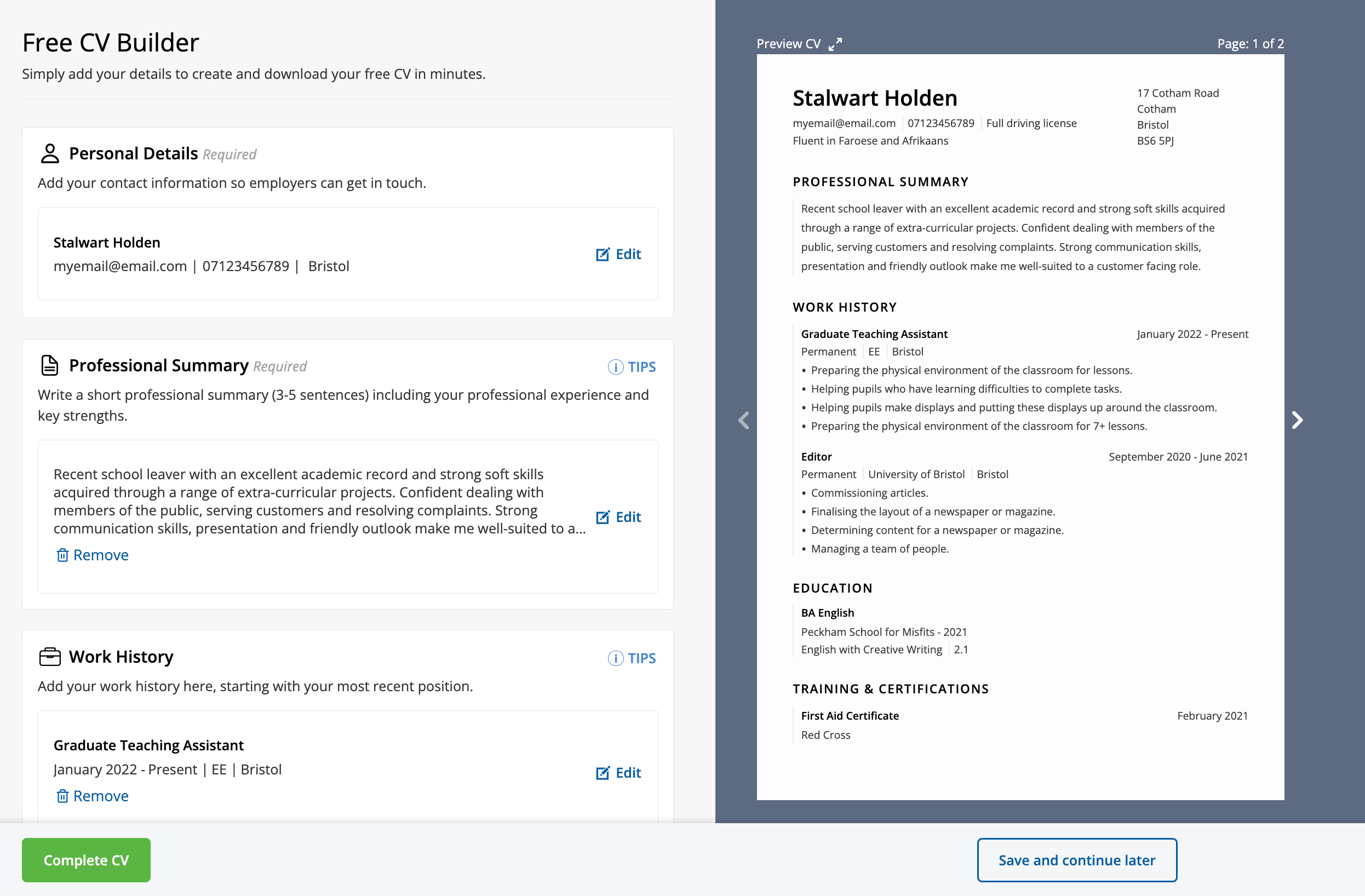 When you update your details in the left-hand side, your CV will automatically update. Here's how to fill in each section of the builder:
Personal details — Hide your full postal address for privacy reasons because employers will ring or email you: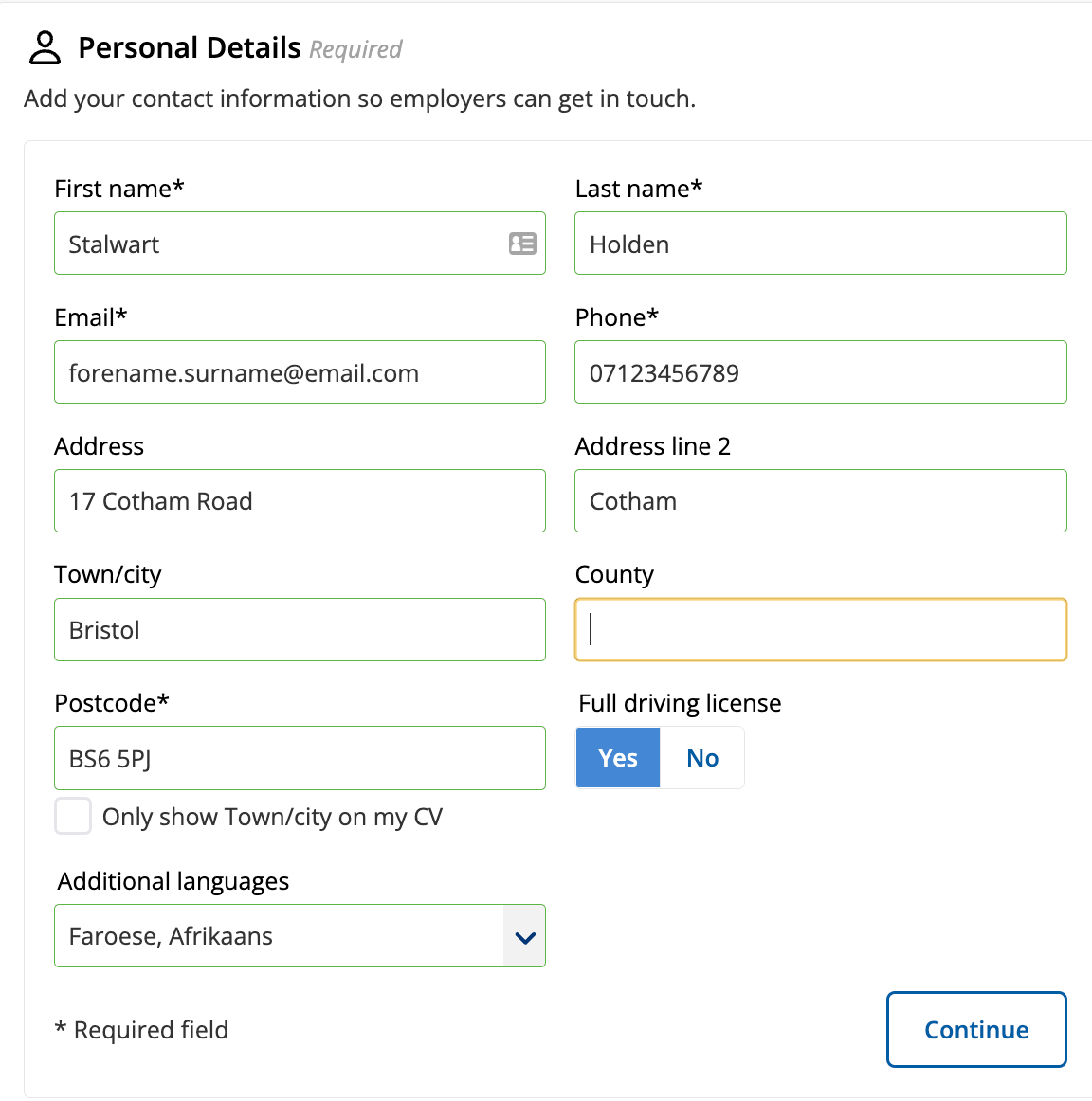 Professional summary — Many of CV Library's templated professional summaries are too long: some even take up half of your CV's first page.
Stick to 3–4 lines, and remember to add the company's name somewhere. For example, 'Motivated to become a successful Customer Service Representative at Lloyds Bank' shows you've written your CV especially for this company.
Here's what the builder's professional summary section looks like:
Work history: Type a common job title into the CV builder to see pre-written responsibilities you can add to your CV. Work history bullet points are one area CV Library's maker falls short because:
some jobs don't have any pre-written bullet points
you can't edit the pre-written bullet points, which means you can't add numbers or customise them to your own situation
their bullet points are generic
For example, 'Finalising the content of a newspaper or magazine'. Employers will want to know which one you actually finalised content for. Generic bullet points like this will make it clear to employers you're using a low-quality CV builder.
Here's an example of adding work history to your CV: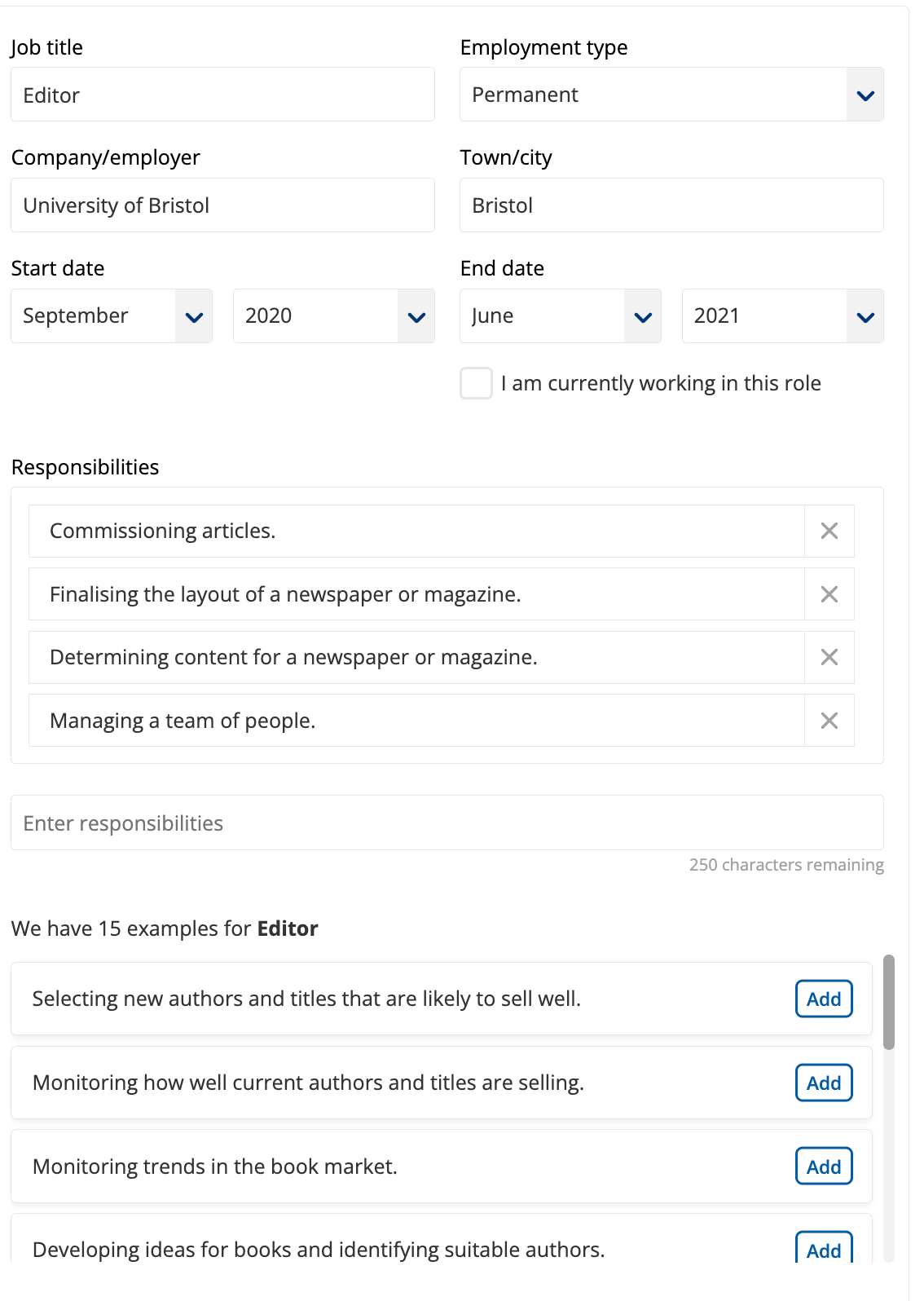 Education or qualifications section: If you have any extra details to add, such as relevant classes, list them in the description box. Here's what you'll need to fill out:
Training and certifications — CV Library hasn't autopopulated this option with pre-written options, so you'll need to type out any licences or certifications you have:
CV skills section: you'll have to manually add some of your own skills. Common skills like 'editing' are missing from CV Library's skills database. Add skills to your CV by clicking on 'Add':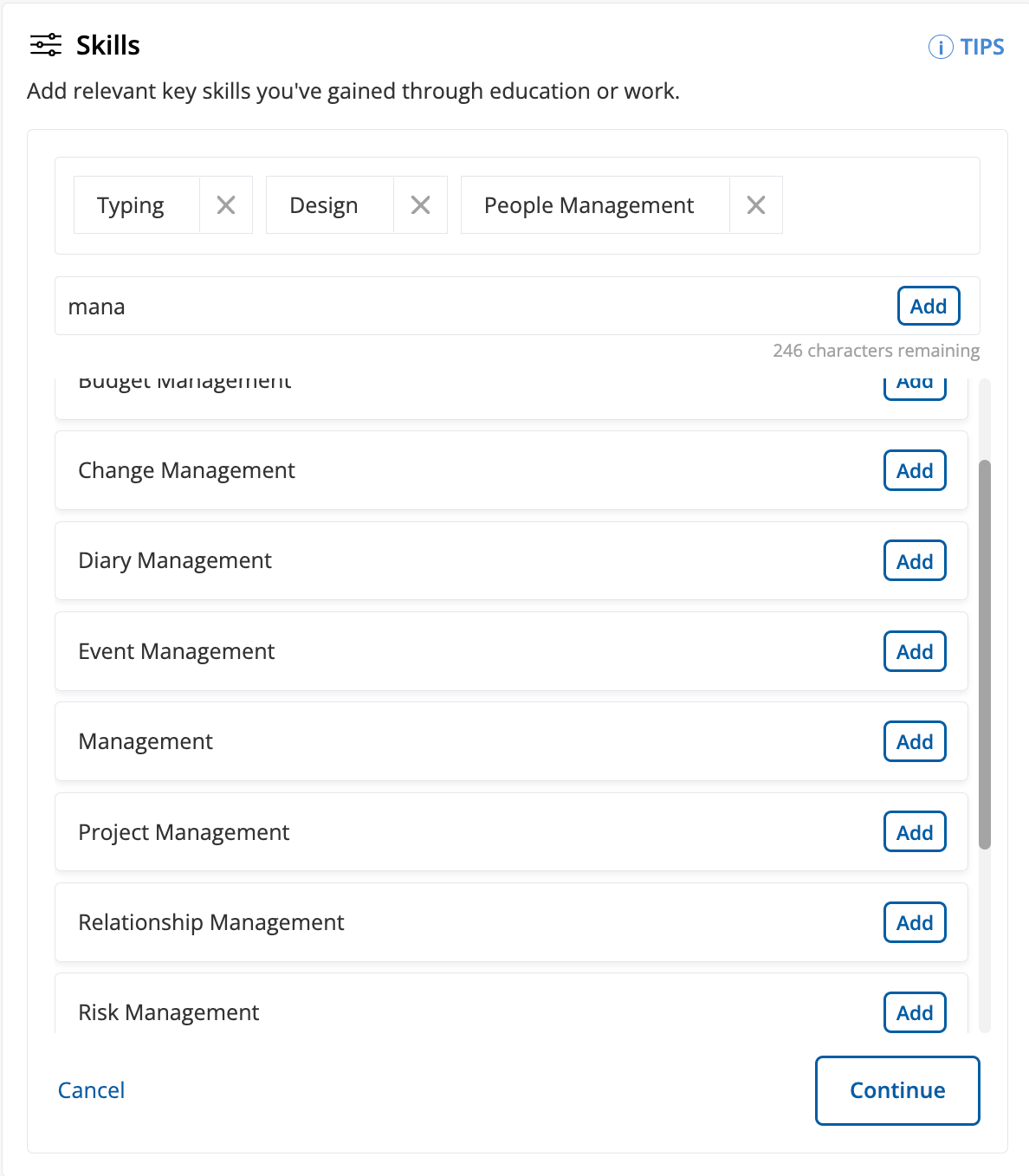 Hobbies & interests: again, manually add hobbies and interests to your CV because common ones like 'bouldering' aren't included: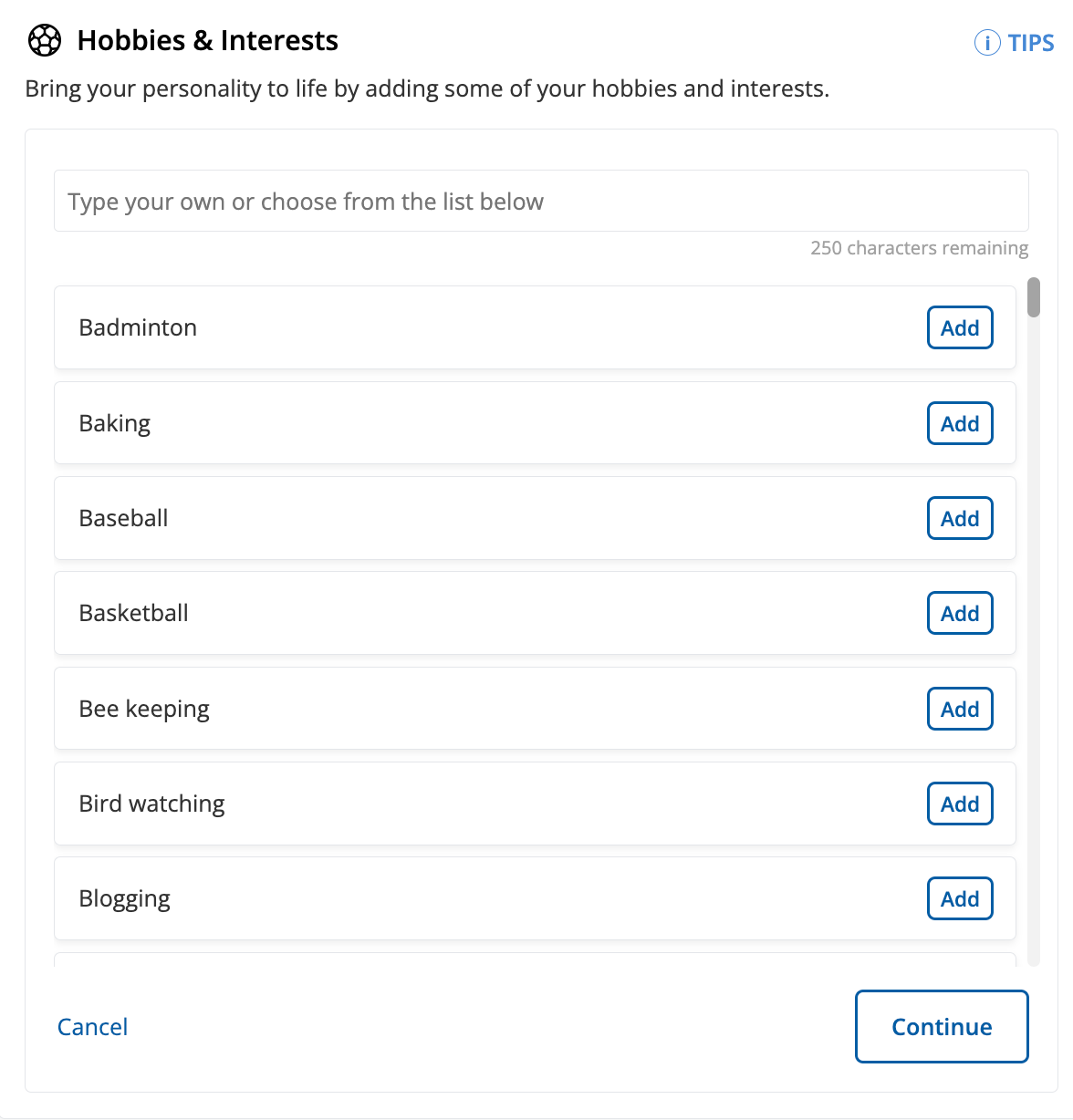 References: we advise against filling in this section, because references take up valuable space on your CV. Instead, create a separate sheet of references, and only send it to employers when they ask for it.
Once you click 'Complete CV' underneath, you'll be redirected to your profile. Here, you'll have the option to edit, view, or download (as a PDF) your CV:
3. Apply for a job
You can apply for a job either directly from the search screen or by opening a job advert and clicking the button.
Applying for jobs from the search screen is as simple as clicking a button:
Clicking 'Apply Now' brings you to a screen that shows you which CV you're using and lets you write a cover letter: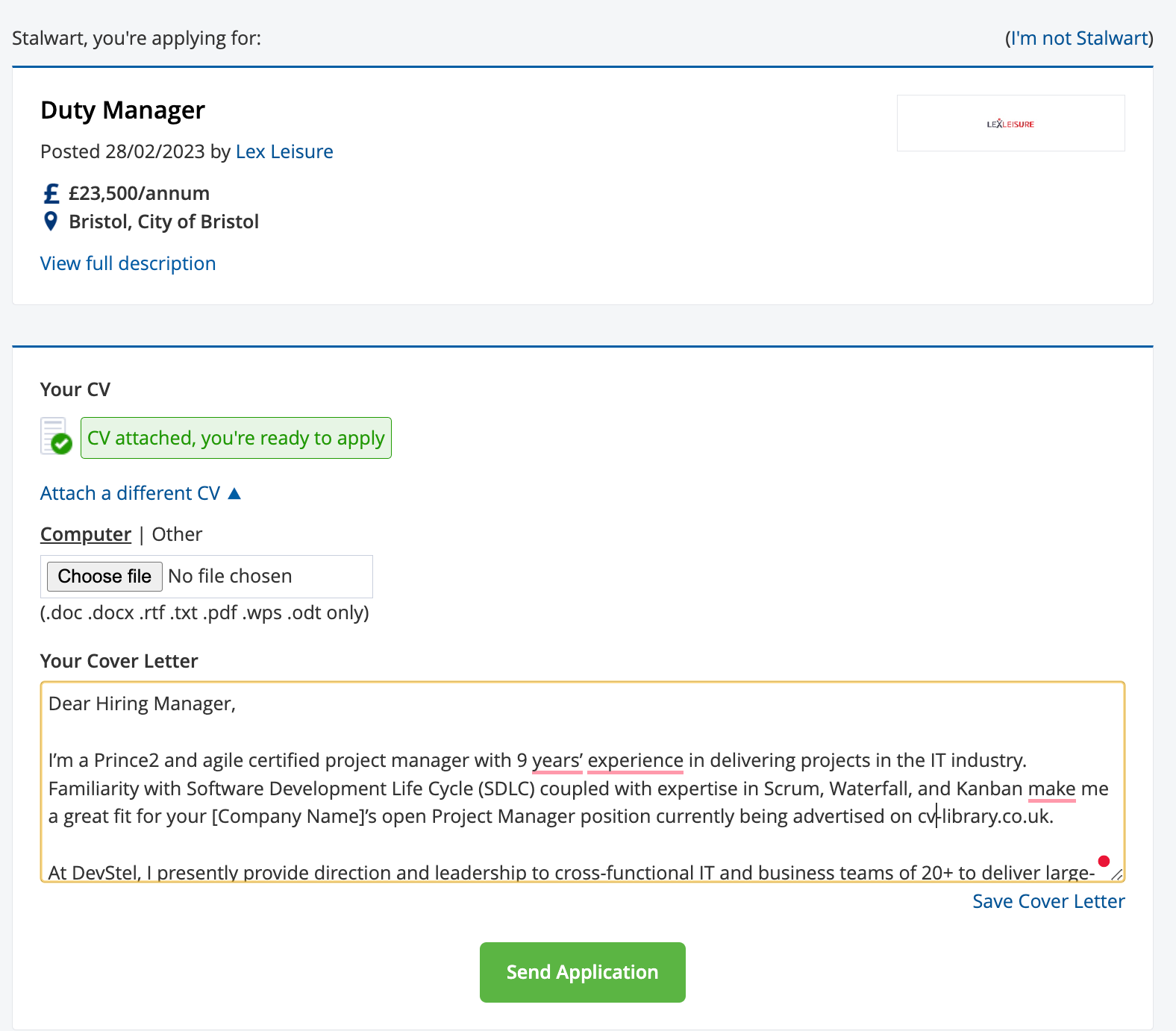 CV Library only lets you have one version of your CV on the site, so if you want to use a different version of your CV, you'll need to upload it from your computer.
Additionally, CV Library doesn't include a cover letter builder (and you can't upload a cover letter from your computer; you have to write it directly on CV Library's platform).
The only option to easily make a cover letter on CV Library is to copy and paste (or type) a cover letter into their interface, which means you can't use a colourful cover letter template that complements your CV or helps your application stand out.
You can also click '1-click Apply' from the job search screen to apply for a job, but this option doesn't allow you to modify your cover letter. Because you should also target your cover letter to the job advert in addition to your CV, we recommend not using this option.
CV Library builder review
CV Library's CV builder isn't the best on the market, even for a free tool.
For a start, there's only one standard CV template offered on CV Library, which means your CV will look exactly like everyone else's. You won't stand out. Here's the CV template every job applicant who uses the CV builder uses: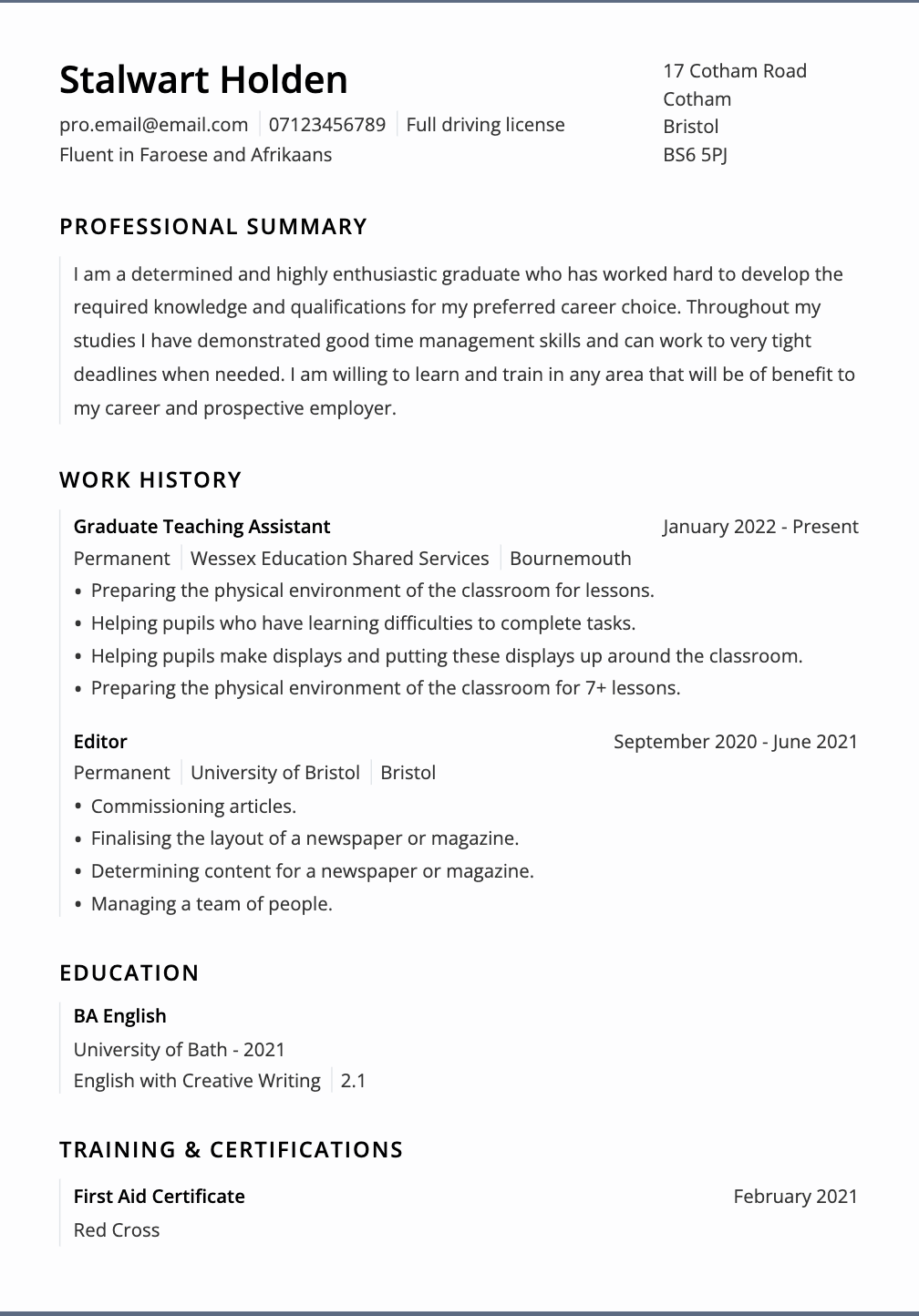 If you want to give recruiting managers something they'll really notice, we suggest using a visually appealing CV template. Just download a template, copy and paste the content from your CV Library–created CV into it, and then upload your new CV when you apply for jobs.
You have the option of uploading a well-designed CV when you apply for a job.
Only one CV template is offered on CV Library, making your CV look exactly the same as all other CV Library builder users.
CV builder interface
On the other hand, CV Library's builder has some great features. It's useful (and pleasing to see) to update your information and see your CV change in real time. This feature makes it easier to see how your CV is shaping up rather than having to wait until the end of the process.
Another useful feature is being able to download your CV as a PDF once you're finished. This ability lets you use your CV outside of the CV Library environment. For example, if you see a job you like on another website or want to send your CV via email, you can simply download and attach your CV.
However, it'd be great if you could download your CV as a Microsoft Word (docx) file. Offering this option would mean you could edit your CV on your laptop. Currently, you can only edit your CV Library curriculum vitae on their website, so you need a good internet connection.
You can see your CV take shape in real time and download your CV as a PDF.
No ability to download your CV for Microsoft Word means you can't edit your CV offline.
Builder options and CV customisability
Let's return to some of the problems we found when we tried to build a CV to apply for a job.
First, it's impossible to edit the pre-written content, except for your CV's summary. That fact means you'll either need to write your own content — which defeats the purpose of using a CV maker — or put up with CV Library's vaguely written content.
One way to get around this limitation is to copy a pre-written bullet point, and then paste it into the manual text editing field. You can then add hard numbers to your bullet point to give employers some context about your achievements, and alter the content to be more specific to you.
Copy, paste, and edit pre-written bullet points
For example, you can change 'Decided on content of magazines or books' to 'Decided on 17+ articles per day for university's Student Times magazine', making your bullet point more specific to give employers a clearer idea of what you did.
CV Library's pre-written content is also sparse. No pre-written bullet points are available for many common jobs, while only a few are available for other jobs. Additionally, you won't find many skills and hobbies and interests in their pre-written content database.
You can select from pre-written bullet points and other content.
Limited pre-written content to choose from, so you frequently have to write your own.
CV Genius's recommendation
We'd recommend anyone using CV Library to use a more high-quality CV builder that offers dozens of pre-written but customisable bullet points for each role. But the main reason why we can't recommend using CV Library's builder is that it uses the exact same template for everyone's CV.
Having the same CV template as everyone else who uses the builder means your application simply won't stand out, even if your skills, qualifications, and achievements outclass them.
If you're seeking an alternative CV builder, here's a comparison between the CV Library and CV Genius builders:
Comparison of builders offered by CV Genius and CV Library
| Features | CV Library | CV Genius |
| --- | --- | --- |
| CV Templates | 1 | 90 |
| Cover Letter Builder | No | Yes, with templates matching CV templates |
| Formatting | No settings | Ability to change colour and fonts |
| Pre-written Content | Few available for common jobs; none for less common jobs | Dozens of pre-written bullet points and content options |
| CV Download Formats | PDF | PDF, .docx, .txt |
| Optional CV Sections | None | Languages, Volunteer Experience, Community Service, Awards, Publications, Additional Info |
CV Library: statistics & comparison with UK job sites
Now we've looked into the CV Library builder, let's weigh up CV Library's job offering.
Number of jobs listed on CV Library today
CV Library currently has 220,000+ jobs up, which is a typical number for the site. However, this number is lower than its competitors: Indeed offers 607,241, Reed has 232,417, and LinkedIn boasts 671,367. Of the main competitors in the UK, only Totaljobs has fewer job adverts up (119,599).
This situation is replicated at the industry level. As you can see, in most industries, CV Library offers fewer jobs than most of its competitors except Totaljobs:
Number of jobs advertised on UK job sites
| Industry | Indeed 1 | Totaljobs 2 | CV Library | Reed 3 | LinkedIn 4 |
| --- | --- | --- | --- | --- | --- |
| All jobs | 607,241 | 119,599 | 119,425 | 232,417 | 671,367 |
| Education | 33,770 | 5,164 | 23,008 | 29,083 | 64,281 |
| Healthcare | 69,615 | 20,963 | 16,006 | 7,790 | 51,012 |
| IT | 8,702 | 56,868 | 11,235 | 18,845 | 136,400 |
However, if you're looking for a wider variety of job adverts, we recommend trying one of CV Library's competitors.
Maybe CV Library has fewer jobs but higher salaries on offer? Unfortunately, the data shows that the average salary offered by employers on CV Library is lower than salaries for similar jobs on other job sites.
Salary ranges that appear on CV Library
Let's compare social worker job listings and respective salaries on CV Library vs other job sites. The average yearly salary offered by adverts on CV Library was £28,195, whereas Indeed and Totaljobs adverts offered £44,860 and £42,500 on average.
Meanwhile, the Office of National Statistics states that the average salary for a social worker UK-wide is £39,053, indicating employers using CV Library are offering a lower salary on average than elsewhere.
The statistics tell the same story for other occupations:
Average Annual Salary for Jobs on UK Job Sites & ONS
| Occupation | Office of National Statistics 1 | Indeed 2 | Totaljobs 3 | CV Library 4 |
| --- | --- | --- | --- | --- |
| Paramedic | 49,909£ | 37,102£ | 37,500£ | 27,312£ |
| Accountant | No data | 35,239£ | 42,500£ | 32,607£ |
| Social worker | 39,053£ | 44,860£ | 42,500£ | 28,195£ |
| Civil engineers | 44,341£ | 37,786£ | 42,500£ | 34,152£ |
| Data analyst | 31,193£ | 34,851£ | 42,500£ | 28,735£ |
| Occupational therapist | 34,249£ | 35,668£ | No data | 30,486£ |
| Web developer | No data | 37,074£ | 47,500£ | 27,355£ |
There may be a good reason why salaries on CV Library seem lower than other sites. For example, maybe more entry-level jobs are advertised on CV Library. Whatever the reason, if you're not impressed with the salaries you're seeing on CV Library, try looking for jobs on Indeed, Totaljobs, and other job sites too.
FAQs about CV Library
Here are four frequently asked questions users have about CV Library:
Is CV Library legitimate?
Yes, CV is a legitimate job search site. You can easily search and apply for jobs from CV Library, and many job hunters find quality jobs through CV Library.
We'd still advise you to protect your privacy on CV Library. For example, if you only want companies you apply to to be able to see your CV, you should hide your CV from public view by going to 'My Settings' under your name in the menu bar, then clicking 'Hide My CV':
How do you remove your CV from CV Library?
You remove your CV from CV Library by deleting your CV Library account. Unfortunately, there's no other way to remove your CV (although you can hide your CV from recruiting managers if you're concerned about your privacy).
To delete your CV Library account, click 'My Settings' under your name in the menu bar, then click 'Delete My Account':
How do you unsubscribe from CV Library?
To unsubscribe from CV Library emails, click 'My Settings' under your name in the menu bar, then scroll down to 'Manage Email Preferences'. You can click the button to pause emails for six months or opt out of job alerts or site updates:
We recommend unsubscribing from emails from CV Library once you've found a job, otherwise your inbox will slowly fill up with unwanted emails.
Alternatively, create a new email with a name like myname.cvlibrary@gmail.com and set this as your email on CV Library. By creating a specific email for CV Library, you can log in to your new email account next time you want to find a job without filling up your personal email inbox with job alerts.
Is CV Library free?
Yes, CV Library is free for most functions, like finding a job, applying for work, and adding a CV to your account.
CV Library also has an optional paid version. If you pay for this, your CV will appear at the top of search results when employers search for CVs. Also, when you apply for a job, your CV will be highlighted to employers.
However, at £9.99 a month, this version is pricey — whether you're already working or not. Because all CV Library templates look the same, we recommend instead downloading a modern colourful CV template for free, and then filling that in and uploading it to CV Library to make your application stand out.
More questions about creating a CV