Can you pitch yourself to an employer in 10 words or less?
Learn how and you'll greatly improve your chances of landing the job you want.
Knowing how to summarise your expertise into a single line is a crucial skill as part of learning how to write a great CV.
Why?
— your CV headline.
Your CV headline is one of the first things an employer will see on your CV. If you write your headline well, it'll compel them to keep reading (and stick in the forefront of their minds when they move on to the next candidate).
This article will help you write a killer headline with 56+ CV headline examples and 5 handy writing tips.
What is a CV headline?
A CV headline is a brief statement at the top of your CV that summarises your unique selling point as a job candidate.
CV headlines are usually one line in length and are intended to grab the attention of potential employers, often using hard numbers or CV power words.
Here's an example of how to make a CV with a great headline for a graduate operations specialist job:
Analytical Business and Marketing Graduate Skilled in Data Analysis and Six Sigma
CV headline vs. CV title
Though often used interchangeably, a CV headline is not the same thing as a CV title. In fact, it's possible to have both on your CV.
CV titles are only a few words long and are typically just your job title.
Headlines, on the other hand, are longer and more descriptive, typically appearing after the CV title and before your personal statement.
Putting your name, CV title, and CV headline (in that order) at the top of your CV makes your application easier to recognise and remember.
Here's what all three look like when formatted correctly on a CV: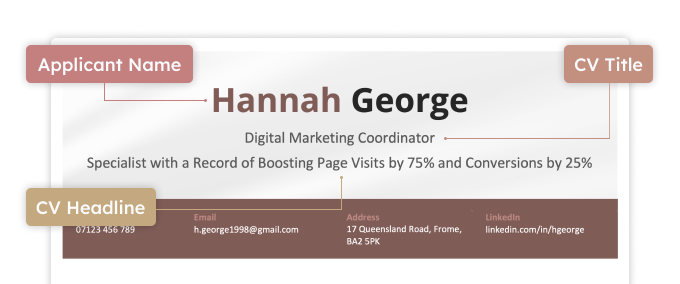 Why you should write a CV headline
Although you don't need to put a headline on your CV, there are significant advantages to doing so:
1. Helps you stand out from other applicants
Writing a succinct, snappy CV headline allows the employer to instantly see what unique knowledge you can offer their team.
For example, if you possess a valuable technical skill, spotlighting it in your CV headliner will make it more noticeable for the employer. Furthermore, this strategy creates a stronger association between you as a job candidate and the unique asset the employer could add to their team.
2. Foregrounds your most impressive achievement
Whether you've won an award, hold a valuable qualification, or have boosted team performance in a previous role, your CV headline is an excellent platform for emphasising your most noteworthy achievements.
3. Shows you researched the company and understand their needs
Writing a job-specific headline for your CV shows the employer that you understand the role and are able to address their team's needs. Because you're demonstrating these traits in your headline, the employer can instantly tell that the CV they're looking at was written for their job opportunity specifically.
56 CV professional headline examples
Looking for inspiration writing your CV headline? Here are 56 job-specific headlines that catch the employer's attention and highlight valuable skills and experience:
Attentive HR Manager Skilled at Minimising Employee Turnover
Certified Accountant Specialised in Audit Management
Ambitious Journalism Grad with 2 Years of Features-Writing Experience
Passionate Social Media Intern with TikTok and Instagram Expertise
Innovative Graphic Designer with Proficiency in Adobe Creative Suite
Bilingual Retail Associate with Excellent Customer Service
Motivated Research Assistant with Expertise in Data Analysis and Visualisation
Thorough Administrative Assistant with Top-Level IT and Organisational Skills
Energetic Event Coordinator with Experience in Planning and Execution
Creative Social Media Intern with a Track Record of Increasing Engagement
Savvy Web Developer with Proficiency in HTML, CSS, and JavaScript
Resourceful Sales Associate with a Proven Track Record of Meeting Targets
Customer Service Rep with 2 Years of Experience and Great Telephone Manner
HR Coordinator with Valuable Recruitment and Onboarding Expertise
Early-Years Education Student with Experience in SEN and Play-Based Learning
Skilled Data Entry Clerk with High Accuracy and Attention to Detail
Accomplished Marketing Associate with Knowledge of SEO and SEM
Detail-Oriented Project Coordinator with Proficiency in Task Management Tools
Ambitious Business Administration Major with Experience in Market Research
Part-Time Bookkeeper with Knowledge of Accounting Software and Systems
Multidisciplinary Engineer Skilled in Robotics and Machine Learning
Investigative Journalist with Fact-Checking and Data-Mining Competencies
Ambitious Final-Year Business Student with Start-Up Experience
Solution-Oriented Web Developer with 5+ Years of App-Building Experience
Bilingual Humanitarian Aid Worker with Emergency Response Experience
Social Media Expert with Record Increasing Engagement by 50% for Clients
Certified Personal Trainer with Consistent 10/10 Client Satisfaction
Highly Adaptable Business Analyst with Expertise in Data Visualisation
Passionate Environmental Science Graduate with 3 Peer-Reviewed Articles
Resourceful Hotel Manager with Record of Boosting Occupancy Rates by 20%
Innovative Chef with a Proven Background in Molecular Gastronomy
Strategic Investment Banker with Experience Closing Deals Worth £100M+
Electrical Engineer with Expert Knowledge of Renewables
Knowledgeable History Student with 2 Years of Research Assistant Experience
Award-Winning Creative Director with Portfolio of 50+ Successful Ad Campaigns
Occupational Therapist with 8+ Years Pediatric Therapy Experience
Results-Oriented Project Management Specialist with Six Sigma Expertise
Empathetic Social Worker Specialised in Supporting At-Risk Youth
Recent Accounting Graduate Specialised in Financial Reporting
Analytical IT Consultant with Proven Cybersecurity Experience
Bilingual Customer Service Rep with a 95% Customer Satisfaction Rating
Highly Skilled Industrial Designer with a Portfolio of Successful Product Designs
Event Planner with Recent Success Organising Festivals and Trade Shows
Technical Project Lead with Expertise in Structural Engineering and Design
Budget-Conscious Operations Manager with Advanced Knowledge of Cisco
Copywriter with a Portfolio of Successful Ad, Landing Page, and PR Projects
Nurse Practitioner with Expertise in Women's Health and Reproductive Care
Financial Analyst with 3 Years of Modelling and Forecasting Experience
Expert UX Designer with a Portfolio of 9 Successful Web Applications
Architecture Student with Specialised Knowledge of Green Building
Accomplished Event Photographer with Board Commercial and Private Portfolios
DevOps Engineer with Expertise in Agile Development and User Testing
Aerospace Specialist with Detailed Knowledge of Avionics and Flight Systems
Marketing Student with 2 Industry Awards Plus Internship Experience
Speech Therapist with 4 Years of Speciality in Paediatrics and Fluency Disorders
Top-Performing Maths Student with Expertise in Statistical Analysis and Modelling
5 tips for writing a solid CV headline
To write a great CV headline, focus on writing a title that's straightforward, professional, and well-aligned with the job you're applying for.
Here are five tips to help you write a CV headline that jumps off the page.
1. Use correct formatting
Your CV headline is a title and should be formatted as such.
Capitalise each word unless it has fewer than three letters — capitalise proper or common abbreviations (e.g., 'AP Style' or 'IT Skills').
If that sounds like a lot to remember you can also use a free title checker to check that the headline on your CV is capitalised correctly (make sure 'AP' is selected before you paste your title in).
2. Keep it concise
To be effective, your CV headline needs to stick in the employer's mind. In other words, it needs to be short and snappy.
Write a CV headline that's less than one line in length and highlights 1-2 skills or knowledge areas.
3. Showcase a unique selling point
Headlines that attempt to sell too much end up not selling anything at all.
Identify one relevant knowledge area that sets you apart and make it the focus of your CV headline.
For example, this CV headline emphasises the applicant's passion for their job:
Creative Music Tutor Known for Fostering Passion for Music in Young Learners
Whereas this digital marketing specialist spotlights their previous achievements:
Analytical Digital Advertising Specialist with Success Increasing ROI by 50%
4. Use strong adjectives to emphasise your worth
Every word matters when you're writing a CV headline, so don't waste space with weak language like 'good' or 'hard-working'.
Use power words and action verbs where possible to say more in fewer characters.
Power words are adjectives that highlight your soft skills (aka core character traits), while action verbs are doing words that tell the employer how you achieved or accomplished something.
Here's a couple of CV headlines, the first with the power word highlighted in green and the second with action verbs highlighted in yellow.
Charismatic Barista with Expert Sourcing, Branding, and Roasting Knowledge

Retail Associate with Successful Record Upselling to Maximise Profit Margins
5. Tailor your headline with job-specific keywords
Employers look for specific skills, experience, and knowledge areas when they're reviewing candidate CVs.
If you include these traits in your CV headline, you're much more likely to capture their attention.
To find out what keywords the employers might be looking for, read the job description carefully. Look for keywords that appear in the job title, job summary, or job requirements list as these details will be a priority for employers.
Here's a couple more CV headline examples, with job description keywords highlighted in red.
Deskside Technician Proficient in Windows and Help Desk Support

Learning Strategist with 3+ Years of ESL and Editing Experience
Frequently asked questions about writing a headline for your CV
Still struggling with the headline for your CV? Here are the answers to three more CV headline questions to help you write the perfect one-liner:
1. Should a CV headline be different for each job application?
Yes, you should write a unique CV headline for each job you apply for.
Every position is different, and no two employers look for the exact same candidate. Therefore, you're much more likely to convince your reader that you're the right person for the job if you consider their specific needs and priorities.
To tailor your CV headline to the job description:
include keywords from the job description
use action verbs and CV power words to highlight your skills and experience
match the job title that appears in the job description (so long as this is truthful)
2. Can a CV headline make up for a lack of experience or qualifications?
While a great CV headline cannot make up for a significant lack of experience or qualifications, it can direct the employer's attention to your most marketable strengths.
For this reason, CV headlines can be instrumental to getting more job interviews when you're fresh out of university or starting out in a new industry.
Writing a CV headline that foregrounds a valuable transferable skill or noteworthy qualification gives the employer more reason to consider your CV if there aren't many years of formal work experience on your CV.
For example, if you're applying for a marketing job but don't have direct marketing experience, you could highlight strong communication skills, social media expertise, or the ability to think strategically to convince the employer that you're a good fit for the role.
Use your headline to emphasise your strengths and show how they align with the employer's needs.
3. Can a CV headline be funny or creative?
Your CV headline can be creative in some situations, but you should avoid using humour all-together.
Unless the organisation you're applying to has a very laid-back culture, using humour in your CV will make you appear insincere and unprofessional.
CV headlines can be creative and catchy if you're applying for a position where such a communication style would be valuable — such as a social media or copywriter position.
Still, remember to use creative language sparingly. Your headline should focus on your skills and experience, not your ability to use alliteration or clever puns:
Content Writer with 5 Years of Experience Crafting Compelling Email Campaigns
For jobs in buttoned-up industries (e.g., Law or Financial Services) write a straightforward CV headline that highlights your most relevant skills and traits:
Experienced Family Solicitor with Expertise in Litigation and Dispute Resolution
Additional CV writing resources