When you submit a job application, you want it to be an excellent representation of your skills, achievements, and work ethic.
But it takes more than a list of qualifications to dazzle employers — which is why it pays to know how to describe yourself on a CV.
In this article, we'll go over how to write in a job-relevant, impactful, and well-rounded way when you describe yourself on your CV.
We'll discuss: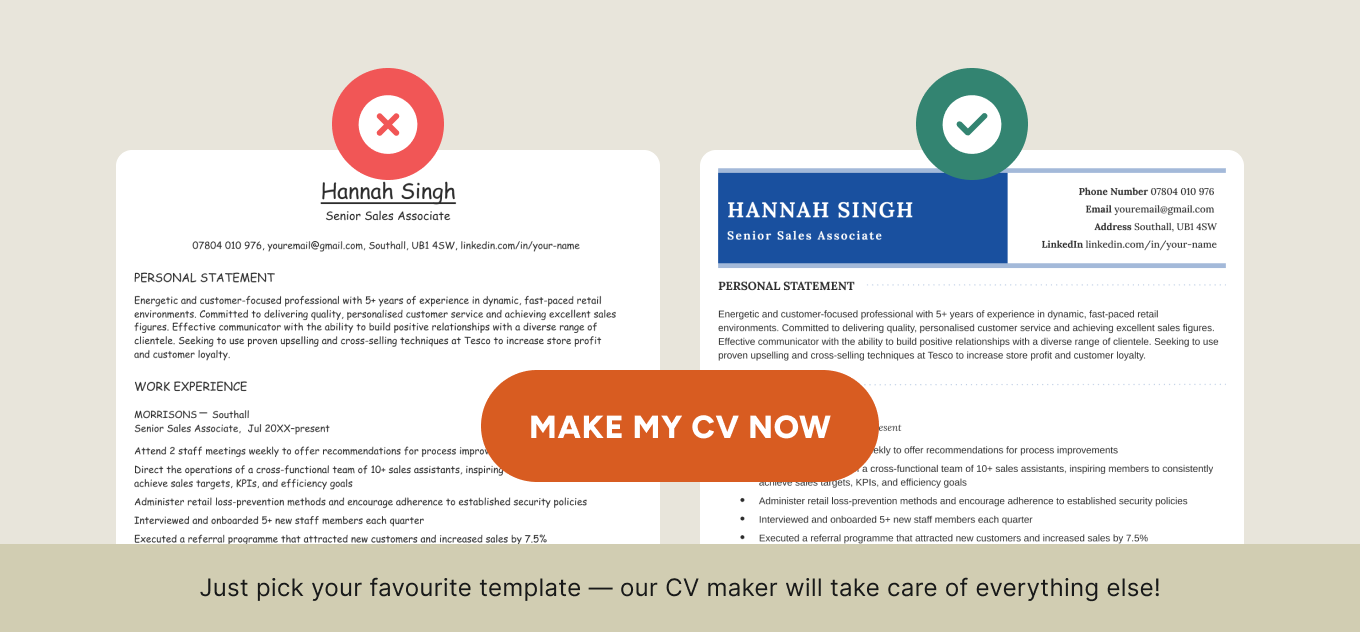 1. Summarise your best traits in your CV personal profile
Your personal profile, also known as a personal statement or 'about me' section, appears at the top of your CV and gives the employer a quick overview of who you are and why you're perfect for the job.
In other words, it's how you describe yourself in your personal profile is crucial.
An outstanding personal profile:
outlines your area of expertise
highlights your work ethic and soft skills
specifies how hiring you will benefit the employer
Therefore, when describing yourself in this section of your CV, you should emphasise your positive personal traits and professional knowledge.
Here's what we mean:
Digital marketing CV personal profile
Creative digital marketing specialist with 2 years of experience implementing successful paid media campaigns for a leading consumer electronics retailer. Deep understanding of SEO, SEM, and writing ad copy. Results-driven with proven success diving into data and developing innovative solutions that increased brand awareness and engagement by up to 50%. Excellent communication and organisational skills.
Bam.
In a few sentences, this applicant shows why they're an ideal candidate for the digital marketing job.
The applicant's profile tells us what areas of digital marketing they specialise in (paid media, SEO, SEM, and copywriting). However, it also helps us understand how the applicant works by emphasising positive character traits (e.g., creativity, determination, and communication skills).
And that's how you describe yourself on a CV and get called in for an interview.
2. Use the right adjectives
Whether you're describing your core character traits or highlighting a skill in your work experience section, you'll make more of an impact if you use the right vocabulary.
There are no all-around 'best adjectives' you can use to convince employers you have the skills they need (you achieve that by giving specific examples).
However, certain powerful adjectives can help convey valuable soft skills to employers.
To show you how this works, here's a list of powerful adjectives for highlighting your interpersonal skills on a CV.
Collaborative
Empathetic
Adaptable
Persuasive
Diplomatic
Patient
Trustworthy
Reliable
Influential
Caring
Approachable
Analytical
Resilient
Supportive
Motivational
Open-minded
Collaborative
Cooperative
Respectful
Positive
3. Use action verbs to show your strengths
Want to know how to write a CV well? Tell employers how you achieved things, not just what you achieved.
Action verbs add dimension to your CV by conveying a sense of action, accomplishment, and capability.
Take a look at this bullet point from a teacher CV:
Describing experience without action verbs
Responsible for 150+ students and their performance and made sure they had a good learning environment
The experience is good, but the writing?
It's flat and monotonous.
Remember. You don't have a huge amount of space when you're writing a CV, so every word you add to your application should prove something to the employer.
Look how much more impactful our teacher's experience becomes when they describe it using compelling action verbs:
Describing experience using action verbs
Guided 150+ students' progress through each school year, monitoring their academic performance and ensuring they had the resources to thrive academically
Not only is this bullet point more interesting to read, but the applicant also sounds much more enthusiastic about their career.
4. Relate your experience to the job with CV keywords
Writing a great CV may be a bit of an art, but there's a science to it too.
Why? Well, regardless of the industry, the most impressive CV self-descriptions are those in which the applicant relates their skills and experience to the job they're applying for.
And CV keywords are, well, the key to making that connection.
CV keywords can be skills, experiences, traits, or specific software — anything that the employer is actively seeking in their next hire.
If you mention these relevant attributes when you describe yourself on your CV, they'll catch the employer's eye and get them interested in your profile.
5. Show unique personal traits by adding hobbies and interests
Your hobbies and interests section won't be the first part of your CV that the employer looks at. Nonetheless, it can help you make an excellent first impression by illustrating your personality, character, and unique qualities.
Choose 3–5 pursuits that demonstrate qualities the employer will value in the job you're applying for. For example, if collaboration and communication are essential to the role, you might mention:
team sports
podcasting
creative writing
pub quizzes
amateur theatre
Including relevant hobbies and interests will help the employer see that you fit the company culture well. You can make this section even more convincing by giving context that highlights positive personal traits. For example:
Podcaster — Produce my own show about underground music history with a monthly audience of 300 listeners
Cross country — Member of the local club, participating in amateur races
Pub quiz — Organise and host monthly quiz nights, which receive consistent 5-star reviews
6. Write a compelling cover letter to accompany your CV
Regardless of how well you write your CV, it can only be so long.
Cover letters allow you to describe yourself in more detail, as well as relate your positive traits to the job you're applying for. Quickly put one together using a cover letter builder and then personalise it to the specific role.
The little extra effort it takes will show the employer you're serious about the job and give you more control over how you come across when they receive your application.