What are hard skills?
Hard skills are knowledge or abilities that you can learn. For example, the ability to speak a second language is a hard skill that requires training.
Listing hard skills on your CV is key to landing the job you want, because employers prioritise applicants who have expertise specific to the roles they're hiring for. Here are the top hard skills to put on a CV in 2023, based mainly on the World Economic Forum's latest Future of Jobs Report for the UK: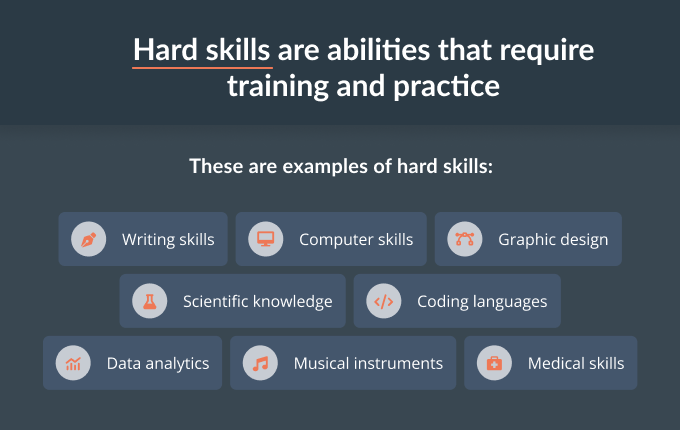 Keep reading to see:
Hard skills examples
Need ideas for hard skills to put on your CV and cover letter in 2023? Click on any of the 11 types of hard skills below that fit your industry to view examples of abilities that'll impress your target employer:
1. Management hard skills
While managers rely on soft leadership skills to succeed in supervisor roles, they also need technical expertise to connect with their employees and spearhead projects. These are hard skills to emphasise if you're applying for a management position:
Current industry knowledge
Economic forecasting
Coaching skills
Motivation techniques
2. Hard skills for customer service
Any job that involves interaction with clients requires good customer service skills. Here are examples of what to include in a cover letter and on your CV if you're applying for a customer service job or transferring your customer service hard skills to another industry:
Phone skills
Typing skills
Customer database software
Conflict resolution strategies
Point of sale (POS) systems
Negotiation skills
3. Marketing hard skills
If you're writing a CV for a marketing job, you'll need skills related to creating and maintaining a brand's image online, in traditional media, and during face-to-face interactions with target audiences. As a marketer, you'll use hard skills like the following:
Customer resource management (CRM) systems
Advertising and public relations expertise
Content marketing
Social media management
Product knowledge
Search engine optimisation (SEO)
4. Hard skills for finance
Finance roles include accountants, investment managers, and analysts. If you want to work in a financial field, develop hard finance skills like these:
5. Creative hard skills
Creatives use many hard skills to maximise their artistic output. For example:
6. Hard skills for medical care
Whether you're a surgeon or a dental nurse, you'll use hard skills to care for patients. Some common medical hard skills are:
7. Data analysis skills
The demand for data scientists has skyrocketed in the last decade, so skills related to analysing data are valuable in 2023. Below are hard skills employers expect to see on CVs submitted for data analyst jobs:
Advanced spreadsheet skills
Google Analytics (GA4)
Research skills
Reporting and presentating
8. Technology skills
Technology skills range from knowing how to run a basic Google search to being able to write a computer program. Below are good examples of technical skills to showcase on your CV:
9. Vocational hard skills
Some of the most needed hard skills to have in 2023 don't require formal academic training. Vocational training is increasingly popular in the UK, and can lead to functional skills like:
Firefighting skills
Air traffic control skills
Refrigeration & air conditioning installation and repair skills
Construction skills
Law enforcement skills
Cosmetology techniques
Cooking skills
10. Hard communication skills
Every job you apply for requires good communication skills. Many communication skills are soft skills, such as confidence, empathy, and friendliness. But there are also many communication hard skills that you can develop through training, such as:
What are soft skills vs. hard skills?
In addition to hard skills, you'll need good soft skills to succeed in your career. Soft skills are abilities connected to your personality, like friendliness and leadership. While you can develop and improve such skills, they're limited by your nature.
Even employers in the most technical industries look for employees with soft skills that help them interact with others in the workplace. So remember to emphasise your top soft skills along with your hard skills to show recruiters that you're a well-rounded worker who can handle technical tasks as well as be a great cultural fit.
Here are some examples of soft skills to go along with your hard skills:
Problem solving
Teamwork
Positive attitude
Attention to detail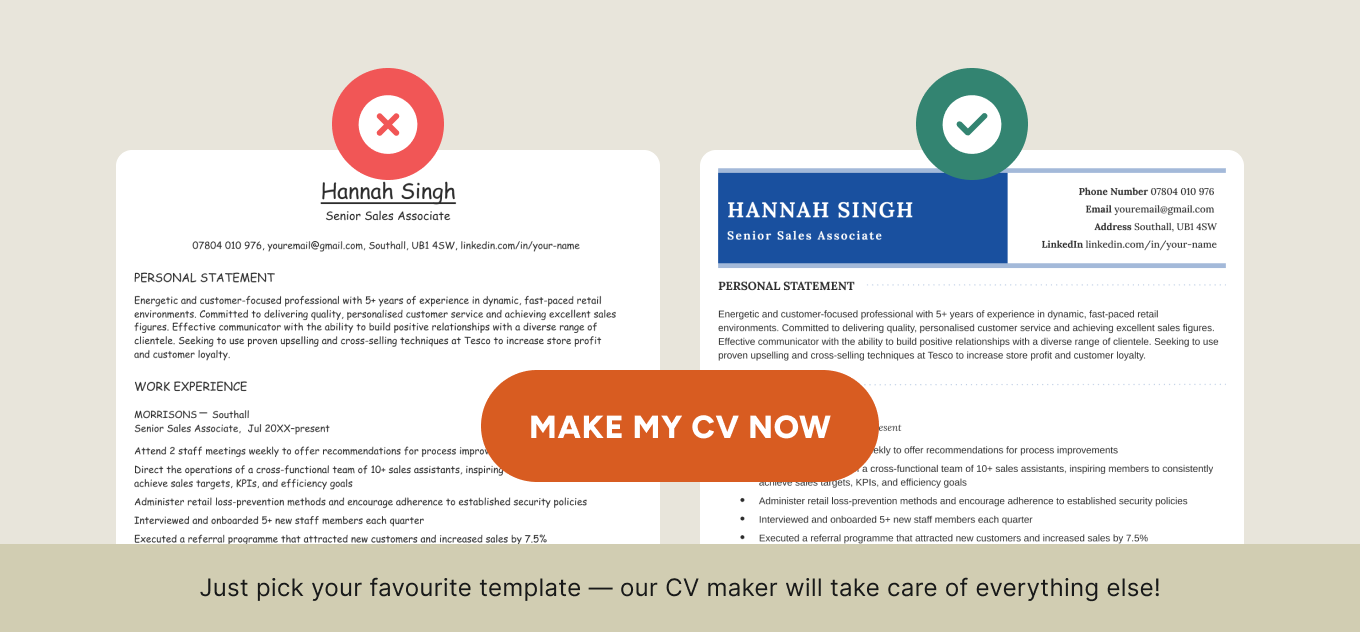 How to list hard skills on your CV
Not sure how to write a great CV that highlights your hard skills? Here's how to describe them in three steps:
1. Use hard numbers and examples
The information you put on your CV should include data and examples of how you've used your hard skills to contribute to your employers. Numbers and examples of your accomplishments show employers what they can expect to get if they hire you.
Describing your hard skills with data also makes them stand out. Look at the two examples below to see how this works:
Accurately answered 25+ student queries per shift while maintaining a 99.7% customer satisfaction score on post-service surveys
Generic job responsibility
Worked as a front desk receptionist at the Student Service Centre
The first example — which is the one you should follow — uses numbers to give the recruiter a clear picture of what the applicant can do. On the other hand, the second example above is just a description of a responsibility that doesn't engage the reader.
2. Choose the hard skills most likely to get you hired
The most important thing to remember about listing your hard skills on your CV is to highlight the ones the employer needs you to have. If you're not sure which of your technical abilities your target employer needs, here's how to find out:
Check the job advert to see which hard skills the employer specifically mentioned as required for your target role
Research the company to get a better idea of what it does and how your hard skills will benefit its work
Read other similar job adverts to see what hard skills are needed in your target industry
Different employers have different needs, so retool your CV for every job you apply to. You may need to do a complete rewrite to emphasise a different skillset. But usually all you need to do is move information around so that your most job-relevant skills are near the top of your CV where they're most likely to be seen.
3. Put them in all your CV sections
Recruiters read CVs quickly, so place your hard skills in every section to ensure they're not missed. Put your hard skills in your CV's:
Frequently asked questions about hard skills
Here are answers to some more of the most common questions about hard skills:
1. What are hard skills everyone should have?
Here are hard skills everyone should have:
Computer skills
Internet research
Digital communication
Device setup and maintenance
Familiarity with AI technology (ChatGPT, communicating with AI customer service)
The hard skills listed above are essential to living and working in the UK in 2023. For instance, no matter what job you work, you should be able to operate a computer and find basic information on the internet.
2. How do you list hard skills on a resume?
A resume is a shorter version of your CV (usually one page instead of two) that you use to apply for jobs in the US, Canada, and some other parts of the world. If you're writing a resume, list your hard skills just like you would on your CV by:
emphasising them with numbers and examples
focusing on hard skills the employer listed in the job advert
putting them in every resume section

3. Which hard skill is best for the future?
Any skill related to AI is best for the future. With the launch of practical AI applications like ChatGPT, more and more jobs are being impacted by automation.
If you're looking to future-proof your skillset, learn all you can about AI — such as what prompts to use, how to code AI programs, and how to work with AI hardware.