A cover letter should be—
½–1 page long
between 250 to 400 words
three to five paragraphs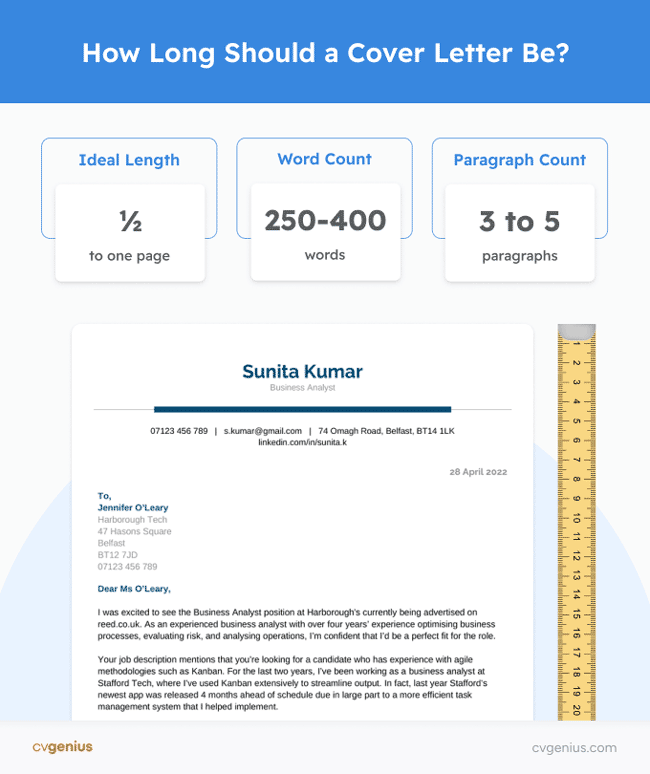 Employers are busy people who haven't got time to read long cover letters — 82% of employers want to see cover letters that are under one page long.
If you write more than that, employers will simply skip ahead to the next cover letter in their pile.
How to achieve the ideal cover letter length
Knowing what to include in a cover letter and how to appropriately format it is vital to reaching the ideal cover letter length.
1. Use correct cover letter formatting
Using standard cover letter formatting is essential.
Correct cover letter format includes—
using a good font for a cover letter, such as Calibri, Times New Roman, or Helvetica — Arial Narrow is perfect if you're struggling to keep your cover letter on one page because it's narrower than most fonts
setting your font size between 10.5 and 12 points
using single line spacing or 1.5 line spacing to neatly display your paragraphs
setting your margins to 2.5 cm — you can reduce your margins to 1.25 cm if you need to fit all of your information onto one page.
2. Use concise language
Space is a precious resource in a cover letter, so make sure every sentence has a purpose. Avoid using fancy language by keeping your cover letter direct and simple.
This is an example of a sentence that's too wordy—
Example of a wordy sentence
Due to the complicated circumstances of my previous job, I often had to adapt to different situations which led me to develop the ability to work with all kinds of scenarios.
Here's how you can make this sentence direct and simple:
Example of a concise sentence
My previous job taught me how to adapt to any circumstance.
Every word counts in a cover letter, so don't use more words than necessary.
Here are two more strategies for writing more concise paragraphs:
Replace long phrases with shorter words
While phrases such as 'due to the fact', 'provided that', 'as a result', and 'on the other hand' sound elegant, they use valuable space. Consider using single-word alternatives instead.
For example, use 'because' instead of 'due to the fact', or 'if' rather than 'provided that'.
Here are some more examples—
| | |
| --- | --- |
| in order to | to |
| on the basis of | based on |
| in spite of the fact that | although |
| at the current time | now |
| on the other hand | however |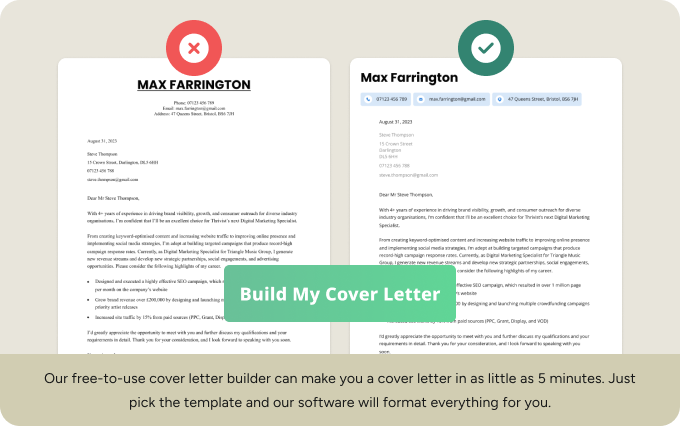 Use the STAR method
The STAR method is an interview technique that you can also use on your cover letter to keep it short.
STAR stands for—
situation
task
action
result
When writing about your CV work experiences, consider problems you've faced, your responsibilities, how you handled them, and the results.
Learning how to write your cover letter with STAR statements will help you communicate your experience in detailed yet short sentences.
Here's an example of an applicant's STAR cover letter bullet point for a copywriting position—
Collaborated with the Marketing and Design team to address a sudden drop in Google rankings by rewriting 50+ pages of content to improve keyword rankings and page views, resulting in a 89% boost in page conversions and a 65% improvement in keyword rankings
3. Proofread your cover letter
Make sure you scrutinise your cover letter carefully before submitting it because employers are on the lookout for grammar mistakes and typos. They'll presume that if you can't create a perfect cover letter, then you probably won't be able to handle the demands of the job they're offering.
Having another perspective or even taking a break and then looking through your cover letter again later can help you find ways to optimise your letter and catch mistakes.
While you should make use of grammar correcting tools like Grammarly and a spell checker, you should still read through your cover letter yourself to make sure no errors slipped through or your grammar correcting tools didn't make any mistakes.
Cover letter length and structure
Writing a one-page cover letter means sticking to the traditional structure of a cover letter. Here's what that looks like:
Your details and the recruiting manager's at the top
Your name, desired job title, phone number, location, and email belong at the very top of your cover letter. Try to fit them on one or two lines to save space below:
Next, right-align the date, and switch back to left alignment for the employer's address:
If you need to save space, omit the full address, and just use the recruiting manager's name and company. After all, they already know their own address, phone number, and email—

An opening paragraph
Keep your opening paragraph short by focusing on these elements—
The job you're applying for
The company name (to show you've personalised your letter to the job ad)
Where you saw the job advert
A brief explanation of why you were inspired to apply
If you have work experience, how many years you have
Here's an example of how to start a cover letter concisely—
Body paragraphs covering your skills, qualifications, and achievements
You can add 3–5 paragraphs that talk about your abilities, educational background, and prior work accomplishments depending on how much space you have.
To keep your cover letter concise, you don't need to include everything in your work history except for the qualifications that employers are looking for in their job adverts.
So don't waste precious space on information that has no connection to the position you're applying for.
Take a look at this short cover letter example:
Example of a concise cover letter paragraph
I'm a professional driver with 4+ years of experience delivering food in the Greater London area. Familiarity with your delivery area and a spotless driving record makes me an ideal candidate for your delivery driver position. At my last job, I was known for quickly planning efficient routes for delivering multiple orders, and I haven't received a lateness complaint in 3+ years. Also, I offer exceptional customer service skills, proven by a 98% customer satisfaction rating.
In a single paragraph of 76 words, this candidate clearly sets out what they can offer this delivery firm. So if you do use all three paragraphs, make it chock full of impressive achievements too.
Your final paragraph and interview request
The last paragraph should do 4 things—
thank the reader for taking the time to review your application
politely request an interview
provide your contact details again so the recruiting manager doesn't have to look for them
state your availability for a phone call or interview
Here's an example to show you how long the end of your cover letter should be:
Thank you for reviewing my application for the Cashier Operator role at Specsavers. I'd love to discuss the role during an interview. You can reach me on 07123 456 789 or at samantha.speed@mail.com. I'm available for interviews Monday to Friday after 14:00.
Your signature and typed name
After your final paragraph, use the correct signoff—
'Yours faithfully,' if you addressed your letter to a job title (e.g., Dear Recruiting Manager), 'Dear Sir/Madam', or 'To Whom It May Concern'.
'Yours sincerely,' if you addressed your letter using a person's name (e.g., Dear Mr Wong)
Then, either—
leave a line and type your name if you're sending your cover letter electronically
leave several lines and type your name, then print out your cover letter and sign your name in the gap
Frequently asked questions about cover letter length
1. What should a cover letter include?
A cover letter should include a:
header with your name, job title, phone number, email address, and location
the date
the employer's contact details
a greeting
an opening paragraph
3–5 body paragraphs detailing your accomplishments and why you're a good fit for the job
a final paragraph requesting an interview
a sign-off
your name
2. Is it OK to have a two-page cover letter?
No, it is not OK to have a two-page cover letter. Recruiting managers receive dozens if not hundreds of cover letters for each job they advertise so they don't have time to read multiple pages.
3. Is it bad if I don't include a cover letter?
Yes, it is bad if you don't include a cover letter. Employers generally favour candidates who bothered to write a cover letter. They may not look at your application at all.
4. How many hours does it take to write a cover letter?
It can take many hours to write a cover letter. Speed up the process by—