If you're reading this, you probably regularly think or say 'I hate my job'. Maybe you're stuck in a dead-end job with no opportunity for advancement. Or you're working long hours for little pay. Perhaps you simply can't stand your co-workers or your boss. Whatever the reason, hating your job is a feeling that many people can relate to.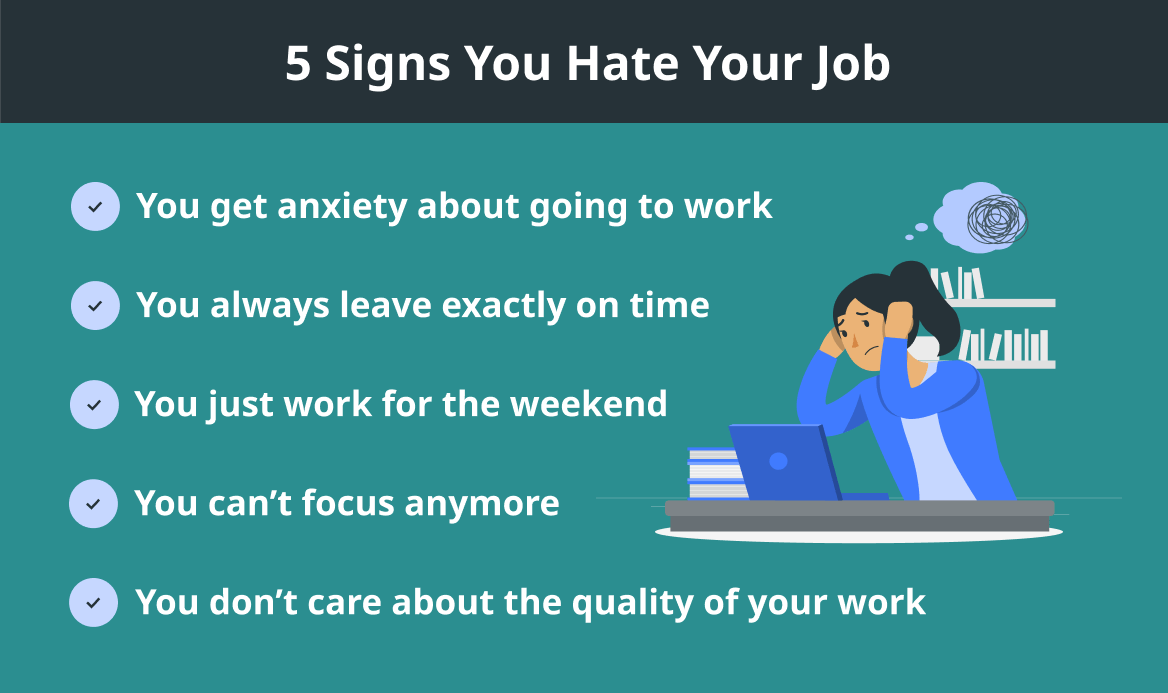 We'll help you figure out what to do if you hate your job — whether it's a:
We also cover how to cope with a bad job and give expert advice for quitting a job you hate.
What to do if you hate your job
If you really hate your job your first reaction is likely to quit. But there are several things you should take into account before handing in your notice:
1. Consider alternative fixes
Instead of just quitting, you may be able to get a transfer to another department or branch that better meets your work needs. Or you may be able to communicate with your manager to turn your current position into a more fulfilling role. You might even fix your situation by negotiating a hybrid or fully remote work schedule.
2. Evaluate your financial situation
Do you have enough savings to cover your living expenses while you look for new employment? If not, quitting your job without another one lined up could be a risky move.
3. Think about your long-term career goals
Is your current job putting you on the path to where you want to be? If not, quitting may help you get closer to your goal. On the other hand, if you're not sure what your career goals are, quitting without a plan could leave you feeling lost and uncertain.
4. Consider your short-term milestones
Even if you've decided you can't take it anymore and are going to quit your job, you may want to hold off for a bit.
If you can handle another few weeks or months, you might be able to get to your next bonus or a company activity that you've been looking forward to. Plus, that extra time gives you an opportunity to start job hunting.
5. Account for your personal life
Do you have any major life changes coming up that could make quitting your job easier or harder? For example, if you're expecting a baby, you may want to stay in your current job for the stability and childcare benefits.
After you've viewed your situation from all possible angles and have decided what to do, either:
If you're still not sure what to do, scroll down to read our advice on dealing with specific reasons for hating a job.
How to handle specific job-hating situations
Click on the situation below that best matches how you feel to learn how to deal with your job dissatisfaction:
I hate my new job
Deciding whether to leave or stay at a new job can be difficult. On the one hand, it's understandable to want to find a job that is a better fit. On the other hand, leaving a job after a short period of time can give the impression that you aren't committed to your career or that you're difficult to work with.
If you find yourself in this situation, the main factor to consider before deciding is how long you've been working there:
If you've only been on the job for a few weeks, it may be worth giving it some more time to make sure you aren't overreacting to a new challenge. If you're truly miserable, however, you can leave. You'll need to decide whether to mention the job when you update your CV.
If you've been in the role for several months and are still unhappy, it may be time to start looking for other options.
I hate my boss
Dealing with a bad boss can be a difficult and frustrating experience. If you hate your boss, it can be tempting to just quit or spend your time arguing with them. However, there are some more constructive ways to deal with the situation.
Before you act, it's important to try to understand why you hate your boss. Is it because they're constantly micromanaging you? Or because they're taking credit for your work?
Once you know the reason, you can look for ways to fix the problem. If your boss is micromanaging you, for example, you can try taking control of the situation by sending them daily updates on your progress. This method can build trust between you and your boss, and they'll ideally stop checking in with you constantly because they know an update is coming.
But if your attempts to create a better relationship with your boss fail, don't be afraid to look for other opportunities when the situation becomes too toxic. If you hate your boss, it's important to take action and make a change. Otherwise, you'll never be able to reach your full potential.
I hate my job but it pays well
It's a common dilemma: you hate your job but it pays well. You need the money to live comfortably and reach your investment or family planning goals. But you dread going to work every day and can't imagine spending the next years or even decades in a job you hate.
Here's what you should do if you hate your high-paying job:
1. Test the job market
Can you find a new job that pays just as well but is more in line with your interests and values? If so, making a switch may be the best decision for you.
2. Stay at your job until you've accomplished your financial goals
If you're not sure you can find another job with a salary that matches your requirements, you'll need to weigh the pros and cons of staying in your current position.
Think about how much money you need to live comfortably. If your job is paying significantly more than you need, it may be worth considering sticking it out for a while longer. You can use the extra money to pay off debt, save up for a down payment on a house, or build up your retirement fund.
3. Consider taking lower pay for higher job satisfaction
Have you tested the job market and found that you couldn't change jobs without a pay cut? You may want to consider taking that cut because job satisfaction could be more important for you than money.
After all, people who hate their jobs are more likely to experience negative health effects, including anxiety, depression, and heart disease. By contrast, those who have good jobs tend to be healthier.
How to cope with a job you hate
It can be tough to deal with a job you hate. Whether it's the company culture, your boss, or the work itself, it's hard to feel motivated when you're not happy with your situation. However, there are several things you can do to make the best of a bad situation:
1. Find a good thing about your job, even if it's small
This can be anything from a pleasant co-worker to a shorter commute. Once you've identified something positive, focus on that aspect of the job and try to forget about the rest. Focusing on the positive can help you to appreciate your job more.
2. Build good relationships with your co-workers
Having friends at work can make the 9–5 grind more bearable. Start participating in company activities — or organise some if your company doesn't have any.
3. Lead a movement for change
Don't be afraid to speak up if you're unhappy with something at work. Be honest and respectful, and you may be able to find a solution that makes everyone happy. If not, at least you'll know you gave it your best attempt.
4. Set boundaries between your work and home life
When you're finished with work for the day, make an effort to leave your work problems behind. Giving yourself space to develop a more fulfilling personal life can change your perspective of your work life.
5. Get help from a mental health professional
It's possible that your hatred of your job is coming from something within you, rather than from your work conditions. If you struggle with anxiety and/or depression, you may need to deal with that problem before you can get a clear picture of how you feel about your job.
6. Make an exit strategy
Planning to leave a job you hate will make it feel temporary (and therefore more bearable). To strategise your exit, you can:
start searching for a new job
get the skills you need for a new job by taking courses
polish your CV and cover letter
How to go about quitting a job you hate
If you're sure that leaving your current job is the right move for you, here's how to do it:
1. Figure out what you want to do next
Think about what you want from your next job. Once you have a good idea of your goals, it's time to start looking for new opportunities. When you find jobs you want, take some time to learn:
2. Land your next job first (if possible)
Ideally, you'll be able to get hired at your next company before quitting your current job. We don't recommend taking the risk of leaving your source of income until you have a new one ready — unless you have enough money saved up to get you through a long job search.
3. Resign in a professional manner
Once you've accepted a new job offer, the next step is to resign from your current position. It's important to be professional when quitting a job, even if you hate it. You don't want to ruin relationships with people who you may need to use as a reference in the future.
So write a resignation letter that's courteous and positive. In it, thank your employer for the opportunity and say that you're resigning for personal reasons. Be sure to give your notice at least a few weeks in advance (your contract might specify how much notice you should give) so that your employer can find a replacement.