What is a visual CV?
A visual CV is a document or video with features like icons, coloured backgrounds, and infographics designed to draw the reader's attention to why you're qualified for the job. Scroll down to see visual CV examples and templates, including a traditional CV, infographic CV, and video CV.
Traditional Visual CV
All good CVs have visual elements designed to catch the employer's eye. Such visual elements include:
coloured text and backgrounds
lines and other highlights used to separate CV sections
CV icons for contact information and section headers
Here's a visual CV example that uses icons and a coloured CV header to make the applicant's name and contact information jump off the page:
Traditional Visual CV Example

Download This Visual CV Template for Free (MS Word)
You can easily find visual CV templates online to make your application more noticeable. But before you write your CV, consider the type of job and company you're targeting to decide what type of visual CV to submit.
For example, if you're writing a graphic design CV, use a creative CV template with bold visual features to showcase your artistic talent. But if you're aiming for a bookkeeping job, use a professional CV template with more reserved graphic elements that don't distract from descriptions of your accounting abilities.
Infographic CV
An infographic CV is a type of visual CV that includes graphs, charts, and timelines. Submitting an infographic CV is a bold move, so you should only make one if you:
are targeting a job advert that states a preference for unique, creative applications
know the company doesn't use an applicant tracking system (ATS) to sort CVs — ATS can't read infographics
can make one that clearly presents your job-specific skills and experience
also submit a traditional CV and write a cover letter to ensure the employer gets a full view of your abilities
This is a good example of an infographic CV: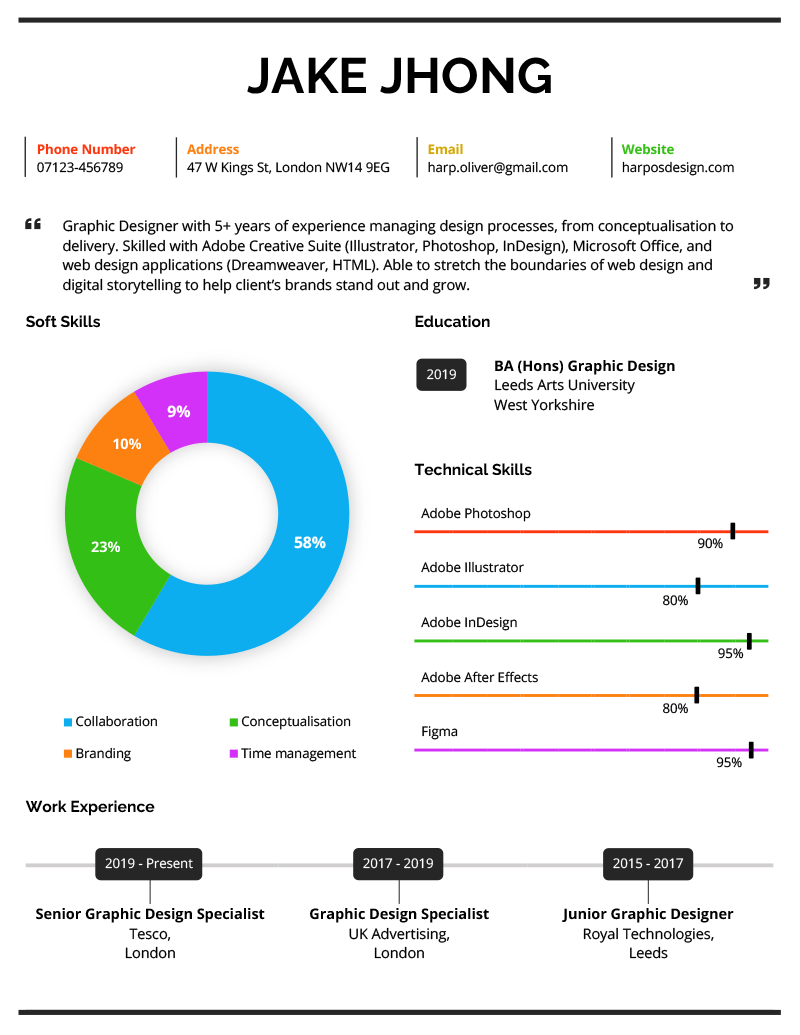 Download This Infographic CV Template (MS Word)
Although the standard CV length is two pages, you can condense yours into a one-page infographic CV to avoid overwhelming recruiters with a CV format they're not used to viewing.
Here are four websites you can use to create your infographic CV:
Video CV
If you really want to differentiate yourself from a crowd of job applicants, you can make a video CV. But no matter how great your video is, always include your traditional CV with it to make your application easily accessible to recruiters.
Here's an example of a good video CV:
This video CV works because the applicant doesn't just read their CV. Instead, they briefly describe their most relevant skills, including specific examples of how they've used those skills.
You can add graphics or B-roll to your video CV, but only do so if you can make it look professional. You don't have to create a BAFTA-worthy short film, but you shouldn't submit a low-quality video that makes recruiters laugh rather than seriously consider your application.
Here are online resources you can use to make a video CV that impresses your target employer: