If you're looking for work in the UK, you've likely used the job-hunting site Reed.co.uk.
And if you've been spending a lot of time on Reed, you might also have noticed that the site has its own CV builder.
But before you throw the best few hours of your afternoon into building a CV with Reed, you have questions:
In this article, we'll give you the full rundown of the Reed CV builder based on our experience putting together an application with the platform.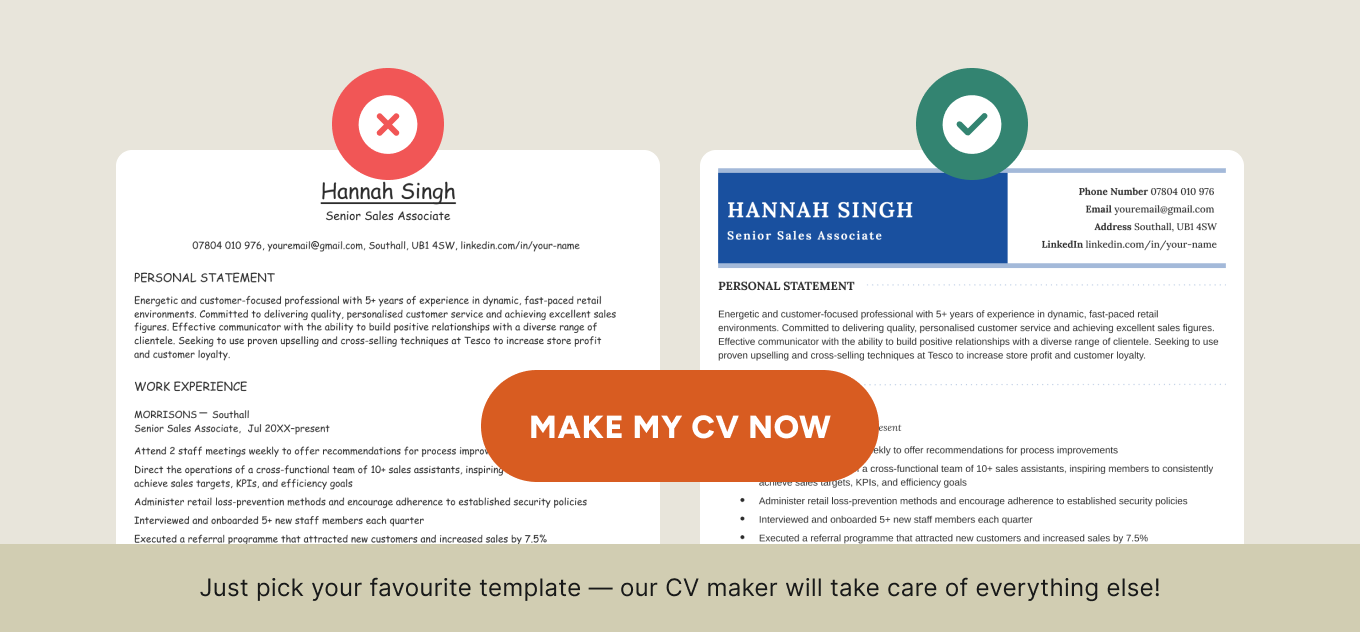 How does the Reed CV builder work?
The Reed CV Builder is an intuitive online form that you fill in with your personal information to build your CV.
Begin by signing up for a Reed account by providing an email address and password or registering with your Google or Apple accounts. Registration is free, so you won't have to provide any payment information at this stage.
Personal information
Once you've registered, the builder will ask you for some basic contact information, including your:
full name
email
phone number
country
postcode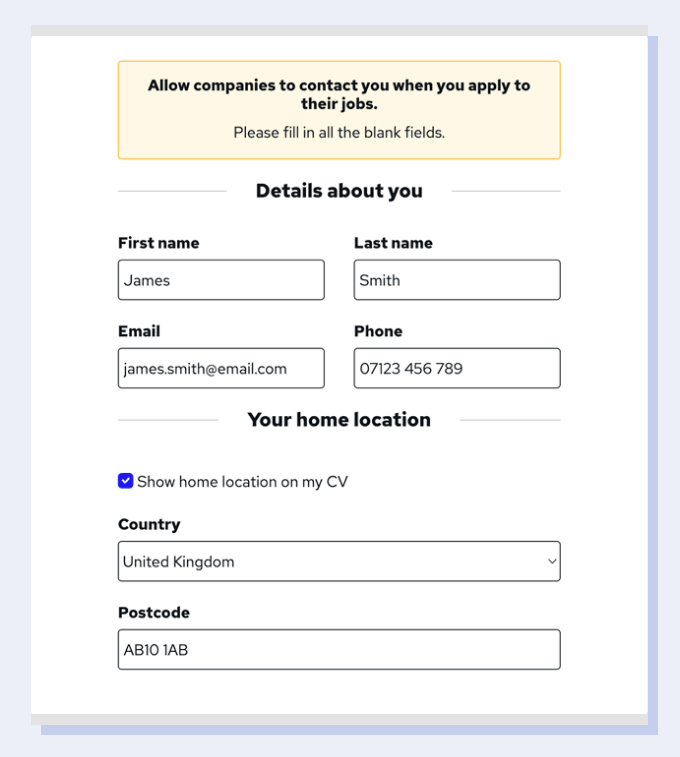 Unfortunately, the Reed CV Builder doesn't allow you to add a job title to the personal information on your CV.
Though you don't need to include a job title in your CV, doing so makes a stronger first impression on employers because it helps you tailor your application to the specific job.
We also would have liked to see the option to add a photo on your CV.
Work experience
Next, you'll be prompted to enter any work experience you have.
Entering work experience is very straightforward, and you'll have to fill out five fields for each job entry:
Job title
Company
Start date
End date (or you can check 'I currently work here')
Description of the work you did
Once you've entered your information and selected 'Confirm', the builder will automatically organise your information into a professional layout, which is helpful if you aren't confident doing so manually using a word processor.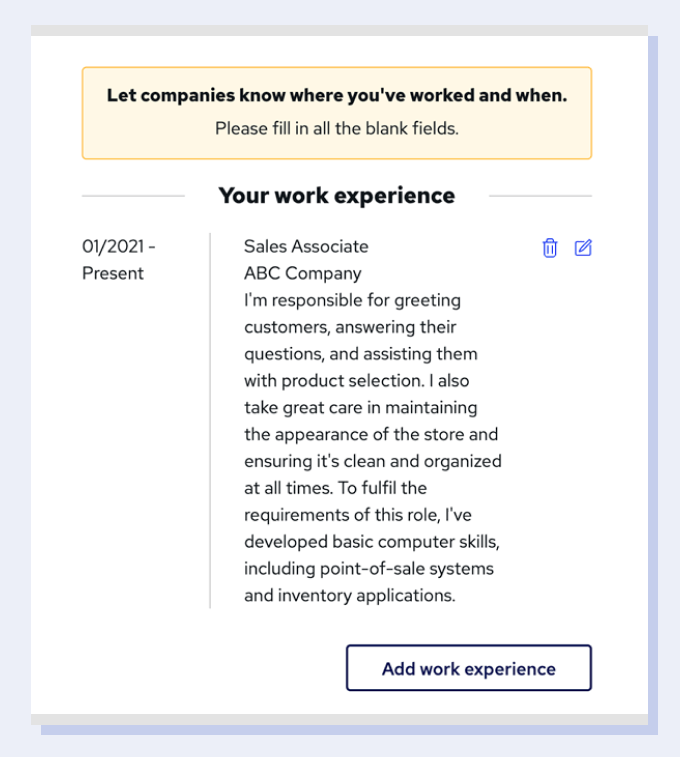 Nevertheless, Reed's Work Experience interface needs improvement.
For one, the job description field doesn't allow for formatting, meaning that you can't organise your experience and achievements into bullet points.
Unfortunately, describing your work experience in paragraphs rather than using bullet points isn't particularly employer-friendly because it makes your CV appear text heavy.
To show you what we mean, here's the same CV work experience written in paragraphs (using Reed CV builder formatting) and bullet points: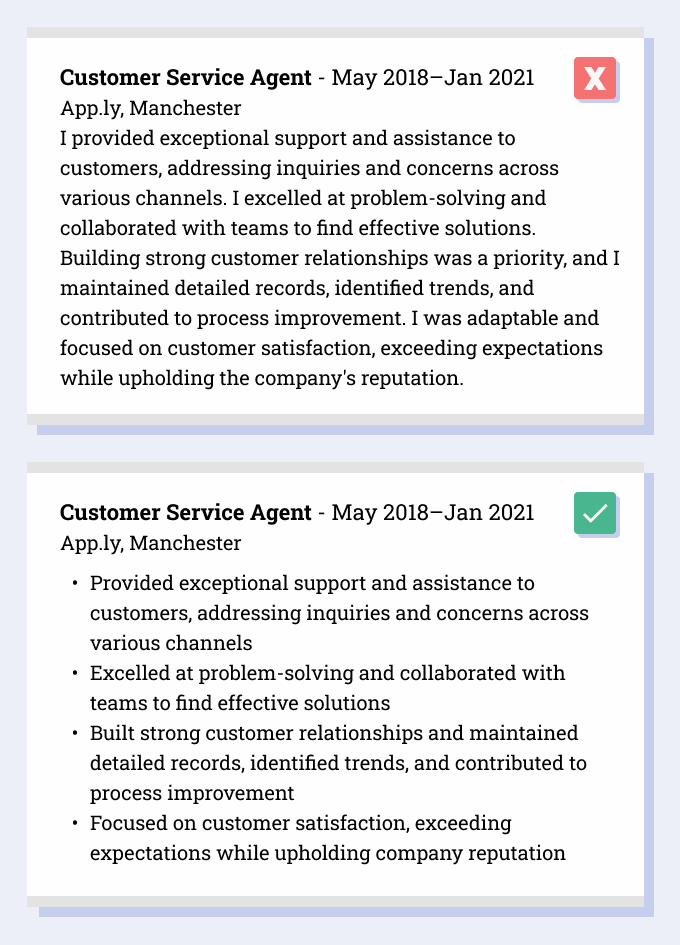 Furthermore, we felt that the maximum character limit for describing previous jobs on Reed was far too high — at 2000 characters including spaces.
A work experience entry of such length is almost never appropriate for a job application and makes it look like you're not able to convey your ideas concisely. In most cases, 300–700 characters (or 3–6 bullet points) is appropriate.
Qualifications
Move on to qualifications, and you'll be prompted to enter the details of your education as well as any additional certifications you've gained.
Reed will give you a list of qualifications to choose from:
A-Level
GCSE
Master's degree
Other
PHD
University degree
You can then enter the basic details of your qualification, including the school, college, or university you attended, your qualification title, and the grade you achieved.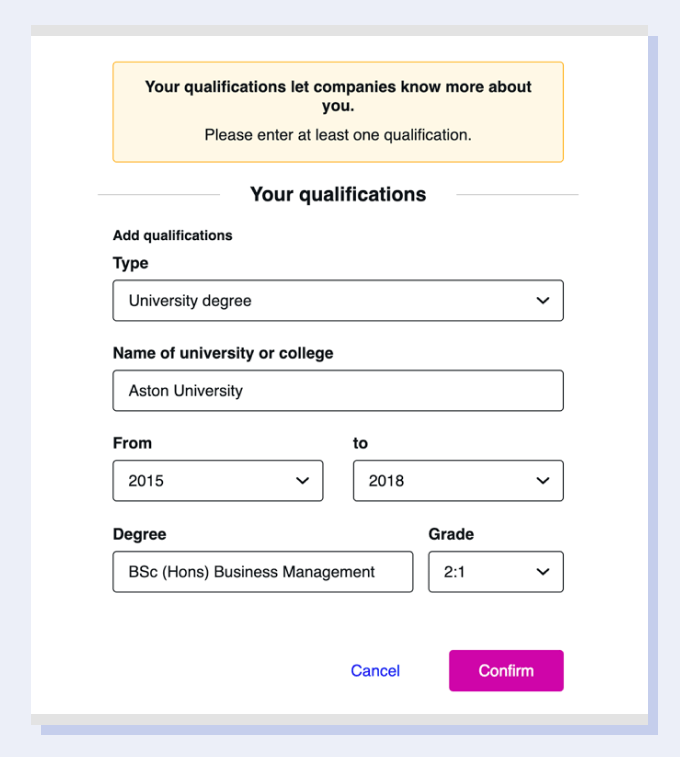 We liked the overall functionality of this section but felt it could be more inclusive for a UK CV builder.
For one, the drop-down list of qualifications doesn't include Scottish N5s, Scottish Highers or other school-leaving qualifications, like BTECs, T-Levels, apprenticeships, and NVQs.
A workaround is to add these qualifications using the 'Other' field, listing the name of the school or college you attended under 'Name of awarding body' and the name and type of qualification received under 'Qualification':
We'd have liked to have seen a field for adding relevant modules and classes, dissertation titles, or extracurricular programmes, as these are useful fields for applicants who have little or no work experience.
Personal statement
Once you've entered all of your qualifications, Reed prompts you to write a personal statement, or an overview of your most relevant skills, experiences, and accomplishments.
As with the other sections of the builder, the interface is simple and easy to use, consisting of a text box and a prompt to get you started:
Try and answer the following questions: who you are, what you can offer, and what you're aiming for in your career.
Unfortunately, the character limit — again: 2,000 characters — is much higher than the appropriate length for a personal statement, and Reed doesn't give any indication of how much you should actually write (the appropriate length is around 300–400 characters long, or  3–5 sentences).
Final touches
Once you've completed your personal statement, you can either preview the finished file and download it as a PDF or select 'Save and finish' to save your CV to your account.
Though you can't edit your downloaded CV, you can always go back and edit the online file, by selecting 'Profile and CV' from the dropdown user menu at the top right of the screen.
Here's a sample CV we created using the Reed builder to give you an idea of what your finished CV will look like: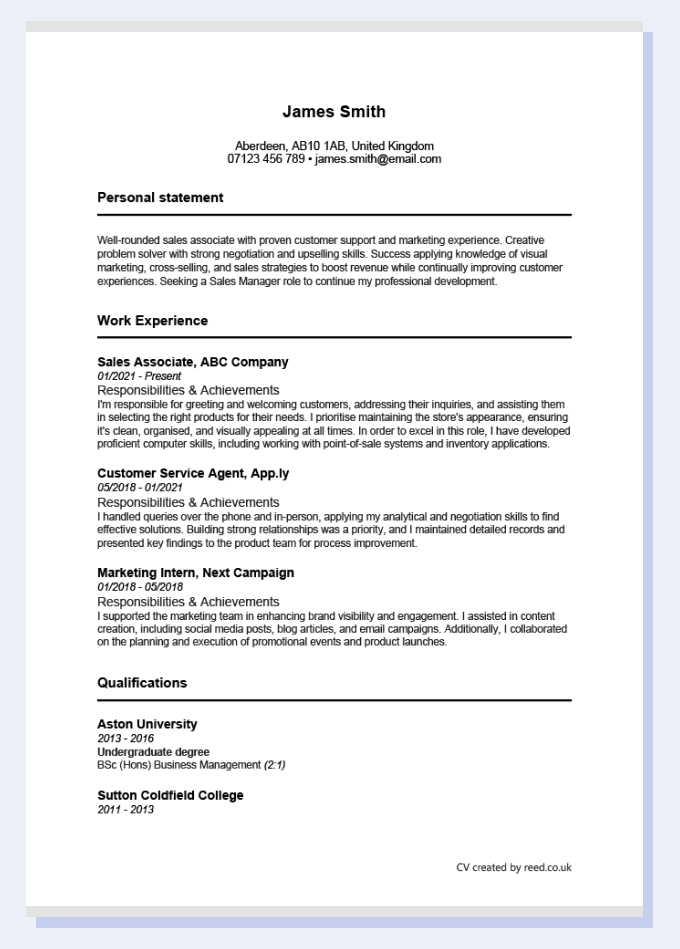 Is the Reed CV builder worth it?
Overall, we found the Reed CV builder easy to use and thought it produced a well-organised CV with the information we fed it.
Your Reed builder CV automatically saves to your profile, so you can submit it quickly and easily to hiring managers through the Reed job board, as well as share it publically so recruiters can find you easily through the service.
As a tool to assist your job search on the Reed job portal, the Reed CV builder is a useful feature.
However, we wouldn't recommend it as a general-purpose CV builder — especially if you're an entry-level job applicant or are applying for work in certain industries.
Here are four things you should consider before making your CV with the Reed CV builder.
1. It's not possible to add CV sections
Using the builder, we were able to quickly put together a logical CV that outlined our work experience and our qualifications.
However, we couldn't add a key skills section or add additional sections such as hobbies and interests or languages.
Not including a key skills section on your CV can seriously hurt your chances of getting the job you want, particularly if you're applying for a technical role like software engineer or cyber security specialist.
Employers for these kinds of jobs will look first to see what software, programming languages, and frameworks you're familiar with. If you bury this knowledge in your work experience section, they might not notice it and think you're unqualified for the job.
Similarly, if you're writing a CV with no work experience, additional sections like hobbies and interests and languages are important for emphasising your value to employers.
The Reed CV builder only allows you to add your work experience and qualifications, and it makes early career CVs look bare as a result.
2. You can't change the formatting
Reed only lets you preview and download your finished CV as a PDF, meaning it's not possible to alter your CV's formatting by changing fonts, text size, or adding visual elements.
This is a big negative if you're applying for a visual job, such as one in graphic design or web design. Employers for visual roles judge your CV on its design. Submitting a CV with no unique or thoughtful formatting will weaken your application.
Even if you're not applying for a design-related job, Reed branding at the bottom of the page lets the reader know that the CV was created using the platform.
To some employers, the branding will make your application look lazy. Though it's possible to remove the watermark manually (if you have an image editing software like Adobe Photoshop), this is a fiddly process you don't have to go through with most other CV builders.
3. There's not much support for first-time job applicants
The Reed CV builder is an online form that creates a simply formatted CV using the information you put into it.
In other words, you write your CV sections and the builder will organise them into a CV for you — which is fine if you're already a confident CV writer and just want to speed up the CV creation process.
However, if you're not sure how to make a CV, you might struggle a bit with the builder.
Unlike higher-quality builders that provide customisable prewritten content and guidance throughout the CV-building process, the Reed builder leaves you to write your CV completely on your own.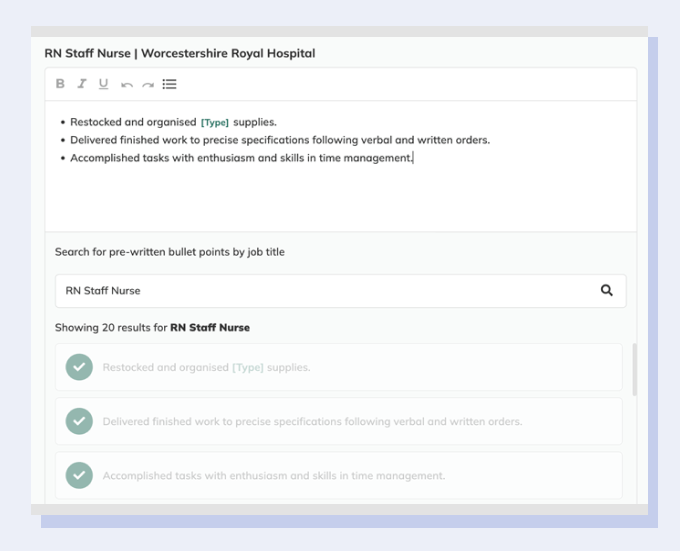 Furthermore, the builder doesn't tell you how much you should write for your CV and the character limit for some fields is far too high, making it easy for you to unintentionally write a CV that's long and waffly.
It's worth adding that Reed does offer CV writing courses that you can purchase, though you might find these time-consuming if you don't have much time to prepare your job application.
4. There's no cover letter support
Including a cover letter with your job application helps your application stand out.
Though you can write a lengthy cover letter of up to 8,000 characters on your Reed profile (which, by the way, is far too long for a cover letter), the Reed CV Builder doesn't offer any cover letter support.
Fortunately, you can improve your chances of getting called in for an interview by using an external cover letter builder that generates targeted sentences based on your skills and experience.
Comparing the Reed CV Builder vs CV Genius CV Maker
If you're looking for an alternative CV builder with more all-around support for creatives, technical professions, and entry-level applicants, the CV Genius CV Maker is definitely worth checking out.
Here's how the two builders stack up side-by-side:
| Features | Reed CV builder | CV Genius CV Maker |
| --- | --- | --- |
| Cover letter builder | No | Yes |
| Formatting | No settings | Can change colour and fonts |
| Pre-written content | None | 50,000+ prewritten work experience bullet points & support for writing personal statements |
| Additional sections | None | Languages, Volunteer Experience, Community Service, Awards, Publications, Additional Info |
| Download formats | PDF | PDF, Word doc, plain text |
Frequently asked questions about Reed
Want to learn more about Reed? Here are the answers to three common questions about the job site:
1. Is Reed a good job site?
Reed is a well-established job site specialising in UK recruitment. Founded in 1995, it's one of the longest-running recruitment websites in the UK, with an estimated 30,000 recruiters using the service every year.
Over the years, Reed has developed an excellent reputation as an online job board, reporting a monthly average of 11 million users between 2016 and 2021.
The site also provides continued professional development courses and career advice, making it a well-rounded platform for finding work and advancing your career.
2. Can I use CVs I made elsewhere to apply for jobs on Reed?
Yes, you can easily upload a CV you created elsewhere to apply for jobs on Reed.
To upload an external CV, select 'Profile and CV' from the dropdown user menu at the top-right corner of the page.
The option to upload your CV will appear at the top of the page.
Once you've uploaded your CV, it'll be submitted automatically every time you apply for a job on Reed.
You can also check 'Profile & CV Visibility' on your user profile to make your CV visible to Reed's 30,000 recruiters.
3. Which is better: Reed or Indeed?
Reed and Indeed are two of the UK's most popular and reputable job boards. Though neither service is objectively better, they do differ slightly in terms of features and reach.
Indeed is significantly more popular with UK users than Reed, receiving over 46 million visits compared to 6.9 million for Reed in April 2023, according to SimilarWeb.
However, Reed is more UK-focused and provides a more curated selection of UK- based job opportunities.
Indeed is an excellent resource for company reviews, salary insights, and job alerts, but Reed has an arguably broader range of services for job seekers, including professional development courses and interview tips.
Ultimately, using both services to look for work is a good strategy for broadening your job search. Both services support external CV uploads if you've built your CV already.