A Europass CV is a standardised CV you can use to apply for jobs across Europe.
Your Europass CV can be a stand-alone document. Also, Europass CV users have the option of including their CV with these documents below:
Altogether, these five online tools form the European Skills Passport — a method of making a job applicant's education, skills, and qualifications clear to employers throughout the European Union (EU).
If you're interested in studying abroad or applying for jobs in European countries, using a Europass CV can be helpful because employers are familiar with its structured layout and format. However, a Europass CV may not be suitable for everyone.
Below, we provide a Europass CV template and discuss the new updates to the online Europass CV editor so you can understand what the Europass CV looks like and how it can help (or hurt) your job search.
Europass CV template
Since the Europass website made its updates in 2020, the Europass CV has an updated look.
Here's a Europass CV example we made using their online generator: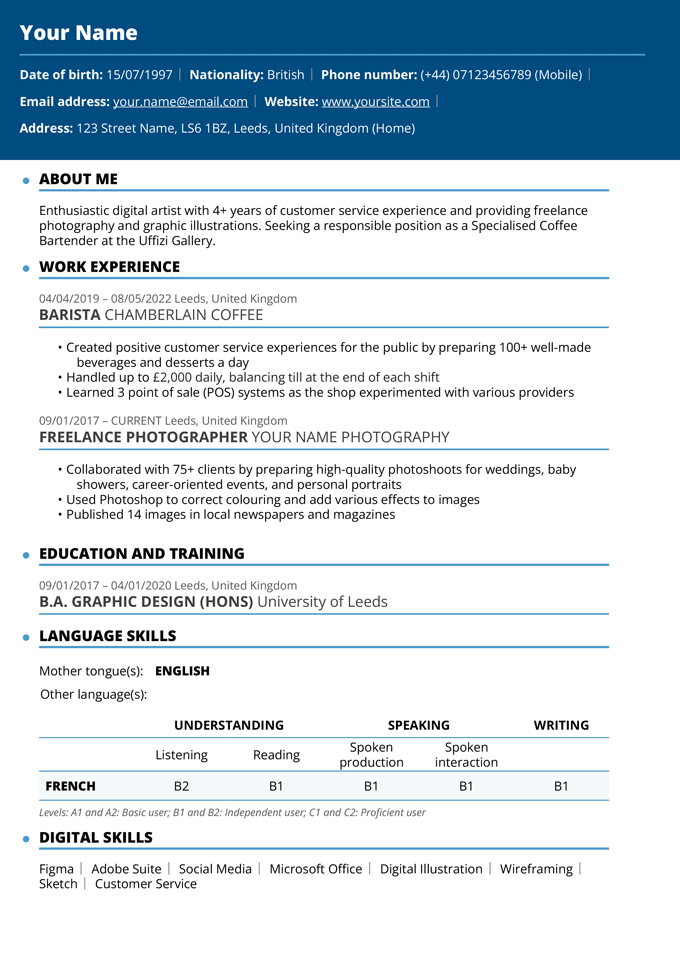 Why the Europass CV is relevant in 2023
Thinking about using the Europass CV for your next job? You're not alone. With over 23.4 million people in 2021 using the Europass CV, this CV format is certainly well known.
Here are five reasons why people enjoy using the Europass CV today:
1. The Europass CV format is widely recognised in Europe
If you're interested in finding work in Europe but aren't sure what format employers prefer, the Europass CV is a safe option.
The Europass CV:
utilises a simple structure so employers can quickly scan your CV
contains all the essential sections of a CV
aims to meet European job standards and provide an equal platform for candidates applying for work or educational opportunities
And similar to writing a standard CV, the Europass CV includes sections for your:
contact information
conference and seminars
languages
awards
publications
projects
social and political activities
2. The CV Europass has more personalised options
Before 2020, Europass CV users had several complaints, such as:
having only one traditional, single-column CV layout to choose from
dealing with large amounts of white space throughout the CV
being unable to remove the Europass CV logo from the page
navigating the website's confusing and outdated interface
Fortunately, you'll be happy to hear about the Europass website's 2020 update.
The new Europass CV builder is now more customisable than ever because of its:
four new CV layouts
six different CV template colours
small, medium, and large text size options
removable Europass CV logo
Here's what the four new Europass CV templates look like at a glance: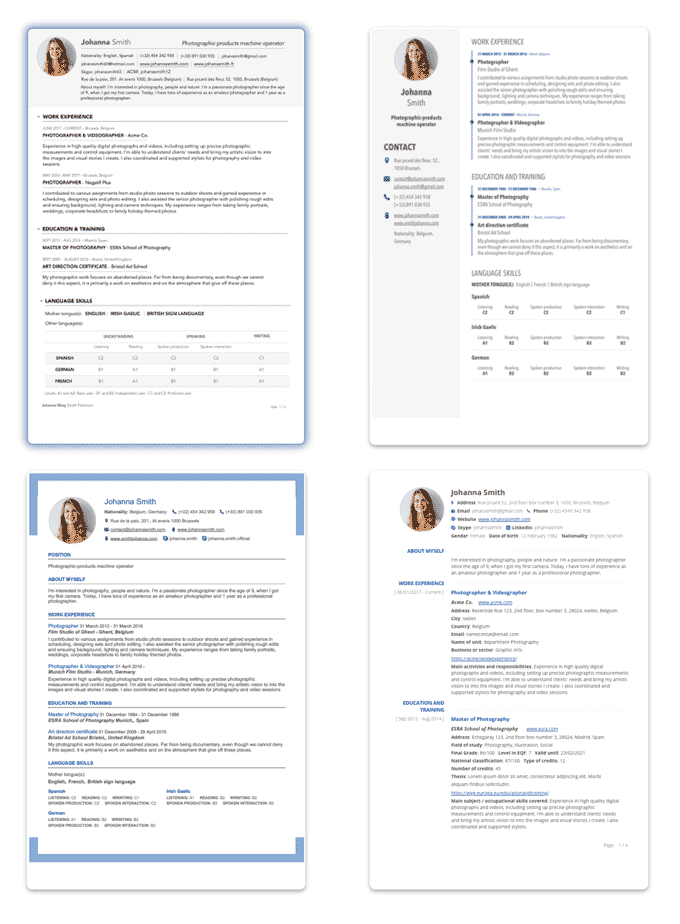 And in this section, you can easily change the colours, text size, as well as remove the logo and page numbers on your Europass CV:
3. The Europass CV easily translates your qualifications
One benefit of using a Europass CV editor is that you can translate your CV into 30 different languages.
This feature makes it easy for you to apply to companies across different geographic areas and national borders, especially if you're looking to work in European countries where you don't speak the local language.
Additionally, you can highlight your own language skills on your Europass CV using its detailed 'Languages' section to show you have international experience or speak another language.
For instance, if you're applying for jobs or educational opportunities in European countries, using the Europass CV's 'Languages' section shows you have the necessary language skills to communicate effectively in a workplace or classroom.
Here's a screen recording of how to list your language skills while making your Europass CV:
4. You can make multiple Europass CVs for free
One of the top reasons why a Europass CV is so common is because its completely free to use and download.
You can access your Europass account online and save your information as long as you have:
a working internet connection
your computer or laptop to register an account
your smart phone to download the EU Login app (a recent requirement asking you to authenticate your account)
Additionally, the website allows you quickly update your Europass CV as your experiences and qualifications change over time. You can also use the information from your previous CVs to create multiple Europass CVs and tailor them to specific employers.
5. The Europass CV's website has several video tutorials
If you were unsure how to make a Europass CV before, Europass' official website has created several new video tutorials to guide you through the process.
For example, this Europass CV video guide uses a screen recording to explain step by step how to fill in the information for your Europass CV.
Although you still need to manually fill in your information for each of your experiences, the video tutorials are visually helpful for someone making a Europass CV for the first time.
These video tutorials also contain subtitles in 25 commonly spoken European languages but only use English for the audio portion.
Issues with the current version of the Europass CV
Although the Europass CV website has addressed many of its previous issues, their current CV maker still has some flaws.
Below are some challenges you'll face today when using the Europass CV platform:
The Europass CV editor doesn't generate bullet points for you
Unfortunately, the 2020 Europass CV update didn't include a CV writing generator, so applicants still must manually list all their details while writing their CVs.
The Europass CV website will ask you to provide detailed information about your contact details, education, and work history. And because you have to manually type out the information for each section, you'll need to:
spend more effort thinking about what to put in each CV section
set aside time to fill out your Europass CV
write and proofread your own sentences
You can only download your Europass CV as a PDF
One of the biggest drawbacks of the current Europass CV platform is that you can't download your finalised CV in any formats except as a PDF.
The inability to change your Europass CV into other formats is an issue because it means you can't fully customise or make changes to your CV after you've downloaded it.
The Europass CV still lacks creativity and individuality
Although a uniform CV layout was meant to make finding work in Europe easier, this same method can also work against you.
Because employers have seen the Europass CV layout many times before, your finalised Europass CV likely won't stand out from others. So if you're seeking roles that require innovation and originality, you might want to look elsewhere for a more distinctive CV design.
Also, the Europass CV's generic layout can be a problem if you:
want to showcase your unique, professional brand
have a non-traditional work history
plan to highlight specific qualifications or accomplishments
Alternatives to the Europass CV
1. Look at different CV designs
Try researching modern and user-friendly CV designs on the Internet so you'll understand what current CV trends are out there before writing your CV.
Also, if you already know what companies you want to apply for, study their social media platforms and official websites closely so you can get an idea of what CV designs they'd expect from their ideal applicants.
2. Download a free CV template
If you're applying for a job that values originality or creativity, you may want to consider using a pre-formatted CV template that you can customise.
For example, our CV and matching cover letter templates let you fill in your information and give you the option to easily change the colour, font type, and text size on Microsoft Word.
3. Use a CV builder
Short on time or don't want to write out your own CV statements? Try using a CV maker to help you:
choose from a large selection of CV styles and colours
create auto-generated, detailed bullet points highlighting your specific qualifications and work history
build a modern and professional looking CV in minutes
When is the best time to use the Europass CV?
Based on our reasons above, here are our final takeaways of when and when not to use this CV format:
Consider using the Europass CV template if you're:
seeking work throughout Europe
showcasing you're familiar with European job standards
submitting it because your target employer or education provider requires one
highlighting your language skills on your CV
searching for a free CV layout option
willing to spend time filling in your information online
Avoid using the Europass CV template if you're:
seeking roles that value innovation, creativity, and technology
aiming to set yourself apart from other job applicants
looking for a unique CV design
presenting several years worth of work-related information
searching for a CV builder that pre-writes your bullet points for you