A Europass CV is a standardised CV you can make on the Europass website and use to apply for jobs in Europe. Here's a Europass CV example we made, followed by a free template you can copy and paste into Word or Google Docs if you don't have time to set up a Europass profile: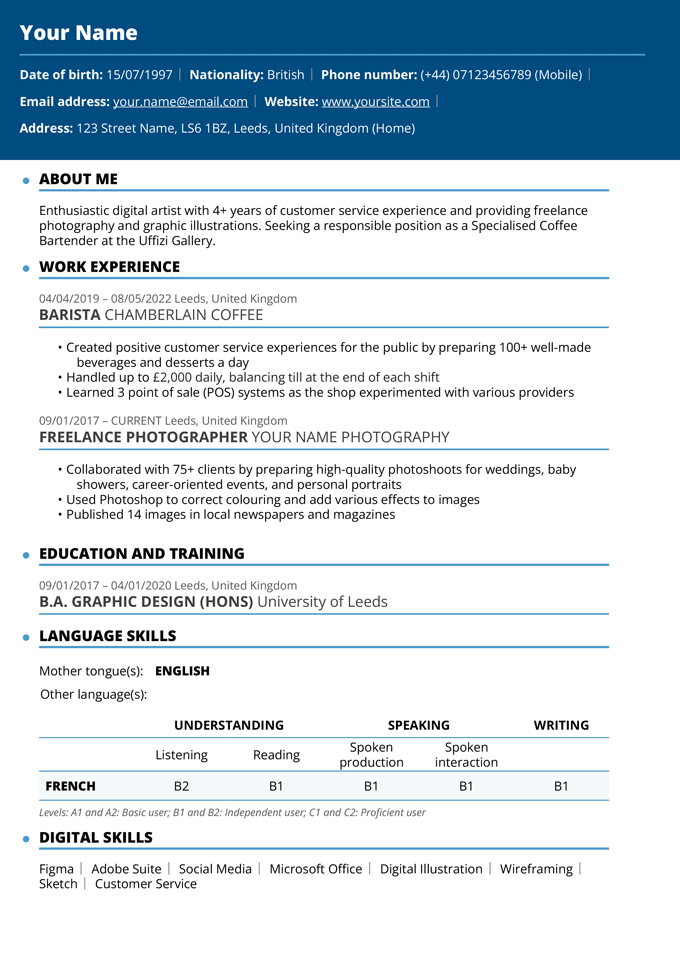 Europass CV Template (Copy & Paste)
Your Name
Nationality: British  Phone: (+44) xxxxx xxx xxx  Date of birth: day/month/year
 Email address: your.name@email.com  Website: www.yoursite.com  Address: Your Location
ABOUT ME
Enthusiastic digital artist with 4+ years of customer service experience and providing freelance photography and graphic illustrations. Seeking a responsible position as a Specialised Coffee Bartender at the Uffizi Gallery.
WORK EXPERIENCE
Barista
Chamberlain Coffee [ 04/04/2019 – 08/05/2022 ]
City: Leeds
Country: United Kingdom
Created positive customer service experiences for the public by preparing 100+ well-made beverages and desserts a day
Handled up to £2,000 daily, balancing till at the end of each shift
Learned 3 point of sale (POS) systems as the shop experimented with various providers
Freelance Photographer
Your Name Photography [ 09/01/2017 – Current ]
City: Leeds
Country: United Kingdom
Collaborated with 75+ clients by preparing high-quality photoshoots for weddings, baby showers, career-oriented events, and personal portraits
Used Photoshop to correct colouring and add various effects to images
Published 14 images in local newspapers and magazines
EDUCATION AND TRAINING
B.A. Graphic Design (Hons)
University of Leeds [ 09/01/2017 – 04/01/2020 ]
Address: Your school's address
LANGUAGE SKILLS
Mother tongue(s): English
Other language(s): French
LISTENING B2  READING B1  WRITING B1  SPOKEN PRODUCTION B1  SPOKEN INTERACTION B1
DIGITAL SKILLS
My Digital Skills
Figma / Adobe Suite / Social Media / Microsoft Office / Digital Illustration / Wireframing / Sketch / Customer Service
If you're interested in studying abroad or applying for jobs in European countries, using a Europass CV can be helpful. However, a Europass CV may not be suitable for everyone:
EU employers are familiar with its structured layout and format
You can personalise it with different layouts, colours, and text sizes
It easily translates into 30 different languages
It's free
It doesn't generate content for you
You can only download your CV as a PDF
It's not very creative
Below, we offer advice for writing your Europass CV and go into more detail about how a Europass CV can help (or hurt) your job search.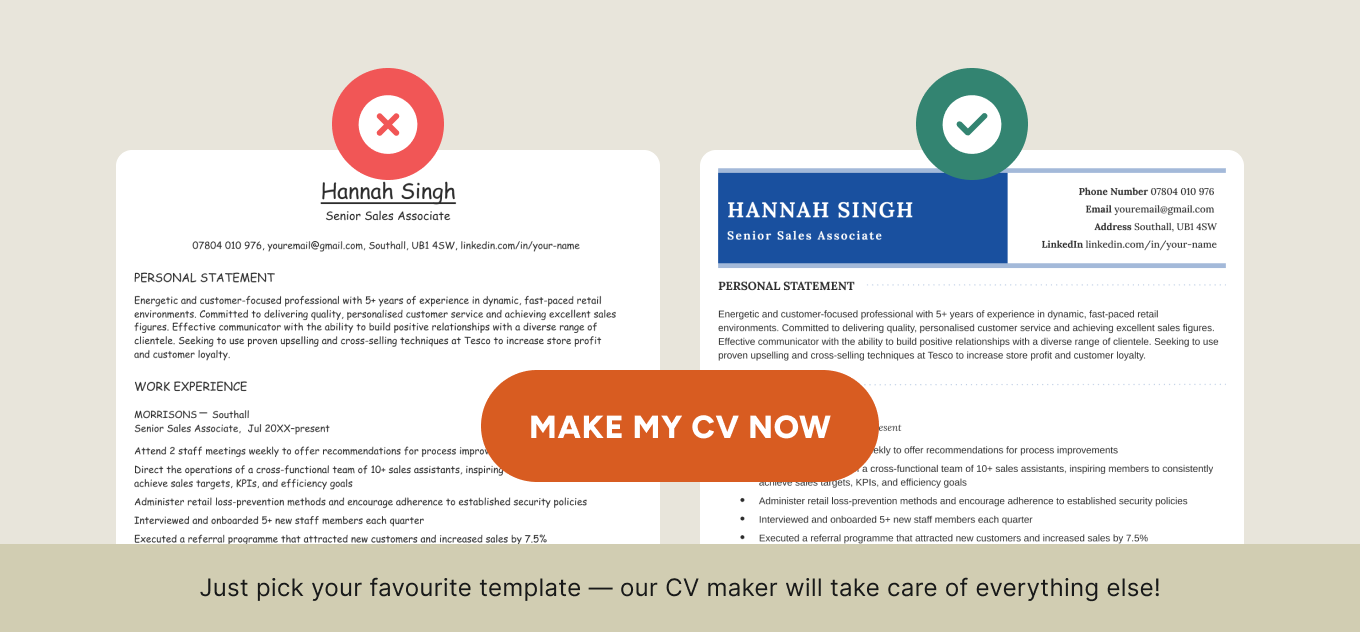 How to make a Europass CV
To create your Europass CV, you just fill out an online profile and pick a layout for it. Once you've finalised your CV, you can download it as a PDF or share your online profile directly with employers or job boards.
While you don't have to worry about formatting your CV with Europass, you do have choices to make regarding what information you put into your profile. So here's how to select the best information to make your Europass CV:
1. Enter your relevant personal details
The end goal of your CV is to convince an employer to contact you to schedule an interview. So your Europass CV opens with your contact information. You're required to enter your name to start, and then you'll have the option to include your:
nationality (e.g., 'British')
phone number (Europass auto-populates the country code for you)
date of birth (we suggest leaving this off if you're older to avoid age discrimination)
email address (if your only email is something silly, like footiefan5849@email.com, make a new one that uses a version of your name and/or job title)
websites (e.g., your portfolio or professional blog)
social media profiles (only include your business or professional accounts, e.g., LinkedIn)
postal address (leave this off if you don't want the employer to know where you live)
But the most important part of your personal details is the About Me section (what's typically called a CV personal statement in the UK). This is where you summarise the top points of your CV in a short paragraph that employers will use to decide whether to take a close look at your application or just scan through it quickly.
So write a few sentences or bullet points that emphasise your most job-relevant details, like this:
Enthusiastic digital artist with 4+ years of experience in customer service and providing freelance photography and graphic illustrations. Seeking a responsible position as a Specialised Coffee Bartender at the Uffizi Gallery.
2. Describe your experience with hard numbers
When you fill in your experience section — which can include your volunteer or internship experience if you're a student — don't just list your job duties. Employers will be more interested in hiring you if you can show positive results you've achieved, using hard numbers where possible.
So, in a few bullet points for each job you enter, describe amounts of time you've saved and money you've generated, sizes of teams and budgets you've managed, and so on. Here's a good example of what to put in your Europass CV's work experience section:
Created positive customer service experiences for the public by preparing 100+ well-made beverages and desserts a day
Handled up to €2,000 daily, balancing till at the end of each shift
Learned 3 point of sale (POS) systems as the shop experimented with various providers
3. Detail your education and training qualifications
In the Europass CV education and training section, fill out your:
degree titles
university, college, or school name
dates attended
If you're a student or recent graduate, tick the 'More details' box and describe your:
4. List your skills
First, you'll highlight your language skills on your Europass CV using its detailed 'Languages' section to show you have international experience or speak another language.
The Europass CV's language section is a great way for you to list your most up-to-date reading, writing, listening, and speaking proficiency levels in different languages, as well as any language certificates.
Here's a screen recording of how to list your language skills while making your Europass CV:
Next, list your digital skills. This section is basically a list of tools and technical capabilities. But it does offer a handy grouping feature. Take advantage of that to make your CV's skills section easier for the employer to read.
5. Add extra sections (if necessary)
Europass makes it easy to make sections for highlighting information specific to your industry. For instance, if you're a lorry driver and want to highlight your relevant EU driving qualifications, all you have to do is choose yours from a list of options in the Driving Licence section.
There are 14 specific extra sections to choose from (e.g., volunteering and hobbies and interests), but you can also select 'Other' to make a section for anything you need.
6. Reorder your sections based on your target job advert
When you've finished filling in your information, you'll see your profile arranged in the order of the sections we've described above. But you can easily rearrange those sections to ensure the employer sees the most relevant information you have to offer first.
So, if you're a student without any relevant work experience, lead with your education section and internships. Or if you're changing careers, open with your skills section to show that you have the abilities necessary to make the switch.
7. Upload credentials to your Europass Library
Your Europass CV can be a stand-alone document. But as a Europass CV user, you can also upload supporting documents to your Europass Library to give employers one place to find everything they need to know about you.
Documents you might upload include your:
Europass CV pros and cons
Thinking about using the Europass CV to apply for your next job? You're not alone. With over 4.8 million people using the Europass CV as of writing, this CV format is prevalent in Europe. But the high number of users doesn't necessarily mean it's the best option for you.
To help you decide whether or not to make a Europass profile, here are the pros and cons of using the platform:
Pro: The Europass CV format is widely recognised in Europe
If you're interested in finding work in Europe but aren't sure what format employers prefer, the Europass CV is a safe option because it:
uses a simple structure so employers can quickly scan your CV
has all the essential sections of a CV
meets European job standards and provides an equal platform for candidates applying for work or educational opportunities
Con: The Europass CV editor doesn't generate content for you
Unfortunately, you'll have to manually list all your details while writing their CVs.
The Europass CV website will ask you to provide detailed information about your contact details, education, and work history. And because you have to manually type out the information for each section, you'll need to:
spend more effort thinking about what to put in each CV section
set aside time to fill out your Europass CV
write and proofread your own content
Pro: You can personalise your Europass CV
Following a 2020 update, the new Europass CV builder is now more customisable than ever because of its:
four CV layouts
six CV template colours
small, medium, and large text size options
removable Europass CV logo
Here's what the four Europass CV templates look like: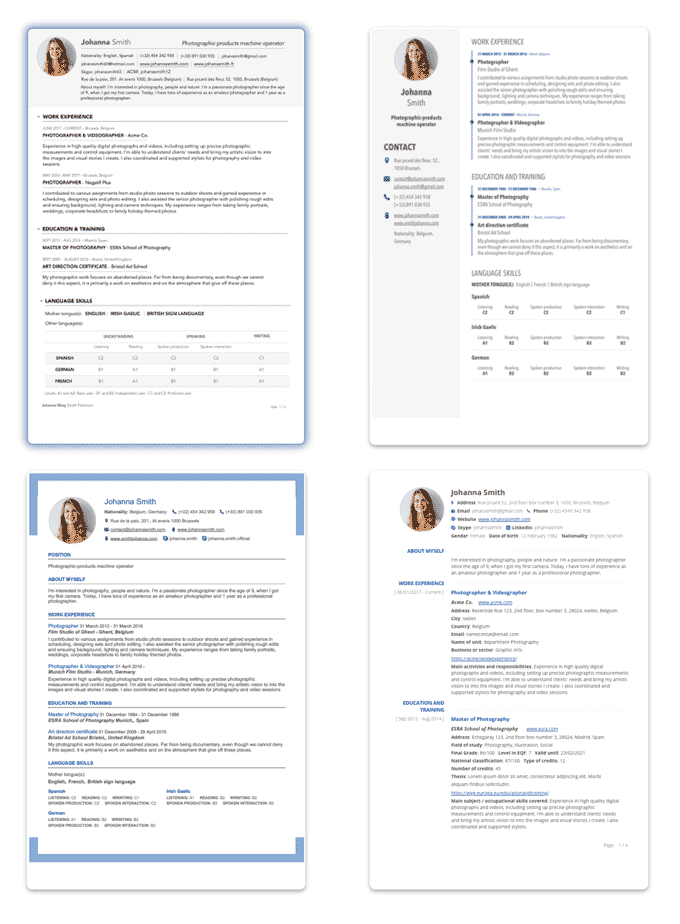 Con: The Europass CV still lacks creativity and individuality
Although a uniform CV layout is meant to make finding work in Europe easier, that feature can also work against you.
Because employers have seen the Europass CV layout many times before, your Europass CV likely won't stand out. So if you're seeking roles that require innovation and originality, you might want to look elsewhere for a more distinctive CV design.
Also, the Europass CV's generic layout can be a problem if you:
want to showcase your unique, professional brand
have a non-traditional work history
plan to highlight specific qualifications or accomplishments
Pro: You can make and download multiple Europass CVs for free
One of the top reasons why a Europass CV is so common is that it's completely free to build and download.
Additionally, the website allows you to quickly update your Europass CV as your experiences and qualifications change over time. You can also use the information from your previous CVs to create multiple Europass CVs and tailor them to specific employers.
You can also use the Europass CV platform to directly publish your CV on the EURES job portal website. This option increases the chances of your application being found by employers (for your preferred occupation and location) across Europe.
Con: You can only download your Europass CV as a PDF
One of the biggest drawbacks of the current Europass CV platform is that you can only download your finalised CV as a PDF.
The inability to change your Europass CV into other formats is an issue because it means you can't fully customise or change your CV after you've downloaded it.
Pro: The Europass CV easily translates your qualifications
One benefit of using a Europass CV editor is that you can translate your CV into 30 different languages.
This feature makes it easy for you to apply to companies across different geographic areas and national borders, especially if you're looking to work in European countries where you don't speak the local language.
When to use a Europass CV
Based on our reasons above, here's our advice on when and when not to use this CV format:
Consider using the Europass CV template if you're:
looking for work throughout Europe
showcasing you're familiar with European job standards
targeting an employer or education provider that requires one
highlighting your language skills on your CV
searching for a free CV layout option
willing to spend time filling in your information online
Avoid using the Europass CV template if you're:
seeking roles at companies that value innovation, creativity, and technology
aiming to set yourself apart from other job applicants
looking for a unique CV design
presenting several years worth of work-related information
searching for a CV builder that pre-writes your information for you
Europass CV alternatives
You can land a great job in the EU without using Europass. Here are three ways to find good alternatives:
1. Look at different CV designs
Try researching modern and user-friendly CV designs on the internet. Doing so lets you understand current CV ideas and trends as you learn how to make a professional CV that modern companies will notice.
Also, if you already know what companies you want to apply for, study their social media platforms and official websites closely to get an idea of what CV designs they expect from their ideal applicants.
2. Download a free CV template
Don't limit yourself to Europass's four CV template options. There are many beautiful CV templates online that you can customise to fit EU employers' requirements.
3. Use a CV builder
Short on time or don't want to write out your own strengths on your CV? Try using a CV maker that lets you:
choose from a large selection of CV styles and colours
create auto-generated, detailed bullet points highlighting your specific qualifications and work history
build a modern and professional-looking CV in minutes