What is an ATS-friendly CV?
An ATS-friendly CV is a type of CV format that's designed to get past the initial screening done by hiring software called application tracking systems (ATS). Employers use ATS software to filter out CVs that don't meet the basic requirements for a job so they can spend less time reviewing applications.
The ATS software first 'reads' your CV by pulling your information out and putting it into a database. Then, by matching your information to criteria set by the employers, the ATS filters CVs into those that do and don't advance to the next stage of the hiring process.
We provide resources to help you understand how to write a good CV correctly so you'll get past the ATS, meet your target company's expectations, and get further in the job search process.
3 steps to write an ATS-friendly CV
In a survey of employers conducted by Harvard Business School, 88% of employers confirmed that application tracking systems throw out qualified applicants for highly skilled jobs. So follow these 3 CV writing tips to get your CV past ATS:
1. Use an ATS-friendly CV template
Your skills and experience deserve to be noticed by employers, but you first need to ensure that their ATS software can properly read your information. So here are some formatting tips to help you make sure your information isn't lost: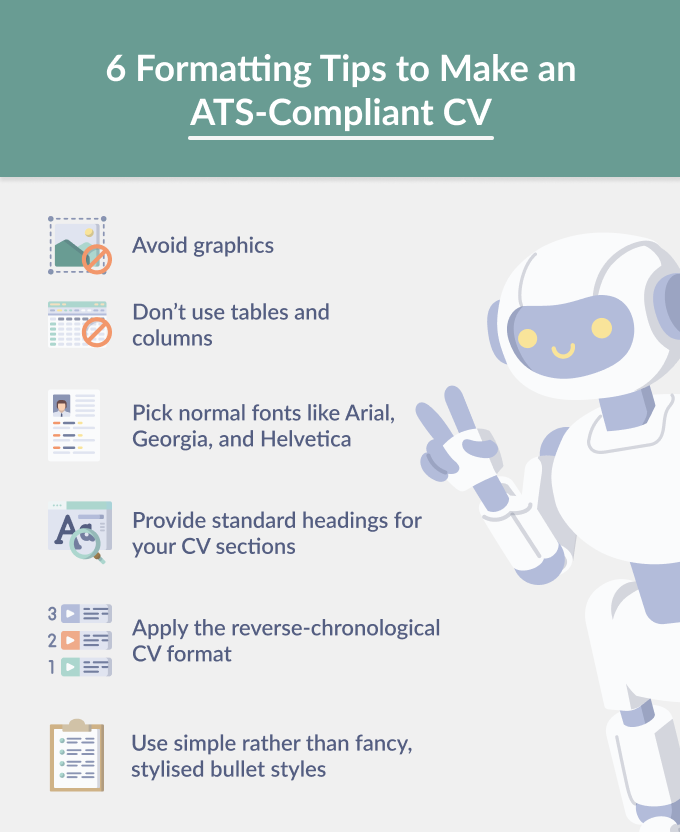 Avoid graphics: ATS software can't interpret graphics and may think some of your information is missing or doesn't match the job description. By leaving images off your CV, you can help ensure that the ATS has an easier time understanding your key skills and work history.
Pick normal fonts: Currently, ATS software also can't read non-standard fonts. So use readable, professional fonts such as Arial, Times New Roman, and Helvetica. With plenty of choices for the best font for your CV, you can make an eye-pleasing, ATS-compliant CV.
Don't use tables and columns: ATS software typically reads information from left-to-right and top-to-bottom, which means that tables or columns with visible or invisible borders could potentially be misread or cause confusion. To ensure your information gets accurately processed, stick with a simple and straightforward CV layout.
A company's ATS software may not be programmed to scan information in headers and footers. To help ATS identify all of your information, pick a CV layout that places critical information, such as your contact details, in the body of your CV.
Provide standard headings: Non-standard headings (like 'Schooling' rather than 'Education') may cause ATS to miss that information on your CV, even if it's present. Instead, using clear, standardised headings like 'Work Experience' or 'Skills' helps the ATS recognise what information is in each of your CV sections so your full application can be seen and considered.
Follow a reverse chronological CV format: The easiest format for an ATS to read is the chronological format, which lists your work experience in reverse order from most recent to oldest. To ensure the ATS can correctly process each work entry, list the company name, job title, and dates you worked there. Also, avoid putting dates before the company name. Placing dates before the company name could throw off the ATS and cause it to misinterpret your CV's details.
Use simple bullet styles: Bullets on your CV are helpful for organising and highlighting information in your CV's work experience or skills section. However, don't forget to choose easy-to-read bullet styles like closed circles, open circles, or squares. Overly complicated bullets could confuse or distract ATS, so keep them simple.
2. Tailor your CV's content to the job description
Employers draw from the job advert to create their ATS settings. So customising your CV to the job description is the best strategy for getting past ATS. Here are some tips to help you tailor your ATS-friendly CV to the job advert:
Choose the important keywords
First, pick out the right keywords from the job advert by carefully reviewing the description and noting any recurring phrases or requirements. For instance, the job title for the position should be somewhere in your CV, like in your personal statement or as a previous job title in your work experience section.
Here's an example of how to use the target job title in your CV sections so you can demonstrate your suitability for the role:
Next, also target keywords that are highly relevant to the position. To determine the most important words for your desired position, look for any similarities across different job adverts for the same job title.
For example, an applicant writing a warehouse manager CV might target the high frequency words (highlighted in yellow) and the job-relevant keywords (underlined in green) in the following job advert:
Add your chosen keywords into your ATS CV
Once you've identified the important keywords, add them naturally into your CV's text. Ensure you use the exact keywords, not variations. For example, don't change the tense or use the verb form when the noun is given in the job advert (like using 'people leader' when the job advert calls for someone who has 'led people') as ATS software is programmed to look for exact matches.
For industry-specific acronyms, use the acronym as well as the spelled out version throughout your CV (e.g., using both 'quality assurance analyst' and 'QA analyst') as you don't know which one employers used when setting up their ATS.
3. Run a test with CV scanning software
After following the above steps, your CV should be ATS ready. But to double check that your CV beats bots, run it through CV scanning software.
Here are some sites that offer free CV ATS scans and our reviews of the different features they provide:
Frequently asked questions about ATS CVs
Still curious about ATS CVs? We've got you covered with our answers to the most commonly asked questions about writing ATS-friendly CVs:
1. How do I know if my CV is ATS-friendly?
A good way to know if your CV is ATS-friendly is to use a CV scanner. CV scanning software can give you a guess of how likely your CV is to pass ATS and provide useful tips to improve your CV, but remember that it's not a full guarantee. By following formatting tips, like avoiding graphics, unusual fonts, and tables, as well as customising your CV to the job description, you'll boost the chances of your CV passing ATS.
2. Where can I find an ATS CV template?
3. Does an ATS read PDFs?
Yes, an ATS reads PDFs. While old ATS software wasn't equipped to handle PDFs, most software today is able to read this file type. Other acceptable file formats for most ATS software include .doc and .docx. But remember to check if your target position specifies a required or preferred file format.