A CV is a job application document that shows employers why you deserve an interview. A good CV clearly highlights your educational and professional background, including your:
key professional skills
work experience
qualifications and certifications
Knowing how to write a CV that features these CV elements is important if you want to get a job.
For most people, the ideal CV length is two pages. Two pages should give you the chance to fully describe your work history, education, and skills, while also adding a touch of your personality — like your hobbies and interests.
To save you time, you'll find many good CV templates on the internet that you can download and fill in with your information, featuring traditional but eye-catching CV designs that stand out to employers and clearly present your background.
What does CV stand for?
'CV' stands for 'curriculum vitae'. This Latin term means 'the path of your life', which makes sense because a CV walks employers through the path of your career and education.
What does a CV look like?
This is what a CV looks like: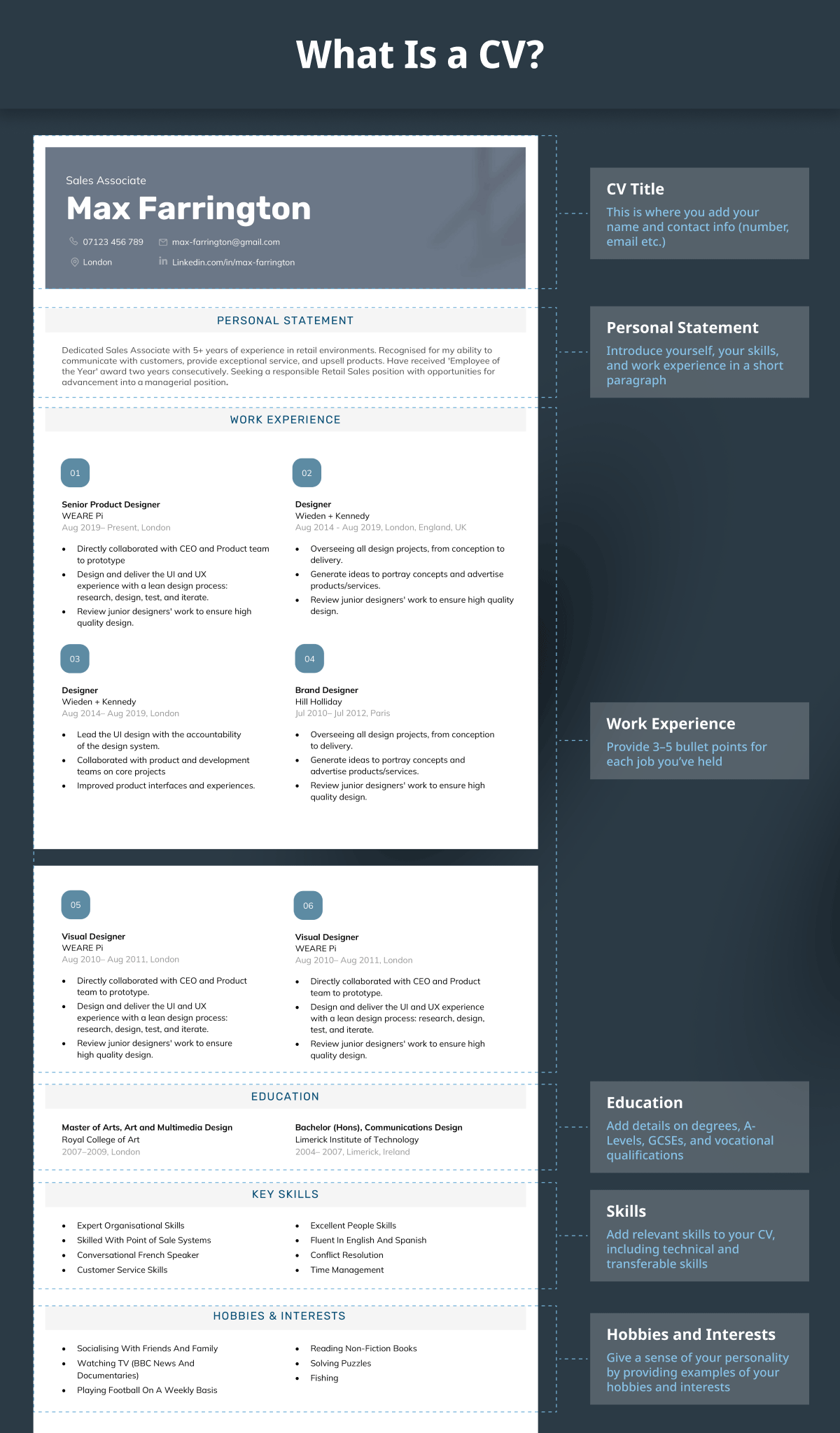 Here are the sections you should include in your CV:
CV title
The very top of your CV, where you should provide your name, phone number, and email address.
Personal statement
Three to four sentences under your CV title that sum up your main achievements, skills, and qualifications. A personal statement is sometimes also called a CV summary or CV profile.
Work experience
In this section, you should include your current and previous jobs from most recent to oldest (top to bottom). For each role, include your job title, the company's name and location, and the dates you worked there.
After that, add 3–5 bullet points describing your achievements — use hard numbers for emphasis. If you don't have much work experience yet, put this part after your education section.
Education
Your education section should provide details about any degrees you have, your A-Levels, and GCSEs as well as your grades. If you haven't got your marks yet, you can add predicted grades and the expected date you'll get your qualifications.
Skills
List any skills on your CV that you have. These skills can be ones you learn in school or in a job (hard skills) or ones linked to personality (soft skills).
Hobbies and interests
Provide some examples of the activities you do outside of school and work.
The best hobbies and interests to put on a CV are ones that show you have the skills for the job you're applying for. For instance, you might put 'member of local football team' in this section to highlight your teamwork skills.
Frequently asked questions
Here are the answers to a few common questions about CVs: