If you're looking for a spouse in the UK, a marriage CV (also called a marriage biodata) can help you to showcase your personal and professional traits in an organised way, making it easier to woo potential partners and hopefully find love.
We'll teach you how to create a marriage CV for yourself (or a family member) using our examples and advice so you can get closer to building a happy future with your life partner.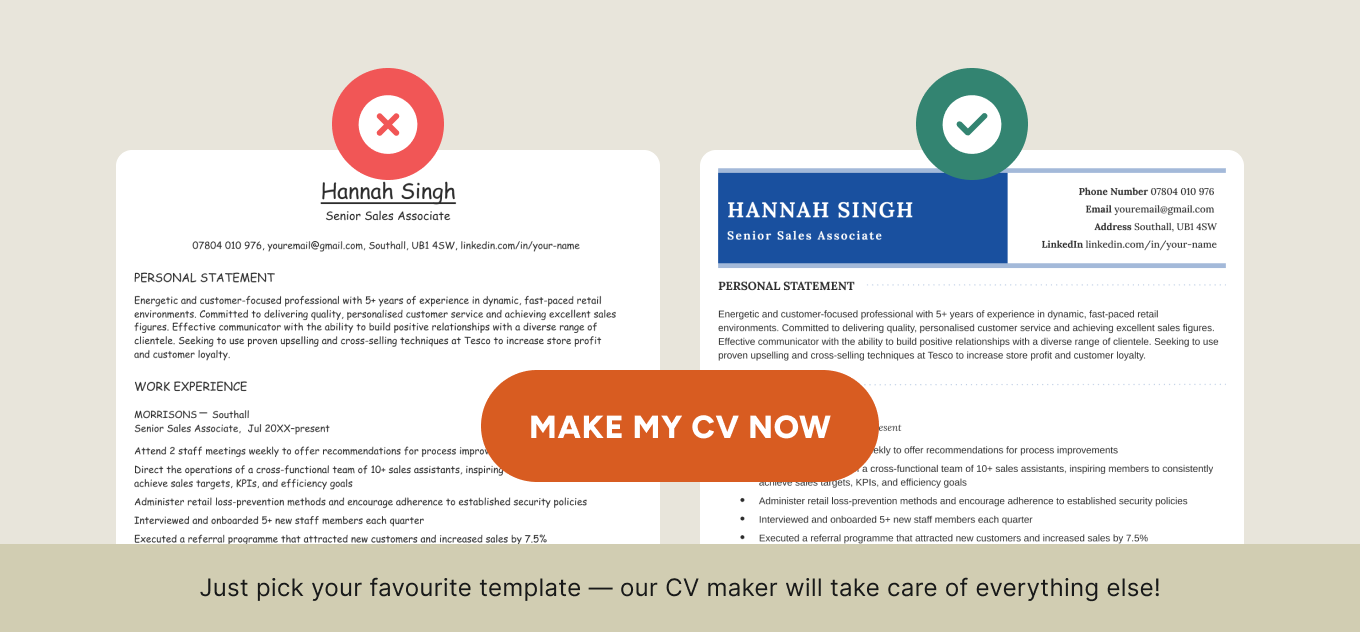 Biodata format for marriage
Unsure how to structure your marriage biodata? Don't fret. Here's a standard marriage CV format:
You can also add optional sections after your personal details section, or underneath your expectations section, for example, if you want to talk about your education, work experience, or income.
Also, your marriage CV should be no longer than one or two pages. So only include the most important and relevant details that a potential partner would want to know about you.
How to make a biodata for marriage
Creating a marriage biodata doesn't have to be challenging.
Here's a list of the essential steps to follow:
1. Include your physical attributes and personal details
Similar to how to write a professional CV for work, a marriage CV is your key to making a positive first impression on potential matches.
Start with a header that includes all the essential details that potential partners might be interested in, such as your physical attributes and personal information. Sharing these details gives prospective partners and their families a clear idea of what you look like and who you are.
Left-align this information in a list so matches and their families can read through your marriage CV easily.
Here are some key details you should include:
Full name: List your full name so people know how to address you.
Age: Your age is helpful for potential partners to know in case they have age preferences.
Date and time of birth: Some cultures or religions consider astrological compatibility to be important.
Place of birth: Knowing where you were born can give potential spouses an idea of your cultural background and upbringing.
Place of residence: Share where you currently live so your prospective match will know if you're located in the same area.
Nationality/Ethnicity: Mentioning your nationality or ethnicity is essential for people looking for partners with similar backgrounds.
Native language: List your first language to help marriage prospects understand your language skills and cultural identity.
Religion: This detail will be relevant for people who are looking for partners with similar religious beliefs.
Caste: In some cultures or religions, knowing your caste is key when it comes to finding a mate.
Subcaste: Similarly, mentioning your subcaste can be important in certain communities.
Gotra: In some cultures, knowing the gotra, or ancestral lineage, is useful for determining compatibility.
Rashi: This astrological detail may interest some people who are looking for marriage.
Physical features (e.g., height and weight): Share your height and weight to give potential partners an idea of your physical appearance.
Education qualifications: Mention your educational details so you'll match with people looking for partners with similar educational backgrounds.
Occupation: Share your current job or work history to give your marriage prospects an idea of your career and lifestyle.
Contact details: Provide your email address and phone number so matchmakers and families can reach out to you easily.
Here's an example of an applicant's personal details on their marriage biodata:
Full name: Priya Patel
Age: 31
Date and time of birth: October 10, 1991 at 9:07am
Place of birth: Mumbai, India
Place of residence: Bristol, UK
Nationality: British
Ethnicity: Indian
Native language: Hindi
Religion: Hindu
Caste: Brahmin
Gotra: Kashyap
Rashi: Libra
Height: 5'6″ (168 cm) tall
Weight: 9'4'' (59 kg)
Physical features: black hair, brown eyes
Education qualifications: Bachelor's degree in Business Administration from the University of Bristol
Occupation: Marketing Manager at a tech company called Rovco in Bristol
Email: priya.patel@email.com
Phone number: 07117 329 6887
2. Add a photo to your marriage CV
To make your biodata more visually appealing, include a photograph of yourself.
A clear and recent photo gives potential partners a better idea of what you look like and increases your chances of finding someone who is genuinely attracted to you.
Here are some do's and don'ts when it comes to attaching your photograph on your marriage biodata:
has good lighting
shows your face and upper body
is recent (within the last 1–3 years)
shows you have a tidy, neat appearance
By contrast, avoid using an image that could misrepresent your appearance or confuse people.
have other people in them
use filters or heavy editing
have pixelated or blurry images
show yourself wearing distracting accessories (e.g., sunglasses or a large hat)
Also, dress appropriately in your photo so you can present your best self. For men, a formal shirt and jacket or a traditional outfit can work well. For women, try wearing a modest and elegant outfit, such as a saree or a shalwar kameez.
3. Write a unique 'About Me' section
An 'About Me' section is an important part of your marriage CV as it helps families learn what makes you special and showcases your personality, interests, and values.
To create an attention-grabbing CV 'About Me' section, consider including details about your:
physical appearance
personality traits and qualities
career and educational background
values and beliefs
family and cultural values
personal achievements
disabilities (if applicable)
marital status (if you're divorced or widowed)
This is an example of a female applicant's 'About Me' paragraph:
I have long, straight black hair and large brown eyes. I was born in Mumbai, India, but have lived in the UK for 15 years, where I'm working as a Marketing Manager for a tech startup. I graduated in 2015 with a BA in Business Administration with Distinction. My family and friends describe me as a kind, honest, and reliable person. When I'm not working, you can find me exploring the vibrant food scene in Bristol, spending time outdoors, or travelling to new countries.
Below, this male applicant's 'About Me' section describes his love for family and hobbies:
I'm a 6'3" man who enjoys hitting the gym and playing rugby. I have black hair, tan skin, and light brown eyes. I currently work as an IT Security Manager at Tesco. Family is everything to me, and I enjoy spending time with my loved ones whenever I can. In my free time, I enjoy playing chess and reading up on NFTs and AI. I believe staying curious and constantly learning new things is essential to living a happy life.
4. Include your family information
In a marriage biodata, including your family information is crucial as you're not just marrying your partner, but also marrying into their family.
By providing these details, you help matchmakers understand your family dynamics and background and make an informed decision about whether your families are compatible.
When including your family information, list your details in the following order:
father's name and profession
mother's name and profession
number of brothers and sisters, and their marital status (mention your eldest sibling first)
family type (e.g., joint or nuclear)
social class (e.g., lower, middle, upper-middle, or upper class)
place of residence
You can also put down additional details like your sibling's spouse's name and occupation if they're married and your other relatives' information (e.g., uncle, aunt).
5. Define your relationship standards
To make a successful marriage biodata that leads to a fulfilling marriage, clearly state your expectations for your prospective spouse.
By specifying your requirements, you'll avoid wasting time on unsuitable matches and increase your chances of finding a compatible husband or wife.
So as you're writing about your expectations, consider factors like:
personality traits (e.g., honesty, respect, and openness)
lifestyle choices (e.g., exercise habits, diet, and career ambitions)
shared interests (e.g., reading, cooking, playing sports, travelling)
values and beliefs (e.g., compassion, accountability, loyalty)
Below are an individual's expectations on their marriage biodata:
I'm looking for a partner who values education and personal growth, and who is respectful and understanding of cultural traditions. He'll also share my interest in travel and trying new foods, and will be family-oriented and value relationships. My ideal partner is also someone who is ambitious and career-driven, but also balances work and personal life.
And here's an example of a Muslim applicant's marriage requirements:
As someone who values financial stability and my personal beliefs, I'm seeking a Muslim partner who shares similar aspirations and values in life. Honesty and empathy are also essential qualities to me, as I believe they're fundamental to building a strong and healthy relationship. Because I love discovering new places, I hope to find someone who is equally adventurous and curious about the world.
6. List your contact details at the bottom of the page
After providing your personal and family details, include your contact information at the bottom of your marriage biodata so families or matchmaker agencies can easily reach you.
List your professional, up-to-date email address and phone number in this section. If you've already listed these details in your 'About Me' section, you could write a short sentence inviting readers to contact you, like so:
Interested families can contact me via email or phone.
Additionally, if you have any specific preferences or requirements for contacting you, such as preferred times or ways of communication, you can include those as well.
Here's an example of a sentence that states an applicant's preferences:
If you're interested in getting to know me better, please feel free to get in touch via email or phone. I use WhatsApp frequently so I'm happy to chat more through the app. I look forward to hearing from you.
Marriage CV template examples (by gender)
If you're looking for some downloadable resources, we've got you covered with two free marriage CV template examples:
Biodata for marriage template for a male
If you're making a marriage biodata for yourself or your son, look no further. This marriage CV template will help you get started finding a suitable mate: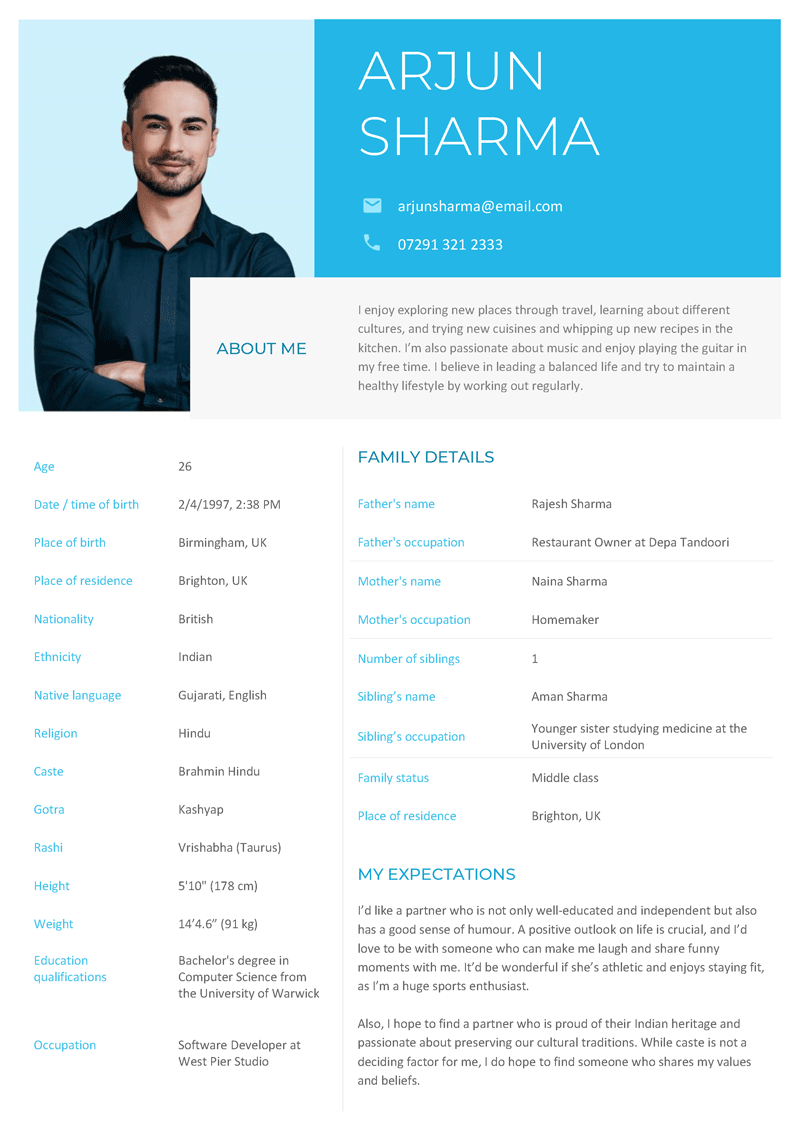 CV for marriage template for a female
Get ready to meet your 'forever' person by ensuring you've got a proper marriage biodata. This CV template for marriage for females is here to help: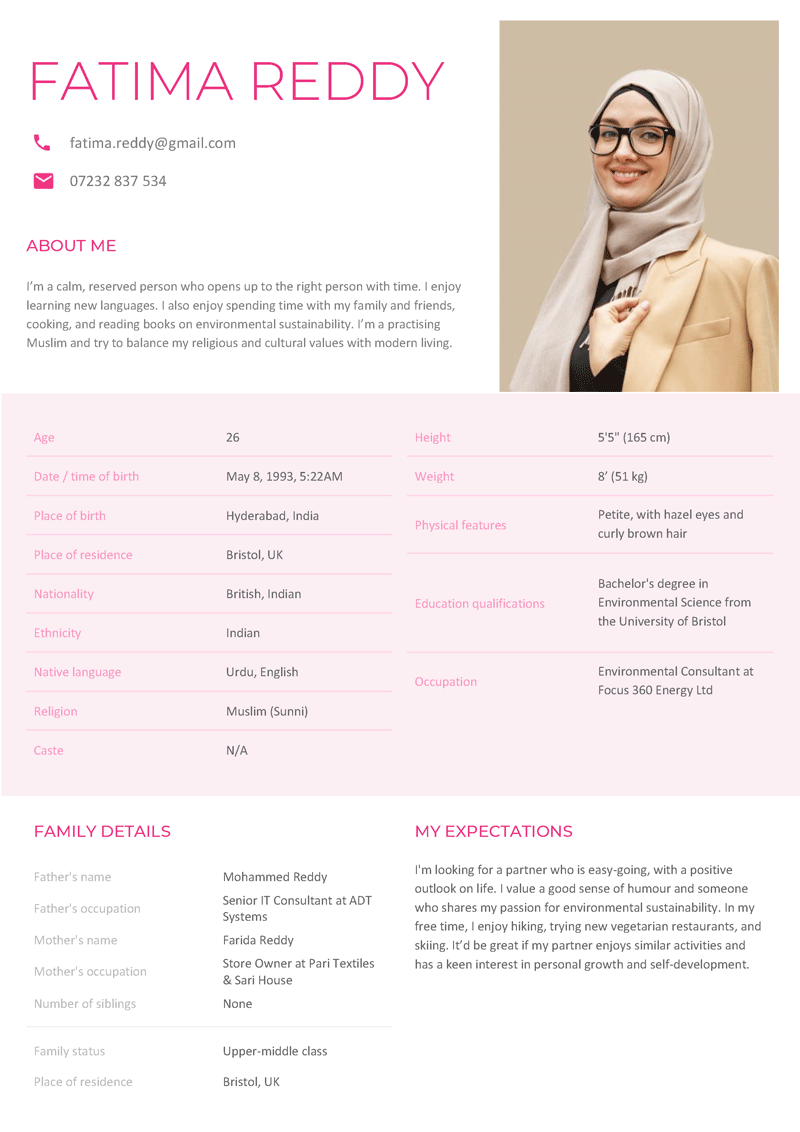 Frequently asked questions about marriage biodatas
Are you still curious about marriage biodatas but don't know where to start?
These frequently asked questions and answers are here to give you some guidance:
1. Can I provide more than one photo on my marriage biodata?
2. Can I include my social media profiles on my marriage biodata?
3. How can I make a marriage biodata for free?
1. Can I provide more than one photo on my marriage biodata?
Typically, a marriage biodata includes only one primary photo, but you can include other photos to give potential partners a better idea of your appearance.
If you include extra photos, attach them at the end of your biodata document or provide a link to an online album or social media profile where more pictures are available. You can also consider adding short captions or descriptions with each photo to provide more context.
However, ensure your extra photos are appropriate and showcase your best qualities.
3. How can I make a marriage biodata for free?
There are several free tools available online that you can use to create a marriage biodata.
Besides downloading our free biodata examples, you can also search for other marriage biodata templates or CV builders that provide you with a pre-designed format and fields to fill in your personal details, education, career, family background, and other relevant information.
Some of these tools allow you to upload your photos and customise the CV template to suit your preferences.
Also, you can create a biodata on Microsoft Word or Google Docs using a free template, and then save it as a PDF document.