What to put in your cover letter header
A cover letter header (sometimes called a cover letter heading) is a key part of the start of your cover letter. When formatted properly, a cover letter header makes it easy for the employer to contact you for a job interview, as well as hints at your professionalism.
Here's what a proper heading for a cover letter includes:
Cover Letter Header Template (Copy & Paste)
Your Name
Job Title
##### ### ###
your.name@email.com
Your Address
linkedin.com/in/your-name
Today's date/Month/202x
[Mr/Ms/Mx] Contact's Name
Company Name
Company's Address
##### ### ###
contact.person@gmail.com
The example above is simple and works for any type of job application because it follows traditional formatting, with the applicant's contact information and the date of writing right-aligned, and the contact person's details left-aligned.
But we advise using a good cover letter template that includes a professionally designed heading to make your job application stand out — whether you go with a basic traditional format or a modern one.
Find cover letter examples from your industry for inspiration online, or keep scrolling to see (and download) well-designed traditional and modern cover letter header options.
3 example cover letter headings
Here are three cover letter header examples (if you like them, you can download the entire cover letter templates that go with them for free):
1. Basic cover letter header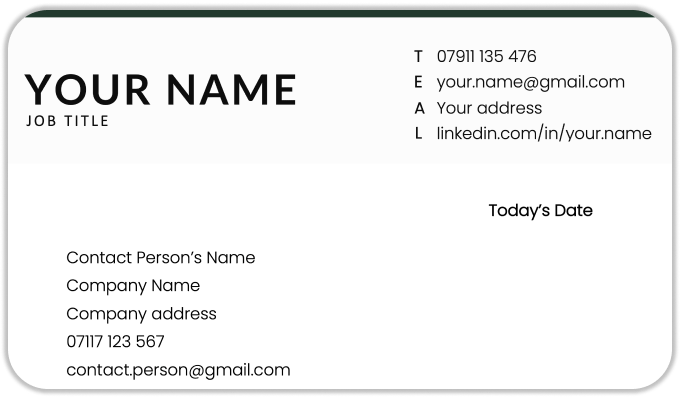 You can use this cover letter heading to apply for any role at any company. However, it's especially suited for applying to work in traditional industries or if you're targeting a management position and want the reader to focus on your professionalism and content rather than your letter's design.
2. Modern cover letter heading
Here's another great cover letter header for all types of applicants. Because of its modern formatting, we like this heading for applying to forward-facing tech companies.
3. Creative cover letter header
Applying to work in a creative role, such as graphic design or video editing? Ideally, you'll make your own cover letter header to demonstrate your design skills — but you might not have time. You want to send your job application in before the employer is flooded with eligible candidates to ensure you're top of mind.
Luckily, capable designers have already made creative cover letter templates that you can use without losing style points.
Cover letter heading tips
When you're making (or picking out) your cover letter header, keep these three tips in mind:
1. Match it to your CV
Every detail of your job application should make the recruiter see you as well-organised and capable. So don't make the mistake of using mismatched application documents. Not taking the time to create a uniform layout makes you appear rushed and unprofessional.
And if you don't want to take the time get this detail right, there's are two super simple ways to do it:
2. Make your name stand out with extra-large text
Using a template when you write your cover letter is a great idea, but you can't guarantee that another applicant won't use the same one. And even if you design your own, it could still look similar to others.
So, to ensure your application is unique, make your name catch the employer's eye and stick in their mind by:
using extra-large text (up to 30 points)
bolding it
formatting it in all caps
applying a splash of colour (but nothing inappropriate or hard to read, like neon shades)
3. Don't overshare
Your cover letter header is not the place to share too many personal details. Some employers will even bin an application that includes identifying characteristics about an applicant to avoid being accused of discriminatory hiring practises.
Details you should not put in your cover letter heading include your:
physical characteristics (height, weight, eye colour)
ethnicity or nationality
marital status
photo (unless you're applying for a role that depends on your appearance, like a modelling or acting gig)
Also, only list one email address and one phone number so the recruiter doesn't get overwhelmed trying to figure out the best way to reach you. Keep it simple, and increase your chances of landing an interview.
More cover letter formatting resources
There's a lot more to structuring a cover letter than making a great heading. Here are links to everything you need to know about making a job-winning cover letter: