What are interpersonal skills?
Interpersonal skills are abilities that you use to interact positively with other people.
There are two main types of interpersonal skills:
Interpersonal soft skills: Natural parts of your personality that help you connect well with people, like openness and patience
Interpersonal hard skills: People skills that you learn in school or at work, such as technical writing and foreign languages
Below are 12 interpersonal skills examples. We also explain why interpersonal skills are important, how you can demonstrate them on your CV and cover letter, show them in interviews, and develop them further.
12 interpersonal skills examples
Excellent interpersonal skills can make a huge difference in how others view you and even help you find a new job.
Here are examples of 12 good interpersonal skills for your CV that'll show you can master any situation: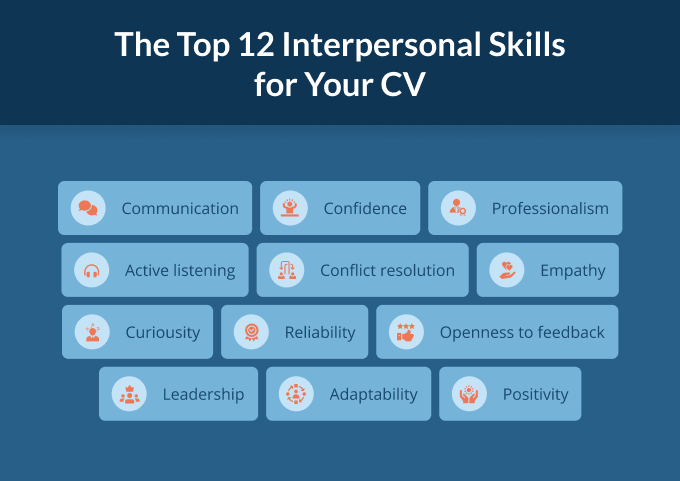 1. Active listening
Active listening involves fully engaging with the speaker to understand, interpret, and respond to what they say.
By showing you're willing to listen attentively (without interrupting), ask thoughtful questions, and work together to find solutions, you'll gain a better understanding of the other person's perspective and potentially learn something new from it.
Active listening is especially useful in a work setting because it:
shows you're genuinely interested in what the speaker has to say
builds trust and collaboration
highlights your empathy for others
addresses your teammate's needs and concerns
2. Conflict resolution
Conflict resolution is the ability to find a peaceful way to end a disagreement. With several people working together towards a common goal, disagreements are likely to occur.
However, resolving conflicts peacefully is a highly sought after skill employers like to see on CVs because it shows you can de-escalate tense situations and compromise with others.
So list your conflict resolution strengths on your CV to convey you value a positive work environment where people feel comfortable communicating with each other.
3. Leadership
Leadership skills show you can inspire, guide, and motivate others effectively. These skills are important in a work setting because good leaders can boost team morale and take on new projects while ensuring everyone is on task.
Although leadership skills are often associated with managers and executives, they're actually beneficial for anyone who wants to be successful.
So whether you're leading a team of employees or simply working on a project with colleagues, list your leadership skills to show you're fully equipped to handle challenges that come your way.
4. Communication
Good communication skills are important in all aspects of life, but they're especially valuable in a work setting.
These skills involve using appropriate verbal (e.g., public speaking, negotiation), written (e.g., writing, emailing) and nonverbal ways (e.g., body language, facial expressions, eye contact) to share information with others.
So provide examples in your CV's work experience section so employers know you'll be able to interact effectively with your coworkers and foster a healthy workplace setting.
5. Empathy
Empathy allows you to understand and share another person's feelings and perspectives. Empathy is an excellent interpersonal skill to put on your CV because it allows you to:
see multiple sides of an issue
develop a clearer understanding of the people around you
build stronger relationships with others
When you emphathise well with your peers and explain why you'd be a supportive team member, employers will think you're a good cultural fit for their company and are more likely to consider you for an interview.
6. Confidence
One of the most critical interpersonal skills is confidence — how you believe in yourself and your abilities. Confidence is a valuable asset in any work setting because it:
tells employers they can trust you to handle important work
inspires others
opens yourself up to new opportunities
Being confident can also help you be successful by giving you the courage to handle difficult conversations, work under pressure, and manage stress effectively. Furthermore, confident people are often seen as leaders, which can help you gain more respect and potentially get promoted.
7. Professionalism
Professionalism is the way you conduct yourself in a work environment. For instance, showing up to work on time, dressing appropriately, and treating colleagues with respect are signs of excellent professionalism.
By presenting yourself as a professional and respectful applicant, you communicate to employers you'll be committed and successful in your target role.
8. Adaptability
Adaptability is the ability to adjust well to new people, situations, and environments. This interpersonal skill tells employers you'd be a valuable team member because you can successfully:
manage new projects and make changes if necessary
deal well with uncertainty and team reorganisation
find creative solutions that benefit everyone
By communicating you're a highly adaptable person on your CV, you'll increase your chances of moving forward in the application process.
9. Positivity
Positivity relates to your tendency to think good thoughts and look at outcomes in a positive light. Being optimistic is a great interpersonal skill to have because it highlights your willingness to build a sense of community and healthy relationships with others.
Explaining how being optimistic has helped you throughout your work history will help employers understand why you'd be an immediate asset to enhancing their team culture and an enjoyable person to be around.
10. Curiosity
Curiosity is the desire to learn more about something or someone. This quality is what drives us to ask questions, explore new things, and seek out new experiences. And while it may seem like a simple concept, curiosity is actually a powerful interpersonal skill.
Ensure you include examples related to curiosity on your CV such as:
searching for new information and ways of doing things
engaging enthusiastically in your projects and being invested in their outcomes
collaborating actively with others at work and learning from them
11. Reliability
Being a reliable person means others can count on you to do what you've promised. This type of commitment is essential in a work setting because it tells employers you'll:
complete tasks on time and meet your deadlines
take responsibility for your mistakes
work hard to maintain your team's trust in you
If you're unsure how to write a CV for a job, remember to include this skill so employers can tell you've got a high-quality work ethic that'll transfer over to your next role.
12. Openness to feedback
Being open to receiving feedback signals your willingness to receive constructive criticism from others and learn from it. Feedback is a critical part of effective communication as it allows you to reflect upon your current situation and actively work on yourself.
Creating an environment where others feel comfortable giving honest feedback to you tells prospective employers you're someone who can:
demonstrate maturity in any work situation
identify areas for improvement and work on boosting your future performance
progress quickly in your career
apply a growth mindset when you're faced with a challenge or completing a new task
Frequently asked questions about interpersonal skills
Need more information about interpersonal skills? Here are the answers to five of the most common interpersonal skills questions:
1. Why are interpersonal skills important?
Interpersonal skills are important because being able to interact with people helps you succeed in every part of your life.
At school, you need your interpersonal skills to participate in the classroom, work on group projects, and start building your professional network.
In the workplace, your interpersonal skills let you collaborate with coworkers, managers, and clients.
If you have a hard time fitting in at the office, you probably won't be considered for leadership roles, which require smooth communication with upper management and the people you supervise.
In your personal life, interpersonal skills are important for building meaningful relationships with your family and friends.
Don't think personal relationships are important? Studies show that a lack of interpersonal skills may lead to both mental and physical problems.
2. How can you improve your interpersonal skills?
You can improve your interpersonal skills by studying how to deal with other people, and then practising what you learn. Here are some ways you can study interpersonal skills:
You can improve your interpersonal skills by studying how to communicate with other people, and then practising what you learn.
Here are some more ways you can study interpersonal skills:
And these are some ideas for practicing the interpersonal skills you learn:
Go to parties and other social events
Set goals (such as starting one conversation at work each day)
Keep a motivational journal to build on your successes and learn from your setbacks

3. What's the difference between intrapersonal and interpersonal skills?
The difference between intrapersonal and interpersonal skills is:
intrapersonal skills are internal abilities you use to manage yourself, such as focus and self-awareness
interpersonal skills are both internal and external abilities you use to interact with others, like conversation and observation skills
There's some crossover between intrapersonal and interpersonal skills because your self-management abilities affect the way you deal with other people. For example, your level of self-confidence determines how well you can take a joke.
4. How do you demonstrate your interpersonal skills on your CV?
You demonstrate your interpersonal skills on your CV by describing how you've used them to produce results at work. When writing your CV, include hard numbers (like percentages, £ amounts, and numbers of people supervised) and descriptive action verbs to impress employers.
Here are examples of CV phrases that demonstrate interpersonal skills, pulled from a CV personal statement and work experience section:
5. How can you show your interpersonal skills in an interview?
Here's how you can show your interpersonal skills in an interview:
Have a good posture (non verbal communication)
Smile (positivity)
Give a firm handshake (confidence)
Bring copies of your CV and cover letter (reliability)
Take notes and pay attention to your interviewer (active listening)
Describe your top accomplishments (leadership)
Ask questions (curiosity)
Speak clearly without using filler words (verbal communication)
Make small talk before and after the interview (adaptability)
Send a thank-you email (professionalism)
Also, when you answer interview questions, give examples of how you've used your social skills to succeed. Your examples can come from your jobs, internships, volunteer work, and university projects.
For instance, if the interviewer asks you to tell them about a time you resolved a conflict, you could say something like:
"While working on a group video project for one of my marketing courses, we had an issue over whether to shoot our video in colour or black-and-white. I convinced them to take a break, researched colour vs. black-and-white advertisement studies relevant to our mock product, and was able to use the statistics I found to convince everyone that full colour was the way to go. We got top marks for the project, and many of us are still good friends today."