One of the most common interview questions you'll be asked is some variation of 'What motivates you?' Below are the answers recruiters are looking for, whether they ask what motivates you in general, what motivated you to apply, or other variations of the question.
What motivates you?
When employers ask what motivates you in general, they want to know if you have the soft skills (the ability to manage yourself and interact with others) you'll need to fit the team and your target role.
There's no one right answer to this question, but you can find what they're looking for by:
reading the job description, paying special attention to the type of person they say they're looking for (for example, a 'highly organised individual')
researching the company, looking for information about its work culture and mission
thinking of examples of how you've been motivated by the kind of work they do
For instance, if the job advert says the company is looking for a self-starter who thrives in a fast-paced environment, a great answer to 'What motivates you?' is:
'I'm motivated by finding new challenges, so I'm always looking to push myself to improve and avoid stagnating. For example, I taught myself guitar by watching YouTube tutorials. But when I got good at that, I put myself in uncomfortable situations by playing with others and at open mics.'
Or, if the interviewer asks you specifically what motivates you at work, your answer could be something along the lines of:
'I thrive under pressure. At my current job, we were facing a content bottleneck with extremely tight deadlines back in March. The pressure inspired me to nearly double my output, and we were able to get everything done in time.'
Whatever job you're applying for, do your research, and find engaging ways to connect your skills and achievements to the specific position and company you're targeting. And always give examples to give the interviewer context.
Here are some more work-related situations and tasks that could motivate you. Find ones that match you and the role you're applying for, and think of relevant stories from your work experience and time in education to share with your interviewer:
Results like article page views, sales made, and customers served
Improving a product or process
Desire to work your way up to management
Working as part of a team
Exceeding set goals
Creating something new
Leading others
What motivated you to apply for this role?
During your job interview, you may be asked what motivated you to apply for the job. Now, you've already taken the time to apply and attend the interview, so don't they know that you were motivated by your desire to get the job?
Yes, but they're trying to dig a little deeper. When an interviewer asks this question — or reads the answer you wrote on your application — they want to see that you:
researched the job and their company
are genuinely interested in the role (instead of just looking for job offers to use in salary negotiations at another company)
have a long-term career plan that could involve them
So let's say you're interviewing for this graphic designer job posted by a local restaurant: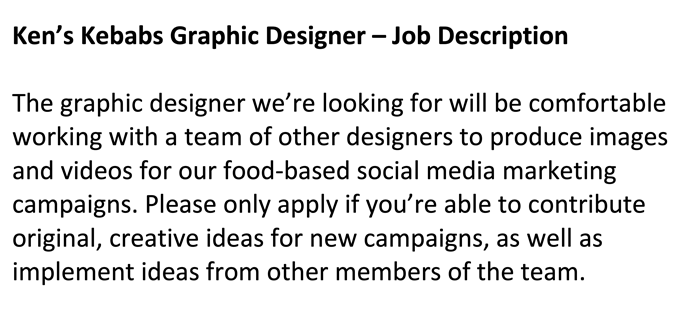 Below are two possible explanations of why you applied for the above role.
Based on the job advert, the first example answer is sure to remove the candidate from the employer's shortlist because it doesn't include any information the interviewer is looking for. But the second answer is good because it shows true interest in and enthusiasm for the position:
No information the interviewer is looking for
'I've got a lot of freelance graphic design experience, and I'm looking for more steady income from a full-time role.'
Examples that show genuine interest
'When I saw your job ad on LinkedIn and did a deep dive into your social media, I knew I had to apply. I'm a huge fan of the ads your creative team puts out, especially the dancing kebab series on Instagram. I've done similar work, which you can see in the portfolio I gave you earlier. I have so many ideas for more images and videos, and I'm so excited to learn from your designers.'
More motivation-related interview questions & answers
Here are more questions about what motivates you in life or at work that you might have to answer in job interviews. Read through them to get ideas for your answers to these specific questions, or reword them for the more common 'What motivates you' query:
What drives you?
This is just another way to ask what motivates you. These two answers show how the applicants are driven by job-related factors:
'I'm driven by making customers smile. At my current job as a cashier, I have returning customers who will wait in my queue even when other queues are shorter, just because they had a great interaction with me the last time they came into the shop. Seeing that just makes me want to bring even more joy into people's days.'
'Healthy competition is what drives me. My current company keeps a sales leaderboard on the wall, and I work extremely hard to keep my name at or near the top every day.'
What energises you?
Don't let this variation on the 'what motivates you?' question throw you off. Interviewers who ask this aren't looking for energy drink recommendations. They simply want to know what gets you excited about your work.
Here are two good answers:
'Analysing data energises me. I feed off finding details others usually miss in datasets. And even when I'm not working, I'm tracking Premier League stats, looking for a competitive edge for my fantasy football team.'
'I'm energised by leading a team to reach its full potential. My current manager intentionally transferred me to the weakest team in our marketing department, confident I'd be able to turn it around. And now we're the top team in the department in terms of KPI.'
What inspires you?
When interviewers ask you this question, they're trying to get an idea of how to keep you engaged at work. Some good answers to this question include the following:
'As a graphic designer, I'm inspired by the creative process. Whether I'm getting paid for it or not, I'm always chasing the feeling of accomplishment that comes from completing a new image.'
'Helping others inspires me. I volunteer at the local food bank every weekend, and I want to do more. That's why I want to work for a non-profit organisation like yours that does so much good within the community.'