'Why do you want to work for us?' is one of the most common interview questions asked by employers. It's usually asked to see what you know about the company and how you think you'll fit their culture. Essentially, they're trying to figure out whether you've done your research and are suited to the job.
This question typically comes at the beginning of interviews, so having an impressive answer can help you make a good first impression.
How to answer 'Why do you want to work here?' questions (4 steps)
Great answers to 'Why you want to work for us?' don't just spring to mind. Here are a few important considerations to help you prepare your response:
1. Know when to expect the question
Employers tend to ask, 'Why do you want to work for us?' early on in the job interview because the main purpose of the question is to get to know you.
Having reviewed your CV and cover letter, the interviewer wants to know what motivated you to apply for the job, and whether your goals make you a good fit for the role.
Alternative ways the employer might ask you, 'Why do you want to work for us?' include:
What motivated you to apply for this job?
Why are you interested in this position?
What attracted you to this company?
What excited you about working for us?
Tell me about yourself.
What motivates you?
2. Research the company
There's a reason 'Why do you want to work for us?' can inspire dread in interviewees — it's a blank slate question. Employers can ask you about your motivations and values without giving any hints about their preferred answer.
Fortunately, you can prepare for this question and avoid feeling blindsided by first understanding who the employer is.
Before the interview, research the organisation, its mission, and its values. Check its 'About us' page, social media handles, and internal media like blogs and press releases to develop a detailed picture of the company culture.
Is it buttoned up or laid back? Corporate or unconventional? Understanding how the company is structured will give you a better idea of what kind of candidate they'll want to add to their team.
3. Align your career goals and values with the company
Once you know what kind of employer you're talking to, it's time to take a look at yourself. Make a list of your career goals and values. What do you want to achieve and what aspects of your career are most important to you?
Jot your ideas down on a piece of paper and compare them to the company profile you've developed through your research. Some of your goals and values will likely be a better fit than others. Make a mental note of them so you can use them to form the basis of an impressive interview answer.
Here's an example where the applicant clearly aligns their values with those of the employer:

4. Emphasise your skills and experience
Employers love clear career progression. Show them how this job is the logical next step for you, and they'll see you as well-qualified and a good investment of company resources.
Let's return to our Uniqlo applicant for a look at how you can do this in practice: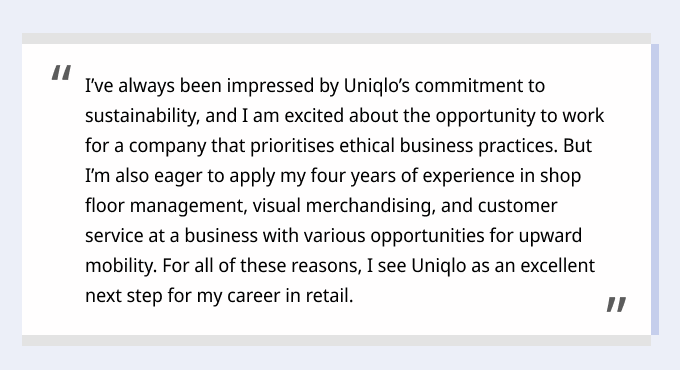 By mentioning their management, visual merchandising, and customer service experience, they emphasise useful hard skills for a shop-floor role. Furthermore, their desire to grow with the company will be seen as a big plus at Uniqlo, as it's a big corporation with plenty of opportunities for movement into management positions.
'Why work for us?' template answer
Here's a templated answer for 'Why do you want to work for us?' that you can copy and customise for any type of job:
'Why do you want to work here?' answer template
I want to work here because I share your vision for [company goal from the job advert or your research]. I've got [X] years of experience [example that proves you share the company's vision], and everything I've read about [Company Name] leads me to believe that I could continue following my passion for [example of work you do that aligns with the company's goals].
10 situation-specific answers for 'Why do you want to work for us?'
Still trying to figure out how to answer if an employer asks why you want to work with them? Here are 10 more sample answers for:
Answers for inexperienced candidates
If you don't have much relevant experience, your answer should expand on the job-specific skills on your CV and explain your relevant career goals. Here are two example answers that do that well:
Why would you like to work with us?
As you probably noticed from my CV and cover letter, I just completed my BSc in Marketing & Advertising. I'm ready to apply my consumer research skills in the real world, and after talking to Ms Jones from your Marketing Research department at my university's career fair, I knew I had to try to get on the cutting edge of marketing tactics with you at Kurt Geiger. Plus, I'm a huge fan of your bags and shoes, and I'm excited for the opportunity to sell products I believe in.
Why are you interested in this job?
I'm interested in this job because I believe it perfectly matches my skill set. Even though I've never worked in graphic design professionally, I've developed professional-level skills through college courses and self-study. I looked through your website and social media, and I found images and graphics that are similar to ones I've made for personal projects, friends' blogs, and album artwork for a few local bands. My goal has always been to make graphic design into a career, and I believe your company offers me the best opportunities for that.
Answers for experienced candidates
Employers prefer candidates with relevant experience because they're easier to train. If you've got job-specific experience, emphasise it when the interviewer asks you why you want to work with them:
Why would you like to work for us?
I've long admired your website's user-oriented design and ease of use. I've worked in UX for the past 10 years, focusing on making information easily available to the visually impaired, and I have a lot of ideas for making your website even more accessible and user-friendly.
Why do you want to work for this company?
Diageo is accelerating its expansion into Asian markets, and I believe my experience perfectly positions me to lead that charge. When I worked at Wiper and True, I led the Southeast Asian team for its first two years of operations and succeeded in pulling in £3 million annually in revenue from exports in my second year. I'm excited just thinking about the results I could produce working with the extensive resources you have at Diageo.
Retail-specific answers
Got an interview for a retail job? Your reasons for wanting to work at your target company should include your desire to produce merchandising and sales results.
Here are two answers to interview questions about why you want to work in retail:
Why do you want to work in retail?
I want to work in retail because I love improving every aspect of the customer experience. I'm obsessed with optimising product displays and finding creative ways to use promotions and signage to draw customers in and convince them my products are what they want. I'm a frequent shopper at your store, and I know I can help you improve the already great retail experience you offer.
Why are you interested in working for us?
I'm interested in working for you in part because I've got fond memories of interning at another Signet Jewelers brand, H. Samuel, while studying at university. While my career took me down a different retail path, I've always wanted to return to the jewellery business. At my current job selling high-end fashion, I've set multiple sales records, and I'm ready to do that for you now.
IT-specific answers
If you're interviewing for an IT job, employers want to know how your IT skills qualify you for their open position. Here are two answers to the question 'Why do you want to work for us?' that showcase the candidates' relevant technical skills:
Why do you want to work with us?
I want to work with you because I'm passionate about cybersecurity, and Clearswift is one of the top security firms in the UK. I'm an expert at using JavaScript, Python, and SQL to assess risks and thwart hacking attacks in cloud-based systems, and I know I can immediately improve your team while also learning from your experts.
Why do you want to join our company?
I want to join your company because you'll give me the opportunity to help underdeveloped nations access the internet. I've spent the past 5 years setting up Wi-Fi networks in rural areas in the UK, but I've always wanted to find a way to use that skill for an NGO like yours, giving students in every part of the world the same access to information that we have here.
Customer service–specific answers
To work in customer service, you'll need great soft skills for interacting with people. When customer-service employers ask you why you want to work for them, your answer should showcase examples of your relevant interpersonal skills:
Why do you want to work in our company?
I do all my grocery shopping at Morrisons, and I'm impressed by your excellent customer service. I currently operate the till at a local village shop, and my manager often praises me for my ability to brighten shoppers' days while scanning their purchases. I'd love to do that as part of a larger team in Morrisons.
What has attracted you to apply for this role?
I was attracted to the waiter position here at Hudson Steakhouse after I brought my partner here to celebrate our anniversary. As a seasoned restaurant waiter and host, I'm quite proud of my ability to interact with customers in a friendly and professional manner, and when I experienced your waiting staff's professionalism, I knew this would be a perfect place for me to apply my customer service skills.
How not to answer 'Why do you want to work for us?'
New hires are an investment for employers — and they expect to get a return on those investments. So when an interviewer asks, 'Why do you want to work for us?' (or some version of that) your answer should show employers that you're genuinely interested in contributing to the company's goals.
Don't give answers that are self-focused or not related to the job, like these:
'I'm impressed by your benefits package'
'Your office is near my house'
'I just need any job I can get right now'
Frequently asked questions about interview questions
Still feeling a bit anxious about your job interview? Here are the answers to some common interview questions to help you overcome your jitters.
1. How can I research the company before the interview?
Here are a few ways to effectively research a company before your job interview with them:
Check the company's own media
Company 'About us' pages, blogs, social media, and press releases are great places to familiarise yourself with the company, its mission, main products and services, and its culture.
While you're reading the company's own media, think about the tone and language of their content (is it witty, professional, formal, or casual?). What kind of achievements do they highlight? Social impact? Customer satisfaction? Revenue generated?
Consider what is being said and how it's being said to build a profile of your potential employer. Use your findings as a guide as you decide what qualities to highlight in your interview — and how you highlight them
Review external media
Perform a Google News search of larger organisations you're applying at to stay informed of their recent strategies and objectives. Being knowledgeable about what your potential employers are trying to achieve in the world will make you appear a more serious and professional candidate.
Leverage professional networks
Using LinkedIn or similar networks, reach out to current employees for their insights on the employer. Briefly introduce yourself in a polite and professional manner and explain that you're applying for a job at their organisation and would like to learn about their experience working there. Don't ask for specific interview questions or office gossip. You risk looking unprofessional and word of your unprofessional behaviour making its way back to the employer.
2. What are some techniques for answering difficult job interview questions?
Here are a few techniques you can use to answer difficult job interview questions:
Prepare for common interview topics
You can't predict the exact questions that an employer is going to ask, but you can predict the general areas of your experience that the employers will ask about. Have responses prepared for common topic areas:
A personal weakness
A main strength
Your motivations for applying
Reasons for an employment gap
Examples of a difficult situation you faced in the past
If a particular technical skill is important to the job you should be ready to answer questions about it too.
Remember that it's not a traditional test
Not every interview question has a right answer. Employers ask some questions (like what is your greatest weakness) to check your self-awareness, adaptability, and other important professional traits. In such scenarios, show the logic behind your answer to demonstrate you can adapt quickly and field difficult questions. You can buy extra thinking time by repeating the question as you answer. For example:
What is your greatest weakness?
That's a great question. What is my greatest weakness? I'd have to say that it's probably public speaking. For a long time, I was terrified of addressing large groups of people, but I've made great progress in managing this fear in recent years. For me, overpreparation is the best preparation, and I find that by making detailed memos before each presentation, I feel more at ease when it's my time to speak.
Always look for the silver lining
Questions about reasons for leaving a previous job or handling a difficult situation can sound like an invitation to talk critically about your previous employers and coworkers. However, you should avoid negativity. Complaining about your previous workplace is unprofessional and can be misinterpreted as a sign that you work poorly with others. Focus on the positives that you and your former colleagues achieved.
For example, here's how you might answer a question about leaving a previous job:
I enjoyed working with my former coworkers (even if you didn't), but wanted to reorient my career toward [INDUSTRY].
3. How can I handle nerves before and during a job interview?
One of the best ways to handle nerves is to be well-prepared for the interview. Research the company, prepare answers to common questions, and practise by having mock interviews with a friend or relative.