Employers in 2023 are on the lookout for candidates with computer skills. By 2030, around 75% of employees will need technology skills to be considered for roles, no matter what industry they work in.
So here are the top 7 computer skills you need to get hired in 2023, along with some ways to present these skills on your CV: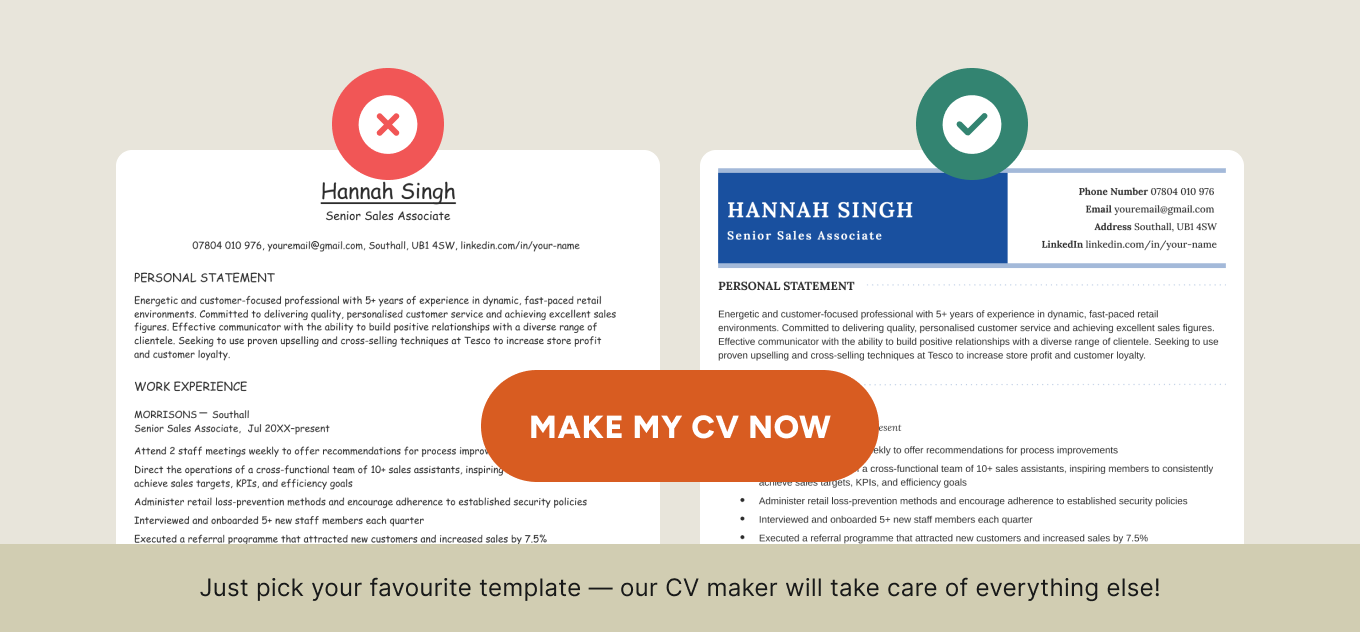 1. Word processing
Word processing software is anything that makes text documents. The most common software packages are Microsoft Word, which you can install on your computer or use online, and Google Docs, which is exclusively an online program.
Other word processing software you might know how to use are:
Employers expect you to be able to use word processing software to create all kinds of documents, from memos and letters to reports and draft marketing materials.
One way of showing employers you know how to use word processing software is by demonstrating you know how to write a good CV (although there's no harm in using a CV template or CV maker to speed the process up).
You should be able to use word processing software to effectively:
Here are some example CV work experience bullet points that give you an idea of how you can prove your word processing skills:
Took minutes at 100+ meetings of the senior executive team
Effectively used word processing software to prepare and update patient records, ensuring 100% accuracy in record-keeping
Utilised advanced features of word processing software to optimise keyword-rich content for SEO purposes, leading to a 30% increase in website traffic and improved search engine rankings
2. Spreadsheets
You'll use spreadsheets to crunch numbers, keep track of budgets, and create informative graphs. The most popular examples of spreadsheet software are Microsoft Excel and Google Sheets.
Here are some example bullet points to show employers you're capable of using spreadsheet software:
Created and maintained inventory spreadsheets, resulting in a 20% reduction in supply shortages and ensuring timely restocking of essential veterinary supplies
Managed employee schedules using spreadsheet software, optimising staff allocation and ensuring efficient usage of resources, leading to a 47% decrease in scheduling conflicts
Developed and maintained customer contact lists using spreadsheet software, resulting in streamlined communication processes and a 25% improvement in response time to customer inquiries
3. Social media
Social media includes platforms like:
Employers are looking for applicants who know how to use social media platforms due to their importance in modern communication and marketing.
Proficiency in social media demonstrates digital literacy and the ability to engage with customers, create successful campaigns, analyse data, and stay updated in the digital landscape, providing a competitive edge to your application, especially if you're writing a social media CV or a marketing CV.
Here are some example bullet points to inspire you as you write about your social media skills:
Grew TikTok following by 17% by creating, uploading, and sharing 100+ short videos featuring our products
Managed social media advertising budget of £10,000, achieving a 25% increase in conversion rates and generating £50,000 in revenue through targeted ad campaigns
Implemented a content calendar and posting schedule, resulting in a consistent 20% increase in social media engagement
4. Email
You'll need to use email to communicate with your colleagues, connect to clients, and liaise with external vendors.
The most popular email service is Gmail but you might also need to use Outlook, AOL, or Yahoo.
Here's what to include in a CV to display your email skills:
Managed a high volume of incoming emails, maintaining a response time of less than 24 hours and achieving a 95% customer satisfaction rating
Organised and streamlined email communication by implementing email management tools and strategies, resulting in a 30% reduction in email backlog and increased team efficiency
Developed and executed an email marketing campaign that achieved an open rate of 25% and a click-through rate of 15%
5. Graphic design
Graphic design skills can come in handy even if you're not a graphic designer. For example, you can provide mockup designs to full-time graphic designers, make your own basic graphics, or make quick edits to images you already have.
Some of the key graphic design software you might be expected to use include Figma, InDesign, and Photoshop.
Here are some graphic design work experience bullet points to inspire you: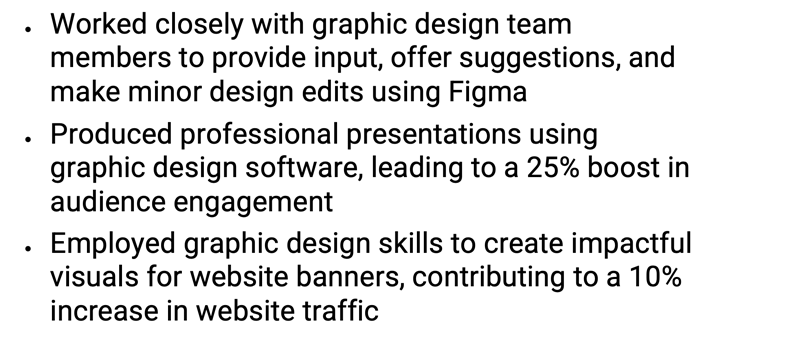 6. Cloud computing
Cloud computing refers to using web services to create, modify, and distribute work files. Commonly used tools are Google Drive, Dropbox, and Apple iCloud.
Here's how to show your cloud computing skills on your CV:
Used Dropbox to securely store and retrieve critical data, ensuring data availability and disaster recovery preparedness with a 99.9% uptime record.
Streamlined team collaboration by implementing Google Drive, resulting in a 40% reduction in email attachments
Utilised cloud-based customer service platforms, such as Salesforce Service Cloud and Zendesk, to efficiently manage customer inquiries, resulting in a 20% decrease in response time
7. Communication software
The number of people working fully or partly from home has increased, and employers expect you to remain in touch by using communication tools like Slack and Microsoft Teams.
This software allows you to send messages, make calls, and share documents and other files with your colleagues.
Employers need employees who can use instant messaging software like Slack or Microsoft Teams to communicate quickly, collaborate effectively, and share information in real-time, leading to improved productivity and teamwork.
Make your CV eye-catching by including bullet points that prove you're capable with communication software. Here are some examples to get you started:
Organised and participated in 50+ virtual meetings and discussions using Slack
Effectively utilised Microsoft Teams in teaching environments, fostering real-time student engagement and communication to provide 50+ hours of one-on-one tutoring
Proficiently used Microsoft Teams as a security guard, enabling quick communication with team members in emergency situations and timely response to incidents
Related CV and cover letter examples
Now that you know what computer skills you'll need to get a job, look at some CV examples written by applicants for jobs that commonly require computer skills:
And here are cover letter examples to look at to help you build a cover letter too: