If you know how to write a cover letter for a job, you'll know that carefully tailoring your content to the specific job description is essential.
But what if there isn't a job description?
What if you're contacting a company because you want to work for them specifically and want to find out about unadvertised job opportunities?
You write a speculative cover letter.
In this article, we'll cover everything you need to put in a speculative job application letter that wins over employers and reveals hidden job opportunities. That includes: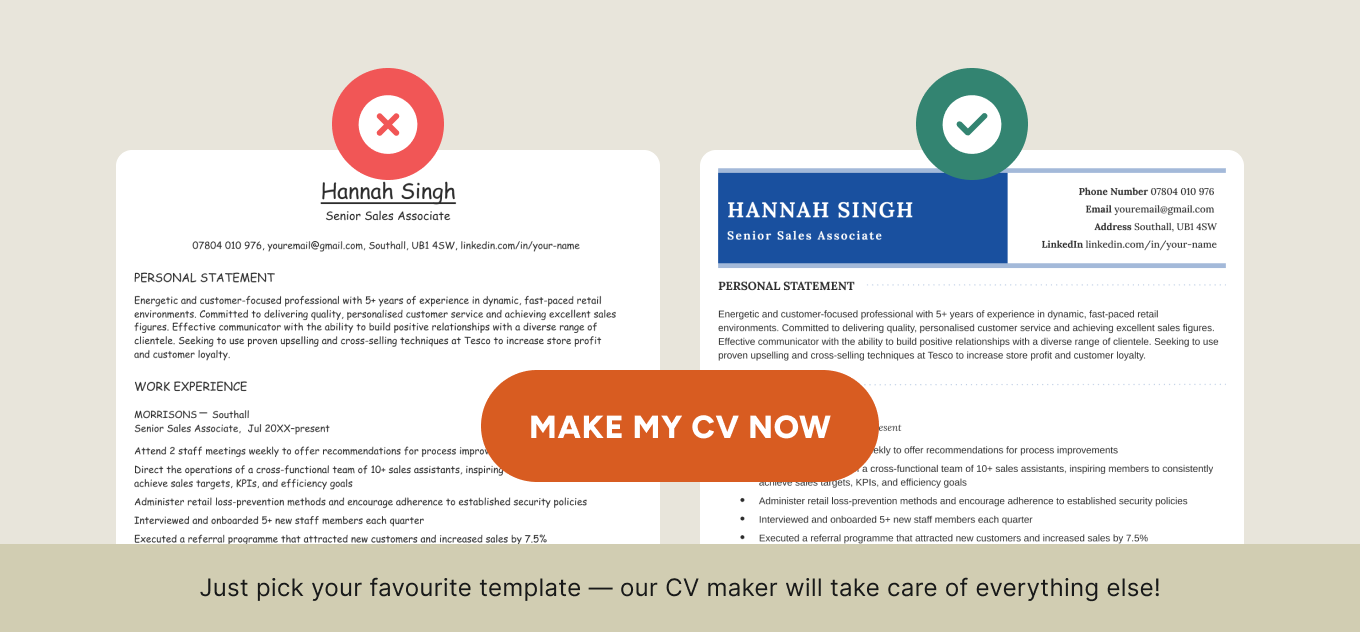 Speculative cover letter example
Here's the cover letter format for a speculative cover letter. You can download this example, or copy and paste it into your word processor.
Download This Speculative Cover Letter Example
Speculative Cover Letter Text Format
21 June 2023
Abigail Yahn
Five Lives
12 Bonhill Street
London
EC2A 4BX
07123 456 789
Dear Ms Yahn,
I'm writing to inquire about future job opportunities at Five Lives. As a software developer with a background in health care apps, I was inspired by your mission of developing machine-learning tools for detecting dementia risk. I'm eager to contribute my expertise in Android Development to your project.
My interest in Five Lives stems from my passion for health care technology and my belief in the significant impact that software can make to people's quality of life and access to preventative care.
Last year, during the final term of my Computer Science degree at Queen Mary University of London, I leveraged big data to develop a predictive model of hospital readmission rates. The project made me aware of the many underlying health conditions and social factors that contribute to dementia risk. Reading about how Five Lives blends medical expertise, technical expertise, and gamification to address these challenges, I knew that your organisation is where I want to contribute to this area of cognitive care.
In addition to your innovations in health care, I'm drawn to Five Lives because of your company culture. I work best in informal, team environments, so the workplace at Five Lives is somewhere I would thrive. I appreciate that despite being a remote team, you also meet for regular brainstorming sessions and workshops so employees can develop through skill sharing and collaboration.
Thank you for considering my application. I hope that Five Lives will consider me for any opportunities in your product and development departments. I've attached my CV with full detail of my relevant technical skills and experience. You can reach me at 07123 123 123 or j.pickering@email.com.
Sincerely,
Josh Pickering
What is a speculative cover letter?
A speculative cover letter is a cover letter that you send to a company that isn't advertising for a job. The purpose of doing so is to find out if the employer has any job opportunities that you would be a good fit for.
You often submit speculative cover letters when you're interested in working for a specific company rather than taking on a specific role.
For example, if you were completing a digital marketing degree and there was an advertising agency that resonated with you, you might send out a speculative cover letter ahead of graduation to gauge what opportunities might be available in the near future.
Though writing a job application letter for a specific position is often a faster way of finding employment, writing a speculative cover letter has several advantages:
Employers will likely contact you first when relevant opportunities become available
You can find out about vacancies that haven't been advertised yet
It makes you look enthusiastic because you actively reached out to the employer
How to write a speculative cover letter (in 5 tips)
Because you're not applying for a specific advertised job, speculative cover letters differ from non-speculative cover letters.
Here's how to write a speculative cover letter that leads to the kinds of opportunities you're looking for:
1. Find the right employers
You're thinking about writing a speculative cover letter because you want to work for a specific kind of employer or in a certain industry. Therefore, it's important to start by clearly defining what you want to achieve with your current career move.
Get informed by researching organisations that already interest you. What do you like about their company cultures, values, and services? Note down any attributes that resonate with you and take note of any common themes that arise.
Knowing what kind of organisations match your values will help you narrow your search and build a valuable network of potential employers that you'd love to work for.
2. Understand the employer's needs
Once you know which employers you want to work for, you need to know what they value in an employee. Successful job hunting is all about identifying skill gaps and requirements and showing how hiring you will address those needs.
Make a list of potential job titles you would be a good fit for at your target employer. A good approach for building this list is to check their About Us and Careers pages, as well as their LinkedIn profile.
Once you have your list, search recruitment sites and job boards for similar positions and take note of any common skills and requirements. In doing so, you'll put together a picture of what employers will likely appreciate in a job candidate, and this will help you put together a more engaging, purposeful cover letter.
3. Know how to start a speculative cover letter
The way you start a speculative cover letter differs from how you start a cover letter ordinarily because you aren't responding to an advertised position.
Your cover letter introduction should include three elements:
A brief but professional self-introduction
One or two sentences showing your interest in the company
A clear statement of why you're writing to the employer
Here's an example of a strong speculative cover letter opening statement: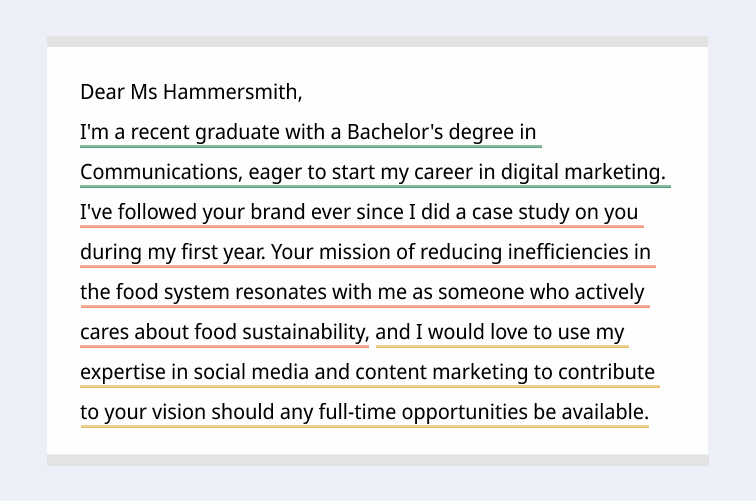 Notice that in addition to including the three essential elements of a speculative cover letter opening, the job applicant also highlights two specific knowledge areas: social media and content marketing.
Specifying relevant expertise helps hook the employer because it shows that you understand their needs and can help them achieve their goals.
4. Write up to half a page
It's important to know how long a cover letter should be — especially if you're writing a speculative cover letter.
Even if you've done thorough research, employers find lengthy cover letters off-putting and may give up on your carefully crafted application if it's too long and wordy.
Aim to write half a side of A4 — that's 250 words if you're writing an email cover letter.
A cover letter of this length should be able to cover your main reasons for wanting to work for the employer. If you need to write more, up to 400 words is OK, but employers won't want to read anything that's over a page long.
5. End your speculative cover letter by stressing your value and inviting the employer to contact you
Similar to how you would normally end a cover letter, close your speculative cover letter by expressing gratitude to the manager for reading your application and reiterating your value to their organisation.
Because you're not applying for an official vacancy, you can stress your value by either highlighting values that you share with the employer or by mentioning specific expertise if you've noticed they're currently experiencing a skill gap:
Thank you for considering my application. I'm thrilled about the possibility of contributing to your team and furthering your goal of affordable access to online education.
Just as with a standard cover letter, you should include a call to action, inviting the employer to contact you at their convenience. However, you should avoid directly asking for a job interview as this may be off-putting to some employers. Remember, they're not openly looking for an applicant just yet.
Please feel free to contact me at your earliest convenience to discuss how I can contribute to your team. I would be delighted at the possibility of working with you.
Remember to close the letter with a professional sign-off. 'Sincerely', 'Best regards', and 'Yours faithfully' are some suitable examples.
Frequently asked questions about speculative cover letters
Need a little extra help with your speculative cover letter? Here are the answers to three common questions about speculative cover letter writing:
1. Should you write a speculative cover letter for law?
You should write a cover letter for law if you're making a speculative application.
Writing a speculative cover letter for a legal position can lead to opportunities that haven't been advertised. They also allow you to build a case for yourself as a potential hire before you make a formal application.
When writing a speculative cover letter, it's important to maintain a personable yet professional tone and tailor your content to the firm that interests you.
Try to find the best person to contact, ideally a decision maker, and address your letter to them. After sending your letter, follow up with a phone call and treat any opportunity to meet as you would a job interview.
2. What is a networking cover letter?
A networking cover letter is a cover letter you write to reach out to someone in your professional network for potential job opportunities.
Unlike a standard cover letter, which accompanies an application for a specific position, a networking cover letter focuses primarily on building relationships and gathering information.
Networking cover letters are effective at expanding your professional network, accessing hidden job markets, and gaining valuable insights and advice from industry insiders.
3. What is the difference between a speculative and non-speculative cover letter?
The main difference between a speculative and a non-speculative cover letter lies in the timing of their submission.
Speculative cover letters are not directed at specific job opportunities. Their purpose is to express interest in working with an employer. Submitting speculative cover letters is a proactive approach that can help you identify potential opportunities or build professional relationships with an employer.
Non-speculative cover letters, on the other hand, are written in response to advertised positions, such as the ones you'd find on job boards or LinkedIn. Because there's an advertised position, your non-speculative cover letter should explain why you're a good fit for the specific job you're applying for. Therefore, you should use the job description as a guide when writing your cover letter, whereas the company's culture and values are a better guide when writing a speculative cover letter.