There's not one magical cover letter font that'll convince employers to hire you when they read your application. The best font for cover letter writing is any one that's easy to read (e.g., Times New Roman) and the right size (10–12 pt). These are the best eight we've seen: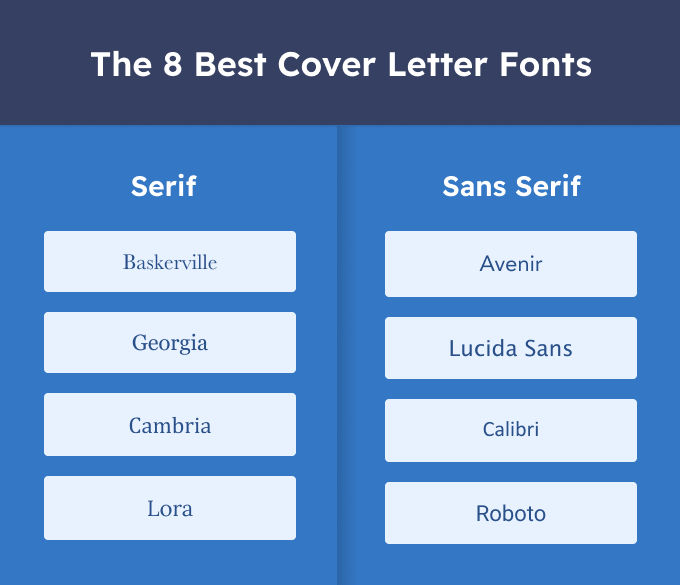 Any of the fonts in the infographic above will make your cover letter appear professional. Still, you can click on each one below to see in-context examples, learn more about it if you're having trouble deciding, and evaluate how they'll affect your cover letter's structure. Or skip to our advice on how to pick the best cover letter font for your specific job application.
1. Avenir
A straightforward, super-clear font, Avenir is perfect for your cover letter. And reputable companies like Land Rover and the Co-operative Group have used Avenir to communicate with their customers.
If multi-billion pound companies trust Avenir, it'll help you write a standout cover letter too.
2. Lucida Sans
Readability should be your main concern when picking a cover letter font. Lucida Sans is so easy to read that the Bureau of Internet Accessibility lists it as an option for making content that even those with reading disabilities can access.
3. Calibri
Now, you may be thinking that Calibri is overused — after all, it was the default font in Microsoft Word for more than a decade, and when the UK Home Office updated its font usage to increase readability, it chose Calibri.
But Calibri is a good cover letter font because it's familiar. Readers will naturally dive into your content without being subconsciously distracted by a font they've never seen before.
4. Roboto
We recommend Roboto for cover letters because it's designed to create a 'natural reading rhythm', per Google Fonts. Getting recruiters into such a rhythm helps ensure they read slowly enough to get a clear understanding of your relevant skills and experience.
5. Baskerville
Although it's an old typeface (created in the 1750s), Baskerville is still a great font to use when you make a cover letter. Its classic serif curls communicate a sense of authority. But don't take our word for it — a study with 45,000 participants found that a quote was much more trusted when written in Baskerville than when it appeared in other common serif and sans serif fonts.
But don't just depend on Baskerville's authority to make the achievements you outline in your cover letter believable. In addition, give clear examples of your abilities and use hard numbers to show employers you've achieved valuable results.
6. Georgia
Georgia makes almost all the top lists of cover letter fonts because it's a traditional-style font that's designed for reading on-screen. That's why one of the world's most authoritative sources, the New York Times, has used it.
7. Cambria
According to design experts, Cambria is an updated alternative to Times New Roman. And Microsoft notes Cambria's diversity, saying the font is 'designed for on-screen reading and to look good when printed at small sizes'.
So Cambria is a good option for your cover letter whether you need to send a digital version or print it off to hand to an employer in person.
8. Lora
Unlike a well-written CV — which has just one short paragraph in a personal statement followed by visual elements like headers and bullets — a cover letter should have multiple paragraphs of text. So you need a font that's easy to read in paragraphs.
Lora is designed for reading in chunks, so it's especially useful if you don't include a bulleted list in the middle of your cover letter to break up the text.
How to pick the best font for cover letter impact
Follow these four steps to pick the ideal cover letter font based on your situation:
1. Check your CV's font
Your cover letter should use the same font you use on your CV. Doing so is important because it:
shows your attention to detail
helps the employer keep your application in order (they may confuse you with another applicant otherwise)
Sure, if you've written great content, you could probably get away with using different fonts to present the information you put on your CV and cover letter if they look similar and the employer doesn't look too closely at your application.
But why take that risk? Using the same font is an easy detail to get right — especially if you use a CV maker that builds a matching cover letter. So get this detail right and give yourself that much more of a chance of landing an interview.
2. Decide between a serif or sans serif font
Our list of good cover letter fonts above includes both serif fonts (the ones with the flourish at the ends of each letter) and sans serif fonts (no flourishes).
A readable serif or sans serif font works for any cover letter. However, picking the right style can help you put a subtle final optimising touch on your cover letter. To choose between a serif and sans serif font, consider whether you're:
Sending a digital copy of your cover letter: Sans serif fonts are easier to read on-screen than serif fonts are, so use a sans serif font when you email or upload your cover letter.
Printing your cover letter: Serif fonts are designed for reading on printed pages, so whenever you submit a hard copy of your cover letter, it's a good idea to use a serif font.
Targeting a modern role: If you're applying for a job in a contemporary field, like software development or digital marketing, use a sans serif font to give your application a modern feel.
Applying to a traditional company: Targeting an organisation in a long-established industry like banking or academia? Use a serif font on your cover letter to convey your traditional professionalism.
But don't overthink your font-style choice: Sans serif fonts have been on printed pages for over 200 years, so they're technically just as traditional as serif fonts — even more so if you consider ancient carvings.
And some serif fonts are designed for reading on-screen (e.g., Georgia) as well as on a physical page. Plus, most books are still created using serif fonts, and modern people are used to reading their books on tablets. So your serif-font cover letter won't faze most readers when they see it on their computer screen.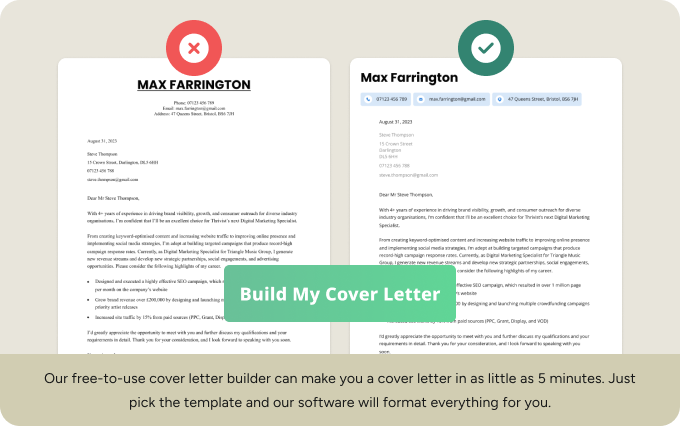 3. Check your white space
Different fonts take up different amounts of space. So you can choose a font based on your cover letter's spacing needs:
If you need to fill blank space that makes your cover letter look empty, use a font that takes up extra room, such as Lucida Sans or Lora. If one of those fonts doesn't fill enough space, there's nothing wrong with downloading Newer Times Roman, a font designed to take up space.
If you need to shorten your content (a cover letter should be one page long at most), Calibri and Baskerville are the most space-saving options on our list. And if you still can't get your cover letter onto just one page, Adobe recommends Arial Narrow as an efficient yet readable font.
4. Poll your friends
When you stare at different fonts, trying to make the perfect choice for your cover letter, the subtle differences between typefaces can blur together and confuse you.
To solve this problem, consider creating multiple versions of your cover letter, each using one of your top font choices. Then, send your options to friends to get their opinions. If you're in a chat group or feel comfortable sharing on an online forum, you could even create a poll to make helping you pick the perfect cover letter font fun and interactive.
What size font should a cover letter have?
As mentioned above, the best size for your cover letter font is 10–12 pt. Whenever possible, use a 12-pt font to keep your cover letter easy on the eyes, but if you need to save space, you can go down to 10 points.
Just be aware that font sizes and spacing vary quite a bit. So if your font doesn't look comically large at 13 points or is still super legible at 9.5 points, go ahead and break our sizing rule.
Also, you should use an extra-large font (28–35 pt) for your name to make it stand out.
And you can make your contact information and the contact person's details in your cover letter heading smaller than your body text. Doing so makes your cover letter easier to skim. Just don't make that information so small that readers have to squint to read it clearly — you don't want them to misread your email or phone number and be unable to reach you to schedule an interview.
Here's an example of a cover letter that uses a 35-pt font for the name, a 10-pt font for the contact information, and a 12-pt font for the body. The cover letter's content is templated, so you can download it (for free) and use it to write yours: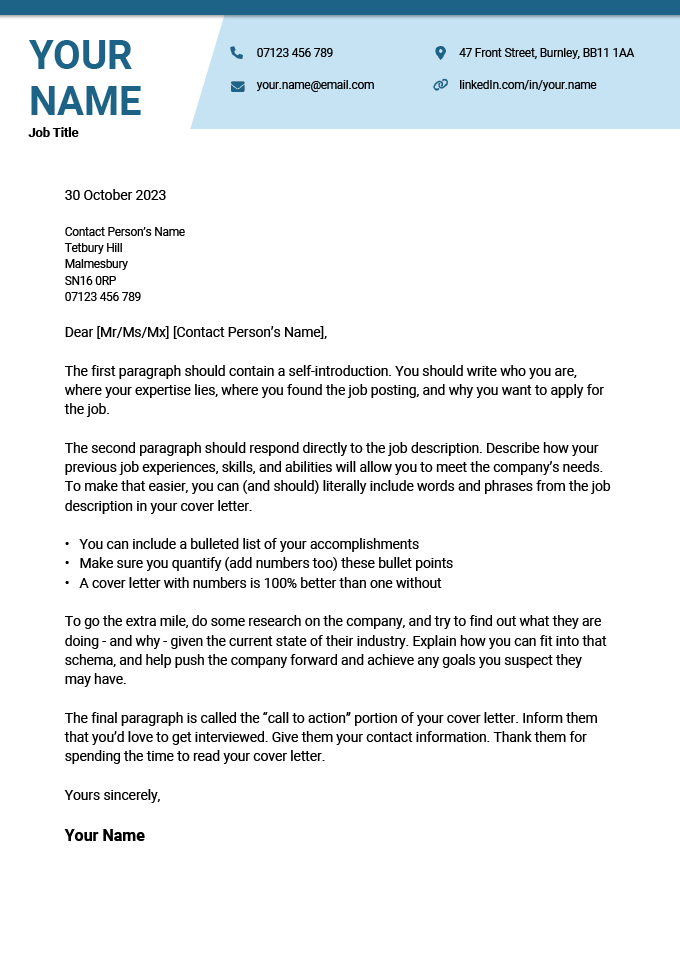 Download Cover Letter Template
Cover letter font–related FAQs
Below we answer three commonly asked questions about cover letter fonts:
1. What's the best cover letter spacing?
The best cover letter spacing between lines is 1–1.5 spaces. Double-spacing makes a cover letter look like a school essay (ie., unprofessional), while anything below single-spaced crams your text too close together, making it difficult to read.
On a related note, set your cover letter's margins to 1.27–2.5 cm. Usually the default margins in your writing software are fine, but you can make them larger to extend your text and make the page appear full, or shrink your margins to fit extra text on a single page.
2. What cover letter font styles can I use?
Using different font styles can help you make your top qualifications easy for employers to find in your cover letter. Here are the cover letter font styles you can use:
Bold
Putting important information in bold text makes it stand out. But don't overuse bolded text, or you'll achieve the opposite effect.
Italic
Another way to make words in your cover letter stand out is by italicising them. But italic text is best for emphasising emotions in your writing (e.g., 'I've never met a spreadsheet I didn't love') because they're not as easy to read as bold text is.
Underlined
You can use underlined text to emphasise both information and emotions in your cover letter. But only use underlining in a printed cover letter because people reading on-screen may associate the underline with a clickable link.
Coloured
The main place you can use coloured text is in your name in your cover letter header as a design feature. Just make sure the colour is easy to read and professional (e.g., dark blue or green rather than neon yellow).
You could match the colour of any bolded text in your cover letter body to your title, but consult with a professional designer to make sure it looks good.
All caps
The only place you can use ALL CAPS is for your name in a cover letter header. Doing so helps your name stand out to employers. Never use all caps in your cover letter body because it'll make the reader feel like you're yelling at them.
3. What's the best sans serif font for a cover letter?
There's not one best sans serif font for a cover letter. We recommend Avenir, Lucida Sans, Calibri, and Roboto above, and here are seven more great sans serif options:
Helvetica
Arial
Trebuchet MS
Raleway
Verdana
Lato
Corbel