To increase your chances of landing your target job, you need to present your skills and accomplishments using the right CV format for your profession and background. The job market is competitive, and the formatting of your CV can give your application an edge.
We'll show you the difference CV formatting can make to your application by exploring the most common CV layout, situation-specific templates, and formatting tips so you can put together the perfect application.
Make sure you check out industry-specific CV examples for ideas on what to write in your CV. Or if you'd prefer your formatted CV in a different colour or design, you'll find more options in our library of free CV templates.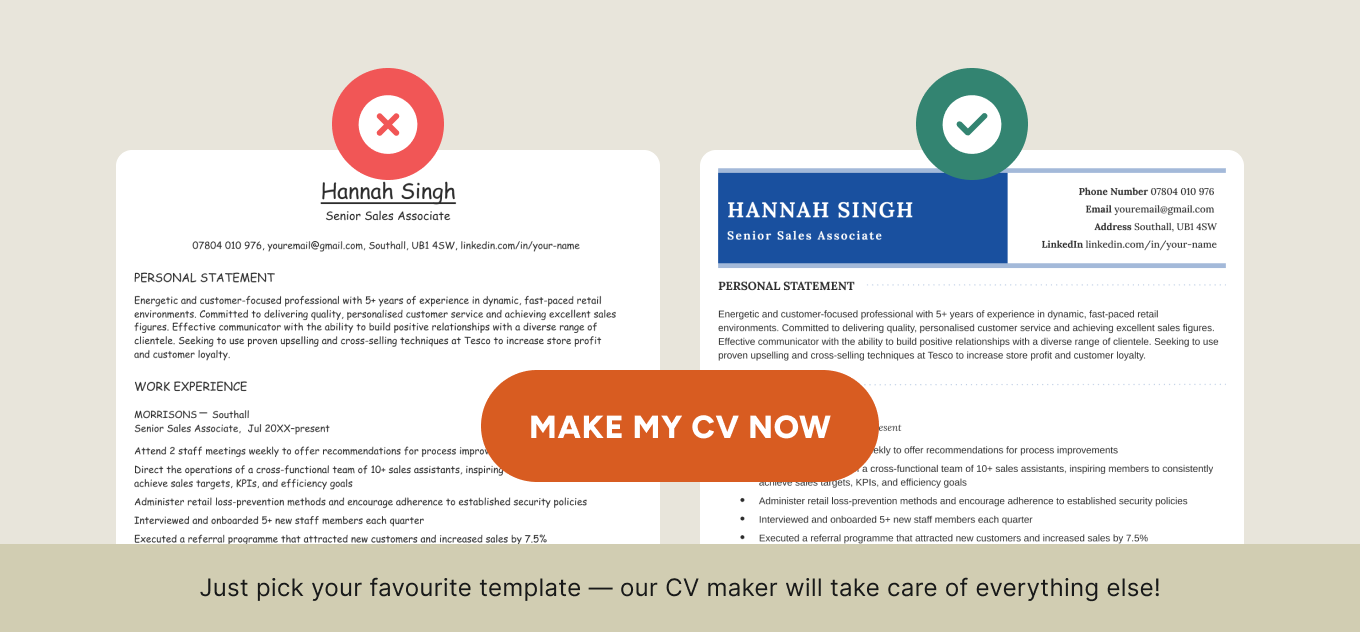 Chronological CV format
Despite the fancy name, the chronological CV is one of the most common formats that professionals use. It's suitable for most job applications (provided that you have some practical experience) and is the layout that employers are most familiar with.
A chronological CV emphasises your work experience and career progression. It places your work history near the top of your CV, with your previous jobs listed from newest to oldest. To help you understand the chronological format, here's a video explaining its key features:
This top-to-bottom CV layout lets recruiters easily read your information and decide if they want to interview you:
When should I use the chronological CV format?
You should use the chronological CV format if you already have a few years of work or volunteering experience and want to showcase your career progression. This standard format is also effective if you want employers to see that you've consistently worked in a specific role or field.
How to format work experience on a chronological CV
List the following details for each time you put work experience on your CV:
company or organisation name
town you worked in
dates you worked at the organisation
3–5 bullet points detailing your duties and accomplishments
To make your work experience bullet points more impactful, begin each statement with a CV action verb such as 'Produced', 'Spearheaded', or 'Managed' to show employers you're a leader in your field.
Additionally, include hard numbers in your CV whenever you can. Hard numbers like percentages, revenue earned, and time worked demonstrate the results of your work and draw attention to your strongest achievements.
Chronological CV format example
This is an example of a CV that uses the chronological CV format: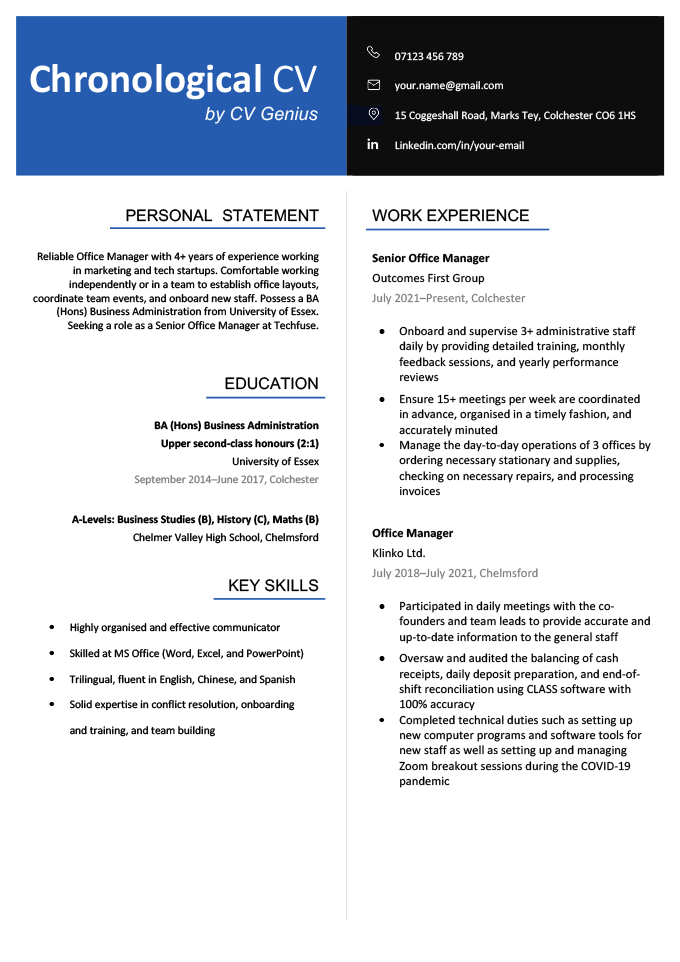 Download This Chronological CV Format (Word)
Chronological CV Format Template (Text Version)
PERSONAL STATEMENT
Reliable Office Manager with 4+ years of experience working in marketing and tech startups. Comfortable working independently or in a team to establish office layouts, coordinate team events, and onboard new staff. Possess a BA (Hons) Business Administration from University of Essex. Seeking a role as a Senior Office Manager at Techfuse.
WORK EXPERIENCE
Senior Office Manager, Outcomes First Group
July 2021–Present, Colchester
Onboard and supervise 3+ administrative staff daily by providing detailed training, monthly feedback sessions, and yearly performance reviews
Ensure 15+ meetings per week are coordinated in advance, organised in a timely fashion, and accurately minuted
Manage the day-to-day operations of 3 offices by ordering necessary stationery and supplies, checking on necessary repairs, and processing invoices
Manage a travel budget of £10,000, allocating funds for petrol, lodging, and food
Office Manager, Klinko Ltd.
July 2018–July 2021, Chelmsford
Participated in daily meetings with the co-founders and team leads to provide accurate and up-to-date information to the general staff
Oversaw and audited the balancing of cash receipts, daily deposit preparation, and end-of-shift reconciliation using CLASS software with 100% accuracy
Completed technical duties such as setting up new computer programs and software tools for new staff as well as setting up and managing Zoom breakout sessions during the COVID-19 pandemic
Trained 9 new employees, 3 of which earned management positions within 1 year of their start dates
Office Coordinator, Medican Denistry
July 2017–July 2018, Southend-on-Sea
Promptly contacted 20+ patients an hour and established appropriate payment plans based on each patient's insurance coverage plans
Answered and managed 100+ incoming and outgoing calls a day while recording accurate messages
Maintaining and updating filing, inventory, mailing, and database systems using a computer while maintaining 98% accuracy
EDUCATION
BA (Hons) Business Administration
Upper second-class honours (2:1)
University of Essex
September 2014–June 2017, Colchester
A-Levels: Business Studies (B), History (C), Maths (B)
Chelmer Valley High School, Chelmsford
KEY SKILLS
Highly organised and effective communicator
Skilled at MS Office (Word, Excel, and PowerPoint)
Trilingual, fluent in English, Chinese, and Spanish
Solid expertise in conflict resolution and onboarding
HOBBIES & INTERESTS
Playing the piano and guitar
Watercolour painting
Making flower arrangements
Alternative CV formats for specific jobs and situations
Though the chronological CV format is by far the most widely used, other formats might be more suitable for your application depending on your experience level and industry.
To show you how best to format your CV for your target role, here are some of the best CV formats for specific jobs and situations.
1. Skills-based CV format
If you're writing a CV with no experience or switching careers, a skills-based CV can help you emphasise your abilities and specialised knowledge and mask your lack of work experience. It does this by making your skills section (not your employment history) the largest part of your CV.
Here's how a skills-based CV is formatted:
Skills-based CV format example
Below is an example of a skills-based CV for a 16 year old who's applying for a lifeguard position. This skills-based CV format contains a small work experience section. However, the skills section includes 3–5 detailed bullet points to represent each of the applicant's relevant skills: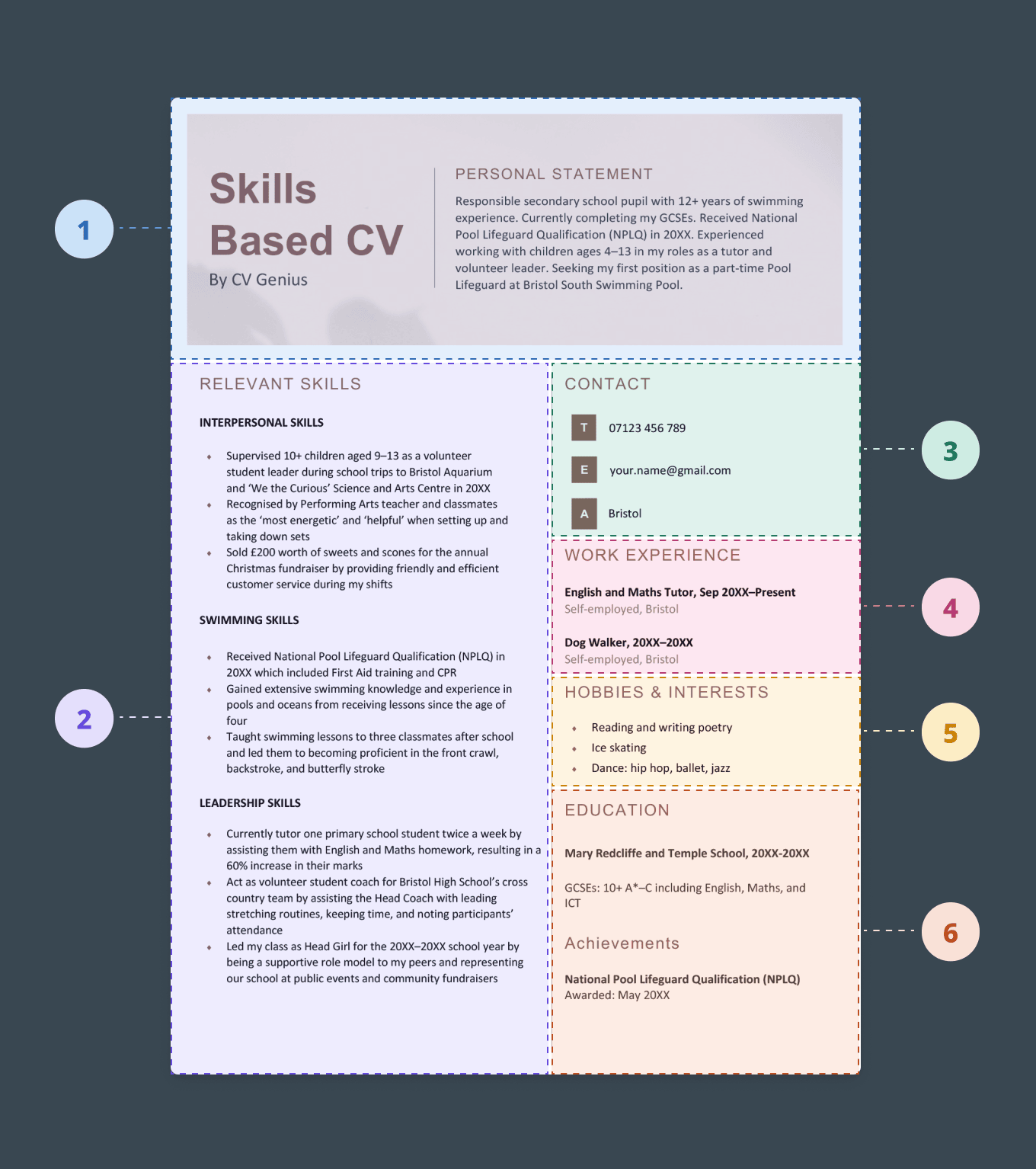 Download This Skills-Based CV Format (Word)
Skills-Based CV Format Template (Text Version)
PERSONAL STATEMENT
Responsible secondary school pupil with 12+ years of swimming experience. Currently completing my GCSEs. Received National Pool Lifeguard Qualification (NPLQ) in 2023. Experienced working with children ages 4–13 in my roles as a tutor and volunteer leader. Seeking my first position as a part-time Pool Lifeguard at Bristol South Swimming Pool.
RELEVANT SKILLS
Interpersonal Skills
Supervised 10+ children aged 9–13 as a volunteer student leader during school trips to Bristol Aquarium and 'We the Curious' Science and Arts Centre in 2022
Recognised by Performing Arts teacher and classmates as the 'most energetic' and 'helpful' when setting up and taking down sets
Sold £200 worth of sweets and scones for the annual Christmas fundraiser by providing friendly and efficient customer service during my shifts
Swimming Skills
Received National Pool Lifeguard Qualification (NPLQ) in 2023 which included First Aid training and CPR
Gained extensive swimming knowledge and experience in pools and oceans from receiving lessons since the age of four
Taught swimming lessons to three classmates after school and led them to become proficient in the front crawl, backstroke, and butterfly stroke
Leadership Skills
Currently tutor one primary school student twice a week by assisting them with English and Maths homework, resulting in a 60% increase in their marks
Act as volunteer student coach for Bristol High School's cross country team by assisting the Head Coach with leading stretching routines, keeping time, and noting participants' attendance
Led my class as Head Girl for the 2022–2023 school year by being a supportive role model to my peers and representing our school at public events and community fundraisers
WORK EXPERIENCE
English And Maths Tutor, Sep 2022–Present
Self-employed, Bristol
Dog Walker, 2021–2023
Self-employed, Bristol
HOBBIES & INTERESTS
Reading and writing poetry
Ice skating
Dance: hip hop, ballet, jazz
EDUCATION
Mary Redcliffe and Temple School, 2018–2023
GCSEs: 10+ A*–C including English, Maths, and ICT
ACHIEVEMENTS
National Pool Lifeguard Qualification (NPLQ)
Awarded: May 2023
2. Student CV format
If you're looking for a part-time job to do while you're at uni, you'll need to show employers a balance of skills and practical experience. One of the most widely recognisable ways to do this is to organise your CV so that it focuses on your key skills and work experience. An advantage of this approach over the skills-based CV is it's more recognisable to employers. It's also ideal for applicants who have a little relevant experience and want to emphasise it in their application.
Best format for a part-time student job
Personal statement
Skills section
Relevant experience
Education
Leading with a prominent skills section draws the employer's attention to what you know how to do. You can then back up these highlights by giving examples of how you've applied these skills in your relevant experience section.
Here's what your student CV might look like when properly formatted:
Download This Student CV Format (Word)
Student CV Format Template (Text Version)
PERSONAL STATEMENT
Friendly barista with over 2 years of experience in retail and hospitality. Comfortable working in fast-paced environments, handling orders, and maintaining great customer service, even during peak hours. Seeking a part-time barista position at a café that shares my love of home baking and single-origin coffee.
SKILLS
Customer service
Preparing coffee and tea-based drinks
Upselling
Inventory
Time management
VOLUNTEER EXPERIENCE
The Breakfast Club, Server
Lincoln, Jun 2022–Present
Provide prompt and efficient dining room service to customers, delivering a high level of customer service and professionalism
Helped kitchen manage stock and reduce food waste by 20% by strategically upselling target menu items and specials
Prepare and serve alcoholic drinks, taking thorough measures to ensure patrons are of legal drinking age
Organise and execute a successful charity event at the restaurant, raising over £2,000 for a local food bank
Implemented a new system for managing reservations, delivering a 10% boost to table turnover during peak times
World of Pets, Retail Assistant
Peterborough, Jun 2020–May 2022
Developed a loyal customer base by providing friendly, personalised service
Stocked and kept detailed records of inventory, ensuring shelves remained fully stocked at all times
Fed and cared for small animals (hamsters, guinea pigs, rabbits, and chinchillas) and cleaned out 4 enclosures daily
Processed customer orders at the till and assisted customers in selecting products for their pets, leading to a 20% increase in upsell products
Trained 10 new staff members in my second year, ensuring they knew how to provide adequate care for the animals and handle the general smooth running for the shop
EDUCATION
University of Leicester
BA (Hons) International Relations
Expected graduation: Jul 2025
Peterborough Sixth Form College
A Levels: French (A), Business Studies (B), History (C)
HOBBIES & INTERESTS
Cooking
Ballroom dancing
Photography
Trumpet (completed Grade 4)
3. Graduate CV format
Fresh out of uni and starting your career? The best CV format for you as a graduate is one that leads with your skills or education.
As you've just graduated, you won't have a lot of relevant work experience yet. But you can capitalise on the skills and experience you already gained by listing your skills and education early on, so the employer notices them sooner.
You can also include optional details, such as relevant units, projects, or your dissertation title. Such information showcases how your degree, school qualifications, or certifications have prepared you for the job.
Here's what your graduate CV might look like when properly formatted:
Download This Graduate CV Format (Word)
Graduate CV Format Template (Text Version)
PERSONAL STATEMENT
Motivated business graduate with a BA (Hons) in Sports Management and experience in business analysis. Possess an excellent skill set for a recruitment role, including familiarity with ATS systems, data entry and analysis skills, people skills and interviewing experience. Eager to enter a dynamic recruitment role with opportunities to establish a successful career within Fintech.
EDUCATION
University of Roehampton, Sep 2020–Jul 2023
BA (Hons) Sports Management
Relevant units: Sports Marketing and Sponsorship, Event Management, Sports Law and Ethics
Dissertation: Assessing the Impact of Effective Recruitment Strategies on Team Performance: A Case Study of Professional Sports Teams
Rookwood School, Andover, Sep 2018–Jun 2020
A-Levels: Physical Education (A), Economics (C), Business Studies (B)
RELEVANT EXPERIENCE
Business Analyst Intern, Jun–Sep 2022
27 Development, London
Conducted comprehensive data analysis on over 5000 data points for a key client, identifying key trends and patterns that contributed to a 15% improvement in operations
Collected, processed, and analysed data to help finance and banking clients identify opportunities and areas of improvement
Contributed to the creation of detailed requirement documents, user stories, and process flows for 5 Fintech clients
Assisted in preparing reports and PowerPoints to present findings to stakeholders
Volunteer Performance Sport Staff (Rugby), May 2021–Jun 2022
University of Roehampton, London
Supported the team's performance and success, providing assistance to coaches and support staff and working closely with Men's and Women's rugby teams
Helped with individual player skill development and provide feedback to athletes to enhance their performance
Helped manage team logistics, ensuring smooth coordination of travel, equipment, and scheduling
Supported game day coordination, including equipment setup, ticketing, and crowd management
ADDITIONAL SKILLS
Applicant tracking systems (ATS) — used Workday at Roehampton to manage performance, learning, and career goals of both team members and other employees
Data analysis — developed and applied data interpretation, quantitative analysis, survey design, and visualisation skills during university and my business analysis internship
Networking — applied strong networking skills to identify and recruit new team members and volunteers for the Roehampton rugby teams
People skills — strong team player, always ready to pitch in and help out during high intensity periods as demonstrated by my strong track record in sports event management at Roehampton
Written and verbal communication — excellent report writing and presentation skills as a result of both my internship and business-focused courses during university
HOBBIES & INTERESTS
Long-distance running
Guitar
Write my own sports blog
4. CV format for managers
When hiring for more senior positions, employers start to pivot toward your work history and previous achievements.
A chronological CV format will do the trick when you're applying for a management position, but some additional adjustments will maximise your self-marketing potential.
This sample management CV demonstrates how using a stripped-down design can help you emphasise your extensive work experience and create a strong career arc that demonstrates your readiness to take on greater responsibility.
Download This Management CV Format (Word)
Management CV Format Template (Text Version)
PERSONAL STATEMENT
ACCA and ICAEW-accredited Tax Manager with 7+ years of experience in corporate tax advisory and accounts preparation. Ample experience helping clients meet tax compliance deadlines, preparing detailed tax computations, and making claims for tax relief. Experience supervising junior team members and providing on-the-job training as a team lead at KPMG.
WORK EXPERIENCE
KPMG, London
Tax Advisor, Jan 2021–Present
Oversaw management and delivery of accounts preparation services for my department's Owner Managed Business Client portfolio
Advised business owners on various tax matters, helping them understand their tax obligations and planning for future tax payments
Prepared detailed tax computations and conducted reviews for large and complex clients, ensuring accuracy and compliance with tax laws
Supported clients in making claims for tax relief on technical matters such as R&D and capital allowances, resulting in a total of £500,000 in savings over a one-year period
Onboarded and supervised 6 junior team members, ensuring timely and accurate preparation of claims and other documentation
Deloitte, Manchester
Corporate Tax Associate, May 2018–Dec 2020
Supported the timely delivery of US GAAP reporting to external shareholders by  preparing detailed of annual and quarterly tax calculations for EMEA businesses
Assisted in the successful filing of over 200 tax returns annually by preparing and reviewing corporate tax computations for a variety of clients
Conducted detailed tax computation reviews, identifying potential issues and helping clients avoid over £1 million in potential fines over a two-year period
Built and maintained trusting professional relationships with clients to address their concerns and provide updates on the status of their tax computations
Supported internal tax controls, maintained essential tax records, processed documentation within a SOX environment
EY, London
Junior Tax Analyst, Sep 2016–May 2018
Served as the interface between team leaders and the analyst team, effectively translating requirements and ensuring successful project completion
Constructed and reviewed transfer pricing models, leading to a 30% reduction in errors and discrepancies during audits and litigations
Devised technical strategies to aid in transfer pricing audits and litigation, which contributed to a 20% decrease in litigation cases for the company in 2017
Conducted thorough research on tax legislation and regulations, enabling the team to provide accurate and up-to-date advice to clients, and thereby increasing client satisfaction by 15%
EDUCATION
University of Bath, (2015-2016)
MSc Financial Analysis
University of York (2012-2015)
|BSc (Hons) Mathematics and Finance, first class honours
KEY SKILLS
Transfer pricing
Proficient in Microsoft Excel
Evaluation work
Policy analysis
Negotiation
Excellent communication skills
Conflict resolution
Ability to manage heavy workloads
5. CV format for care assistants
Whether you work at a care home or private residences, you'll need to fulfil multiple roles as a caregiver. For this reason, employers often use skills-based hiring to select candidates for care assistant roles.
Opt for a skills-based or hybrid format when you're writing your care assistant CV. Listing your key skills prominently will help highlight them for the employer and demonstrate that you have the right skill set for the role — even if this is your first job in care.
Download This Care Assistant CV Format (Word)
Care Assistant CV Format (Text Version)
PERSONAL STATEMENT
Dedicated care assistant with proven experience providing assistance and companionship to elderly people in a residential setting. Passionate about supporting users' privacy, dignity, and general well-being. A real people person, I work well with others and can plan shifts and special events with ease. Eager to join a care home where I can help make a difference to residents' lives and advance toward a more senior position.
KEY SKILLS
Personal care
Mealtime assistance
Creation and implementation of care plans
Respect for privacy and dignity
Teamwork
Encouraging physical activity
Promoting a stimulating environment
Flexibility
Strong communication skills
WORK EXPERIENCE
Amblesea Assistance, Torquay
Care Volunteer, Dec 2022 – Present
Visit 3 elderly people weekly as part of the Campaign to End Loneliness, meeting to do activities, bake, and help with tricky errands around the home
Help organise charity events targeting elderly-related issues, including heating bills, care support, pensions and benefits
Review and edit charity emails, leaflets, and other external communications, ensuring writing is consistent, error-free, and ethical
Ran shopping and medical errands for residents at Amblesea's live-in residences
Assisted in the kitchens at Amblesea, helping with meal preparation and serving responsibilities
EDUCATION
New College, Torquay, June 2023
NVQ in Health & Social Care Training
Paignton College, Paignton, Sep 2021 – July 2023
T Level in Health (Distinction)
GCSEs: 8 A–C including Maths, English, and ICT
6. CV format for IT
If you're a developer or software engineer, your IT CV will need a projects section. Employers will want to know what you've accomplished with your programming skills.
A projects section is one of the best ways to show what returns you'll offer if you're added to their team:
Download This CV Format for a Software Job (Word)
CV Format for a Software Job (Text Version)
PERSONAL PROFILE
Software Engineer with 4 years of experience in DotNet and DotNetCore technologies. Proven track record of significantly impacting customer experience through reliable delivery of service implementations. Eager to leverage my skills and experience to enhance the services layer at Access Solutions.
KEY SKILLS
SQL
Proclaim
Continuous integration
DotNet and DotNetCore
Angular
SignalR
HTML/CSS
PROJECTS
E-Commerce Application | June 2023
Developed a complete e-commerce application using DotNetCore for the backend, SQL for the database, and Angular for the front-end.
Real-Time Chat App | Dec 2022
Used SignalR for real-time communication and Angular for the front-end. Stored chat history, user information using SQL.
WORK EXPERIENCE
IT Engineer, June 2021–Present
Swindon Legal, Gloucester
Develop and implement service solutions using DotNet and DotNetCore technologies
Work closely with stakeholders and product management to define and enhance customer-facing applications and services
Defined and developed automated unit tests to uphold software quality and reliability
Streamlined documentation processes to accelerate knowledge sharing across the team, cutting project completion times by 30%
Developed a critical customer-facing application using DotNetCore, achieving a 30% increase in customer engagement
Junior Software Developer, Nov 2019–Jun 2021
Bridgewater Solutions, Cheltenham
Worked on development requirements for the business within Proclaim, focusing primarily on conveyancing firm needs
Reviewed development specifications and discussed optimal strategies to achieve successful development outcomes
Independently managed integrations and documented changes on Proclaim
Developed and implemented a new document template system that reduced document preparation time by 20%
Led the successful integration of a third-party application, resulting in a 15% improvement in case management efficiency
EDUCATION
University of Manchester, Sep 2016–Jul 2019
BSc (Hons) Computer Science
CV formatting tips
Regardless of the format you choose, there are a few things you should always be mindful of when writing your CV. Here are four tips to help you format a CV that gives you the best chance of earning an interview:
Tip 1: Ensure your CV's length reflects your experience
How long your CV should be depends on your level of experience.
The standard UK CV length is two pages, but if you're a recent graduate or have no experience, a one-page CV is acceptable.
And if you're an experienced specialist or applying for executive roles, writing a three-page CV provides more space to highlight your expertise and achievements.
Tip 2: Use an appropriate font and font size
Keep your font size at 10–12 points and use an easy-to-read CV font such as Arial or Times New Roman so employers have no issues reviewing your qualifications.
Tip 3: Optimise your margins
The standard UK CV margins are 2.5 cm, but you can adjust your margins down to 1.27 cm if you need to fit more text onto the page.
When you adjust your margins, just make sure your CV doesn't look either too packed or too empty.
Tip 4: Save your CV as a PDF
Sending your CV in PDF format ensures your CV design retains its formatting no matter who downloads it or what graphics you used.
Frequently asked questions about CV formats
Here are answers to three of the most common questions asked about CV formatting:
1. What's the best CV format?
The best CV format is one that both successfully showcases your most relevant knowledge and is suitable for the industry you're applying to.
In other words, different CV formats will be better at different points in your career.
For example, if you're entering a new industry, then a skills-based CV format will help you repackage your existing experience for the field you're entering.
However, if you're finishing university and looking to carry what you learnt through into a graduate job, then you'll want a CV format that stresses your schooling with a prominent education section high on the first page.
If you're applying to a creative job, the best format could be a video CV (or visual CV) that showcases your personality, visual work, or video editing skills to your target employer.
2. Should I put a picture on my CV?
You shouldn't put a picture on your CV in the UK because it can lead to bias against your age, gender, race, or appearance. Some recruiters will even ignore CVs that include photos because they don't want to be influenced by how you look.
However, if you're applying for a job that's based on your appearance — acting or modeling jobs, for instance — then you should prepare a photo CV that includes a suitable headshot because it'll be useful to the employer.
3. What are the 5 main things your CV should include?
The 5 main things your CV should include are your:
name and contact information
personal statement (also called a CV profile)
relevant experience (professional and volunteer/internship)
education
skills
More CV format FAQs
Click on the links below to learn even more about how to format your CV: