You already know the basics of writing a cover letter — but how do you write a cover letter that outperforms all the others on the employer's desk?
How do you write the perfect cover letter?
In this article, we'll walk you through four tips you can use to finetune your cover letter and give you five different examples for different situations and purposes (we also have a pile of industry-specific cover letter examples you can check if you need even more inspiration).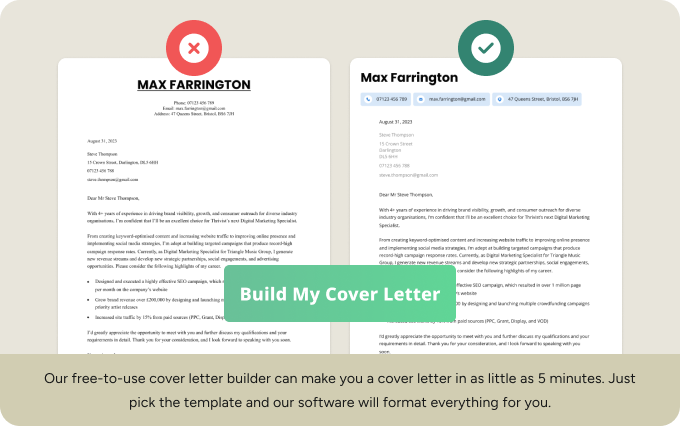 How to write the perfect cover letter
Here are four tips to help you perfect your cover letter and compel employers to call you in for a job interview.
1. Open with a strong elevator pitch
Starting your cover letter right is crucial to standing out from the competition.
Sounding confident and professional is important. But to take it a step further and make the recruiting manager take interest in your cover letter, you need to immediately show them that you understand their needs and are a perfect fit for the position.
So treat your cover letter introduction like an elevator pitch.
In networking, an elevator pitch is a persuasive explanation of an idea, product, or company that you can get across in a few short sentences.
When you're writing your cover letter, you are the product — and a great cover letter introduction will outline who you are and what your unique selling point is.
Therefore, a compelling elevator pitch introduction will include your:
job title
area of expertise — including any essential skills you have
motivation for applying — this could be a key benefit of hiring you or a reason you want to work for the employer
Here's an example introduction that applies this approach perfectly:
I'm writing to apply for the Landscape Gardener position at Green Wellies. I'm an experienced gardener with over 6 years of experience maintaining public parks and large private gardens. With an eagerness to bring my knowledge of native plants and landscaping techniques to historic residences in North Yorkshire, I'm well equipped to continue the current projects at Amberley House.
2. Set the right tone
One of the reasons an employer reads your cover letter is to determine whether you're a good fit for the company culture.
So it elevates your cover letter to understand who your reader will be — and write it in an appropriate voice for them.
Ask yourself the following questions before writing your cover letter
What is the company culture like? Traditional? Laid-back? Collaborative? Independent?
What kind of voice is the job posting written in? Is it sober and professional? Energetic? Humorous?
What does the job description say about the company culture, work environment, or team dynamics?
Then write your cover letter using a suitable tone for the profile you've developed by answering those questions.
Depending on what the company (and job) that you're applying for is like, you may want to write your cover letter in either a formal or a more casual voice.
Here are a couple of examples to give you an idea of the difference tone can make to your cover letter.
Both cover letter paragraphs describe the same experience and relate to the same opportunity, but one is written in a formal voice for a more traditional employer:
Formal cover letter writing
With over seven years of proven experience in creative copywriting and social media marketing, I'm adept at analysing keyword research, A/B testing, developing content plans, and writing concise, engaging social media copy.
I'm confident my significant branding knowledge and proficiency in social listening software would be instrumental to the team at Buzz.ly.
Meanwhile, the second cover letter is written in a more casual tone for a more buttoned-down company:
Casual cover letter writing:
Looking for a manager with the social media savvy to help build your client base? Look no further.
With 7+ years of experience analysing audiences, crafting copy, and building brand engagement, I'm inherently, naturally, and gloriously social. From A/B testing to developing content plans, I've clocked an almost embarrassing number of hours at every stage of the content cycle, making me exactly the kind of specialist you need to help you manage your client relationships from start to finish.
3. Make it about the employer (and how you can help them)
A good cover letter tells the employer who you are and relates your CV to the job.
But a great cover letter shows the employer why investing in you will help them achieve their objectives.
Begin by analysing the job description, paying close attention to the introductory paragraph and the first couple of bullet points in the responsibilities section (these will be the most important). Then, check the company mission statement and any internal media that tell you about their current priorities.
Your research will outline what the employer's objectives are and how you'll be expected to help. You can then relate your experience, skills, and motivations for applying to these goals in your cover letter to emphasise your value to the employer:
Here's how to highlight your value:
Your job listing mentions a need for someone with experience in analytics, data governance, and machine learning to help you simplify your services for users.
As a junior data engineer at Tenacity, I applied my knowledge of Python and Scala to develop and deploy cloud-native infrastructure for a similar product. By leveraging Python's data processing libraries and Scala's distributed computing capabilities, I developed robust data pipelines that ingested, transformed, and stored vast amounts of user data.
With my technical skills and collaborative mindset, I am confident that I can contribute to your company's mission through efficient data management and advanced analytics.
Make your cover letter concise and to the point, keeping it within a single page. Avoid repetition and unnecessary details.
4. Format for easy reading
Looks aren't everything, but if your cover letter looks easy to read then the employer will be much more willing to give it your full attention.
Write no more than 400 words and break up your letter into short paragraphs separated by blank lines so the employer can skim your letter for key information.
If you have several skills or experiences that you want to highlight, use a bulleted list so your cover letter is short and easy to read.
5 great cover letter examples
Want to see what 'perfect' looks like? Here are 5 examples of cover letters that would make a great impression on employers.
1. The cover letter that employs a compelling table
Tables aren't particularly common in cover letters. But used thoughtfully, they can be a powerful tool for demonstrating your relevant experience and aligning your skills with the employer's needs.
Here's an example of a cover letter that targets the specific job opportunity by cleverly using a table to show why the applicant is right for the job.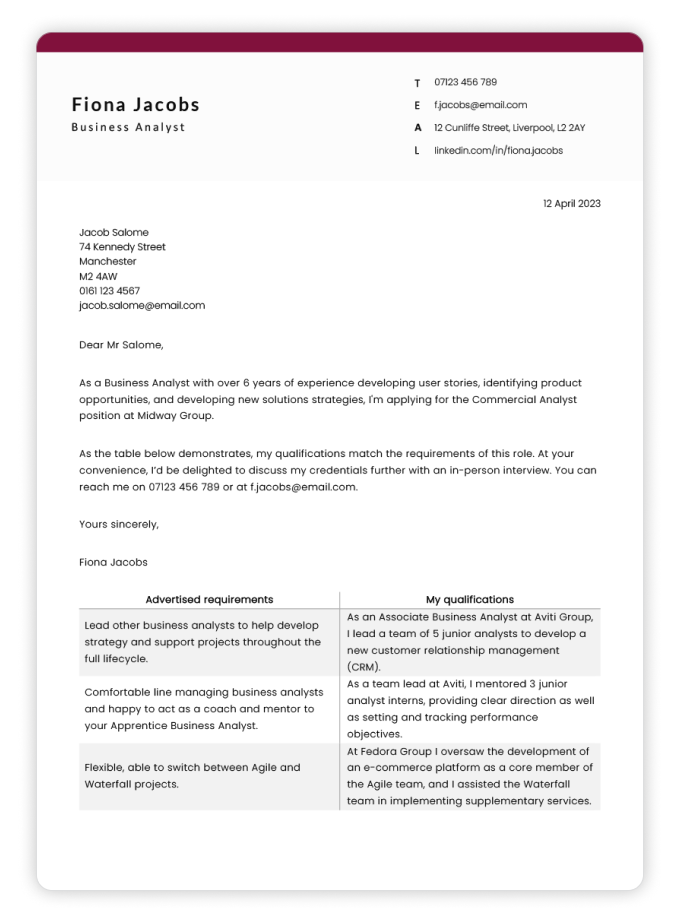 Table Cover Letter Template (Text Version)
Fiona Jacobs
Business Analyst
12 April 2023
Jacob Salome
74 Kennedy Street
Manchester
M2 4AW
0161 123 4567
jacob.salome@email.com
Dear Mr Salome,
As a Business Analyst with over 6 years of experience developing user stories, identifying product opportunities, and developing new solutions strategies, I'm applying for the Commercial Analyst position at Midway Group.
As the table below demonstrates, my qualifications match the requirements of this role. At your convenience, I'd be delighted to discuss my credentials further with an in-person interview. You can reach me on 07123 456 789 or at f.jacobs@email.com.
Yours sincerely,
Fiona Jacobs
Advertised requirements
Lead other business analysts to help develop strategy and support projects throughout the full lifecycle.
Comfortable line managing business analysts and happy to act as a coach and mentor to your Apprentice Business Analyst.
Flexible, able to switch between Agile and Waterfall projects.
My qualifications
As an Associate Business Analyst at Aviti Group, I lead a team of 5 junior analysts to develop a new customer relationship management (CRM).
As a team lead at Aviti, I mentored 3 junior analyst interns, providing clear direction as well as setting and tracking performance objectives.
At Fedora Group I oversaw the development of an e-commerce platform as a core member of the Agile team, and I assisted the Waterfall team in implementing supplementary services.
Download This Cover Letter Example
2. The short and sweet cover letter
The typical length for cover letters is 200-450 words, but you don't always have to write that much.
Sometimes a shorter cover letter is more appropriate, especially if you apply for a job that doesn't require much experience or make a CV to send an employer who already knows you.
Short, well-written cover letters can also show the employer that you know how to communicate clearly and concisely.
Here's an example of a great cover letter that gets its message across in fewer than 200 words: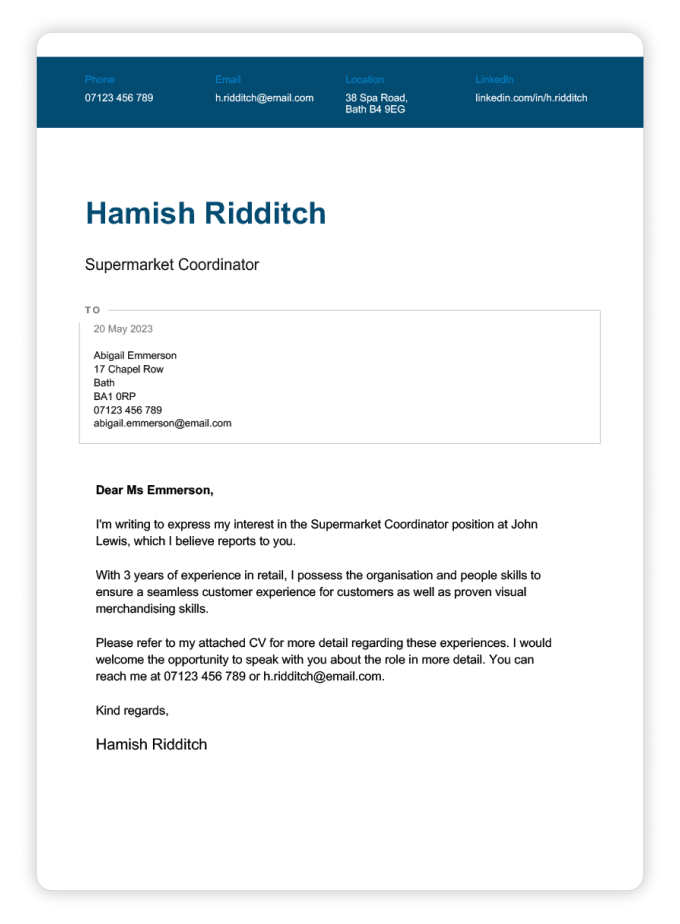 Short Cover Letter Template (Text Version)
Hamish Ridditch
Supermarket Coordinator
20 May 2023
Abigail Emmerson
17 Chapel Row
Bath
BA1 0RP
07123 456 789
abigail.emmerson@email.com
Dear Ms Emmerson,
I'm writing to express my interest in the Supermarket Coordinator position at John Lewis, which I believe reports to you.
With 3 years of experience in retail, I possess the organisation and people skills to ensure a seamless customer experience for customers as well as proven visual merchandising skills.
Please refer to my attached CV for more detail regarding these experiences. I would welcome the opportunity to speak with you about the role in more detail. You can reach me at 07123 456 789 or h.ridditch@email.com.
Kind regards,
Hamish Ridditch
Download This Short Cover Letter Example
3. The aspirational cover letter
Your cover letter should never be a general overview of your skills and experience.
The employer wants to know why you'd be great for their company, not any company.
So your cover letter should focus on their job opportunity and what you can achieve as their employee.
This cover letter example speaks directly to the employer by addressing their company's needs and showing how the applicant can help:
Aspirational Cover Letter Template (Text Version)
Kai Ekkers
Conservation Specialist
9 May 2023
Joseph Nowack
6 Latchmere Road
London
KT2 5TW
07123 456 789
j.nowack@email.com
Dear Mr Nowak,
Committed to preserving the beauty of London's green spaces? So am I. As a Junior Conservationist with 2 years of experience working with local environmental NGOs, I believe I would be an excellent fit for the Conservation Specialist role at Groundwork.
Your job description mentions that Groundwork is in need of environmentalists with experience working in urban green spaces. In my previous role as a Nature Conservation Trainee at Evergreen Heritage, I supported the habitats team in building links between our conservation work parties and local communities in Wandsworth, Kingston, and Richmond. I helped deliver educational sessions and workshops at schools and youth centres and coordinated a total of 4 public awareness events.
Working with Evergreen helped me see that additional support urgently needs to be directed toward London wildlife and ecosystems — an issue I know Groundwork is working to address. As Conservation Specialist for your organisation, I would hope to apply my knowledge of data collection and analysis to help you develop your records, building a stronger foundation for protecting south London's unique natural heritage.
At your invitation, I would be delighted to meet in person to discuss how I can further assist your team moving forward. You can reach me on 07123 456 789 or at my email, kai.ekkers@email.com.
I look forward to hearing from you soon.
Warm regards,
Kai Ekkers
Download This Perfect Cover Letter Example
4. The creative cover letter
If you're applying for a highly creative role, such as reporter, copywriter, or editor, demonstrating originality in your cover letter can help you stand out from other candidates.
In this successful cover letter for an editorial position, the candidate uses their creative writing skills to showcase both their personality and strong writing skills:

Creative Cover Letter Template (Text Version)
Cameron Peterson
15 Jan 2023
Jo Nelson
27 St Anne Street
Manchester
M3 2LB
0161 1234 567
j.nelson@email.com
Dear Mx Nelson,
On the hunt for a Lifestyle Writer who lives and breathes everything 'Manchester'?
Need a fast, accurate, and expressive writer with a bottomless supply of stories for your site?
Here's the solution:
I'm a journalist with over 7 years of experience in travel and culture and bylines with several major media outlets, including Condé Nast Traveler, Time Out London, and Suitcase Magazine.
Going out is my passion, and as someone who's always ready to rush off to a press event or an interview, I've nurtured an extensive network of contacts in Manchester's F&B, hospitality, music, and nightlife scenes.
While it's a little less jazzy, I'm also good at the technical stuff.
I have a solid understanding of defamation and intellectual property laws in the UK and am familiar with analytics tools like Parse.ly and Google Analytics. Having experience as an in-house editor, I'm also adept at finding high-quality freelancers and editing articles so they're error-free and consistent with style guides.
I hope by this stage you're already convinced that I'm exactly the kind of writer Pulse needs to help grow your lifestyle section, and I'd love for us to meet to discuss the role further.
You can reach me any time at 07123 456 789 or c.peterson@email.com.
Thank you for considering my application, and I hope we'll be in touch soon.
Best,
Cameron Peterson
Download This Perfect Creative Cover Letter Example
5. The killer cover letter for a technical role
Knowing how to write a cover letter is essential if you're in the tech industry — eight in ten hiring managers read them, and they're a requirement at most SMEs.
The best tech cover letters do more than rattle off technical skills and certifications. Employers look for candidates who can identify their specific needs and align their technical skills, non-technical skills, and experience with those objectives.
This tech-industry cover letter does a standout job by identifying soft and technical requirements in the job post and using them to build a clear professional arc that tells the employer 'why me' and 'why their company.'
Tech Job Cover Letter Template (Text Version)
Chloe Chiu
Frontend Developer
30 March 2023
Henrietta Battersea
53 Albion Street
Leeds
LS1 0RP
07123 456 789
Dear Ms Battersea,
I'm a Frontend Developer with over 5 years of experience working for banking and recruitment firms. With proven experience building intuitive, user-centric platforms and applications for various user bases, I'm well equipped to take on the responsibilities required of your next Frontend Developer.
First, I have an advanced knowledge of JavaScript, including experience building object-oriented web applications. In my previous role at Fervur, I leveraged a Node.js framework to design an enterprise-grade e-commerce platform for selling healthcare and wellness products. For this project, I was the lead developer working on the client-side application and integrating it with backend services. Ultimately, the platform launch achieved a 50% decrease in bounce rates and 40% increase in user engagement.
Second, I am familiar with both Scrum and Agile development methodologies. As a developer at Onyx, I trained a team of 5 cross-functional members in the principles of both methodologies to ensure the timely delivery of a complex update to a client's customer service portal, ultimately enabling us to deliver the project 2 weeks ahead of schedule.
Finally, I share Saturn's core values. A proud geek, I love to dive into projects, toy with design, and experiment with outcomes — taking the same sandbox approach to design that has shaped your organisation. Having worked for more traditional employers in the past, I'm excited to disrupt the industry as the newest addition to your team.
I've included my CV for your review and would be thrilled to share more about my skills and aspirations in person. You can reach me by phone at 07123 456 789 or chloe.chiu@email.com.
Best regards,
Chloe Chiu
Download This Perfect Tech Job Cover Letter Example