Your personal statement for university is a key element of your application — and the one you have the most control over. It's your opportunity to explain what sets you apart from other applicants and make your case for admission in your own words.
And yes, it's OK if that feels like a lot of pressure.
In this article, we'll cover everything you need to know about writing a personal statement that showcases your best qualities and advances you through the university application process. We'll cover:
What is a personal statement?
Your university personal statement is a short essay you submit as part of your UCAS application. Personal statements explain who you are and why you want to enroll on a specific course.
You write a university personal statement differently from how you write a personal statement for a job.
Here's an example university personal statement for a psychology course (which you can download for free).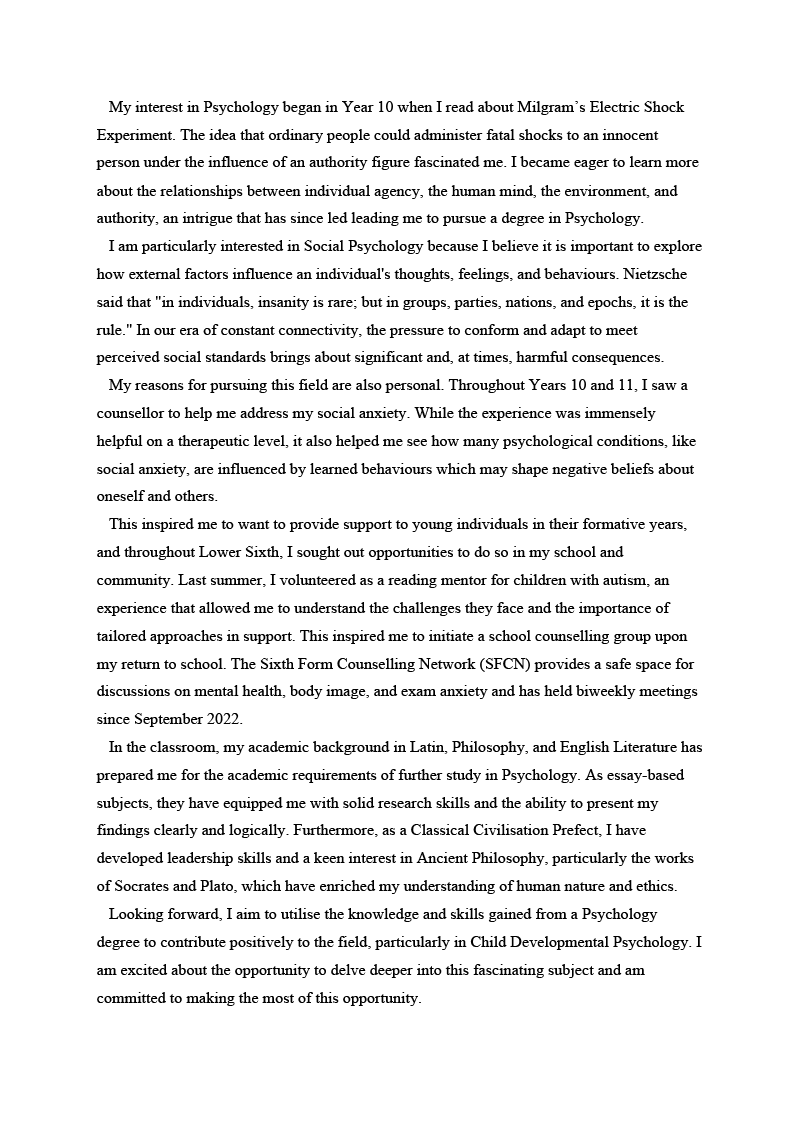 Download This Personal Statement Example
Admissions officers read thousands of personal statements every year. Writing a good personal statement can make the difference between admission and rejection if you find yourself up against a similarly qualified applicant — so it's important to get it right.
How long should a personal statement be?
Your personal statement has a 'word limit' of 47 lines of text or 4,000 characters including spaces (whichever comes first).
That's roughly two sides of A4.
Though a two-page personal statement might seem like a lot of writing, you might find yourself editing heavily to shorten your personal statement and fit everything in, so don't leave drafting your personal statement up until the last minute.
How to write a personal statement for university
Whether you're applying for an undergraduate or postgraduate course, here's how to write a standout personal statement, step by step.
1. Understand the requirements
The first step toward writing a great personal statement is understanding what admissions officers will be looking for when they review your application — and that varies from university to university and course to course.
Check the specific admissions requirements for the course and university you're applying to. Here's a real example from a 2023 journalism course at the University of Portsmouth: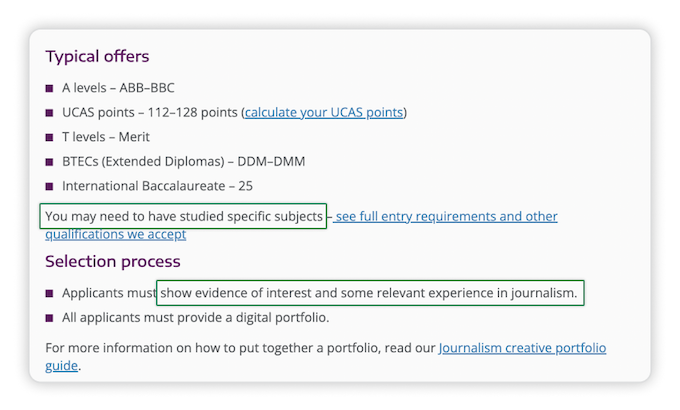 Admissions officers won't need to see your predicted grades in your personal statement (as those are included anyway as part of your application). However, they will want to see how your academic and personal interests have motivated you to apply for their course.
2. Identify your reasons for applying
You need to develop a structured personal statement plan if you want to keep the admission tutor's attention and make the best possible case for your admission.
Your personal statement needs to be focused and relevant — so start with the course you're applying for.
Think about what motivated you to study the specific subject that you're interested in. For example:
an experience
something you've read
someone who inspired you
a problem you want to solve
You can also think about the following questions:
What is there about you that shows you're particularly suited to this particular course? E.g., your personality or interests.
What do you hope to achieve by completing the course? Is there a particular area of research or a specific career path that you want to pursue?
How have your current and previous studies prepared you for the course?
How have your hobbies and interests prepared you for the course?
These questions will form the backbone of your personal statement.
Don't worry if all the answers don't come to you immediately. Give yourself time to properly consider your motivations for applying to university — you'll be able to build a much more convincing personal statement.
3. Build out your personal statement structure
You have the main points for your personal statement. Next, you need to consider how you're going to present them in a logical and persuasive manner.
Personal statements don't follow a fixed structure. Generally, it's best to start with your main cause for wanting to apply and then funnel it down into specific details, such as the project, interests, and personality traits that will support you on the course.
Look back over your notes and highlight which of the reasons you jotted down has been your biggest driver.
Then, try to organise the rest of your thoughts using this outline:
UCAS Personal Statement Outline
What was your main reason for choosing this course?
Why are you suitable for the course? What have you done to proactively learn more about your subject? How have your experiences and interests inspired you?
What are your relevant academic skills? Think about both skills that are specific to your subject and transferable skills that will support you in doing research, completing assignments, and participating in university life.
What personal qualities make you a great university candidate?
Closing statement. What are you looking forward to the most about the course or what are your career goals?
3. Open by showing your enthusiasm for the subject
Your personal statement opening doesn't have to be fancy, but it does have to clearly outline your interest in the subject and give specific reasons as to why you want to study it.
Here's an example personal statement opening that clearly outlines the user's interest in studying product design:
The applicant begins by explaining how they became interested in product design, then continues by demonstrating a continued enthusiasm for the subject, before finally explaining what aspect of the subject appeals to them.
So when an admissions tutor reads this personal statement introduction, they can tell that the applicant cares about their subject and has thought carefully before preparing their application.
Here are a few things you should avoid when writing your personal statement opening:
Don't do this in your personal statement introduction:
Start with a general introduction of your subject: you only have 4,000 characters, so focus on you and your motivations
Use clichés like 'I've always been interested in' or 'Ever since I was a child…' as these phrases are overused and vague (you must have become interested in your subject at some point so be specific about when this was)
List your predicted grades: you'll submit your predicted grades with your university application, so there's no need to put them in your personal statement
Include irrelevant personal details: only talk about your personal interests and background if it's relevant to your subject or reasons for applying to university
4. Talk about your skills and achievements
Use the second section of your personal statement to discuss how your skills and academic achievements have prepared you for the course.
Talk about any skills or knowledge you've gained that'll support you on the course:
Crucially, your personal statement is a chance to put these traits in context and explain how your background makes you uniquely suitable for the course:
This applicant gives context to their high academic performance, and in doing so, demonstrates their independence and strong work ethic. The mention of the summer school and several years of modern languages study tells the admissions tutor that they have a long-standing interest in their chosen subject and have carefully considered their university application.
5. Highlight personal interests and extracurricular experiences
The purpose of a personal statement is to show what makes you stand out as an individual applicant and tell admissions tutors who you are beyond your predicted grades.
Talking about your personal interests and extracurricular activities is a great way to show admissions why you're a great fit for their programme (similar to when you talk about hobbies and interests on your CV).
You can talk about anything you've done that's relevant to your subject, including
school clubs, sports teams, and bands
volunteering experience, part-time jobs, and work experience placements
hobbies, interests, and projects that you pursue in your spare time
6. Give your personal statement a strong, well-rounded ending
Close your personal statement by tying together your experiences and achievements.
To give your personal statement a strong academic arc and emphasise why you should be given a place on the course, end this section by discussing your career or research aspirations —or specifying a subject area you're particularly interested in.
By this stage in your personal statement, you likely won't have much writing space left. Most personal statement conclusions are just a short paragraph or even a couple of sentences:
Frequently asked questions about writing personal statements for university
Need a little extra help? Here are the answers to questions people often have when it comes to writing a university personal statement:
1. How do I say more about myself within the 4,000-character limit?
You can shorten your personal statement and fit more information into the character limit by following these tips:
How to fit more into your personal statement character limit
Give short, specific examples — illustrate your point in one sentence or less
Remove any interjections, which, by way of explanation, make your sentences wordy and complicated
Watch out for unnecessary adjectives and adverbs: "As I progressed forth through high school, my unbridled and insatiable passion for biology only grew incrementally stronger, and I am eager to continue exploring the subject after Sixth Form."
Avoid using empty or clichéd quotes: "The only way to do great work is to love what you do." – Steve Jobs
2. How do I start a personal statement? I don't know what to write!
Personal statement introductions can be difficult to write, but there are a couple of things you can do to get around writer's block:
Brainstorm and plan thoroughly
Note down all the reasons you've chosen your specific course and give yourself time to think over your answer. If you can look in the mirror and confidently explain your motivations for applying to your chosen course, you'll have a much easier time writing them into your personal statement.
Write your introduction last
Your personal statement introduction previews your reasons for applying and the reasons you think you'd be a good fit at your chosen university. If you've already typed out your reasons for applying, you'll find it much easier to lead into them.
Write something and redraft it later
Editing a bad introduction is easier than writing a good one from scratch. Get some ideas on the page and look over it later with fresh eyes. By allowing yourself to reflect on what you wrote first, you'll have a better idea of what you actually want to tell the admissions tutor.
3. What makes a good personal statement?
There's no exact formula for a good personal statement, but including the right information in your own words will help you persuade the admissions tutor that you're a good fit for the course. Consider the following questions:
What are your reasons for choosing your course?
What are you studying now and how does it relate to the course?
What experience do you have that relates to the course?
How do your interests and achievements relate to your chosen course?
What do you want to do after university?
What makes you different from other students?