Being a paramedic is an intense but rewarding experience.
As the first health care professional to arrive on the scene of an accident or emergency, you need to quickly ensure the patient is safe, make health assessments, and provide initial treatment.
Being a paramedic can be stressful and tiring, but you get the satisfaction of knowing that the work you do makes a difference in people's lives.
Moreover, there are multiple avenues for professional growth. For example, you could progress to a consultant paramedic role or specialise in other areas of health care.
To become a paramedic, you'll need to complete at least two to three years of professional training documented on your CV. Though this can be competitive, there are multiple ways you can qualify. It's also possible to train as a paramedic if you don't have many school qualifications, provided you complete an access course.
So if you're ready to begin your journey towards becoming a paramedic, here's what you need to know.
What does a paramedic do?
As a paramedic, you provide emergency care to people who are injured or ill. You'll be responsible for providing on-site medical assessments, dealing with symptoms and injuries, and transporting patients to hospital to receive further care.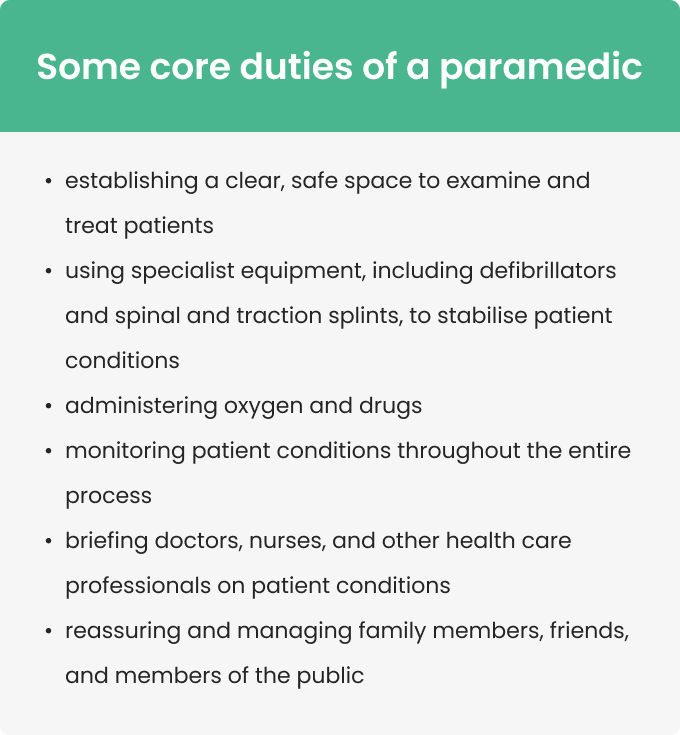 Paramedics typically work out of a local ambulance station. You'll work in shifts, including nights, weekends, and holidays, and in all types of weather.
To get ahead in this career, you'll need to work well in stressful situations and enjoy helping others. You'll also need to be able to manage people who are panicked, angry, or distressed.
How much does a paramedic earn?
As a newly recruited paramedic, you'll start at Band 5 of the NHS pay rates, which ranges from £25,655 to £31,534. Entry-level positions start at the lower end of this scale, and your salary will rise as you accumulate experience.
More senior paramedic positions reach Band 6 (£32,306 to £39,027) or Band 7 (£41,659 to £47,672). Consultant paramedics may reach Band 8c (£67,064 to £77,274).
Paramedics may receive extra pay in parts of the country where the cost of living is higher:
Inner London: 20% of basic salary
Outer London: 15% of basic salary
Fringe areas of London: 5% of basic salary
NHS pay bands shift annually, but you can get an estimate of how much you'll be paid with this pay band calculator.
How to become a paramedic
There are two routes to becoming a paramedic in the UK:
Paramedic apprenticeship, during which you can work as a student paramedic
BSc in Paramedic Science
Basic Requirements
For a paramedic apprenticeship, you'll need a minimum of five 9–4 (A*–C) grade GCSEs or equivalent, including maths, English, and science. If you want to take a paramedic course at university, you will also need 2 A levels or equivalent Level 3 qualifications (e.g. Scottish Highers or T levels).
Paramedic Apprenticeships
Some ambulance trusts in the UK offer the opportunity to work as a student paramedic and obtain a paramedic apprenticeship.
Paramedic apprenticeships vary in length but typically take 36 months to complete. You can't get student grants as an apprentice, but you will be paid for your work.
The following ambulance trusts offered paramedic apprenticeships at the time of writing:
Each ambulance service sets its own requirements. Typically you'll need:
At least five 9-4 (A*-C) grade GCSEs or equivalent
Good physical fitness
A full manual driving licence with a minimum of one year's driving experience
Preparing your driving licence for a paramedic apprenticeship
To be a paramedic you need to be able to drive large vehicles. Most paramedic apprenticeships will require you to have a regular manual driving licence when you apply.
If you passed your driving test after 1996, you will likely need to register for a provisional C1 licence for large vehicles.
Paramedic science degree
A BSc in Paramedic Science is the most widely available channel into paramedic work.
You'll need to complete a programme approved by the Healthcare Professions Council.
Generally, two A levels or equivalent Level 3 qualifications are a requirement for paramedic degrees.
If you're over 19 years old and don't have two A levels or equivalent, you can prepare for university by completing an Access to HE Diploma (Paramedic Science) course.
In Scotland, paramedic access courses are available through the Scottish Wider Access Programme.
If this is your first degree, you can get additional funding as a paramedic science student. The NHS Learning Support Fund offers grants of £5,000 per academic year to eligible students.
You may get extra funding for the following reasons:
Childcare costs (£2,000 if you have a child under 15 or a child under 17 with special needs)
travel and temporary accommodation costs while you're on practice placement
financial hardship (through the Exceptional Support Fund)
Get on the HCPC Register
The HCPC is the official regulatory body for health care professionals in the UK. You need to be on the register to work as a paramedic.
Once you've qualified as a paramedic, you'll need to apply to join the HCPC. You'll need:
All documents must be certified copies of the originals, meaning they've been hand-signed by an authorised person. You'll find more information about how to certify your documents correctly in the application guides at the HCPC application portal.
If you qualified as a paramedic abroad, some steps to HCPC registration may differ. You can find more information about the steps international HCPC applicants should take in this guide.
Finding paramedic vacancies
The NHS is the largest employer of paramedics in the UK. Vacancies are listed on NHS job sites, including:
You can also find work as a paramedic outside the NHS. Other employers of paramedics include:
Paramedic career progression
After working as a paramedic for a few years, you may be offered a promotion to an operational manager or a similar position. You'll get opportunities to specialise or move into other areas of health care.
For example, you could progress to a primary care paramedic or consultant paramedic position or transfer to a nursing or GP position through further training.
Once you have several years of experience as a paramedic, you can begin looking for secondment job opportunities through the NHS or your ambulance trust. Gaining experience this way will help you prepare for future health care opportunities.