What are technical skills?
Technical skills are the abilities and expertise needed to complete a specific task. Also known as hard skills, technical skills require training and practical experience to master and are often needed in science, technology, engineering, and mathematics (STEM) fields.
Writing a list of technical skills on your CV and providing examples is essential for showing employers you're well-equipped to handle complex tasks and processes in the workplace.
Below, we discuss the most relevant technical skills for your CV and provide writing tips to help you master your job application:
115+ technical skills examples for your CV
Several industries seek candidates with hard skills but their requirements differ depending on your role.
We've compiled 115+ top technical skills from various industries: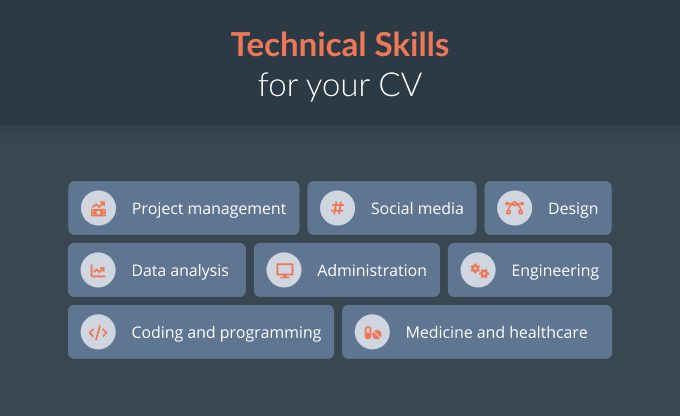 1. Coding and programming
The tech industry is growing rapidly, and employers are looking for applicants who understand multiple programming languages and use them to create impressive digital tools and products.
Here are several information technology-related skills for your CV:
2. Project management
Companies hire project managers to lead their teams by managing several project portfolios, delegating tasks, and measuring each project's success. So list your technical skills on your CV when applying for a project manager role.
Have a look at these relevant technical skills for project managers:
3. Social media
With 84.3% of the UK population using social media in 2022, using digital tools has become the norm. And if you're in roles like marketing or tech, understanding how to leverage social media is important for boosting sales and growing your business.
Employers seek applicants who stay up-to-date with modern technology, so ensure you list these social media skills on your CV:
Copywriting
Email marketing
YouTube advertising
Web analytics
Marketing software
4. Design
Designers pick up industry-specific skills by receiving training and gaining practical experience in the field.
Whether you're a seasoned professional or a budding designer, mention these skills to show you'd be a valuable asset to a company:
5. Data analysis
Knowing how to collect, analyse, and interpret data is a highly valuable skill if you're applying for technical positions in data analysis or management.
Companies and businesses make major decisions based on data and current trends, so highlighting your technical skills in this field increases your chances of getting an interview.
Employers value these data-related skills:
6. Medicine and healthcare
Medical professionals extend out to a variety of positions and require years of schooling before they can work in healthcare. Certain specialisations include emergency medicine, dermatology, paediatrics, surgery, and ophthalmology.
Highlight these medical skills on your resume to prove you're a knowledgable healthcare specialist:
Wound management
Administering treatments
Interpreting laboratory results
Assessing symptoms
Diagnosing conditions
Performing surgical procedures
7. Administration
Most office jobs require administrative skills, so employers expect their applicants to effectively use basic office equipment and computer software.
Here are examples of administrative skills for your CV:
8. Engineering
Engineering is a vast field with many specialisations. For example, physical tasks ranging from constructing buildings or vehicles to thinking up new concepts for software products are potential work projects for engineers.
Use these engineering technical skills to draw attention to your CV:
Computer hardware skills
Cloud collaboration (e.g., GoToMeeting, DropBox)
Programming languages
Technical documentation
Systems design and analysis
How to include technical skills on your CV
Your technical skills should be clearly visible on your CV so recruiters can quickly scan and assess your suitability for a role.
And now that you have a better understanding of the in-demand skills employers seek for technical roles, use these four tips to help you strategically include your technical skills while writing your CV:
1. Use relevant keywords from the job advert
Modern companies use applicant tracking systems (ATS) to filter candidates with keywords on their CVs that match the company's job description.
So read each job description carefully and modify your technical skills to match the company's requirements.
For instance, if a company asks for 'Designing for accessibility' and 'font principles' for a graphic designer role, ensure you use the same wording when listing your technical skills, like so: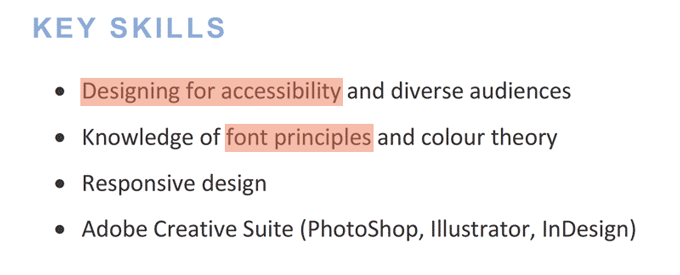 2. Mention your technical skills in your CV personal statement
Your CV personal statement sits at the top of your CV and is often the first section employers see on your CV. So ensure your top technical skills are noticeable by including them in your personal statement.
Here's an example of an applicant's CV personal statement with several listed technical skills: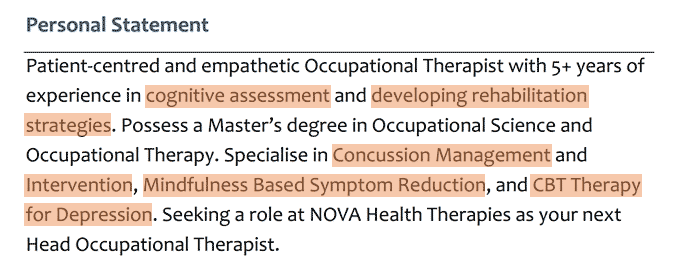 3. Create a dedicated technical skills section
If a company requires several technical skills, consider making a separate 'Technical Skills' section so employers can instantly see your relevant qualifications and decide whether they'll read the rest of your CV.
Include your 'Technical Skills' section underneath your CV personal statement and above your professional work experience section so companies can see the technical skills on your CV right away, like in this example: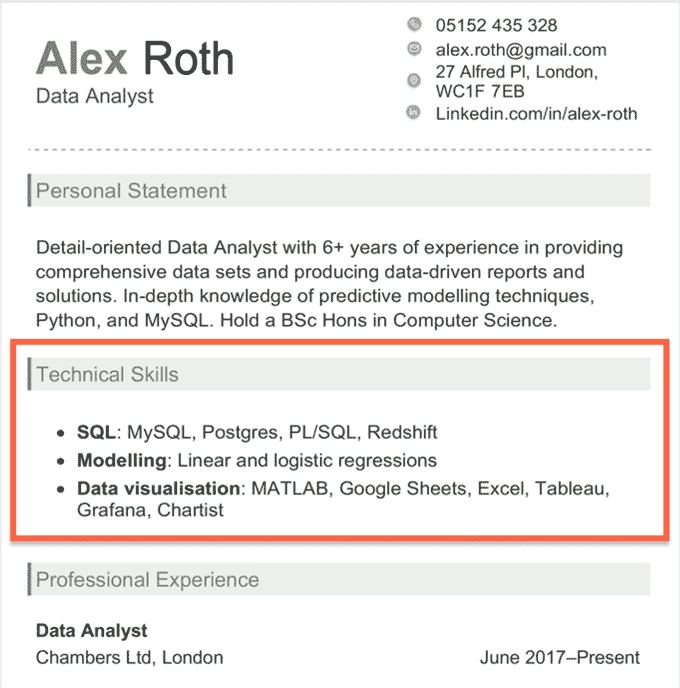 If you have several technical skills that can be grouped together, try listing them as categories so employers see the scope of your expertise, like so: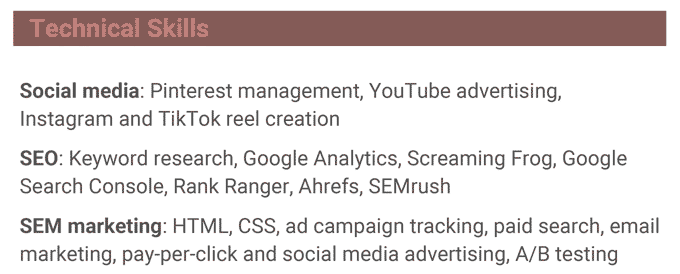 4. Include technical skills in your work experience section
While mentioning your technical skills using a bulleted list is common, you can also show your specialised knowledge using examples from your work experience section.
Writing about your technical skills within your work experience bullet points:
provides employers with more context
helps them visualise how you'd fit onto their team
highlights your accomplishments and portrays you as a leader in your field
Here's an example of an accountant CV's work experience section with the applicant's technical skills on display: