If you're applying for a job, you need the right skills to get noticed.
But not all skills are the same. Employers look for the right combination of hard and soft skills to decide who to hire. Demonstrate that you've got what they're looking for, and your name will jump straight to the top of their interview list.
In this article, we'll cover: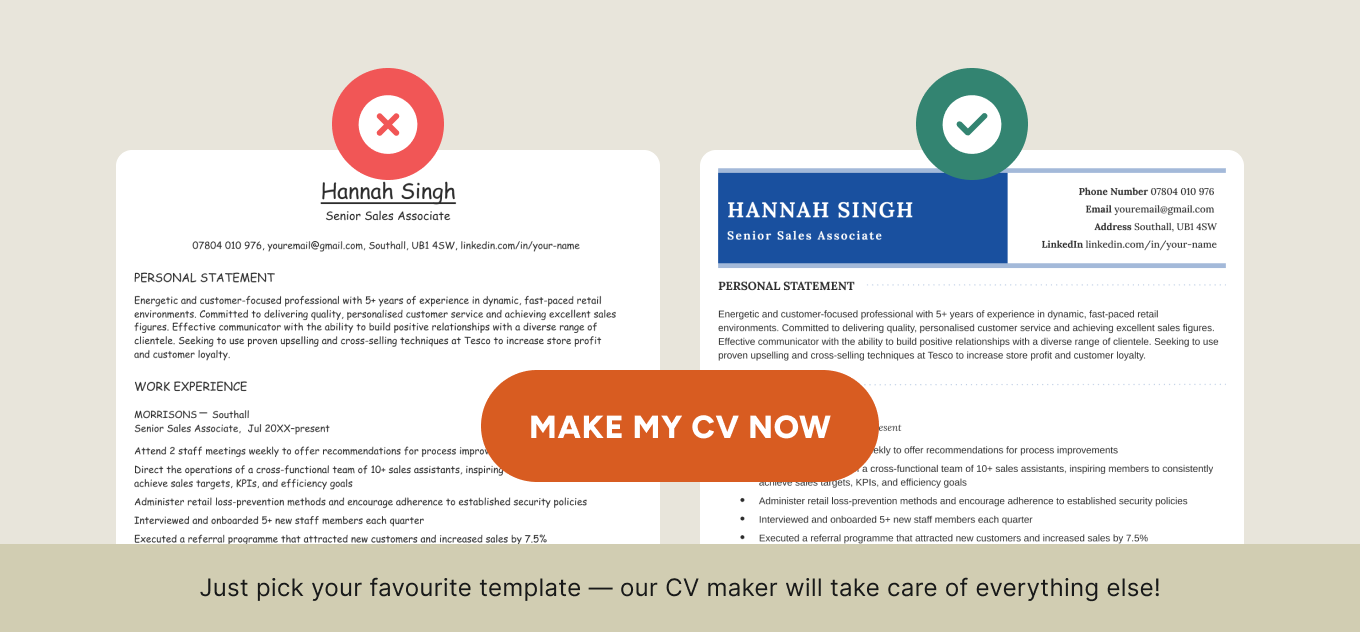 Soft and hard skills: what's the difference?
The main difference between soft and hard skills is in how they're acquired.
You develop soft skills throughout your life. By contrast, you learn hard skills through education, on-the-job training, or other life experiences.
For example, empathy is a soft skill. You don't gain empathy by taking a university course. On the other hand, safeguarding is a hard skill that you have to learn to work in many healthcare professions.
So if you were applying for a care assistant job, it would be important to show employers that you were both caring and knowledgeable about proper safeguarding practices.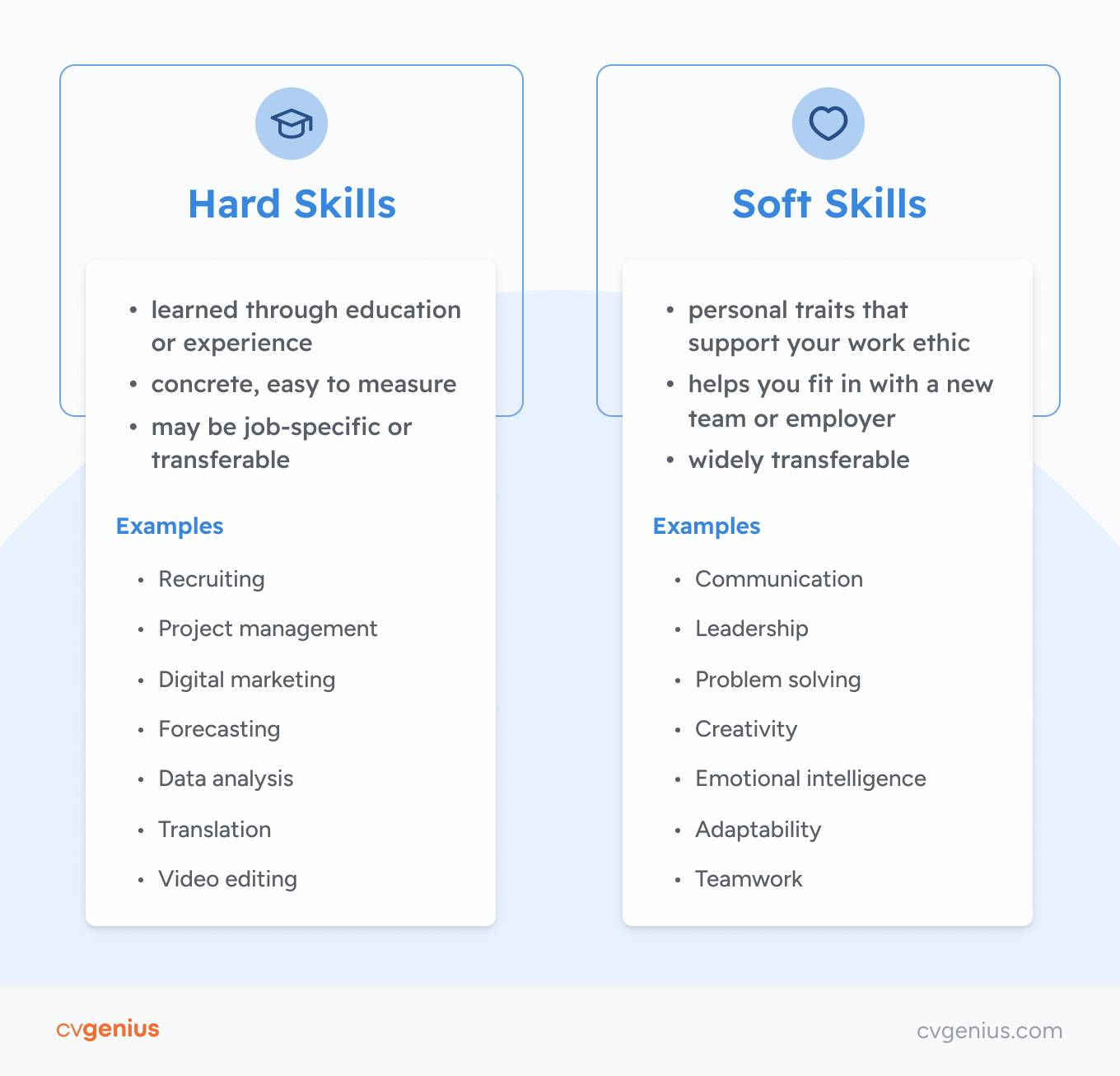 What are hard skills?
Hard skills are job-specific abilities. They're the technical knowledge you need to handle your workplace responsibilities, regardless of your industry.
Some examples of hard skills are coding, translation, or financial analysis. No one is born with the ability to use these skills — they all take a certain amount of practice.
What are soft skills?
Soft skills are the personal traits and qualities that make you a good worker, whether you work independently or as part of a team. Teamwork, creativity, and interpersonal skills are some good examples.
Unlike hard skills, soft skills are relevant in every job and industry because they influence how you work, rather than what you're able to do.
More employers are looking for soft skills
Since the pandemic, soft skills have become significantly more valuable, with one study by McKinsey suggesting that a majority of employers needed abilities like critical thinking, leadership, and management skills.
Hard and soft skills examples
Here's a list of hard and soft skills that employers are often looking for:
| Hard Skills | Soft Skills |
| --- | --- |
| Programming | Communication |
| Data analysis | Collaboration |
| Web development | Leadership |
| Graphic design | Problem solving |
| Project management | Adaptability |
| Foreign languages | Empathy |
| Digital marketing | Time management |
| Statistical analysis | Conflict resolution |
| Mechanical engineering | Creativity |
| Financial modelling | Critical thinking |
| Database management | Emotional intelligence |
| Software development | Teamwork |
| Network administration | Decision making |
| Data mining | Negotiation |
| UI/UX design | Active listening |
| Quality assurance | Interpersonal skills |
| Electrical engineering | Flexibility |
| SEO | Cultural awareness |
| Machine learning | Resilience |
| AutoCAD | Networking |
Putting hard and soft skills on your CV
Knowing how best to highlight your skills on your CV will give you a much better shot at getting the job you want.
But to persuade the employer that you're the right person for the job, you'll need to emphasise your hard skills and soft skills differently:
How to emphasise your hard skills
Hard skills are concrete and easy to measure, making them easy to discuss on your CV.
Here's where and how to emphasise hard skills on your CV:
Work experience section: Outline what you've achieved by using a specific skill in a previous job and use hard numbers so the employer can easily remember your accomplishments
Skills section: List key skills in a separate skills section so the employer can quickly check your qualifications
Personal statement: Include one or two outstanding or essential skills in your personal statement to help distinguish you from other applicants or immediately emphasise your suitability for the role
How to show you have the right soft skills
Because soft skills can be quite abstract, it's not much use to the employer to just list them on your CV. Anyone can say they have people skills.
Instead, show that you have the right soft skills for the job by using examples to illustrate the personal traits the employer is looking for.
For example, volunteering experience at a dog shelter is a sign you're caring and empathetic, while a reporting job at a student newspaper suggests active listening and time management skills.
To emphasise these key qualities, ensure you use engaging action verbs and other CV words that show the employer your enthusiasm and work ethic. Here's an example taken from a personal statement:
Meticulous research Assistant with 2 years of experience in health sciences and psychology. Proven data and critical thinking skills, having leveraged both to contribute to 2 peer-reviewed papers published in the Journal of Applied Psychology. Eager to collaborate with an experienced research team on a multi-centre project.
Frequently asked questions about hard and soft skills
Still having a tough time understanding your hard and soft skills? Here are the answers to a few questions people often have about different skill types:
1. What are good hard and soft skills?
The best hard and soft skills for your CV will depend on the job you're applying for.
To find out what hard skills an employer is looking for, identify any technical knowledge or job-specific abilities mentioned in the job description. You can also check similar job descriptions or company media for other indicators of what the employer might want to see.
As soft skills are personality traits, look for subheaders like 'About You' or 'Who You Are' in the job advert, as these often specify which character traits the employer is seeking. How the employer talks about their organisation and company culture are similarly useful ways to identify soft skills.
2. What are seven hard skills employers are looking for in 2023?
These seven hard skills are highly sought after in 2023:
Software Development
SQL
Python
Data Analysis
Cloud Computing
Operations
Customer Relationship Management (CRM)
3. What are the top seven soft skills to help you find a job?
The following seven soft skills can be immensely helpful for finding a job and advancing your career, regardless of your industry:
Communication
Teamwork
Adaptability
Problem-solving
Critical thinking
Creativity
Time management