This is how the standard cover letter structure for a UK job application looks: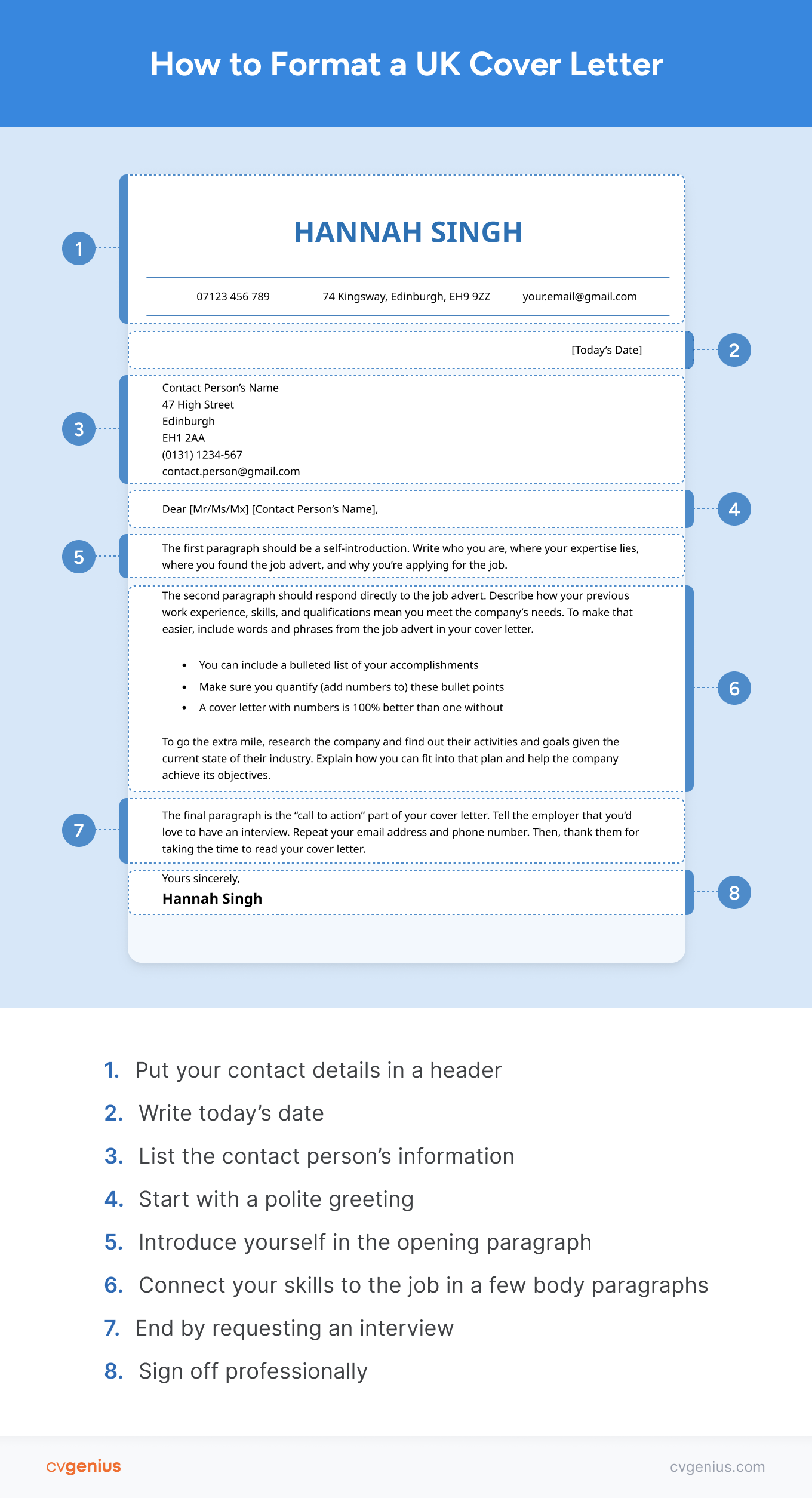 How to structure a cover letter: 7 steps
Follow these 7 steps to make your cover letter look organised and professional:
1. Start with your contact information
Setting out your cover letter's structure requires providing an essential piece of information for your target employer — your contact details.
Put your contact information in a header to make your cover letter stand out. Remember to:
use extra-large text for your name so it sticks in the employer's mind after they've reviewed all the applications they receive
include your email address, relevant social media profiles, phone number, and postal address
Below is an example of a well-structured cover letter header:
2. Add today's date
Click the right-alignment button in your word processor, and write today's date using this structure: [Day] [Month] [Year]. For example:
5 July 2022
3. List your target employer's contact information
The contact person's name, postal address, phone number, and email address go in a left-aligned list under your cover letter's header, like this:
Contact Person's Name
358 Oxford Road
Bristol
BS5 8SJ
(07156) 133-567
[email protected]
4. Greet the employer
Create a blank line after the employer's contact information, and then write a polite salutation. Have a look at these examples of professional greetings:
Dear Mrs Jones,
Dear KLM Inc. Marketing Department,
5. Make your case in 3–4 paragraphs and a bulleted list
The most important part of your cover letter's structure is the body, where you convey your transferable skills and experience to the employer. To structure a cover letter that gets you a job, you should:
think about how to start your cover letter with a unique opening line
determine what to include in your cover letter by reading the job advert to find which of your skills and accomplishments will be most impressive to the employer
include a bulleted list of your top job-specific selling points, providing data to show the employer exactly what you can do
end your cover letter with a 'thank you', a request for an interview, and your phone number and email address
And here's an example of how to set out a cover letter's body content:
6. Politely sign off
There are two ways to sign off your cover letter:
Write 'Yours sincerely,' when your cover letter is addressed with a person's name
Sign off 'Yours faithfully,' if you addressed a generic job or department title instead of a contact person
Then type your name, and you're finished.
Here's an example of a properly structured sign-off:
Yours sincerely,

Reeves McSleeves
7. Find the perfect margins
Put the finishing touches to your cover letter's format by setting your margins. Here's how:
Step back from your screen and look at your cover letter's overall structure
Leave your margins as they are if the text and blank space are already nicely balanced
Reduce your margins to a minimum of 1.25 cm to spread the text out (so your cover letter doesn't bleed onto a second page or appear crowded with text)
Set your margins to a maximum of 2.5 cm to distribute your text more evenly (so your cover letter doesn't look empty)
If your cover letter still doesn't look quite right after you've adjusted your margins, you can try:
changing your font size within a range of 10.5 to 12 points
picking a new font for your CV and cover letter — just make sure it's easy to read (for example, changing from Arial to Garamond is good, but switching to a handwriting-style font is bad because it's hard to read)
Cover letter outline
Here's a cover letter outline you can copy and use as a template for your own UK job application letter:
Your Contact Information (in a Header):
Your Name
Phone Number | Email Address | Street Address, Town, Postcode
Target Company Contact Information:
Contact Person's Full Name
Company Street Address
Town
Postcode
Contact Person's Email Address
Contact Person's Phone Number
Salutation:
Dear Mr/Ms/Mx [Contact Person's Last Name],
Opening Paragraph:
State your name, the title of the job you're applying for, and how you found it. Follow up with a sentence or two explaining why you want the job, and why you'd be a good fit at the company.
Second Paragraph:
In your second paragraph, include details about your relevant work experience, skills, certifications, and other information that show you have the necessary knowledge and abilities to excel in your target role. Don't include everything — only mention the information you believe would be most valuable to the company you're applying to.
Third Paragraph & Bulleted List:
Your third paragraph should focus on accomplishments. Include examples of how you used key skills or knowledge to accomplish something impressive at a previous company. Pick examples that you believe are relevant to and would also greatly benefit your target company, and make your top achievements stand out by placing them in a bulleted list:
Add numbers and examples to provide context
For example, highlight amounts of money, percentages, and number of customers served
Don't just copy your CV's bullet points — doing so makes you appear lazy
Closing Paragraph:
In your first sentence, restate some of the details that prove you're a strong candidate for the job. Then provide your contact information (email and phone number), and details about when you can be contacted. Finish by thanking the recruiter for taking the time to read your cover letter.
Sign-off:
Yours sincerely,
Your Name
Cover letter structure examples
We've provided four of our best cover letter examples to help familiarise you with adapting your cover letter's structure to meet different application requirements: