The standard cover letter format
Here's how a standard UK cover letter looks like when it's been properly formatted: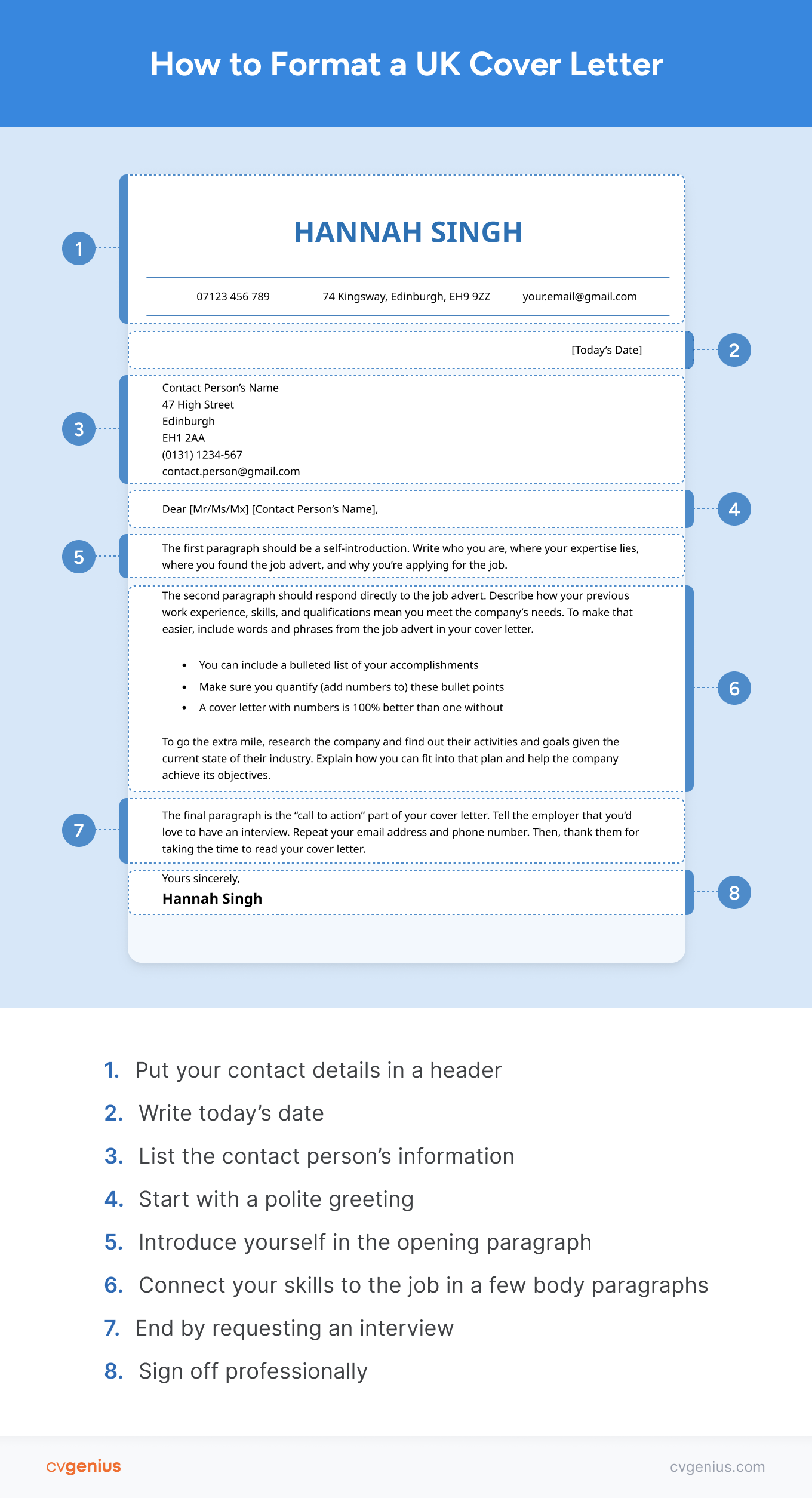 How to lay out a cover letter in the UK
Follow these 7 steps to make your cover letter look organised and professional:
1. Start with your contact information
Start setting out your cover letter's structure with your contact details.
Put your contact information in a header to make your cover letter stand out. Remember to:
use an extra-large font size (around 30 points) for your name so it sticks in the employer's mind after they've reviewed all the applications they receive
include your email address, relevant social media profiles, and phone number
Below is an example of a well-structured cover letter header:
2. Add today's date
Click the right-align button in your word processor, and write today's date using this structure: [Day] [Month] [Year]. For example:
31 August 2022
3. List your target employer's contact information
The contact person's name, postal address, phone number, and email address go in a left-aligned list under your cover letter's header, like this:
Contact Person's Name
358 Oxford Road
Bristol
BS5 8SJ
(07156) 133-567
[email protected]
4. Greet the employer
Add a blank line after the employer's contact information, and then write a polite salutation. Have a look at these examples of professional greetings:
Dear Ms Patel,

Dear KPMG Marketing Department,
5. Make your case in 3–4 paragraphs and a bulleted list
The most important parts of your cover letter are the body paragraphs, where you have space to convey your transferable skills and experience to the employer. To structure a cover letter that gets you a job:
think about how to start your cover letter with a unique opening
decide what to include in your cover letter by reading the job advert to find which of your skills and accomplishments will impress the employer
include bullet points of your top job-specific selling points, providing numbers that show the employer exactly what you can do
end your cover letter with a 'thank you', a request for an interview, and your phone number and email address
Here's an example of how to set out a cover letter's body content:
6. Politely sign off
There are two ways to close your cover letter:
Write 'Yours sincerely,' when your cover letter is addressed to a specific person
Use 'Yours faithfully,' if you addressed a generic job or department title instead of a contact person
Then type your name, and you're finished.
Here's an example of a properly structured sign-off:
Yours sincerely,

Hamish McGregor
7. Find the perfect margins
Put the finishing touches to your cover letter's format by setting your margins. Here's how:
Step back from your screen and look at your cover letter's overall structure
Leave your margins as they are if the text and blank space are already nicely balanced
Reduce your margins to a minimum of 1.25 cm to spread the text out (so your cover letter doesn't bleed onto a second page or appear crowded with text)
Set your margins to a maximum of 2.5 cm to distribute your text more evenly (so your cover letter doesn't look empty)
If your cover letter still doesn't look quite right after you've adjusted your margins, you can try:
changing your font size within a range of 10.5 to 12 points
picking a new font for your CV and cover letter — just make sure it's easy to read (for example, changing from Arial to Garamond is good, but switching to a handwriting-style font is bad because it's hard to read)
6 UK cover letter format examples
Here's what professional cover letter formatting looks like using a:
We also have a text cover letter to copy and paste into Microsoft Word or Google Docs.
1. Simple cover letter format sample (free Word download)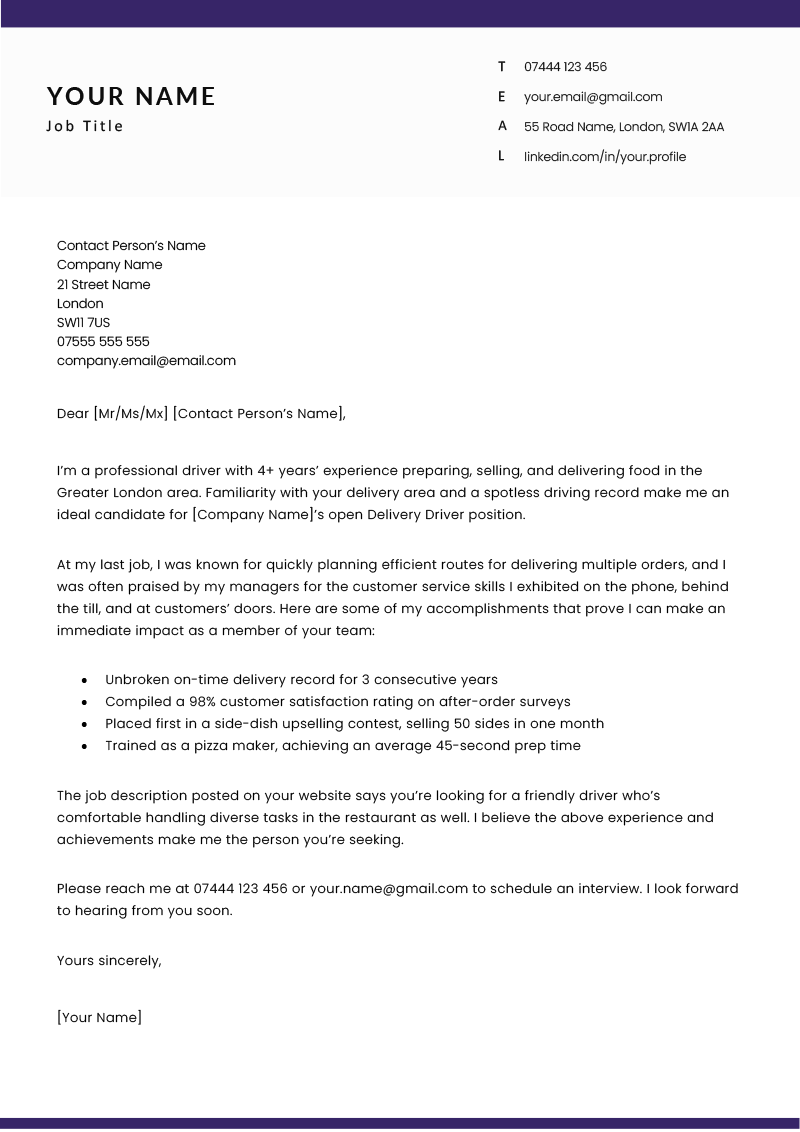 The above example works for any job application that asks you to upload or email your cover letter as a Word or PDF file. You can download the template as a Word document and replace the information with yours.
2. Modern cover letter format sample (free Word download)
If you'd like something more eye-catching, pick out a modern cover letter template. Modern templates include eye-catching features like:
logos
lines
innovative use of colours
highlighting
nonstandard layouts
Modern cover letter templates are acceptable for all kinds of jobs — whether formal or more casual.
3. Creative cover letter format sample (free download for Word)
Creative cover letter templates are a bit more colourful and nontraditional than most other styles — as you can see in the example above.
Because this style emphasises colour and creativity, you shouldn't use such a template for jobs in traditional industries like banking, law, or finance. But feel free to use them in sectors like graphic design, marketing, and theatre where they convey that you're easygoing, creative, and ready for some graft.
4. Email cover letter format example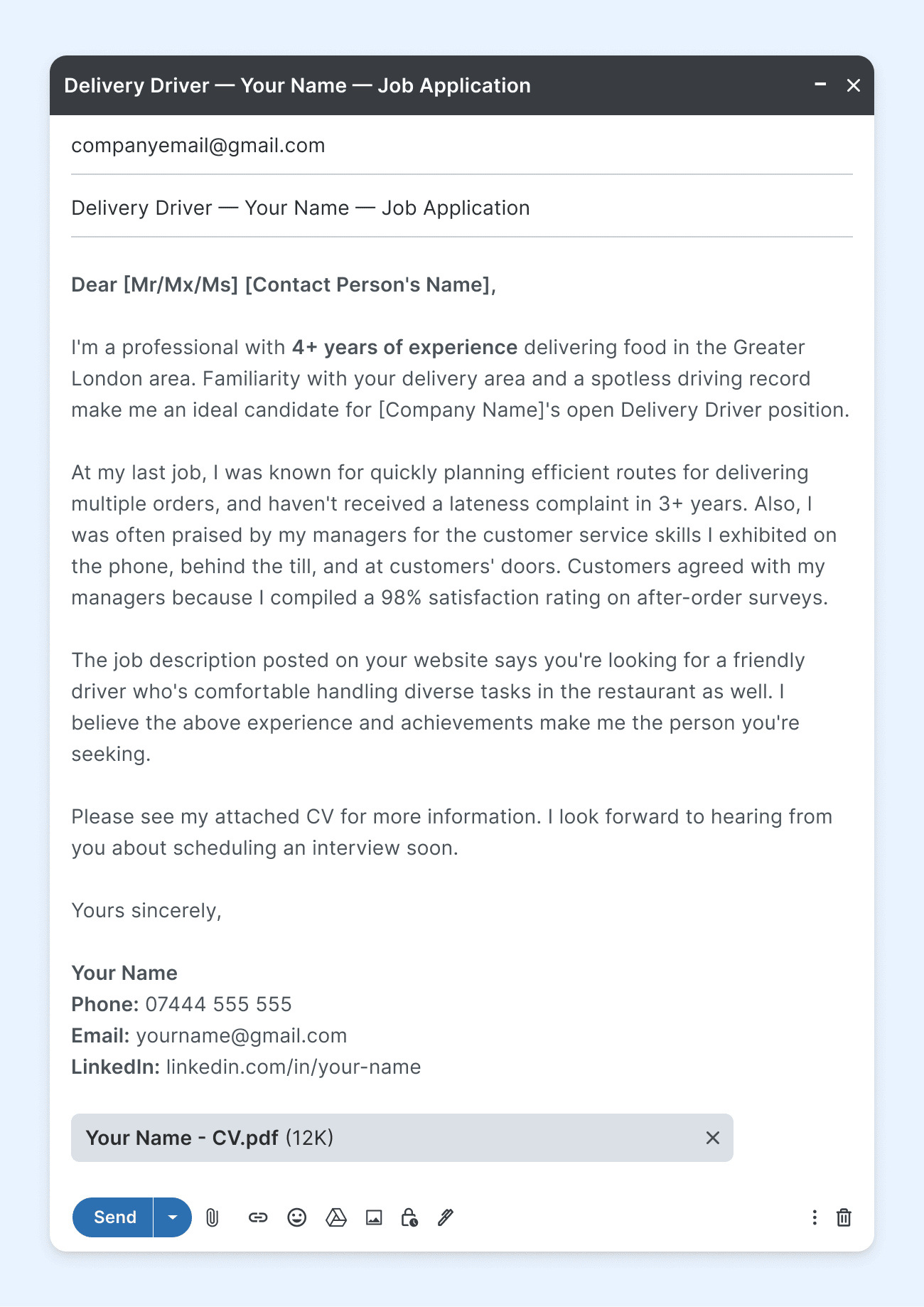 If you're writing your cover letter in the body of an email, shorten it for easier reading. Take these steps to shorten your email cover letter:
Remove the contact person's name and address from the top
Move your contact information to your email signature
Write your bullet points into the body paragraphs
5. Online job application cover letter format sample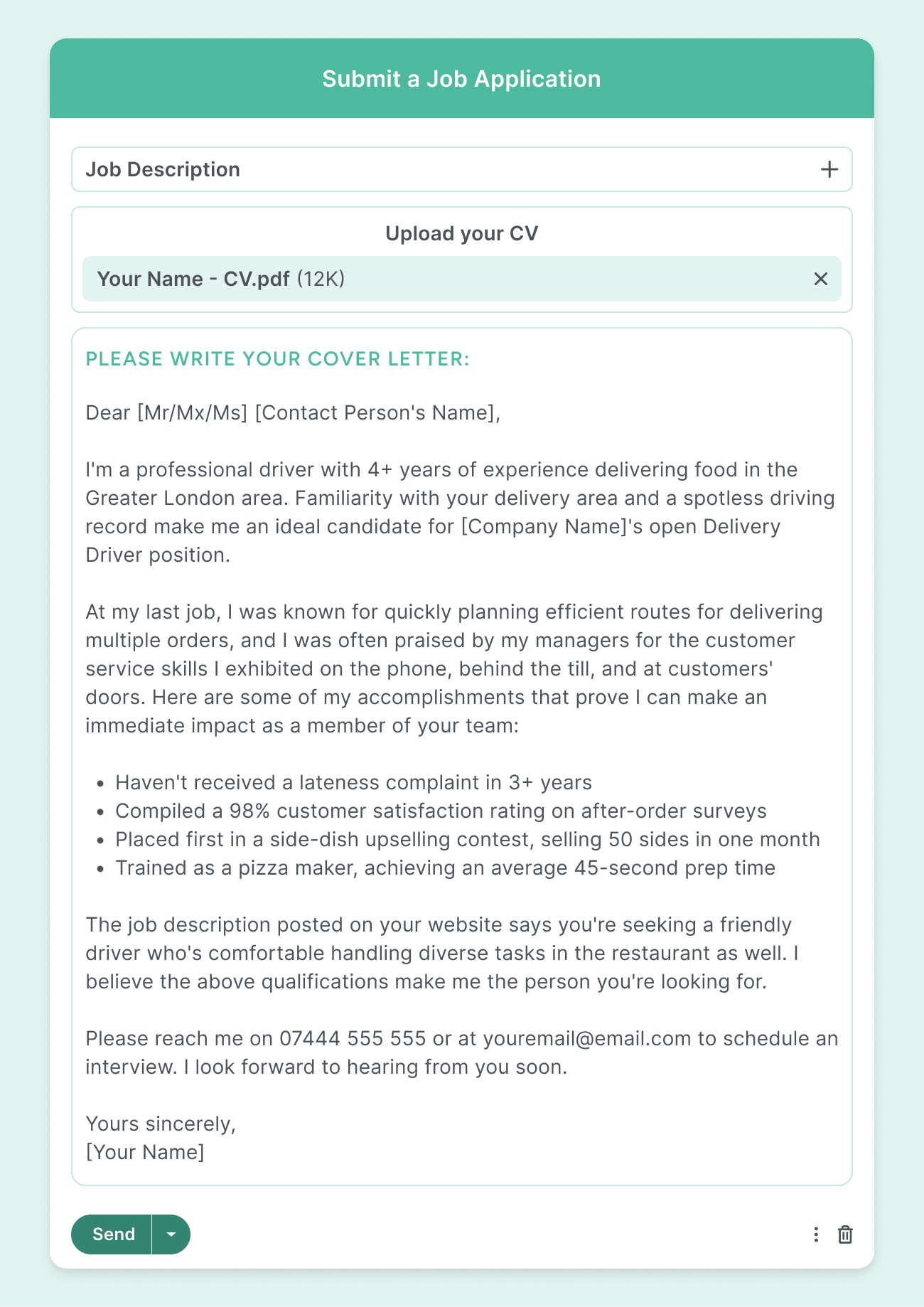 You don't need to include your contact information and the date when you paste your cover letter into an online job application. Those details are automatically included in the application the employer receives.
6. Copy and paste cover letter (ready formatted)
Here's a cover letter outline you can copy and use as a template for your own UK job application letter:
Your Contact Information (in a Header):
Your Name
Phone Number | Email Address | Street Address, Town, Postcode
Target Company Contact Information:
Contact Person's Full Name
Company Street Address
Town
Postcode
Contact Person's Email Address
Contact Person's Phone Number
Salutation:
Dear Mr/Ms/Mx [Contact Person's Last Name],
Opening Paragraph:
State your name, the title of the job you're applying for, and how you found it. Follow up with a sentence or two explaining why you want the job, and why you'd be a good fit at the company.
Second Paragraph:
In your second paragraph, include details about your relevant work experience, skills, certifications, and other information that show you have the necessary knowledge and abilities to excel in your target role. Don't include everything — only mention the information you believe would be most valuable to the company you're applying to.
Third Paragraph & Bulleted List:
Your third paragraph should focus on accomplishments. Include examples of how you used key skills or knowledge to accomplish something impressive at a previous company. Pick examples that you believe are relevant to and would also greatly benefit your target company, and make your top achievements stand out by placing them in a bulleted list:
Add numbers and examples to provide context
For example, highlight amounts of money, percentages, and number of customers served
Don't just copy your CV's bullet points — doing so makes you appear lazy
Closing Paragraph:
In your first sentence, restate some of the details that prove you're a strong candidate for the job. Then provide your contact information (email and phone number), and details about when you can be contacted. Finish by thanking the recruiter for taking the time to read your cover letter.
Sign-off:
Yours sincerely,
Your Name
How to format a cover letter
Here's how to create a well-formatted covering letter:
1. Use a professional font
The font you use for your cover letter should be:
easy to read
black (but you can use other colours in your header)
between 10.5 and 12 points
Professional fonts employers can easily read include:
Calibri
Times New Roman
Georgia
Arial
2. Keep it all on a single page
Your cover letter length should be 250–400 words and must not exceed one page. Employers won't read a multiple-page cover letter.
In fact, a short cover letter is often more effective than a long one if you have some eye-catching achievements to highlight in a few words.
3. Optimise your margins
Typically, you can use your word processor's preset margins when you write your cover letter. However, it's okay to adjust your margins between 1.25 cm and 2.5 cm if you want to ensure the text fills one page. Just remember:
overly wide margins cram your information together and make it hard to read
excessively thin margins create excess white space and make your cover letter appear empty
4. Use standard spacing and alignment
Here's how to align and space every section of your cover letter:
Contact information and date
Single-space your contact information in a centre-aligned header or a right-aligned list. On the first line underneath, right-align today's date, and then hit Enter twice to add a paragraph break before listing the contact person's information (which should be single-spaced). Left-align the contact person's information.
Here's what the contact information and date sections of your cover letter should look like with a header: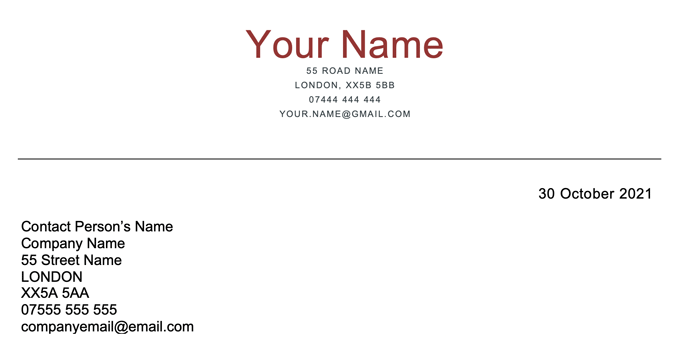 And here's what your contact information should look like if you don't want to use a header:
Greeting
Add a paragraph break after the contact person's details and write your greeting. Then insert another paragraph break to get to your first paragraph.
Here's what the spacing between the contact information, greeting, and introduction paragraph looks like:
Paragraphs
Single-space the text in your paragraphs. When you're ready to start a new paragraph, just hit 'Enter' once to create a paragraph break.
Here's an example of properly spaced paragraphs:
Sign-off
After your final paragraph, make a paragraph break and write your sign-off phrase. Then add a paragraph break and write your name.
Here's how your sign-off should look:
More cover letter formatting tips
1. Highlight your name in a header
To make your cover letter stand out, put your name and contact information in a header using the following formatting:
Centre-align your name using a bolded, extra-large font to help the employer remember your application
Put your contact information under your name. Use centre alignment and either place each item on a new line or keep them all on one line, separated by extra spaces, slashes, or vertical bars. You can also use a smaller font size than you used on the rest of your cover letter to make your information fit.
Consider adding a splash of colour to make your cover letter stand out. Some cover letter templates include headers with coloured backgrounds or text, which can add a nice bit of flair to your application.
Here's an example of a well-formatted cover letter header: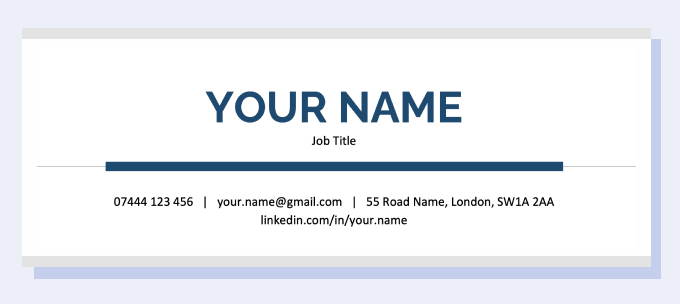 2. Correctly use commas and capitalisation
Capitalise the first letter of every word in your greeting. Use capitals because you're either addressing the contact person by name or substituting the name of a company or department. End your greeting with a comma.
Here's an example of a properly formatted greeting:
Dear Ms Jones,
When you sign off your cover letter, only capitalise the first word because it's only a phrase that leads to your name. A good sign-off looks like this:
Yours sincerely,