Whether you're looking for work or already on the job, it's important to be able to identify your career goals and communicate them to others.
After all, career goals give your professional life a direction, as well as provide targets that you can hold yourself accountable to.
Below we'll go over what career goals are and provide several specific examples that can help guide yours. Because employers might ask about your career goals in a job interview, we've also added example interview answers to give you ideas for your own.
What are career goals?
Career goals are targets you aim to reach throughout your professional life. These targets can be practical, like trying to achieve a certain job title or salary — or they can be more emotionally motivated, such as pursuing something you're passionate about.
As you progress along your professional journey, your career goals act as a compass, helping you make career decisions that align with your values and aspirations.
Career goals can be divided into two main categories: short-term goals and long-term goals.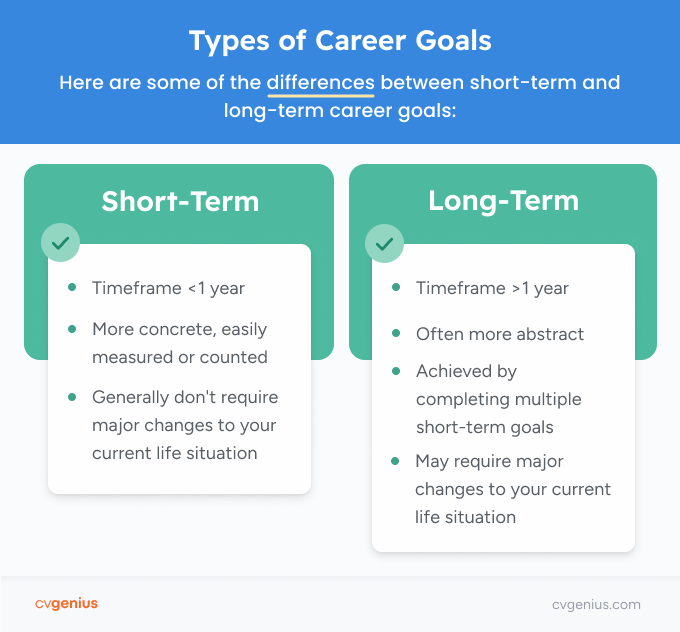 For example, let's say you're a marketing copywriter, but you want to build a career in journalism. Your long-term goal might be to become a full-time freelance journalist in 3-5 years.
You identify that there are several steps you'll need to take to make this long-term goal a reality, which may include:
developing essential skills for your area of interest
building a portfolio of your work
creating a personal website to help you reach new clients
growing a robust professional network
You might then establish short-term goals that help you move through these stages:
Write two uncommissioned feature articles per month
Create a WordPress portfolio within 3 months
Submit 30 pitches to potential clients within 3 months
Setting clear short-term goals will help you define a clear path toward your long-term objectives, and help ensure that you make the career changes you want within a reasonable timeframe — not just 'someday.'
6 career goals (with examples)
Here are 6 career goals and aspirations you can set for yourself with long-term and short-term examples.
1.  Advance into a leadership position
Leadership development is a continuous journey involving personal growth and practical experience. Actively seeking feedback, pursuing training opportunities, and cultivating a growth mindset will support your advancement toward greater responsibilities, though your exact pathway to leadership will depend on factors like your profession and the industry you work in.
Short-term career goal: Join more collaborative projects
Working with colleagues in other teams or departments can help you develop a more well-rounded understanding of company goals and metrics — and build technical knowledge that you might not have exposure to in your current role. The next time there's an opportunity to help out the PR team or muck in with R&D, volunteer your expertise and treat the opportunity as a learning experience.
Long-term career goal: Get promoted
Convincing your boss to bump you up to a higher position takes planning and sustained effort. Begin by looking at what roles might be available to you if you move up in the company. Then look at how your employer advertises more senior positions on job boards and professional networks. What skills are they looking for? How much experience should candidates have? Finally, show your enthusiasm for greater responsibility by taking an active interest in your organisation's wider goals.
Leadership answer to the interview question 'What are your career goals?'
My main goal is to move into a management role — specifically Digital Marketing Manager. As a social media specialist, I've proved my ability to craft compelling campaigns that boost reach and engagement, and this has led me to consider the other ways I can use outreach and advertising to achieve brand growth. I'm working towards my Google Ads Search and Display certifications, and I'm eager to find a project that will allow me to apply my growing expertise professionally.
2. Master a knowledge area
Regardless of the industry you're in, mastery of specialised knowledge areas will vastly increase your employability and expose you to far better job opportunities. This is especially true if you develop a digital skill set, as 57% of IT employers in the UK currently say they're facing a shortage of digital talent.
Mastering a knowledge area means that you're not only proficient in relevant technical skills but also have specific experience applying your expertise. As such, you'll offer significant benefits to talent-stripped employers.
Short-term career goal: Specialise in a niche field
If you're already competent in a valuable skill area, you can deepen your understanding of it by specialising in a niche industry.
Let's say you know Python. Building on that skill, you might specialise in Data Science by applying your coding skills to the field of data analysis. Or you could gain expertise in data visualisation by leveraging tools like Matplotlib or Seaborn.
Long-term career goal: Gain a new high-demand skill
Identify the kind of work you excel at, whether it's analytical, research-based, communication-based, or creative. Then align your natural strengths with a skill area in high demand.
For example, if you're bilingual you could pursue a certification in simultaneous interpretation or conference interpreting. Building on your natural strengths and interests will give you an advantage over other learners and fast-track you towards using your skills in a professional setting.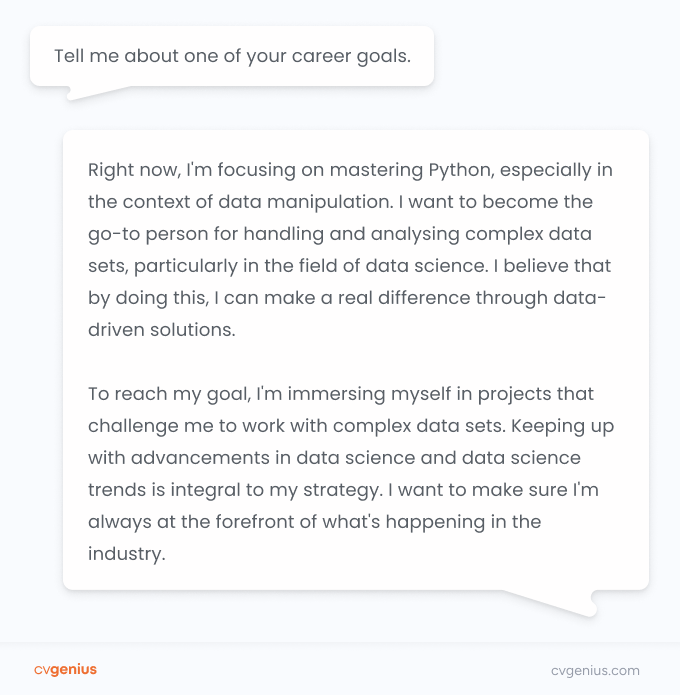 3. Shift into a new career path
The prospect might be daunting, but career changes are very common. In fact, The Guardian reported that more than half of British workers are planning to change jobs in 2023.
If you want to reorient your career, start considering your passions, talents, and motivations at work. Research new fields, roles, or industries that interest you, and map out the skills and traits that help people in these fields.
Short-term career goal: Freelance or volunteer in your new industry
Freelancing and volunteering are great ways of building new industry experiences if you're not ready to leave your current job yet. Look for low-pressure, low-stakes gigs that you can use to get a feel for your future field without overwhelming yourself. Freelance job boards like UpWork, Fiverr, and PeoplePerHour are good places to start.
Long-term career goal: Retrain
The process of reskilling and retraining for a new career might continue long after you've actually made your transition into new work. Identify skills that you'll need to get started in your new profession — and those that you'll need to advance into more senior roles. Also, prepare for any expenses that your plan will incur, such as the cost of getting certified or going back to university.
And don't forget to learn how to highlight your new skills in a change of career CV.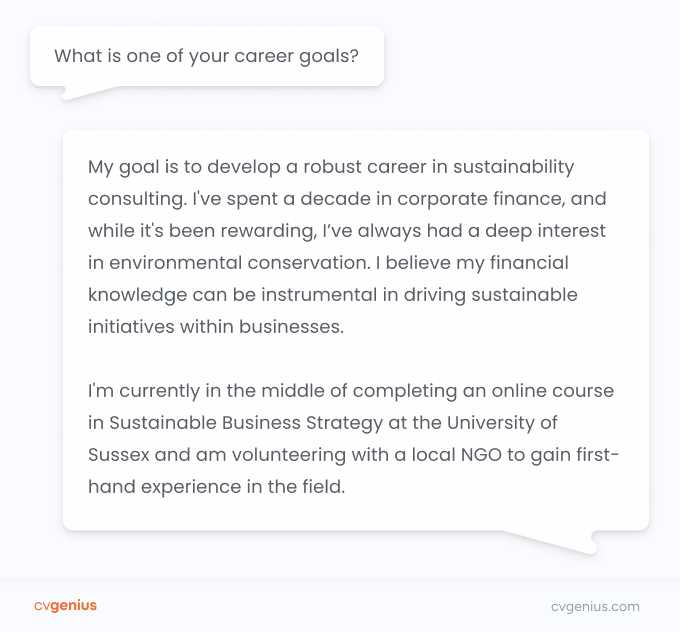 Only talk about plans to change careers in a job application if they align with the job you're applying for. For example, you might want to talk about making a career change if you're writing a cover letter for an internal position in a different department.
4. Improve performance
Career goals can be continual — they don't necessarily need a specific end-point. Striving to improve job performance can be an excellent way of bettering your workplace experience and achieving rewards such as bonuses and promotions.
Still, it's important to be specific when developing your output. So try to narrow your efforts to one or two areas to increase your odds of success.
Short-term career goal: One-up yourself at your next performance review
Pick one task or metric that you and your supervisor routinely discuss and use your latest performance review as a benchmark.
Let's say it's your average handling time (AHT) as a customer service rep. Do an audit of your habits and practises around this focus area and establish an achievable improvement that you can make by next quarter (e.g., 5–10%). When you reach the next milestone, take note of which strategies worked and which didn't.
Long-term career goal: Master a complex project
Challenge yourself by taking on a project that tests the limits of your skillset or knowledge. This challenge could be leading a team for the first time, managing a high-stakes client, or overseeing a large-scale project. Completing such an assignment will help you improve your skills by applying them in challenging contexts.
Example answer to the interview question 'What are your career goals?'
I want to grow as a graphic designer by expanding into advanced skill areas. I love designers who can bring an element of dynamism to their creations, and so two specific areas I've been exploring are key-frame animation and kinetic typography. I'd love to bring these elements into my work as a senior designer at your firm.
5. Achieve career stability
'Career goal' isn't necessarily the same thing as 'career change.' Stability in a career can offer a sense of financial security, peace of mind, and a better work-life balance. It's also an ideal platform for long-term planning in and outside of the job.
Short-term career goal: Develop your professional network
Well-connected professionals are more likely to find stability in their career because they're better connected and have more resources. Networking can offer you insider insights, job leads, mentorship, and strong references.
To network, attend industry events, join professional associations, or take part in online networking groups to start building meaningful relationships.
Long-term career goal: Secure a permanent position in a company
Securing a permanent or long-term position in an organisation can bring about career stability. A permanent position provides a steady income, job security, and opportunities for growth within the same organisation.
Additionally, long-term roles often offer benefits such as health insurance, retirement plans, and paid vacations, all of which contribute to a more secure future.
Example answer to the interview question 'What are your current career goals?'
Right now, I'm focusing on expanding my professional network in the healthcare management field. As an administrator, I believe that remaining informed is key to making better decisions. Though I've accumulated several years of experience in this role, it's important to stay up-to-date on industry developments, especially in our field, and I plan to take this proactive approach in my new role if hired at your company.
6.  Become an opinion leader
Opinion leaders are trusted authority figures in specific industries or professional circles, and their views inform and influence the decisions and perspectives of others. Achieving this status may take years, or even decades, and requires not only specialised knowledge but also the ability to communicate ideas effectively.
Short-term career goal: Build a following across various channels
Blogging, professional networks like LinkedIn, and niche online communities are great places to share your insights and build a following of trusted readers. Post frequently and interact with your audience and other opinion leaders in your sphere. Consistency and the right approach to your specialisation will gradually build your visibility and your reputation as an opinion leader.
Long-term career goal: Receive official recognition in your area of specialisation
Authoring a book, leading a peer-reviewed study, or being invited to speak at a big-name conference can all significantly enhance your standing and reach. It'll take time to build the authority and gather sufficient unique research for this kind of project, but success will cement your position as a leader in your field.
Here's how you could talk about your plans to become an opinion leader in a job interview: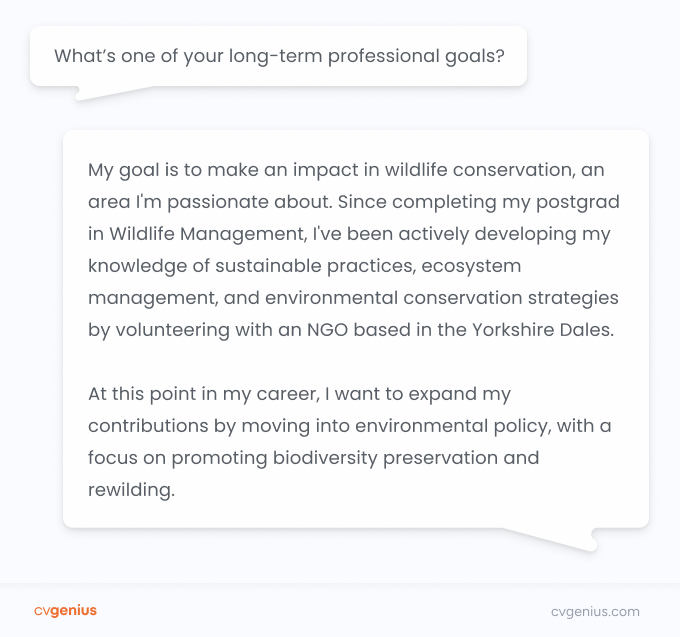 Frequently asked questions about career goals
Feeling a little aimless in your search for specific career goals? The answers to these frequently asked questions about career goals might offer some direction:
1. What is the best answer to an interview question about career goals?
The best answer to an interview question about career goals will normally specify one or two goals before outlining your pathway towards achieving them.
When answering a career goals question, choose goals that are aligned with the position you're applying for and the company's values. Doing so tells the interviewer that you're likely to remain and grow with their company, which makes hiring you a better investment for them.
2. How can I set my career goals?
Your career goals should start with your strengths and interests. Begin by looking over the things that you're good at and the things that you're motivated to improve.
If you don't have any initial ideas, consider any recent performance reviews, internships, or uni classes that you did well in. What were you praised for? Why did you work hard?
You can also use the REAL framework to set robust goals you can follow.
REAL are:
Relevant: why does the goal matter for your career?
Experimental: does the goal involve trying new things or stepping out of your comfort zone?
Aspirational: how enthusiastic are you about the goal?
Learning-based: what new skills will you gain by pursuing the goal, and how will they support your professional growth?
3. What are SMART career goals?
SMART is an acronym used to describe detailed and results-oriented objectives.
SMART goals are:
Specific — they say exactly what they want to accomplish
Measurable — they can be measured in units
Achievable — you can complete them without burning yourself out
Relevant — they support what you do
Time-bound — you specify when you'll complete them
So a vague career goal would be 'I'm going to learn JavaScript.'
But a SMART goal might look like this:
'I'm going to achieve proficiency in Python within the next six months by dedicating at least 10 hours per week to an online Python boot camp course and applying basic formulas to the functions of my current job.'